Mark McMahon Ventures Far to Document Important Events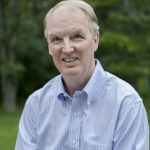 By David A. F. Sweet
While many have been paralyzed by the pandemic — whether because of ceaseless fear, restricted movement or a lost job — previously undiscovered worlds have been unveiled to Mark McMahon.
"When the quarantine hit, I said this is a great time to learn new skills," said McMahon, a longtime Lake Forest watercolor and acrylic artist, who started guitar lessons (he can now play "This Land Is Your Land") and began ceramic classes ("I've gotten a big kick throwing clay on the wheel").
And it's amid newsworthy events such as the coronavirus that the affable, mustachioed McMahon has forged his living. He describes himself as an artist-reporter, much like his father Franklin. Armed with a sketch pad, Franklin covered the trial of the murder of Emmett Till for Life magazine, the 1960 Kennedy-Nixon debates from a television studio in Chicago (even the cameraman is represented), the Chicago Seven trial a year after the chaotic 1968 Democratic convention and other world-shaking events. (While a POW in Germany during World War II, he also secretly drew pictures of his captors).
Most artists rarely venture from their studios or stray from their gardens, yet Mark loves chronicling significant events around the United States. From Space Shuttle launches in Florida, a Blackhawks' Stanley Cup parade or, most recently, a Black Lives Matter protest in Minneapolis, Mark sketches what he observes with paper and pencil — sometimes sitting cross-legged on the ground — and adds his own creative touch to the event with his colorful brushstrokes back in the studio.
"I have a need to document and put down on paper or canvas what I see," he explained. "As I grow older, I find the need stronger than ever. This might be because of the feeling of running out of time to do this kind of work."
Oftentimes McMahon moves beyond paper and canvas to tiles. Though this article may serve as your introduction to the artist, you probably have walked past a McMahon mural without knowing it. At O'Hare Airport, the intersection of Van Buren and Federal streets and elsewhere, his ceramic murals encompass swaths of space in Chicago, sometimes more than 1,000 square feet of a wall.
One of nine children, McMahon loved getting the nod from his father to accompany him to big events. As a boy, he remembers sitting with him at the old Comiskey Park and drawing the stadium's bricks in his Dad's artistic creation for Sports Illustrated.
"He'd say, 'What are you doing today?' We'd say 'Nothing.'  He'd say, 'You're coming with me,'" recalled McMahon, who was honored with his late father five years ago as Local Legends by the History Center of Lake Forest-Lake Bluff. "During the Civil Rights marches in the South, we would ride buses with the marchers from Chicago, and I remember being trained how to duck and cover if the bus was attacked."
Nearly half a century out of Adam State University in Colorado, which he attended on a scholarship, McMahon is committed to following his vision rather than submitting to anyone else's. Consider another artist who followed a separate path. While the great Michelangelo lived on commissions from popes and others, he occasionally sacrificed design freedom in art and architecture to the whims of those he worked for. Not McMahon.
"When Carolyn and I were going to be married 40 years ago, I quit my job in an art studio," said McMahon (his wife today is an award-winning sculptor). "I knew if I didn't do that, I'd get too comfortable with getting a paycheck every two weeks, and I wouldn't get to do the subjects I wanted. We live by our wits."
Because he's interacted with the world for so long, McMahon has seen plenty of jaw-dropping situations first-hand. While covering the final preparations of the first launch of the Space Shuttle Columbia in 1981, for example, he was working on a painting in the cockpit. A siren blasted, and McMahon scurried out of the cockpit to the work tower before being evacuated underground with others.
According to The New York Times, a number of technicians were exposed to a pure nitrogen atmosphere, meaning they lacked oxygen to breathe. McMahon recalled. "At the front gate, when the medical staff tried to get in to help, they were stopped by gunpoint because they did not have the proper clearance." One technician died while being helicoptered to a hospital.
How did McMahon respond? After much commotion, he returned to the cockpit and finished what he started. That painting hangs in NASA headquarters today.
If human tragedy can't stop McMahon, it's no surprise the coronavirus has failed to limit his endeavors as well. Aside from acquiring new skills, he has built a tree fort for his grandchildren, and his garden looks better than ever. Let's just say he seems to have life down to a fine art.
Unsung Gems columnist David A. F. Sweet can be followed on Twitter @davidafsweet. E-mail him at dafsweet@aol.com.