By Judy Carmack Bross
The death of brown furniture has been greatly exaggerated—just ask Anna Schuster, this year celebrating the 40th anniversary of Mostly Mahogany which she founded in Lake Forest and expanded to Highwood in 2001 to become Anna's Warehouse and Marketplace.
"Just yesterday I had a young couple from Lincoln Park who bought a set of English dining room chairs to go with the dining room table they had been given as a wedding present.  The younger generation is coming around.  They grew up with beautiful furniture and want to re-capture that, not build their own furniture. I am seeing more and more customers in their late twenties and thirties."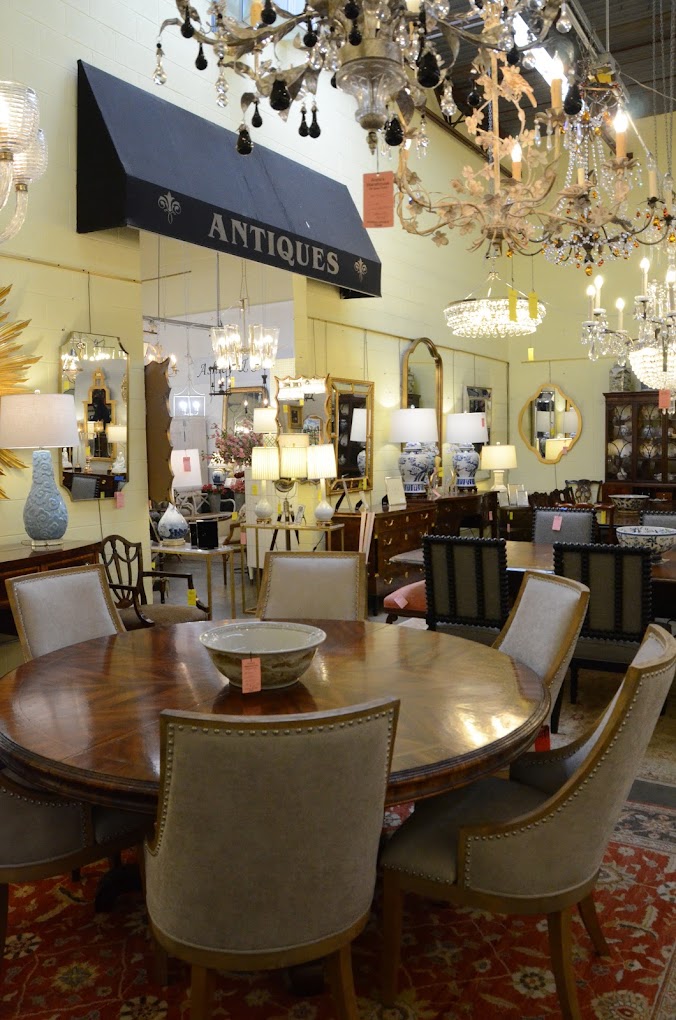 In 1985 Anna Schuster, a native Chicagoan, opened a small storefront with carried high-end American and European furniture and accessories.  Today the 15,000 square foot marketplace features over 20 high-end dealers with everything from antique to vintage to modern, featuring finds from France, Sweden, Italy and American, primitive to contemporary.  Schuster says that more than half of her customers are dealers.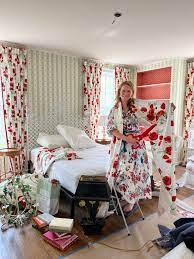 Interior Designer Jenny Brown in the room she created for Showhouse 2023.
According to interior designer Jenny Brown: "Anna's shop Mostly Mahogany is my go-to resource for antique and vintage furniture in the north shore. She gets all the best consignments and has a bit of a cult following.  No wonder that they are celebrating its 40th year in business!"
Schuster talked about mahogany, the hardwood that started it all.  "Although they are planting more mahogany trees in Costa Rica, so many have been chopped down.  Unlike pine from which you can make a table after 10 years growth, they are very slow growing like walnut trees are.  It is a treasure to have something mahogany now.
"The little black dress of brown furniture is the three-drawer bachelor's chest which can be used as a end table, bedside table and more.  A coffee table is another idea for a piece that can pull together your room."
The room that has been Schuster's forever favorite is the dining room.
 "I always loved antiques like rocking chairs and vases as a child but it wasn't until I was out of college that I came to appreciate beautiful wood furniture.  If you love family time and Thanksgiving you are probably like me in that the dining room is your favorite place.  There is such a joy that the family all comes together."
Schuster says that the supposed demise of brown furniture was part of the fast fashion and fast furniture movement where things were quick and disposable.  Buying your furniture by the carton definitely is not a lasting idea.
"People are beginning to realize that you can find very good quality furniture at affordable prices.  A mahogany dining table might cost $3000 at an antiques store while a new dining room table probably costs $30,000 at a high-end furniture showroom. A mahogany table can be maintained with a good lemon oil."
Schuster encourages clients to mix different woods when selecting chairs for their dining room table. 
"I love it when my clients choose as many as six different pairs of chairs, or choose to upholster them.  As long as they blend together it adds much interest:  it's not about matching," Schuster commented.  "Actually, mahogany isn't the same wood consistently.  When mature, its shades vary from white to black."
What shape should one look for in a table? "If you have a small room such as 12 by 15, an oval shape.  If the room is larger, a square table is wonderful.  But if you have a square room, consider putting in a round table."
A large part of her work is taking articles in on consignment, a part of her business she started 20 years ago after being inundated by clients wanting to downsize. The process shows the great kindness that is so much a part of Schuster's character.
"Some of my clients might feel as they downsize that they really can't let a piece go, that it holds too many special memories," she said.  "I tell them to not be in such a rush, say that you will give it six months to eight months to think about it.  Get a climatized store space and think about it. A few people say that they want to buy back a piece if they downsize too quickly."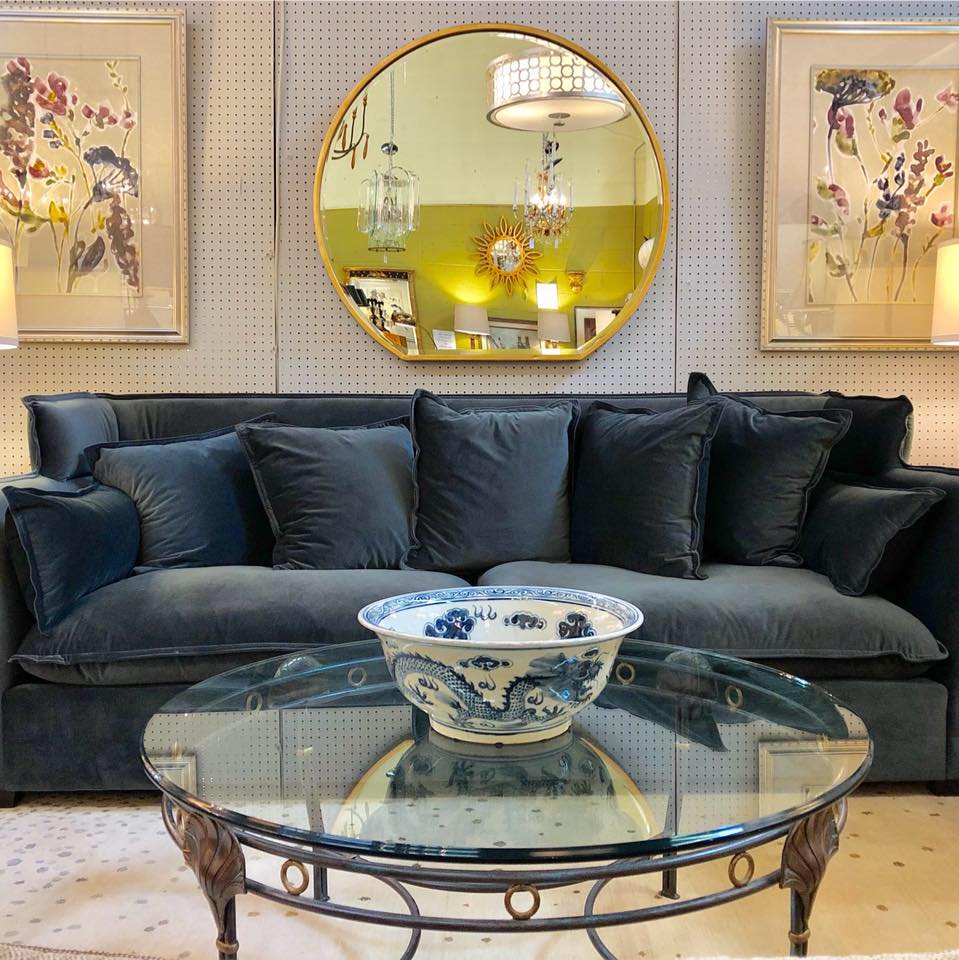 This week you are likely to find Schuster at the Lake Forest Showhouse & Gardens where she has run the gift shop for 30 years, always donating a portion of the proceeds to the Infant Welfare Society of Chicago, recipient of Showhouse proceeds.  The Showhouse closes June 4.
"Visitors to the Showhouse are taken with the decors they have just seen and come to the shop wanting to buy something to accessorize their own homes. They take home small things like vases, mirrors and accessories," she said.  "Accessorizing is a way to give your home a fresh look or if you are just starting out a real flair for sometimes as little as $40 for a memorable piece.  A mid-century Haeger vase, a pair of candlesticks, a mirror: little things can do a lot. My own daughter built a collection of botanicals from Branca which she loves."
"Anna has transformed the Showhouse's detached three car garage into a fantastic boutique. Antique rugs cover the cement floor and the room is filled with beautiful furniture and lighting. Everything is expertly styled with a wide array of accessories for the home – making the garage another space that has been completely reimagined. Items move quickly, but luckily Anna's Highwood shop is nearby, so there is always something new in the boutique,"  Jennifer Mower, a member of the Lake Forest Infant Welfare Chapter board, who runs the boutique with Anne Winebrenner and Wendy Hubbard, said, "I think our guests get inspired by all of the beautiful work our designers do so its nice for them to be able to take something with them after their visit. Who doesn't love immediate gratification."
"Anna always pulls through for the Lake Forest Chapter of IWS for both our Antiques & Treasures in the Field event and for our Showhouse boutique. She knows exactly what our supporters like to buy and this curation helps us to raise critical funds for the Infant Welfare Society. There's fantastic variety in the boutique – From frames, cachepots and candles to mirrors, lamps and artwork! Everyone who comes to tour the house can leave with something fantastic for their home inspired by the trends seen in the house," Chrissy Davis, president of the Lake Forest chapter of Infant Welfare, added.
Anna Schuster, seated, with Chrissy Davis and Shannan Shader
With congratulations to Schuster on her anniversary and for convincing so many to never say die about beautiful brown furniture.