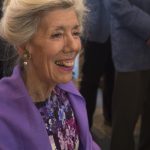 BY JUDY CARMACK BROSS
Editor's Note: This is the first of a series on women who are uplifting us during COVID-19 with the advice they share on the self-strengthening aspect of this time. We first feature TV host Brittney Payton, followed in the coming weeks by Tanya Polsky, a young mother and philanthropist who leads Sewing Masks for a Safe Chicago; re-visit Laura Munson, bestselling author of Willa's Grove and an expert on building your community in isolation; as well as other inspiring females.
Brittney Payton, host of Fox 32's Good Day Chicago, recently shared some unbeatable "boredom busters" with us and told us how her late father, Bears hero Walter Payton, might have reacted to COVID-19.
Emmy Award-winning Payton (who received the honor for co-hosting WGN's Chicago Best) is up at 5:30 am to prepare for four segments broadcast weekdays via her iPhone from her closet, installed with studio lighting supplied by the station. She is at her laptop in her quiet kitchen before her husband, Jordan Benson, and two little girls awaken. With time between segments, she can check on how daughter Blair is doing with e-learning at her nursery school or grab moments with baby Zoe who just turned one. When the final noon segment ends, she and her mother, Connie, who is staying with the family now, might continue their "dance competition" on Tik Tok, which has lately featured salsa and 1990s hip hop, surely with both declared as winners.
These days, Payton's beat is boredom busters for her large and enthusiastic audience. Each day she selects a different theme, researches, writes the script, and chooses the videos, which she shares with her producer via email the day before.
"This is such a scary time and can be very depressing," she shares. "We have a barrage of news, and I find need to turn it off in the afternoons. We have to look constantly for positives. We have to look for hope. I love being here with my kids and I embrace working from home."
Payton shares with her fans the exuberance that characterizes her life, providing a twist of the daily theme in each of the four daily segments she does. For Cinco de Mayo, Payton shared some of her favorite taco take-outs including Tacqueria El Asadero on Montrose, recipes for the perfect margarita from Bodega Biscay, and the fun idea to buy a piñata for the kids from Dulcelandia or make one yourself. She pointed out that each venue currently offers curbside service.
"We think it is important to support our local restaurants and food purveyors," she explains. "We have become regulars at the Paulina Market and recently tried a new recipe—bone-in pork chops with caramelized onions—just delicious."
We asked Payton to tell us a few ways she suggests to beat boredom, and she replied with an inventive idea: "Using a pocket shoe organizer you can create a herb garden by filling each with dirt and then planting the herbs. This is a real space saver of a garden, which you can hang on your porch or in your home and watch them grow."
She continues, "For many, it is a time to take up a new hobby. There are all sorts of new apps—you can learn to play the ukulele, master all sorts of sewing techniques, and even get a singing lesson from Christine Aguilera. Ask yourself: Why not try it? You can take a historical tour or visit a museum almost anywhere in the whole world, all virtually."
A fashion enthusiast who knows how to choose what's exactly right for any occasion, she opts for bright and beautiful colors to greet her audience. Stunning this week in a silk blouse in a vibrant azalea pink she recommended other floral ideas for her audience. Recommended especially for Mother's Day, these ideas can bring joy at any time.
"Instead of sending flowers," she shares, "if your mom or friend has a yard, why not visit a garden shop that is open now and plant a window box, container, or little garden for her? If the person cannot come outdoors due to social distancing, she can watch you through the window."
For Mother's Day, Payton also suggested taking to the internet for recipes for making lotions and bath salts as thoughtful handmade gifts. Whipping up DIY concoctions can be equally as rewarding as projects for little ones, she says: "Children love slime and play dough. These can be a little messy but coming up with science projects for kids is something I love doing."
The family-oriented host is responsible for presenting the Walter Payton Man of the Year Award every year at the NFL Honors ceremony prior to the Super Bowl, and also contributes to the NFL network. When asked what she thought her father, the legendary Bears Super Bowl star who died at the age of 45 of a rare liver disease in 1999, would say about the pandemic, Payton replied, "Never Die Easy is the title of his autobiography, and I remember him saying to go forward looking for the best in everything. I think he would say that although we can't know what the future of this will look like, we should spend our time concentrating on how to go forward."
With that sentiment in mind, Payton and her mother find time to plan ahead for fall activities for the Walter and Connie Payton Foundation: "Most of our activities are always scheduled for later in the year. We have a Christmas toy drive for children in DCFS that features in-kind donations and such great participation by the Bears. We are talking intentionally about how as we get into the toy drive we will take into all of today's considerations."
Though she is always thinking ahead, we wondered what Payton is missing most during this time of sheltering: "This is the time to be creative—I was missing being with my girlfriends and have found that we can get together after the kids go to bed for Zoom visits every other week to stay in touch," she responds.
"In my family, a first birthday is a very special time with a theme and decorations. I was making lots of plans for Zoe's first birthday on April 23rd. It couldn't be the party we planned but we made it a wonderful day," she adds.
We get the feeling Payton always knows how to create wonderful days—and thank her for the optimism she shares. Surely her father's nickname "Sweetness," preserved forever throughout the NFL and Chicago, suits his talented daughter as well.
To learn more about the Walter and Connie Payton Foundation, visit payton34.com.