by Judy Carmack Bross
Nancy Economou
"We are changing lives one light at a time.  The gift of light is a pure form of joy."  Nancy Economou
Nancy Economou lit up the University Club recently, welcomed to the podium by International Women Associates (IWA) board members who lit up tiny solar lights in recognition of the global non-profit she started. The founder and CEO of Watts of Love was named IWA's 2022 Woman Extraordinaire at its Award Luncheon for the solar-powered lamps she has shared worldwide along with financial literacy training. 
Event Co-Chair Nila Bayvas, 2022 Woman Extraordinaire Honoree Nancy Economou and Event Co-Chair Gay-Young Cho
Gay-Young Cho and Nila Bayvas served as co-chairs of the luncheon attended by 250 members and guests.  Catherine Sinegal is President of the IWA Board of Directors.  With 300 members representing 50 countries, IWA works to find common ground and celebrate international connections.  It fosters multiple education enrichment programs in the Chicago Public Schools and gives scholarships to college students studying abroad among its many programs.
Event Co-Chair Nila Bayvas, 2022 Woman Extraordinaire Honoree Nancy Economou, Event Co-Chair Gay-Young Cho and IWA President Catherine Sinegal 
Event Chair and Past IWA President Gay-Young Cho, Honoree Nancy Economou, Committee Member and Past IWA President Yoko Mosher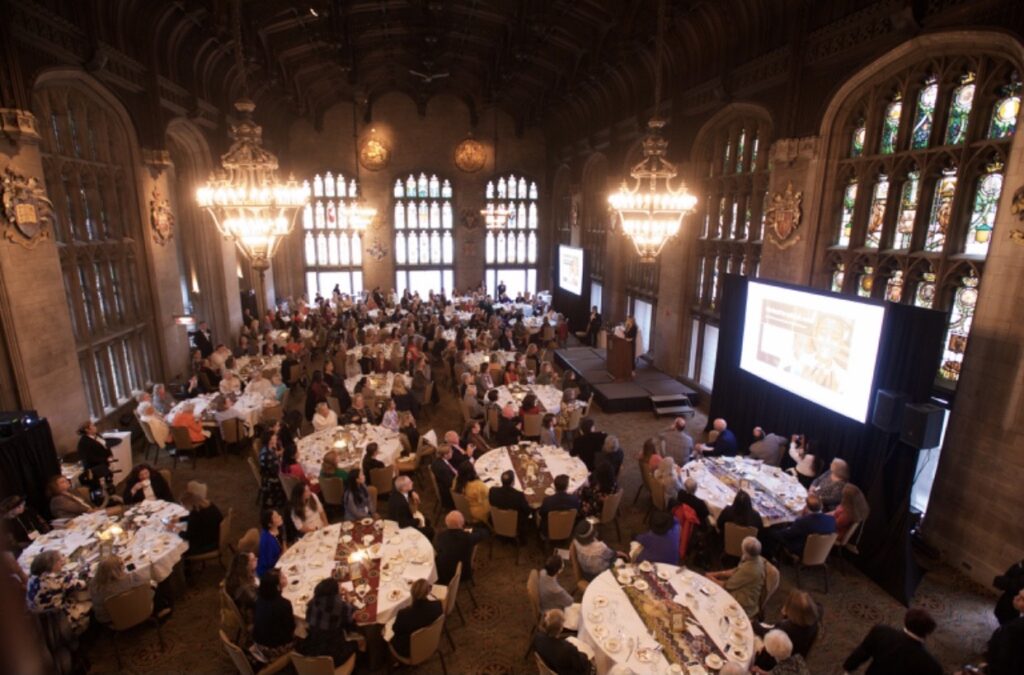 Panoramic Shot of the Beautiful Cathedral Hall at the University Club of Chicago
IWA Members Alice Chow, Event Co-Chair Nila Bayvas and Brenda Lee-Kang
Since its founding in 2012, Watts of Love, based in Downers Grove, has been at work in 54 countries delivering 77,554 solar lamps and changing the lives of almost 543,000 people.  In 2009, Economou traveled to the Philippines where she saw the dangerous and costly effects of kerosene lamps and realized the importance of substituting safe and renewable lighting both from  safety and cost perspectives.  A financial empowerment model is included in their work.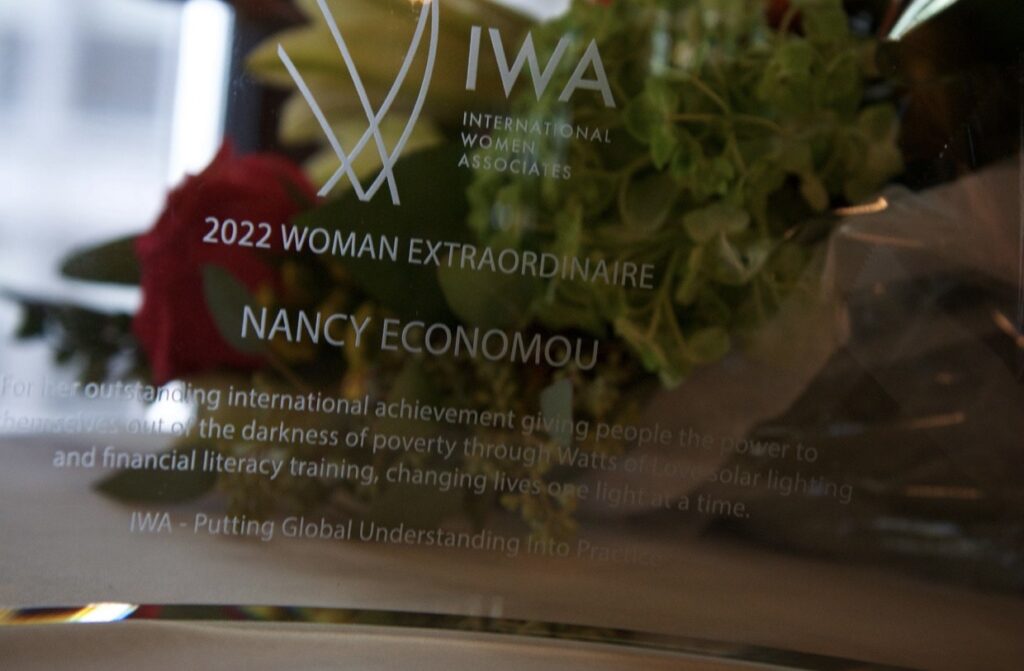 2022 Woman Extraordinaire Award Plaque
IWA Members and Guests Enjoying the Program and Luncheon
The mother of five boys, some of whom cheered  their mother as she received the award, Economou told the audience that she had once sold jewelry for Cartier.
"I went from working with the top one percent of individuals to the bottom one percent economically," she said.  "When I was in the Philippines, I saw a young girl severely burned and scarred by a kerosene lamp.  I saw many children left unattended and in complete darkness while their parents worked at night.  I realized that safe, sustainable lighting needed to be developed and brought to those living without basic access to electricity. Nearly one billion people live without it.  The first 1000 solar lights destined for one of the poorest islands in the Philippines got stuck in customs for a long time. But we kept going despite the fact that we were wrapped in uncertainty.  Some of the people who received our lights said 'I am too poor for you to love. ' Our lights insure that people are seen and loved."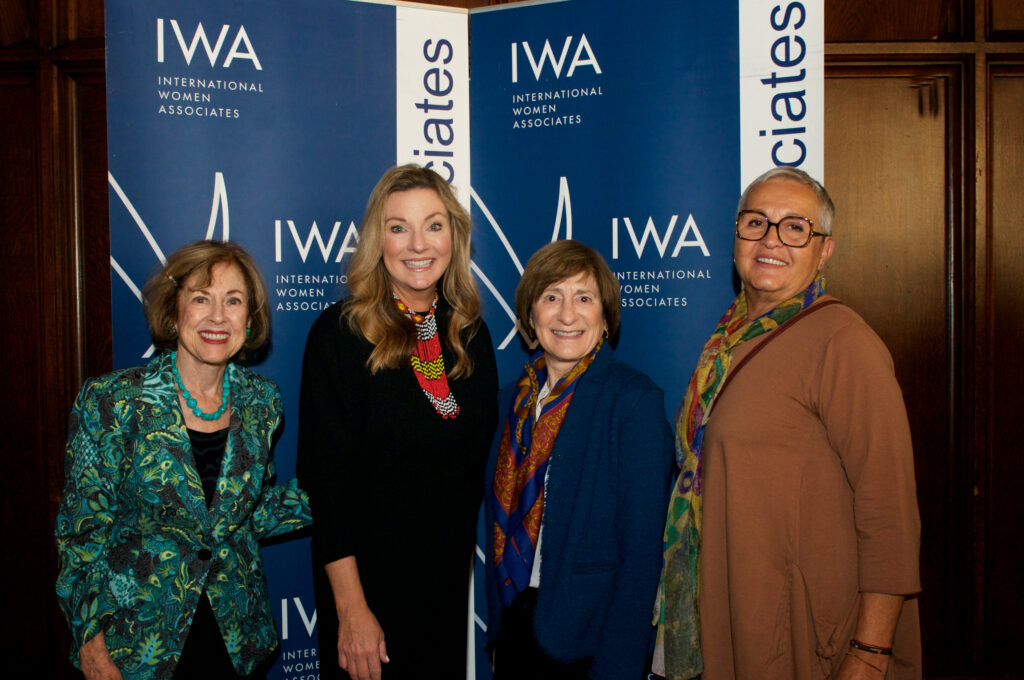 IWA Member Ethel Gofen, 2022 Woman Extraordinaire Honoree Nancy Economou, Margot Wallace and Adisa Spirtovic
Founded by visionary Doe Thornburg, IWA is a Chicago cultural and educational organization that inspires cross-cultural exchange, community service, dialogue and friendship.  By creating connections among people of diverse international backgrounds through programs and partnerships, IWA works toward a just and peaceful world.
Deeply committed volunteer Ethel Gofen spoke to us about the organization she has helped to shape:
"In International Women Associates (IWA), I have made wonderful friends with fascinating women from all over the world and have enjoyed countless cultural and social programs with them.  So many members have told me that when they were new to the Chicago area they found their family of friends in IWA.  We also have a vital program of philanthropy that supports children in the Chicago Public Schools, especially from immigrant families, and gives aid to college women studying abroad in subjects that benefit the world. We have walks, guided tours, enlightening talks, many now in a recorded archive. We continue to honor the words Doe Thornburg, who challenged us to 'see the sacred in everyone,' and once each year we honor a Chicago woman whose work greatly benefits women around the world with our Woman Extraordinaire award."
IWA Members Vi Nelson, Shaun Banks and Karissa Skvarla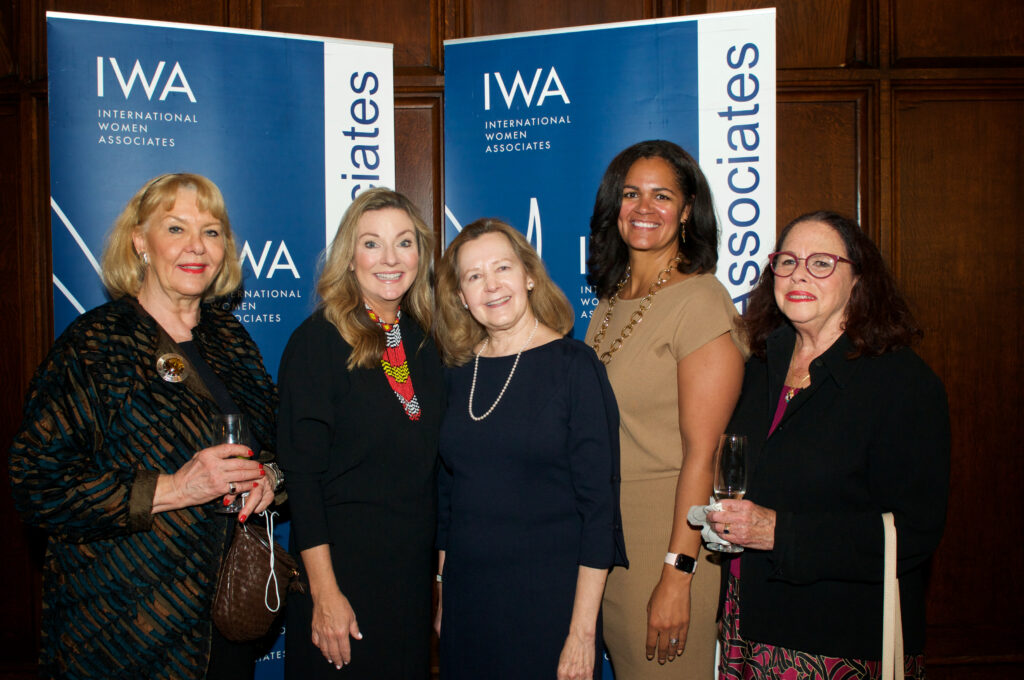 IWA Members Barbara Champion, Carolyn LeBlanc-Blatt, Marjorie Lyles and Guest with 2022 Woman Extraordinaire Honoree Nancy Economou
Members and Guests Enjoying the VIP Reception

Table Decorations Designed by Committee Member Sharon Campbell,

Table Runners from Malawi
Photo Credit: Jackie Jasperson Photography
To learn more about the International Women Associates visit iwachicago.org
To learn more about Watts of Love, visit:  wattsoflove.org.