Lake Forest's Katherine Reay Keeps Crafting Compelling Novels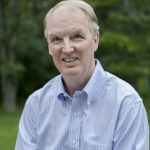 By David A. F. Sweet
Katherine Reay has lived in Ireland and England, Seattle and now Lake Forest, with each move prompted by her husband Mason's job with a technology company. But it was the stint in Austin, Texas – after Katherine suffered a severe injury – where she became a writer.
"I couldn't make dinner or do other things, so I read about 100 books," Reay recalled. "I discovered I could not read new books because I was in too much pain. So I read old friends – Austen, Bronte, a lot of the classics."
Today, 11 years since she left Austin (though she'll never leave Austen), Reay has nine published works of fiction and one of non-fiction. Her latest novel, The London House – published by Harper Muse this past November – follows one's women's attempt to disprove an alleged scandalous family secret with the chance that she may uncover information that tears the family further apart. As one reviewer noted, "The prose is eloquent and expressive. The characters are complex, scarred and authentic. And the plot is a sweeping saga."
Only by chance did Reay conduct an important research trip before the pandemic. Scheduled to visit the Imperial War Museum, British Museum, Churchill War Rooms and more in London in April 2020, her husband suggested they head there for a long weekend in February instead.
"That research was crucial to make the book sing," Reay said. "As we left, we heard about the first case of Covid in London."
Growing up in Atlanta (on occasion a "y'all" will pepper her speech), she loved Jane Austen's works, the fantasy books of Lloyd Alexander and the mystery genre – including Encyclopedia Brown – all of which have influenced her fiction. After attending high school in East Lansing, Mich., she headed to Northwestern University, where two professors taught her how to make every word count and how to structure a large work. After she earned a Bachelor of Arts degree in history, she stayed at the school to procure a Master of Science degree in marketing. Ironically, Reay finds it hard to promote her works.
"It's tough for me because I'm the brand," she said. "I could promote a widget because it's a widget. But this is so personal in many ways. I love meeting with readers and book clubs, but social media is more challenging."
What does she enjoy about writing fiction?
"I love the idea of readers going into someone else's life," she said. "I like seeing the world we live in from different perspectives."
Reay used to liken the writing process to a marathon – now she sees it as a series of 5k sprints, some faster than others, such as when a deadline looms. She only focuses on one idea at a time, and she never has spare ones at her disposal.
"I'm always worried another one won't come my way," she said, "but they always do." Her next novel will be about two Cold War spies.
One that arrived outside of her imagination occurred when a woman named Becky Powell from Austin approached her to write a work of non-fiction. Her husband, Mark, had killed himself after confessing that he had taken millions of dollars from friends and colleagues.
Awful Beautiful Life: When God Shows Up in the Midst of Tragedy was the book she helped the widow craft.
"She paid every penny back to the victims in 18 months," Reay said. "People don't talk about what he did – they talk about what she did. The book is really a close lens on Becky's emotional journey."
Reay has needed to overcome challenges in her career. The biggest occurred when one month before a novel's deadline, she realized – along with her editor – that she had written it wrong. Recalled Reay, "It was a better novel because I had to rewrite 90,000 words in one month. I had no time to be afraid."
And Reay enjoys one advantage as an author.
"I think in books," she said. "I always have. That is the language I speak."
Unsung Gems Columnist David A. F. Sweet is the author of Three Seconds in Munich. He can be reached at dafsweet@aol.com.