By Francesco Bianchini
In an old photograph of the 1920s, my small childhood town forms the compact background, scalloped with surrounding medieval towers, while in the foreground a little girl hugs a dog by the side of the main dirt road, and a few wispy lambs graze beside hay bales stacked like wheels of cheese – an archaic and essential Umbria in a barely domesticated landscape. But Collevalenza's fate was as sealed as that of other rural hamlets: in the decades to follow, new generations gradually abandoned these villages in search of opportunities elsewhere, perhaps returning twenty years later to build a summer cottage, girdle a suburban garden, and erect a proud gate. A single bar would suffice to meet the needs of the few permanent residents, the elementary school would close as the town's population declined, yet sunflower fields and vineyards would continue to lap the hillsides.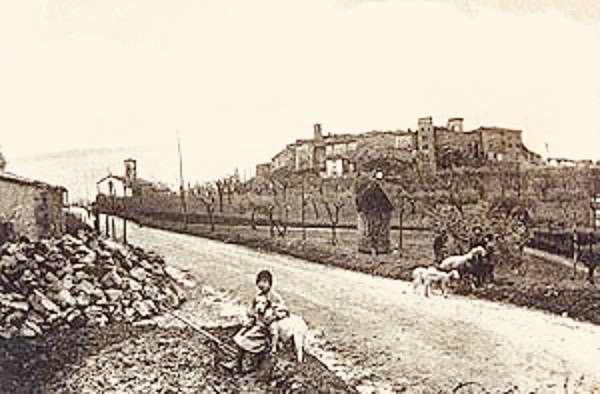 Collevalenza between the wars, an archaic world
When I was born, in the 1960s, our village was changing rapidly at the hands of a Spanish architect. Fresh from the construction of the Tor di Valle hippodrome at the Rome Olympics, Julio Garcia Lafuente designed a shrine that in the vision of his client – a nun from Murcia – would eclipse Lourdes. Lafuente used the full expressive potential of concrete to play with shadows and volume, thus anticipating many of the themes that would be the subject of debate in design culture from the 1970s onward. To the soft, horizontal lines of the surrounding fields and woods, he contrasted a fractured, concrete-like verticality for which he earned a reputation as an avant-gardist. A boldness in which my family was complicit by having donated to the Spanish nun a hunting ground called Il Roccolo, that is, 'a fixed stakeout for birding, with vertical nets arranged in semicircles.' In the literature celebrating the sanctuary's origins, the symmetry between the capture of birds and its vocation as a place for the recovery of souls is inevitably exalted. Introverted Umbrian spirituality thus married with soaring Spanish mysticism, generating a singular and hybrid fruit: Mother Esperanza's Order of Merciful Love.
Bold verticality: the sanctuary of Merciful Love
Ranked among the Order's earliest benefactors, my family had the privilege of unlimited access to the shrine and, as a child, I was sometimes taken to private audiences with Mother Speranza. She was a short, stocky woman with small eyes and thick dark eyebrows, covered from head to toe by her black habit and veil. All in all, she looked rather frightening, but I was accustomed to the whimsical and disturbing features of indeterminate gender, between Aunt Germana's heavy jaw, almost bald head and a suspicion of facial hair, and Rodolfo's bloodshot eyes, his electro-shocked hair and skeletal ribcage protruding like that of another poor bird. I remember the sanctuary rooms girded with chair rails to protect the walls from the scraping of formica chairs; small chambers furnished with glass-topped tables, ubiquitous philodendron vases, and the chaste smell of vegetable soup that permeated corridors paved with cheap marble. To whichever adult who brought me to visit, Mother Speranza invariably asked in a mumble, which her assistant took care to translate, if they were sure I was being fed enough. I had been instilled with a reverential respect for the nun, whose stigmatized and bandaged hand I kissed, and yet I could not help but hide my disappointment at such a prosaic comment.
On Candlemas in the Umbrian countryside, the arrival of spring was predicted based on the weather signs on that day. If the sky was clear, alas, winter would last another forty days – as many as had passed since Christmas. If it rained, however, winter would soon be over. Candlemas was a school holiday, but we children attended mass where candles were blessed and lit, and everyone would then traipse home clutching their candle to eat rice and beans in broth, and in the evening a pork's knuckle. The special candle was set aside for when there was a thunderstorm, especially if it hailed, or when someone died. During thunderstorms, our house in Collevalenza resonated like the sound box of a huge stringed instrument. The rain beat down on its acres of crumbling roof tiles, flooded bent gutters, as the wind rattled the ancient leaded window panes, and howled through the attics. If a thunderbolt struck
 the lightning rod, there erupted a deafening crash that echoed through hallways and rooms. 'The devil is riding by in a carriage!', shouted the maids as they ran back and forth, carrying rags to dry puddles, and basins to catch torrents from the ceiling. The women would light their Candlemas tapers and waved them in front of the windows so that the storm would abate, the hail would not damage crops, and the lightning would not strike us down.
In the winter of 1970 my parents had enough of living in a sieve of a house with no heat, and made a drastic decision. We all moved, lock, stock and barrel, to the shrine's new hotel where the nuns put an entire floor at our disposal for the time it took to complete our house renovations. Modernity had finally caught up with us: every room had its own bathroom with hot water galore; we had miles of heated hallways to dart around; elevators to invent games in. We'd go down to dine in the restaurant where a table was reserved for us, and where we kids would stuff ourselves with something as exotic as breadsticks.
The shrine, completed in 1965 exterior and interior
Easter came and we regretted the homemade preparations: the sweet and savory pies, the trays of salami and capocollo, and the hard-boiled eggs decorated by Mom that brightened our Easter breakfast table, arranged on her beautiful Deruta pottery. We would equally miss the lunch of noodles in chicken and beef broth, roasted lamb and potatoes seasoned with salt, pepper and rosemary, also served on faience tableware. Most of all we missed the hunt for the white sugar and chocolate Giuliani-brand eggs that Grandma Margherita bought by the dozens and hid in the garden. That year, however, we had a surprise when we went down to breakfast in the convent dining hall. The nuns had arranged for each of us a lamb of sponge cake scented with vanilla and dusted with powdered sugar. On the rump, where icing reproduced in relief the coils of fleece with surprising realism, they'd skewered a toothpick with a tiny paper banner: a fluttering tab with the red cross of Saint George.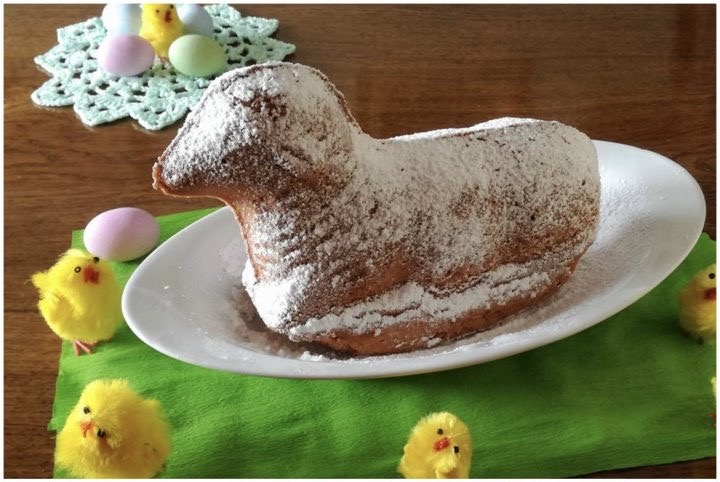 Sponge cake Easter lamb