In Memoir, Winnetka Native Recalls Delivering Newspapers the Old-Fashioned Way During Tumultuous Era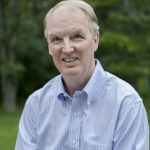 By David A. F. Sweet
Those of us who still receive newspapers in these days of declining print readership most likely have them tossed on our driveway by a faceless driver who is not heard from until a Christmas bonus is requested. The era of boys and girls delivering morning and afternoon papers with a friendly smile and wave has vanished.
For seven years – among the most tumultuous ones in U.S. history – Gary Cole delivered the Chicago Tribune to Winnetka residents, even in below-zero weather. First by bike and then on foot (since many of his customers resided in one apartment building), the youngster read the newspaper's often-chilling stories before sharing them with his customers.
Cole has written a memoir of those days called Newsboy. Set to be published by Trenchant Press in September, the pages relive the era between 1968-1975 – from the Martin Luther King assassination through Vietnam to Watergate – when it seemed to a boy growing up on the quiet Winnetka street of Hill Terrace that the United States was falling apart.
"It was deeply unsettling," recalled Cole, who now lives in Chapel Hill, N. C. "Winnetka was a very comforting environment to be raised in, and it seemed that those comforts were in great peril."
In particular, the beatings of anti-war protesters by Chicago police in front of the Conrad Hilton Hotel during the 1968 Democratic National Convention unnerved him.
"That stunning event really drove home to me how wildly the world was spinning out of control and how close at hand the chaos actually was," Cole said.
That event and some of the others, though, took place more than half a century ago. What prompted him to write this memoir now?
"The honest answer is great emotional pain," noted Cole, a New Trier High School graduate who also holds degrees from Williams College and Stanford Law School. "I had just lost my shot at a dream job after a start-up venture had tanked, and it seemed like both my personal and professional life was in tatters. I took refuge in these childhood memories and started writing them down as a form of self-therapy."
Even when Winnetka snowdrifts reached his chin, Cole delivered papers on time, placing them adeptly within screen doors without a page being torn. Still, not all customers were impressed, including a lady named Mrs. Webb. (It is unlikely that is her real name: as Cole writes, names have been changed because "this is a work of reminiscence, not retribution.") She lived at an apartment building known as the Chimneys on Green Bay Road and was always complaining about the noise Cole made both outside and inside. At the same time, Cole had made friends with a couple who lived above her named the Konsbergs.
"One afternoon Mrs. Webb decided she'd had enough," Cole writes in Newsboy. "I had removed my shoes but took the steps two at a time in my haste to tell the Konsbergs some especially exciting news. Mrs. Webb howled at me through her door before deciding for the first time ever to totter up the stairs and force a confrontation. The Konsbergs conferred quickly when she knocked on their door and called out her mission, then rushed me into their shower and drew the curtain." Mrs. Webb did not find Cole, and an hour later, he tiptoed downstairs and out of the building safely.
Because he needed to collect payment from his customers, Cole really got to know them, for good or ill. A number of them – especially the widows and retirees residing in the Chimneys — were elderly. When a customer died, Cole took it hard.
"The death of a customer tore a hole in the fabric of my route," he said. "A customer's death presented a financial opportunity, as I would gain credit for a new subscription if the replacement resident took the paper. But at the same time, my route was defined by my contacts with my customers, and every death meant a resetting of familiar patterns and rhythms."
Ironically, the former newsboy reads no print newspaper today; he checks out the Raleigh News & Observer online. His children, now in their 20s, never enjoyed the opportunity to deliver newspapers via bike or foot, as routes were all handled by adults in a car.
But he is heartened that he worked that memorable job, one that seems as relegated to the past as newsboys who yell "Extra!" And he's glad that, even though kids' paper routes are gone and his days on the North Shore are long past, at least one thing hasn't changed in Winnetka. Said Cole, "I miss The Original Pancake House and my favorite order of 49'er Flap Jacks with bacon."
Unsung Gems columnist David A. F. Sweet is the author of Three Seconds in Munich, an in-depth look at the most controversial sports finish of all time amid the backdrop of terrorism. E-mail him at dafsweet@aol.com.