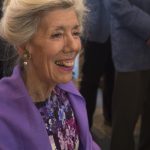 BY JUDY CARMACK BROSS
This was definitely not their nightly walk around the block.
To honor Chicago's largest No Kill humane organization focusing on animals who have nowhere to go, four-legged best friends showed up at the Drake Hotel in record numbers for the PAWS Chicago 20th Anniversary Fur Ball. All dressed up and ready to party, pets walked the red carpet, helping fund critical lifesaving programs for Chicago's homeless animals.
Nancy and Scott Santi chaired the ball, with FOX 32's Sylvia Perez, Jake Hamilton, and Natalie Bomke as emcees. Throughout the evening, PAWS founder Paula Fasseas was celebrated for setting the standard for humane organizations across the country. Presenting sponsors included the Wayne & Nan Kocourek Foundation, A. Marek Fine Jewelry, and ITW.
Through the generosity of event sponsors and guests, the evening raised significant funding to support PAWS Chicago's programs, which have greatly contributed to the reduction in killing of homeless pets in Chicago by 91 percent since the organization's founding in 1997. This includes its newly expanded Medical Center, the country's largest and most advanced hospital for homeless pets, which serves 25,000 homeless and at-risk cats and dogs each year.
The evening included a buffet dinner across two ballrooms that featured festive decor by Tom Kehoe, with David Goodman serving as auctioneer for a one-of-a-kind live auction. Partygoers celebrated late into the evening to the beats two live bands, Maggie Speaks and Spoken Four.
Canine guests were also treated to an evening of indulgences, including a dog buffet of boiled chicken and rice and pureed carrots and green beans. Many trotted over to the Dog Spa, where they received pawdicures and delightful scent spritzes from PAWS's training and volunteer staff.
Throughout the night, PAWS Chicago's mission was front and center, as volunteers showcased adoptable cats and dogs like Randy, a homeless two-pound, 8-year-old Chihuahua from Chicago's Animal Care & Control, who was adopted that evening by PAWS board member Tinsley Mortimer formerly of The Real Housewives of New York City.
PAWS Chicago (Pets Are Worth Saving) finds homes for 5,000 dogs and cats annually through its adoption centers and operates one of the largest high-volume, free and low-cost spay/neuter clinics in the country, performing thousands of spay/neuter surgeries every year for communities that need the most help in controlling pet population. In 2020, PAWS opened the nation's premier medical hospital for homeless pets which provides treatment for sick and injured dogs and cats in Chicagoland and from shelter partners in 13 states where pets are most at-risk of euthanasia.
Charity Navigator, the nation's largest independent evaluator, has rated PAWS Chicago at its highest 4-star ranking for 19 consecutive years—an accomplishment that less than 1 percent of charities in the nation has reached.
For more information, visit www.pawschicago.org.