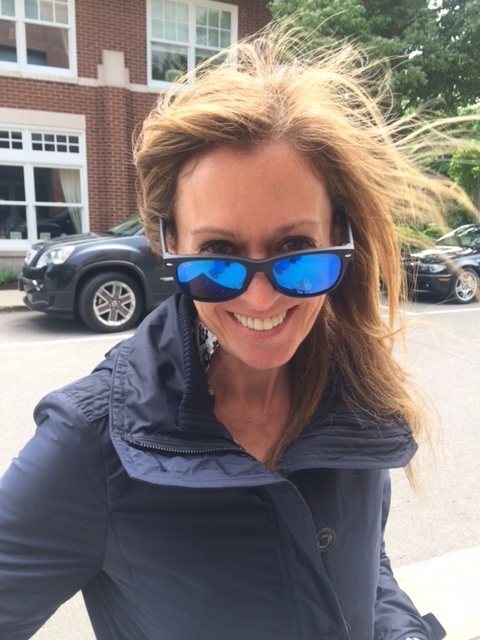 By Wendy Wood-Prince
 Lion's paw shell brooches created by Verdura in the 1940s
As I am currently hunkered down on a cold, cold January day, the thought of venturing out to museums and exhibits is once again fraught with the latest uncertainty and causing me to reminisce on a moment of relative freedom from a weekend last summer in New York City. A sweltering but thoroughly enjoyable few days of fun.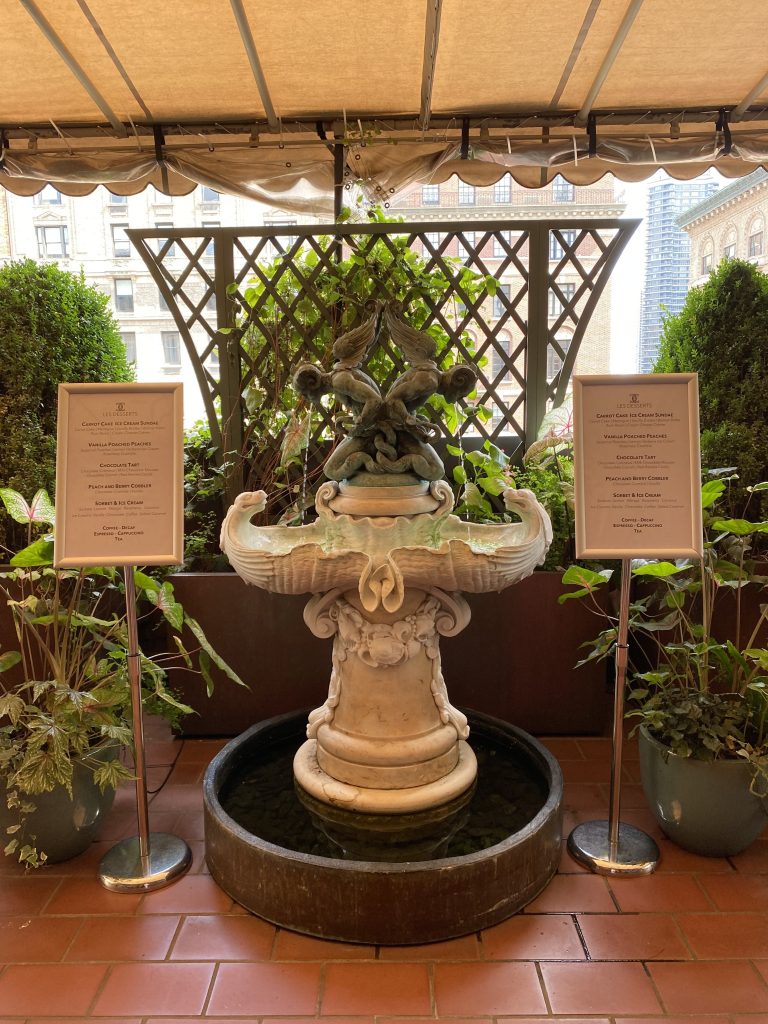 The Colony Club's refreshing terrace
It was an exceedingly sultry weekend in August when I ventured with a few friends to New York City for some Culture, Food and Shopping. We had planned a very packed weekend starting with a scrumptious luncheon on the top floor of The Colony Club. We fueled up and planned our cultural attack.
New York Botanic Garden
First stop was the New York Botanic Garden to see "Cosmic Nature" by Yayoi Kusama. This exhibit was the perfect introduction to Kusama's body of work. Growing up amongst the hothouses of her family's seed nursery in Japan, Kusama's art has a decidedly psychedelic flavor.  The humidity was almost unbearable as we arrived in the Bronx and entered the Gardens. Late summer crickets were deafening, the clouds were low and ominous and the constant rumbling of thunder threatened as we began our walk through the exhibit.  The weather matched the exhibit perfectly, giant brightly colored flower sculptures "grew" out of ponds and larger than life sized polka dotted pumpkin sculptures appeared to be walking along paths as if prehistoric swamps had birthed them.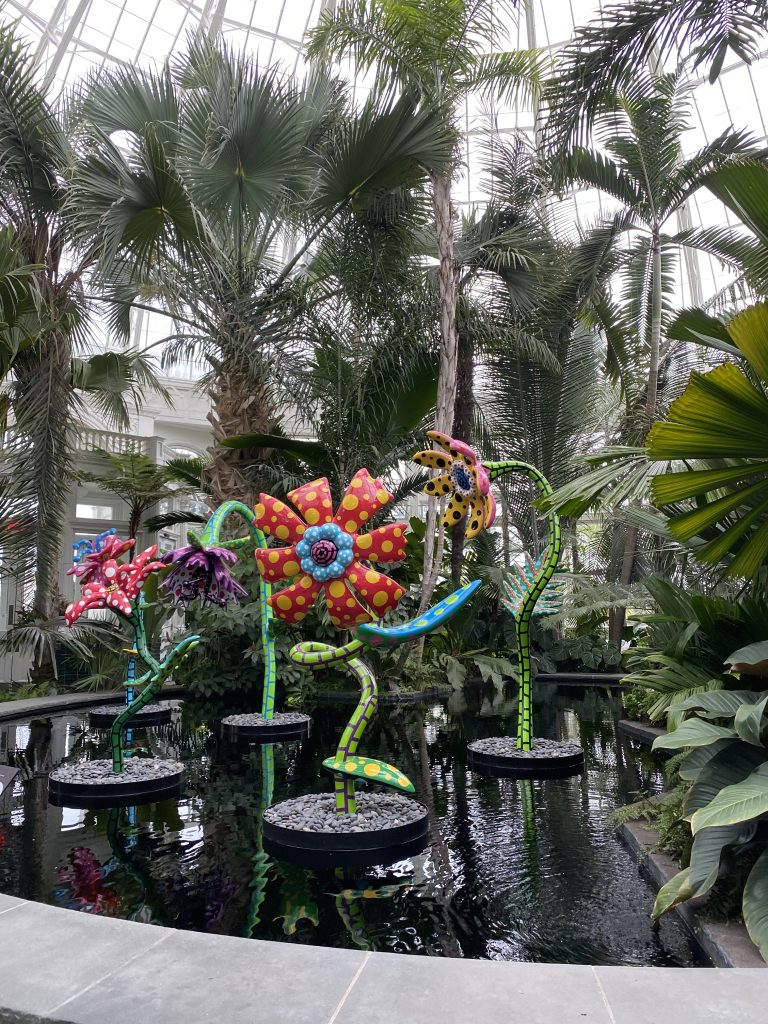 Kusama's giant flowers displayed in the greenhouse
One feature of the exhibit was a small room that once entered, was totally dark. Small polka dotted pumpkin forms slowly illuminated within a mirrored box giving the illusion of being an endless sea of pumpkins, then slowly, the pumpkins receded back into the darkness. This particular portion of the exhibit was titled "Pumpkins screaming about love beyond infinity (2017) a mirrored cube reflecting an infinity of polka dotted pumpkins"…….yes, very trippy indeed!!! If you are interested in experiencing Kusama's art, The Wonder Museum at 1130 W. Monroe St. In Chicago has an interactive Infinity Mirrored room created by the artist.
My sister enveloped in a giant pumpkin
By then end of our psychedelic exposure we were sweltering and hungry! We headed back to The Colony Club to freshen up and then walked over to Sant Ambroeus for a delicious dinner and a refreshing glass of prosecco. Due to continued Covid protocols, we ate outside in an individual "greenhouse" and I must say hothouse flowers we were not!  By the time dinner was over the heat had finally subsided and we thoroughly enjoyed our walk back to the club.
JAR serpent necklace owned by French actress Jacqueline Delubac
Up early for corn muffins and coffee at Viand Cafe on Madison we discussed the day's plan.The raison d'être for the weekend trip originated with an exhibit called Beautiful Creatures: Jewelry Inspired by the Animal Kingdom, which was held at The American Museum of Natural History.
Dramatic King cobra cuff by Sevan Bicakci from a private collection.
In celebration of the revamping of the Mignone Hall of Gems and Minerals, the exhibit showcased jewels in all forms of birds, insects, sea life, and mammals created by notable jewelers over the last 150 years, including Salvador Dali, Fulco Verdura, Jean Schlumberger and more. A small but dazzling exhibit, it also included some photos of a few of the famous and notorious, or notoriously famous, women who wore them. I can't imagine having the panache to throw on a diamond encrusted cobra bracelet ring and walking out the door, but many of these ladies clearly did!!!
The Duke of Windsor commissioned this brooch for Wallis Simpson, The Duchess of Windsor, in 1940 made by Cartier.  
The Duchess of Windsor, Elizabeth Taylor and Beyonce were among the women featured wearing their favorite pieces. The exhibit has ended but the book Beautiful Creatures by Marion Fasel was created to accompany the exhibit and is available through The American Museum of Natural History. The book has amazing photos and includes tons of background surrounding the exhibit and the jewelry.
All of those jewels gave us the urge to head over to Bergdorf Goodman for some shopping and lunch. First stop, Shoes! After trying on a few pairs, we realized we couldn't stave off hunger any longer so we headed up to the 7th floor to a lovely table at BG Restaurant. Overlooking Central Park, this chic spot designed by Kelly Wearstler is the perfect spot for a leisurely lunch.
After our major shopping fix we headed back for a quick turn around an change for dinner, we walked to Le Bilbouquet for some Kir Royals and a yummy dinner. Our table was in a choice spot outside, near the front door to the restaurant, and perfect for some phenomenal people watching.
Sunday morning we woke up and decided to fit in a quick visit to The Frick Collection in its temporary location at The Frick Madison before we headed to the airport. This was a great opportunity to see these amazing works of art in a starkly different setting than the heavily ornate interiors of their permanent home of the Frick mansion, while it is being renovated. The works of art and porcelain collections juxtaposed against the concrete modernism of the architecture was visually stunning and seemed to give more importance to every nuance of composition and design. The perfect ending to our weekend of art, culture and shopping!
Between four of us we also managed to bring home seven new pairs of shoes…….