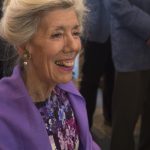 BY JUDY CARMACK BROSS
Hugs: everyone is missing them.
Atelier ENJÉ, the classic couture workroom opened recently in Highland Park, provides "hugs" in silk and taffeta to cashmere and the softest of denim. Sweeps, wraps, capes, and caftans, along with coordinating bags in the same fabric and other accessories, adorn the company's new interactive website. Guests are invited to come in and customize.
The atelier, complete with rooms for designing, cutting, and machine and hand-sewing, creates the feel of a Parisian fashion house with seamstresses devoted to detail. Within the sunny 5,000-foot space on Western Avenue, a straw room reveals items for the hats they create, which encourage gardening and walks; a silk room displays capes in progress; and in still another, mannequins are lined up to test the hang and weight of the fabrics.
The atelier is currently open by appointment only for parties of five or less.
No one could better define the beauty of Atelier ENJÉ's creations than its hands-on president and designer Judith Pierpont, who loves working daily with her seamstresses in the workrooms, filled with natural light from floor-to-ceiling windows, to achieve the detail she wants. Recognized as one of Chicago's most distinctively elegant dressers, she often chooses signature navy and white ensembles with a hint of her favorite color pink.
"I feel so strongly that elegance and joy come from within. People need to represent their personality and reflect their own definition of themselves through what they wear. That way you find out what a naturally elegant person you are," she says. "We talk a lot here about the importance of experiencing joy and ebullience."
She describes the atelier's offerings as "desk to dinner" and perfect for Zoom calls. A world traveler for most of her life, Pierpont also shares her secrets to traveling light: "I remember once arriving into London on a much-delayed flight. I had on black trousers and a white blouse. In my bag I knew I had another white shirt and a sparkly wrap. My husband and I were meeting a now-famous star, very young at the time, at a lovely restaurant. I had time just to dash into the ladies room and change my white shirt and add the wrap. It was perfect—and a reminder we can all lead flexible lives."
She continues, "I have a feeling that travel in the future will be more intentional. A little black dress, a couple of wraps and matching bags are often all that you need. A wrap can add great drama. It can hang from your shoulder or be doubled around you like the 'hugs' we've designed. You can feel comfortable, even cloistered, when you are not travelling and are sheltering in place as well."
She describes the ENJÉ experience: "When people come in they are looking to us to help them be their most attractive. It is fun to look in our cabinets and bring out colors which might be perfect to them. Those colors can make you radiant."
The atelier uses only the best fabrics from across the globe. This fall, the emphasis is on capes rendered in quilted velvet, soft denim from Washington state, and beautiful brocades from her native Canada. Their collections also feature bouclé, silk, taffeta, tartan, micro-suede, cashmere, wool, and other blended fibers The new designs will be up on their new interactive website next month.
A ribbon cutting hosted by Kathy Walgreen, the brand's chairman and CEO, is set for early autumn. "Atelier ENJÉ is honored to introduce a premier shopping experience to Chicago's North Shore. We look forward to offering our clients distinct elegance with each of our exquisite ENJÉ pieces," Walgreen says.
For more information or to schedule an appointment, visit atelierenje.com.