By Judy Carmack Bross
Fashion collage prepared by Alex Aubry, Director of the Fashion Resource Centre of the School of the Art Institute.
As we learn monthly from Philip Vidal's About the Town in Classic Chicago, you can be enticed by a riveting program every day of the week in our town.  But how do you insure a sold-out success?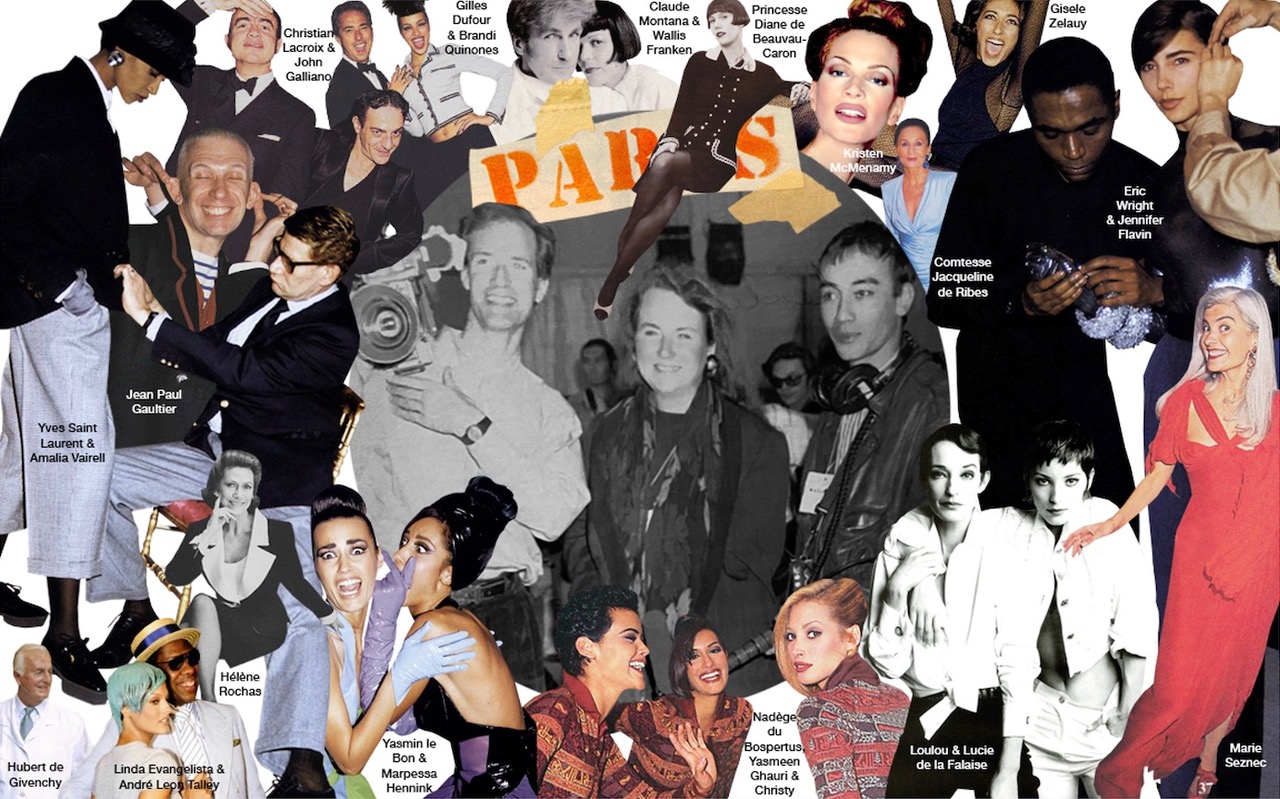 Fashion collage prepared by Alex Aubry, Director of the Fashion Resource Centre of the School of the Art Institute.
From Parisienne runways featuring supermodels at the birth of their careers and the designers who make them stars to contemporary French architecture and its impact on the future as Paris anticipates the Olympics, the Alliance Francaise fall events have had the standing room only result that fresh and tempting topics can deliver.  
Observing the audience swell, and the average age plummet, we asked the Alliance what's their secret?  We spoke with Executive Director Mary Ellen Connellan, Board Member Ann Thompson, Director of Programs Aimee Laberge and Director of Special Programs Conery Hoffman about their savvy scheduling. 
Ann Thompson, Christy Chen, Associate at OMA, and Eleanor Esser Gorski, Chief Executive Officer at the Chicago Architecture Center.  Photo by Sheryl Bury-Michals
 We were over the moon to learn more from Nan Devitt Tremblay about the golden age of French fashion in the 1980's and 90's at the Chicago premiere of her documentary Carton d'Invitation (French for fashion show invitation), at the Alliance recently.
Mary Ellen Connellan, Executive Director of the Alliance Francaise, told us:
"We are elated to reflect on an extraordinary fall season, made possible by the exceptional partnerships with the Chicago Architecture Biennial and Villa Albertine. Our events, delving into the legacy of Gustave Eiffel, the rejuvenated parvis of Notre-Dame de Paris, and the future of skyscrapers–or 'gratte-ciel' as we say in French, witnessed overwhelming success with sold-out audiences. In addition, we are particularly proud of the resounding success of our new Symposium on Contemporary French Architecture. It has been a season of inspiration, collaboration, and a celebration of the vibrant spirit that propels the architectural discourse forward."
And Board Director Anne Thompson:
"I have been honored to Chair the Symposium on Contemporary French Architecture and to work with Conery Hoffman to curate a slate of global innovators in architecture. The popular series has allowed us to not only highlight the most exciting new building projects in France but to introduce new audiences to the Alliance Francais de Chicago."
Conery Hoffman, Director of Special Programs, at the Alliance detailed the Symposium's offerings:
"The Symposium on Contemporary French Architecture was an exciting development that originated during the pandemic which was finally able to take place in person this fall!  This series is an industry insider lecture series that welcomes architects and designers from some of the most exciting new projects in France. Close to 300 architecture fans filled the Alliance auditorium for Sustainable and Social Architecture and Urbanism in France with Jan Knikker of MVRDV; From Chicago to Paris: Global Design and the Architecture of Place with KPF President and Design Principal James von Klemperer; and Dior: From Paris to the World with Christy Cheng Associate, OMA: three inspirational conversations addressing innovative, cutting-edge topics.  We welcomed the role of Reed Kroloff, Dean of Illinois Institute of Technology's College of Architecture, who directed the Q & A period. It also wasn't without thought that this series would wrap on a fashion note which is a subtle nod to the Symposium on the Arts of France spring topic, 'Yves Saint Laurent; L'Homme.' This lineup is going to be unforgettable! 
"Working with Ann Thompson on Contemporary French Architecture, and Myriam Bransfield and Mary Swift on the Symposium on the Arts of France, has been and is always, great fun."
  Dior Exhibition and photo by Daici Ana – Courtesy House of Dior
Aimee Laberge, the Alliance's Director of Programs, told us:
"Fashion and Architecture came together at the Alliance attracting full houses of fashion and architecture professionals and students, in integral black or colorful hair! Besides Nancy Devitt Tremblay presenting her documentary, we were reminded how far from frivolous fashion is with the last talk in the Symposium on Contemporary French Architecture series. That's when Christy Cheng from Rem Koolhaus' firm OMA revealed how they put together the scenography featuring the House of Dior exhibition.  It was so intriguing to track the intellectual process behind such an exquisite display of elegance starting with Dior's famous 'New Look'."
Fashion collage prepared by Alex Aubry, Director of the Fashion Resource Centre of the School of the Art Institute, who also interviewed Nan Devitt Tremblay at her Alliance Francaise Program.
 In 1986, Nancy Devitt Tremblay was a Canadian expat living in Paris when she joined Fashion Television. Before the advent of social media, the Canadian series was the first to offer viewers across the globe a window into the fashion world. From 1985-2012, the show documented fashion's shift from an industry accessed by a privileged few to a form of mass entertainment; offering a front row seat to runway shows, the backstage, exclusive parties and designer studios. Devitt Tremblay served as its "invisible" Paris reporter interviewing noted fashion designers such as Karl Lagerfeld, Alexander McQueen and Jean Paul Gaultier, in addition to editors, models, celebrities and fashion insiders. Combining salvaged footage from the TV show with interviews, Devitt Tremblay's archival documentary explores her tenure at Fashion TV from 1986-1998, whose legacy and influence is still felt today. 
Alex Aubry Director of the Fashion Resource Centre, School of the Art Institute of Chicago, Nan Devitt Tremblay, and Aimee Laberge, Alliance of Chicago, photo by Sheryl Bury-Michals
We caught up with Devitt Tremblay, who now lives in Toronto, as she was working on podcasts, Instagram and TikTok (by visiting @cartondinvitation). Her podcast series also called Carton d'invitation addresses issues of embodiment, adornment and sartorial disruption. She has done 12 and has another 13 podcasts recorded.
She is off for London shortly where she hopes to reconnect with favorite of the supermodels Kristin McMenamy.  "We met early in her runway career and became friends.  She is still working today as a model.  I tell people that my movie is a 'bootleg' film—to exhibit it, I have to be there.  I showed it to my neighbors on the Ile d'Orleans in Quebec in the St. Lawrence River in a hayloft and they loved it.
"For 20 years I had been out of the game and working as a teacher. I decided to work on my master's degree on fashion in the golden age and re-claimed my story by making the documentary, having fun choosing archival music as well," Devitt Tremblay said. "I really think that fashion television paved the way for Reality TV in the way we got people to talk with us and it was definitely the Instagram of the day."
Nan Devitt Tremblay on a fashion interview
From her bird's eye view, Devitt Tremblay captures a young Kate Moss on the runway, Nan Kempner defining the place of luxury in the world, Andre Leon Talley behind the scenes and all the great designers from Yves St. Laurent and Lagerfeld and to Gaultier and Mugler whom she says were, "so far ahead of their time and even our time."
Devitt Tremblay revealed that her book will deal with queer representation.  "There are so many people who are now between 35 and 45 who learned about themselves from Devitt Tremblay's shows.  "Someone told me that they saw Alexander McQueen on the runway with his models and said he saw that the designer was just like him."
"It can be very bittersweet.  I sometimes am overcome with emotion when I hear one of these greats has died.  I want to honor them," she said.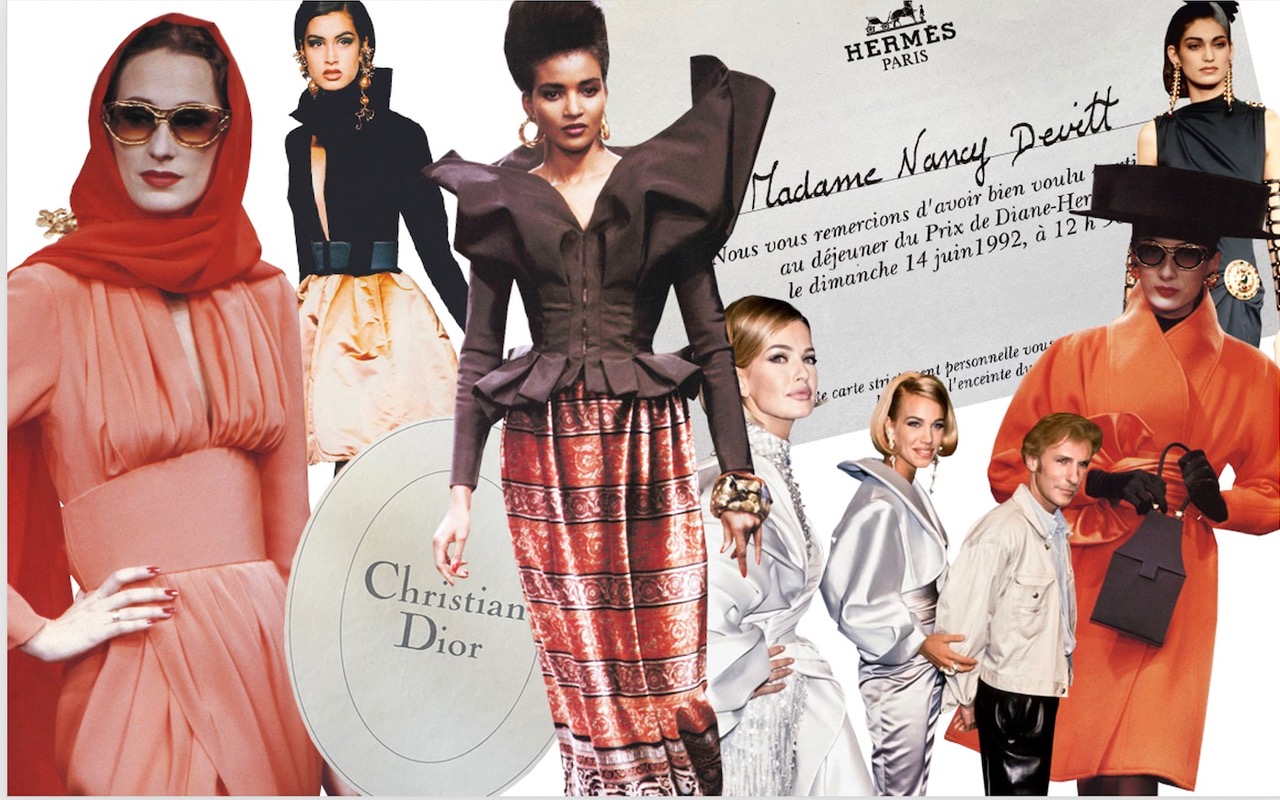 Collage for the Hermes Show  prepared by Alex Aubry Director of the Fashion Resource Centre of the School of the Art Institute
For more about the Alliance Francaise and upcoming programs, visit: af-chicago.org