Victoria Martin
Auspicious and Important Time Frames for the Week Ahead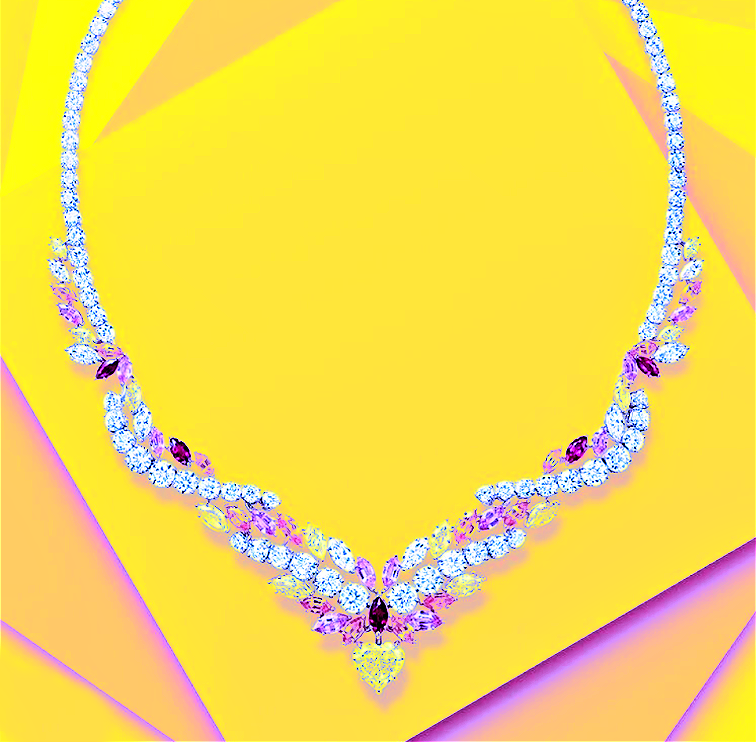 Sparkling diamonds and colorful precious gemstones embody the feelings of a budding affection in this exceptional Brilliant Glow necklace @harrywinston
Astrological Forecast Advice & Mass Psychology
June 13– 19, 2021
Highlights This Week 
May 29-Jun 22 FORECAST A marathon that includes successful exercises and therapy is just the thing. ADVICE The information or media choices are best if enhanced by theatrical touches and good branding.
Mercury Retrograde  May 29- June 22 
June 4-24 FORECAST This is the main challenge for 2021: bridge past to future! The schemes are pulled at each end: tradition and novelty. ADVICE Perhaps a bit like the Silver-Gold proverb: make new friends but keep the old.
Saturn Square Uranus
Sunday, June 13
2nd of 3 days FORECAST Confidence in one's own special talents brings ascent to a higher level. ADVICE Fog-clearing happens with physical exercise, a good night's sleep, laughter, and healthy nutrition!
Sun Square Neptune 
Wee Hours-Morning FORECAST Talents in performance, media, or sports assist in professional competitions. A powerful network and the ability to make good things happen is a big plus. ADVICE The optimum direction change is away from entitled and narcissist towards humble and service-oriented. An attitude of willingness to work and cooperation will enhance reputation.
Moon Opposed Pluto
Afternoon-Evening FORECAST Strong or athletic physical presence is striking in person. Also, a branded or media-savvy presentation is good. Showmanship demos an engagement with life and captivating imagination. Catalysts for action and action bring a best-case outcome! ADVICE Backup purpose with something noble; best to shun sensationalism! The urge for freedom is natural. An inclination to severe judgment may be slow progress. A crafty nature breeds doubt and stunts fellowship.
Moon Conjunct Mars
Monday, June 14
3rd of 3 days FORECAST Operations call for us to root out the illusion, refute lies, and purge indulgence! Listing facts and figures help that elimination process. ADVICE Clearing and cleansing is a therapeutic exercise! Truth-telling to one's own self is especially strengthening. Correct insights are valuable to spread around as well!
Sun Square Neptune  
Afternoon-Evening FORECAST Educational events, celebrations, or historical pageants hold special meaning. Participation provides an upbeat context for human life. Upward striving and goal setting are energized. ADVICE Explanations of resources' categories and usage guides are available; individual customizing is favored.
Moon Square Uranus
Afternoon  FORECAST The miracles shown in theatrical experiences or ceremonies are attractive and often useful.  A test shows prevailing mood and an exam from all angles describes dominant trends ADVICE A temporary schism between brain and gut feelings calls for the integration of both together. This helps to set up healthy work and a sustainable team.
Moon Opposed Saturn 
All Day FORECAST The top oxymoron/conundrum for 2021 is advance to the future innovations yet retain some tradition, sentiment, and 'Old School' values. ADVICE Turning points for the year are Feb 17, Jun 14 & Dec 24, We will decide what will swing sy—fy and what will stay classic… or meld the two!
Saturn square Uranus
Tuesday, June 15 
All Day FORECAST We'll all be making monumental decisions, compromises, and syntheses. ADVICE Passed in previous investments are uploaded into cherished or hoped-for outcome once-in-a-lifetime basis.
Saturn square Uranus
Wednesday, June 16
Wee Hours-Morning FORECAST Supply demand and educational needs are obvious. Assemblies with ethnic, intellectual, or professional peers are favored. ADVICE Great luck via communing with kindred spirits.
Moon Opposed Jupiter
Night-Wee Hours FORECAST Soulful direction and guidance is a welcome addition. The use of innovative or contrary thinking is enhanced by today's activity. ADVICE Compassionate helpers and/or expert specialty performance round out the program. New human-centered technology and exciting yet satisfying groups are forming
Moon Trine Uranus
Thursday, June 17
Wee Hours-Morning  FORECAST Here's the focus on fame yet some used for a noble purpose. Retrospectives, reviews, or reenactments get updated in terms of lessons and perspectives. ADVICE These are a big hit and appealing beyond expectations.
Moon Square Mercury
Afternoon-Evening FORECAST Grounding for face-defining operations provides relief and inspiration due to nature's beauty and or the healing properties of elements sun, wind, and water. ADVICE These sensitizing, centering experiences can balance idealism. That is in nature or ceremonies contain Proverbs and lessons as well as power and awe.
Moon Opposed Neptune
Evening-Night FORECAST Grounding in nature's glory and ceremonies let's celebrate rites of passage or seasons are on the agenda. ADVICE They have been—or need to be– upgraded or modernized to suit the needs of 21st-century sophisticates, corporations, and organizations.
Moon Trine Pluto
All Day Peaks at sunset FORECAST Here's time for troubleshooting or worst-case analysis. ADVICE Outcome indicates that even while expecting the best possible manifestation and living in an ideal mindset. There are static or fascinating contexts that deserve treatment
Moon Square Sun
Friday, June 18.
All Day FORECAST Even if the optimum transaction is initially lacking there are checkpoints, needs, and corrections or improvements to be made. ADVICE Reference to projects started at the solar eclipse June 10 or the new Moon phase June 8 – 12.
1st Q moon 'Grace Period' continues!
Saturday, June 19
Late Night- Wee Hours  FORECAST Survivalist cat sticks are enhanced by authoritative wizardry. ADVICE Pull together all skills in science and art to create a good story and a miraculous output.
Moon Trine Saturn
Wee Hours-Morning  FORECAST Engineering feats are helped by tips from experts. ADVICE Emphasize stamina, communication marathons, and other champion behavior.
Moon Trine Mercury 
Afternoon-Evening FORECAST Sacred stories and cultural treasures are used as part of contests and competitions. This is the way to transcend social pressure. ADVICE Contests, games, sports board debates are good formats. A bit of jousting can relieve pressure and new friendships are formed.
Moon Square Venus
Late Night- Wee Hours FORECAST The riches of cultural stories, beauty, and sounds are pleasing aroused passions hard to control. Cultural or ethnic group origins is a hot topic. ADVICE Be sure you know what you're doing before you appropriate something that is essentially trademarked or privileged.
Moon Square Pluto
Highlights late June – mid July 
June 22-26 FORECAST Hypersensitive, empathetic mode is used for crafting the perfect lesson or initiation. This is a good time to make a positive impact and influence family, community, and colleagues since these arenas are impressionable! We are all questioning what attracts people to go to a place. Is it magnetism, gravity or a special 'draw' ? It is obvious and acknowledged as 'good energy'. ADVICE Add on new methods/ways to reach a more perceptive mental state, clear attunement, or emotional enlightenment. Biometric measurements –as simple as breath and pulse –help track reactions or improve mood.
Full Moon Near Solstice
June 29-July 3 FORECAST Rugged assignments are easier with advanced training. This is a 'combat zone' state of mind so self-defense is basic. ADVICE Work smart.  General guidance is that it is time to toughen up! Complaining is no use but it is good to help others and relieve suffering.
Mars Opposed Saturn
July 7-11 FORECAST Discovery of the divine in daily life seems easy at this time. A focus on minerals, chemicals & resources assist progress. Dealers of commodities and pharmaceuticals are featured. ADVICE A small action yields a big effect. Best demeanor is a charismatic, friendly and scintillating one. This is celebrated in people, scenes or ideas.
New Moon Phase @ super Star Sirius
produced by Kay Whitfield