Victoria Martin
Auspicious and Important Time Frames for the Week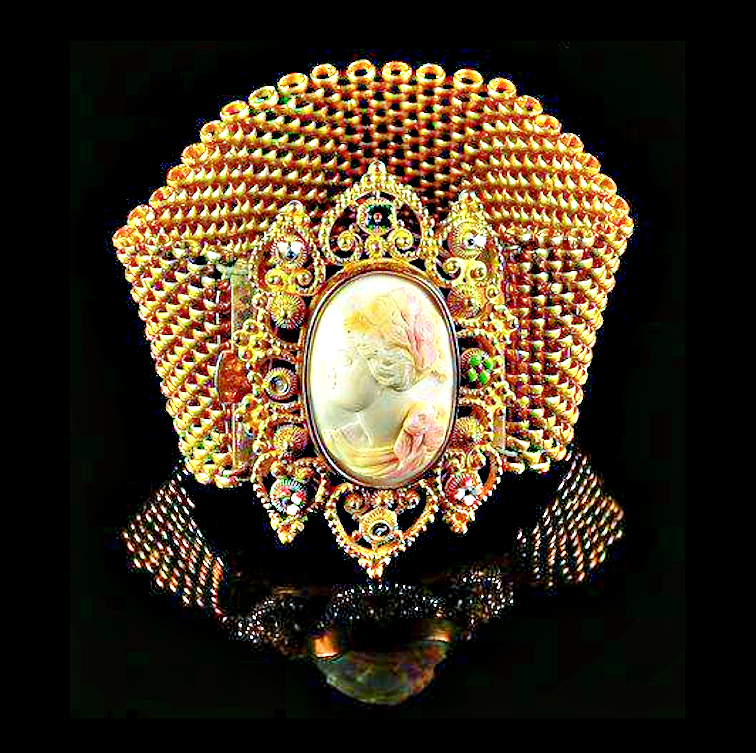 Antique hand-carved cameo bracelet gold, circa 1860.
Astrological Forecast Advice & Mass Psychology
December 5-11, 2012
Highlights December 
December 2-6 FORECAST Inner turmoil gives way to amazing solutions. ADVICE Demonstrate sincerity and encourage virtuous thoughts, words, and deeds.
New Moon Phase in Ophiuchus –the magician and healer—Solar Eclipse   Dec 4 
December 9-27 FORECASTTwo weeks of passion and appreciation for all that the 21st century has to offer. Expect a focus on culture, finance, and social options. ADVICE Get involved in groups and activities from all three categories! You'll get a vivid preview of the upcoming 2022 renaissance!  These themes persist in the background till Mid-March …an amazing opportunity for romance too!
Venus Conjunct Pluto 
December 17-21 FORECAST the super sensitive personality types might question a giant fortunate offer. ADVICE Luck is on the way and to welcome it we can all put aside hurt feelings. However ample troubleshooting is good and indulgence is counterproductive
Full Moon Phase near winter solstice
December 14-January 4 FORECAST The third of three hits in 2021: February 17, June 14 and Dec 24. The task before us is to take the best of tradition or structure and then anticipate what innovations will yield a positive outlook synthesis. ADVICE Avoid being stuck inhabits rather than striving for proven merit. Be a skeptic in terms of hype, but get educated about science, technology, and groups.
Saturn Square Uranus                                                            
Sunday, December 5
4th of 5 days FORECAST More items on the to-do list: a focus on how to serve others seems correct. ADVICE Offer to help or make contributions to boost productivity for colleagues, family, or community organizations.
New moon phase
Night-Wee Hours   FORECAST Regional or ethnic offerings will match up well with historical and natural resources. ADVICE Emphasize the natural organization in the heart of the family, community, or company. Focus on the best possible ambition set.
Moon trine Uranus 
Monday, December 6
5th of 5 days FORECAST Plans are shaping up. There are diamonds coming out of the mud. Men could use some help. ADVICE Demonstrate sincerity in spite of inner turbulence. This will inspire trust.
New moon phase
Evening-Night   FORECAST Our job now may be to harmonize intelligence and enforce beautifying hipness. ADVICE Sophistication and all other intrinsic 21st-century behavior/qualities could be emphasized for broad success. For example: be both smart and friendly.
                        Moon Conjunct Venus                                         
Night-Wee Hours  FORECAST A deep dive into motives revealed and/or secrets emerging now will bring power and insight. Resurrecting hidden or buried ideas, reconnecting with memorable people or places is favored now. ADVICEThis is also a good time to develop positive or friendly intrigue.
Moon conjunct Pluto
Tuesday, December 7
All Day FORECAST A challenge regarding the value of glamour, blind faith, and hypnotic situations. Also under examination are factors that could go either way: enrichment or impoverishment. Special scrutiny is directed towards chemistry, wetlands, and propaganda. ADVICE Critical analysis and truth are desirable companions or important functions.
Mercury Square Neptune
Evening-Night   FORECAST There's likely to be a very serious mood that prompts good work. The flavors are altruistic, but also conscientious. ADVICE Ask authorities to weigh in on topics of healing, wonder-working, and legal matters. Applied wisdom will assist these professional situations.
Moon Conjunct Saturn
All Day FORECAST An enterprising, expansive motion/movement/tide is felt. There is a push to sum up/present/current/ongoing projects. Education is consolidated. ADVICE Do estimate what will work in terms of best procedure, habits, plans, and maps.
Mars  Square Jupiter
Night-Wee Hours    FORECAST Projects developed with anticipation of the futuristic elements have a do or die element. ADVICE Pick and choose from a magnificent array of historical, organic, social, or familiar/totem/mascot animal assortments.
Moon Square Uranus
Wednesday, December 8
All Day FORECAST Tasks of minor importance are worth doing. ADVICE Those that show promise for great enterprise might be willing to wait a bit to develop properly.
No geometric relations between heavenly bodies
Thursday, December 9
Wee Hours-Morning   FORECAST It is a very lucky time frame due to much optimism, openness/receptivity. ADVICE It's good to start the day early and develop auspicious or promising ideas, relationships, and projects.
Moon Conjunct Jupiter
Wee Hours-Morning    FORECAST The power behind the throne gets a consult with military and/or physical strength sources. ADVICE Do use outreach as per your maximum capabilities.
Moon Square Mars
Friday, December 10
All Day FORECAST Psychic examination of budding projects– both new and renewed—can anticipate the types of relationships that will bring progress now. ADVICE This quarter moon is conducive to brainstorms and envisioning or imagining possible developments and needs.
Moon Square Sun first Quarter Moon
Evening- Night  FORECAST Complex structures, ample inspiration, and mystique are operating/present in full force. ADVICE It's a good time to add imaginative touches, glamour, and fascination. The plot thickens considerably in developing stories.
Moon Conjunct Neptune
Saturday, December 11
All Day FORECAST Additions to the meeting, center, and location are best if tangible. Simulations in aesthetics, social, or finance are instructive. Attitudes are mostly good or getting better. ADVICE Some tactile experience or sensory representation will hit the point home. Manifest a more intensive or intriguing beauty! Satisfy a craving for true love or potent cultural arts.
Venus Conjunct Pluto
Morning-Afternoon  FORECAST Current projects take in/access extra energy. ADVICE Bring on board catalysts vis-à-vis sorceresses and wizards to bump up the effectiveness quotient.
Moon trine Mars
Dec 31-Jan 4 FORECAST This gives an updated—21st century– version of the new year: lots of resources enrich the new moon and new year synchronicity There is a significant innovation, novelty, and contrarian twist to start this secular year. ADVICE It is ok to be insistent and/or compelled towards unique historical figures/images. Use raw, pure, or primary materials. A Steady stance, solid, and consistent fits well,
New Moon Phase Trine Uranus
Highlights early-mid January 2022
January 6-10 FORECAST We will witness a stronger presence for music, religion or philosophy in cults, clubs, and communities emerging. They stand out as per matching special interests and specific regions. ADVICE Ethics are important and the focus is on bringing in the bounty. Enriched/endowed clusters rarely seen come forth.
Sun conjunct Venus Inferior conjunction Venus at Perigee
January 14 FORECAST A review of research and specific requests as per contracts. Contact with influential people is in the mix. Opportunities include rising to high positions; ADVICE Submissions/Entries are likely to generate many responses. Government positions or dealing with the public. Success goes in cycles due to changing circumstances.
Mercury stations changes to retrograde motion
January 14-18 FORECAST Surfacing now are normally hidden passions, politics, and plans. An extraordinary sighting determines major influences. ADVICE Activate the evolutionary function, opt for change, or cook up strategies.
Sun conjunct Pluto
January 15-19 FORECAST Current scenes are a contest. Explorers, feisty -rousers and competitive types do well. Everyone else is a bit dazed. ADVICE  This is a good indication/advisory/preview of the board 21st– century style. Especially for pair-ups/partnerships modes and team Operandi.  Achieving a bit of immortality is a goal!
Full moon phase
 produced by Kay Whitfield