By Katherine Harvey
Rust. This time it was rust, not the termites who left perfect miniature conical piles of dust on the terra cotta tiles under the piano bench or the mini moths who invaded the piano action snacking on the felt hammers. This time it was rust with whom we have a certain long term intimate relationship since our house is across from the sea; we might as well live on a ship for all the maintenance necessary to keep our house, well, in ship shape, which I must confess it probably is not. In any event, we arrived on a warm Friday afternoon with the clear blue sky reminding us why the Finch Riviera is called La Cote d'Azur, the Azur Coast; we were looking forward to two peaceful weeks in Antibes. We knew that at 10:00 the next morning our friend and Steinway master piano technician would be coming to put back the action of the piano that he had seriously worked on for the first time in 25 years but we could hardly have anticipated the adventure that awaited us mere moments after our arrival.
The ever cheerful Didier picked us up at the airport as usual and regaled us with stories of his Yorkie, Fatboy, who he says is as much a Harley fan as he is and enjoys going for motorcycle rides around the countryside and attending rallies in his special doggie tee shirt from the Harley Davidson shop at O'Hare which we had given him a few years ago.
The main door we use is our back door which is much more convenient than the front door. We were jet lagged and looking forward to being home and enjoying our peaceful two weeks and hopefully a nap before dinner at MAMO our go-to restaurant for dinner the day we arrive. The only problem is we could not open the back door. The key would not move and if we broke the key it would be a catastrophe. I scrolled through my phone numbers on my French cell and eventually found the number of the master locksmith, Albert. Luckily it was after lunch time when everything closes here and it was a week day so we figured Maurice, Albert's brother and office manager, would answer the phone, Albert would hop on his motorcycle and we would be rescued. No such luck. No Maurice, no Albert. A young man answered the phone. After some discussion the young man said he would be here as quickly as he could but he was in Cannes. We will never know how we ended up with the young man from Cannes but he did arrive armed with the ubiquitous WD40 and we were able to get into the house. The front door had never been an option as it is closed with hooks when locked. We paid the young man, probably too much, but we were grateful to get into the house. We were advised not to lock the door and to get the whole rusted out mechanism changed as soon as possible and the young man would be glad to come on Tuesday and do that if I would write him a check for a shocking number of euros. I was not about to do that but we had a Tuesday date. I explained all of this to our dear friend Maita over cocktails Sunday evening who said we should use her locksmith (how many people do you know who have a regular locksmith?). I cancelled the young man whom I did not really trust and called Maita's locksmith at 8:04 Monday morning. Someone arrived at 8:18, analyzed the situation, took photos and was gone by 8:45. Thursday morning at 9:00 the locksmith arrived after finally figuring out where he could park which is not an easy task here; he spent the entire day installing our new locking system with five points. Everyone has a new key and we will be using WD40 a lot so the door does not rust in spite of the sea air. And it turns out Albert and Maurice have retired and our new locksmith is their nephew which is how things are in Antibes.
This is the warmest October on record in the Var and Provence and everyone is enjoying every minute of it. The terraces are full at lunch time and people are out enjoying the sunshine. Merchants are taking advantage of the weather and remodeling: the boulangerie in the rue de la Republic is completely remodeling even though they did so only three years ago, La Sirene is closed till December, the market has fewer stands but Nico, who used to work at La Sirene and has opened his own fish stand across the market from his former employer is there with his six oysters or fish tartare and a glass of wine menu and is doing a roaring business. My florist has closed and the place is being remodeled but so far its transformation and future occupant is a mystery although it is rumored it will be another boulangerie. The restaurant a few doors down from us is closed while the facade is being repaired and the rotisserie chicken shop in the rue Clemenceau just past the market and the bust of Championnet is still remodeling; they started in September and it is taking an awfully long time.
The downside of the unusually warm weather is the mosquitos; they are everywhere and loving every minute of their extended opportunity to annoy the population. It is all a bit strange since there is a drought and boat owners are being asked to not wash their boats until at least mid-November so the only happy ones are the mosquitos. The bites do not seem to be as unpleasant as they are in the summer and the annoying itch goes away fairly quickly which is something for which to be grateful.
Our conductor friend Daniel Jeangeorges asked us this summer if we were for or against the ramparts becoming pedestrian. We though it odd that out of the blue he would ask us this but it is a major debate here and people are more than glad to give their opinion. As it turns out, stage two of the ramparts becoming pedestrian is going to start in early January. Stage one was the removal of the parking places at the end of the ramparts and the creation of the Poets' Garden with the statue of Balzac as the centerpiece. Now all the parking places in front of the restaurant a few doors down from us will be removed and the road will be resurfaced replacing the asphalt with the more esthetically pleasing surface to match the surface at the end of the ramparts. We are delighted but JP Veziano, our alderman and celebrity boulanger is against this saying his clients tell him they will have no place to park and the walk from the parking garage is too long. We hope some sort of shuttle system will be established for the clients of the two restaurants on the ramparts and others who need transportation.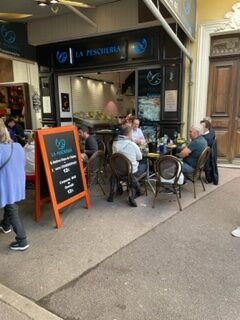 Halloween or Toussaint (All Saints Day) has become quite popular here and Antibes has activities planned for children of all ages. A popular side street in the old town will be transformed into a Halloween Street Party with music, games, candy and cakes and all are welcome. There will be a costume competition with prizes and some stores have decided to decorate themselves as houses of horror for the occasion. Interestingly children do not go from house to house for trick or treat but instead go from shop to shop to collect candy and other treats. I have no idea how this started but various shops take Halloween very seriously.
| | |
| --- | --- |
| | |
Not to be outdone by Halloween, a personality development coach (!) is proposing a scavenger hunt to take you all over the old town and the ramparts, then to Jaume Plensa's Nomad who guards the port and where the treasure can be found. More Halloween delights await at the Bilingual Center near the Mediatech in the new part of town ( I never knew the Bilingual Center existed until I read about it in the newspaper the other day) including pumpkin carving, pastry baking and learning how to make a Pumpkin Spice Latte. It all takes place a few days after Halloween but so what, it is a fun and I gather painless way to learn English although with a very special vocabulary I would imagine. And as if all this is not enough to keep you busy, you can take up ceramics at ClayMates starting next week which I would love to do but we leave in a few days so will miss all the fun.
No sign of Igloo who probably is in Lille having the final fitting for his Halloween costume; I would think he would win the prize in any competition and I hope to learn about just that when we return to Antibes after Christmas when the town will be gearing up for Epiphany, La Fete des Rois or the Feast of the Three kings and the annual Galette des Rois with a porcelain favor so someone is crowned king or queen.