By Katherine Harvey
In the States, there is a shortage of Sriracha HOT chili sauce and CHILI GARLIC SAUCE. California-based Huy Fong Foods has apologized to all their American fans who are without their favorite palate burner and promises a September return. We shall see. The reason for the empty shelves? Drought. We are having a similar problem here due to drought, but the item missing from grocery shelves is not a hot sauce but Dijon mustard, introduced in France for King Philip VI's table in 1336 and now a staple in almost every French household. A proper vinaigrette without strong Dijon mustard? Unthinkable to most French. The mustard seeds used to make true Dijon mustard come from France and, curiously, Canada, where 80% of mustard seeds used in this formerly ubiquitous condiment are grown. I found out about the coming shortage when I was here in May and saw a very small article in the local paper announcing the imminent catastrophe; this pending disaster called for emergency action. I immediately went to my favorite supermarket in hopes of finding what would soon be as precious as emeralds, but all I encountered were empty shelves where multiple brands of Dijon mustard should have been. Panic. I went straight to a second supermarket, and hidden in the back of a bottom shelf across from the salt in the condiments aisle was the prize I sought: Maille l'Original Moutarde Fine de Dijon brand mustard. SUCCESS. I bought four jars which were warmly welcomed by the two jars I already had as I like to stock up on items that are frequently used. As it turns out, while my favorite supermarket has not had any mustard since at least May, a third supermarket has somehow stocked it with some regularity, and I could not resist purchasing three more jars of the precious condiment a few days ago. Parmigiano Reggiano may be the next staple that will become scarce due to drought. The cows that produce the milk for this in-demand cheese are not getting enough nutrients from their grazing, and their milk is in danger of not being up to standards. Now is the time to start hoarding.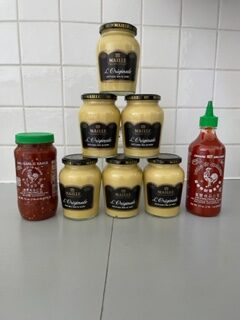 The morning market is back in full swing, with a few stands returning to the center section having been temporarily exiled due to Covid. Tomatoes along with melons are the stars of the summer as always but Simone, who had the stand with exclusively Antibes grown tomatoes and always looked ready to dance the night away at her favorite club in Cannes has retired from the demands of market life and now only supplies restaurants with delivery service by bicycle. Simone has been replaced by someone a bit more reserved who wears long-sleeved shirts with high collars and ankle-length skirts or is similarly covered in a shirtwaist dress no matter the sweltering heat. The new tomato girl would not allow her photo to be taken, but I was allowed to photograph her tomatoes.
| | |
| --- | --- |
| | |
Marielle still has the most elegant produce stand and is always chic or at least follows the most recent fashion trend, including a Louis Vuitton belt bag slung cross-body. Her boyfriend often picks her up in his Porsche after the market closes, and off they go, I know not where. Marielle was once engaged to my kinesiotherapy (I broke my ankle here about 12 years ago), but they never made it to the altar; they were going to have the reception at the well-known chic restaurant that is a few doors down from us. I did not want to pry, so never asked what happened, but when Cyril would take me for walks through the crowded market to force me to have confidence on crutches, he always avoided Marielle.
Michele's produce stand remains the most popular stand in the market. The other day when I was buying some fruit and vegetables, I picked out some especially beautiful nectarines and put them in my basket along with apricots, zucchini and lemons. I took my little basket to Michele to have everything weighed and he started to wax poetic about the nectarine treasures I had unknowingly discovered. They are signed. Designer nectarines; only the French could come up with this. I had not noticed but there it was. Michele explained that they are the pride of France. I have to admit they are as fantastic tasting as they are beautiful. I did some research and discovered the company is called Le Canard des Clairettes and is in the Camargue region; they produce mainly flat and round pitted fruits such as apricots and white and yellow peaches and nectarines. Not every piece of fruit is signed and some have a sticker of a rather elegant duck of indeterminate species in flight on them. Delicious is an understatement.
| | |
| --- | --- |
| | |
The other morning on my way out the door to go to the market (life seems to always get back to the market here, where I go most every morning, but in Chicago, I reluctantly go to the supermarket once a week) I encountered a mammoth piece of art that had not been there the day before. Every summer for the past several years Antibes has focused on a single artist's large-scale works and placed them around town to be discovered to the delight of all. This summer, the artist is French sculptor Nicole Brousse, "Woman sculptor and sculptor of women," and the piece in the square out our back door is Eureka, "ready to fly without fear". All the pieces are of women doing all sorts of extraordinary fearless acts. The artist also has a fabulous exhibition near the port in the municipal art gallery.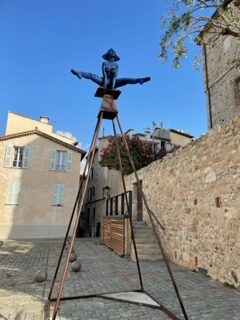 Another amazing piece of art is at the Port Vauban. This time it is life-size by contemporary artist Steve Chaudanson who has been working in metallurgy for over 25 years and is now associated with the ECOCEAN company and its large scale ECOEART project. And when they say large scale, they mean LARGE SCALE.
Chaudanson's piece is the MEGALODON, a shark that was 11 meters long (approximately 36 feet) and has been extinct for 15 million years. JAWS had nothing on this fellow. It is for sale (the price is not indicated but I am sure if you are interested they would gladly supply it and probably a portion would be tax deductible) with profits going to ECOCEAN which supports a fish repopulation program in the Mediterranean. I suppose you would have to have a rather large garden to accommodate this beauty.
The little train (Le Petit Train) that takes eager tourists on a ride with commentary through the old town and a stop in sister town Juan les Pins is back after being banished a few years ago due to the construction of a new apartment complex in the center of town and then Covid. The entire construction project has been delayed due to Covid, and there have been some glitches, such as the underground parking garage frequently flooding and many apartments having doors and windows that do not fit properly. The eight-screen movie theatre that was to open in June will now open in mid-December, to the disappointment of many. A pizza joint favored by locals has had to close for lunch due to the noise and dirt from the vast construction project, and they are contemplating suing for being unjustly deprived of their ability to work. The next phase of the project will be turning the landmark protected central post office into a five-star hotel. Somehow one gets the feeling this is going to go on forever.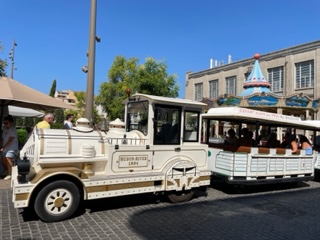 Another tour choice also with commentary is the Open Antibes, a bright red open-air bus that makes a tour of the port, the Fort Carré (which was originally built in the 16th century and redeveloped in the 17th century by the military engineer of Louis XIV the Marquis de Vauban), Juan Les Pins, Cap d'Antibes and the famous Garoupe beaches where Picasso, the Murphys, the Fitzgeralds, Cole Porter and the like spent their lazy summer days.
In an ongoing effort to make Antibes more pedestrian friendly, there is a beautiful new garden that replaces a small parking lot on the ramparts overlooking the sea. It is a welcome sight and is a lovely place for pedestrians to sit and watch the boats and have a quiet moment. It is called the Poets Garden and it will be magnificent when all the succulents, grasses, cacti and palm trees have matured. The bust of Victor Hugo by sculptor Monique Galy ( dedicated 22 May 1985) presides over the calm space. In 1839 Victor Hugo had lunch here; he kept an emotional recollection and wrote:
Homage to the Town of Antibes
"Everything here radiates
Everything flowers, everything sings
The sun, woman, love
are here at home. I still have
the resplendence in the eyes and in the soul"
Motorized scooters (trottinette Electrique) are as much a menace here as they are everywhere. I have yet to see anyone on a motorized scooter wearing a helmet even though it is highly recommended, but it is rare to see someone on a bicycle without one. The speed limit for these electronic disasters waiting to happen (a five-year-old boy in Nice was killed by a speeding one last week) is 25 kmh or 15.5 mph with no sidewalk riding. Only one person per scooter is permitted but just last evening a woman whizzed past us with her little son in front of her.
The pourpier (purslane) on the lower terrace is doing well after an aphid infestation and emergency intervention. No snails have been sighted so they must be seasonal. We also had moths in the piano. Yes, moths. The piano had been sluggish so our friend and celebrity piano tuner came and informed us that there were moths in the piano among other problems. The piano now has four anti-moth cartridges tucked inside it which we hope are doing the trick; we had never heard of moths in a piano but apparently it is not uncommon around here. The piano also needs to have many very small tubes cleaned out which looks like it will be similar to having multiple root canals.
Igloo is taking his time getting here this summer perhaps due to the minor resurgence of Covid. I keep hoping I will soon open the back door and find our favorite self-centered feline napping in the shade looking for attention but never acknowledging wanting any.