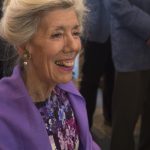 BY JUDY CARMACK BROSS
Think interior designer Alessandra Branca and you picture vibrant color, classic interiors, and gorgeous designs with international whimsy. Casa Branca, a brainchild finalized during the pandemic after years of custom creations for clients, is the designer's first product line, perfectly capturing her essence. The housewares, wall coverings, and fabrics, which are up on her new website, show why Chicago loves Branca.
The collection, which she has worked on for almost three years, features embroidered linens, pretty porcelains, and playful prints intended to mix and match with each other and one's own décor as a celebration of color and pattern play. A citizen of the world, Branca's new line represents a partnership with artisans across the globe. A set of marbleized desk accessories comes from Bavarian designers, for example, and a porcelain poppy reflects a 17th-century drawing from India.
We caught up with the Italian-born designer and travel enthusiast in the Bahamas, where she explains, "Now more than ever, it's important to use your lovely dishes and do something different even if you are at home alone," she says. "It is not easy, but we can't be just eating out of pizza boxes. You are showing no disrespect for all the suffering that is going on now by showing respect for yourself."
And Branca has been showing up not just for herself but for charitable events across the United States, virtually. "In the Q and A sessions after my lectures, people are asking how to interpret this time out. I see a newfound love of home," she says. "We have been so distracted in the past few years by everything we are called upon to do. Every moment should be celebrated, particularly in this dark time."
Branca equates light with color: "As everyone knows I love color! When designing a room or fabric, I always am amazed at how differently colors react based on the location of the home and the room that they will be in. Light is color and vice versa. It is so important that people play with color to see how they feel with it. Some colors we may love, such as red or blue, can be too much in some spaces if they are not played off something else. The contrasts are what exalt each. People talk about the 'pop' of color, and I believe this is what that means. Some colors 'blend,' which is also pleasing. Bedrooms are a place I see softer, more blended color mixes, while in an entrance or living to dining room, I can see a play of colors that is more bold and playful."
Branca celebrates the pure delight of combining patterns in your collections, saying that mixing and matching is the fun of life. She shares, "I believe that bringing different forms, patterns, and colors makes life more interesting: whether an interior or a table setting or the way we dress, it is all about the mix." And it is this idea that is the foundation of Casa Branca.
When designing a pattern, Branca is already thinking of how it will work with other things. "The same applies to our table settings," she says. " I see them mixed and matched with vintage and antique dishes and flatware and glassware as well as with our collection table linens." Vive la variété!
Whether she is in her home on the Gold Coast, in the Bahamas, or in Rome, Branca eats as many meals as possible out of doors, drinking in the fresh air: "Breakfast, lunch, and dinner, straw mat or linen tablecloth," she reveals.
For those of us lucky to have known Branca for many years, an extra pleasure was watching her work with her beautiful mother, Anna Chiara Branca, in the design business's early years. Though her mother formally retired from Branca almost 20 years ago, she continued to work as an artist for the following decade. She has since slowed down but remains a large part of Branca's life, a wonderful presence and huge support. "She is always a joy to be around!" the designer says.
Of their time working together, Branca shares, "She was an amazing force and influence for all around her! She was very, very curious and interested in anything. She taught me to look and, more importantly, to see! She and I would go to every museum, historic site, and art show together and she would show me details and colors and teach me about quality. She then taught me how to mix my own colors from pigments, which is when I learned that color is light—that everything relates and that is what defines things, the juxtapositions of patterns, colors and forms."
And this all helped to inform the designer's thoughts on collecting and the new line: "My philosophy has always been that one should first buy something small, which has quality and craftsmanship. Those are the pieces that will follow you all your life. My new website is a modern take of that."
For more information on Casa Branca Collection 2020, visit casabranca.com.