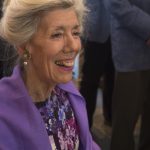 BY JUDY CARMACK BROSS
With its canny and compassionate vision, the International Women's Associates presents to the Chicago community some of the world's most tireless activists, highlighting how they are changing the word.  Amy Maglio, Founder and Executive Director of the Women's Global Education Project (WGEP) recently received the 23rd annual Woman Extraordinaire Award at a luncheon at The Standard Club attended by nearly 250 members and guests.
Agnes Cikowska Teczar, Event Chair described their recipient:
"Amy is a very deserving, down to earth individual with an award winning approach to universal education and women's empowerment."
Maglio's recently partnered with Michelle Obama and the Obama Foundation's launch of the Global Girls Alliance, which profiled WGEP's work with girls in Kenya in the documentary Rebecca's Story. She was invited to present WGEP's model as a "Best Practice" approach to girls' education at the United Nations Girls' Education Initiative Conference in Dakar, Senegal and she was a drafter of the UN Declaration on Gender Equality.
Maglio also has strong local roots. She was selected as a Class of 2014 Emerging Leader by the Chicago Council on Global Affairs, received an Impact Award from the Chicago Foundation for Women, and has been a regular guest on Chicago Public Radio's world affairs program, Worldview.
Maglio's work and passion exemplify the power of the IWA mission — using dialogue, diverse friendships, cultural exchange, and women's leadership to increase global understanding and create a more just and peaceful world.
Since 1996, IWA has presented the Woman Extraordinaire Award annually to a woman with ties to Chicago whose international humanitarian efforts advance the welfare of women and children and inspire constructive action by others.
Headquartered in Chicago, IWA is a cultural and educational organization of nearly 500 women from over 60 countries, whose members engage in cross-cultural exchange, community service, dialogue, and friendship. By creating connections among people of diverse international backgrounds through its own programs and with other organizations, IWA works toward a more just and peaceful world. Its motto is "Putting global understanding into practice."
For further information about IWA, previous Woman Extraordinaire awardees, or other events open to the public, contact iwa@iwachicago.org or 312.263.1421.