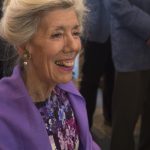 BY JUDY CARMACK BROSS
Make it a New Year's resolution to add a twist to your 2020 galas, no matter what the size. Sensational surprises can happen in a flash.
And that is just Jenny McKinney and fellow co-chairs Avery Keller and Meg Lynch accomplished at the recent Allendale Shelter Club's Night of Surprises, which was held at a private club in Lake Forest and raised over $200,000 for the 800 at risk youth and their families served annually by the Allendale Association.
"When we started planning this party, we really wanted it to be fresh and fun. We knew we didn't want a sit-down dinner with a traditional presentation and paddle raise," McKinney shared. "This is how the flash mob came to be a part of the night—it was the perfect high-energy way to get everyone's attention. The dancers were dressed as the wait staff and really took our 200 guests by surprise."
"After they wrapped, we were able to show a short video about Allendale, and then we used a 'text to give' platform so people could donate all night long," she continued. "Throughout the night we had other surprises: a balloon drop, luxury giveaways from Tiffany, Northbrook Court, Hermes, M on the Square, and Caprice Decadent, to name a few. But, none more exciting than an unplanned matching gift from our lead sponsor Grove 1935.  They agreed to match all contributions for 30 minutes up to $25,000. This generous gift took us over our evening fundraising goal."
Since its founding in 1897, the organization has served children, youth, and their families from all walks of life. These children, often victims of abuse, neglect, or severe mental and/or behavioral health problems, come to Allendale with the devastating experiences of failure in the classroom, misunderstanding in the home, and isolation in the community. Helping these children to heal and prepare for a brighter future requires highly sophisticated therapeutic programs and services.
Allendale's educational, residential, clinical, vocational and recreational programs are provided within safe, appealingly designed facilities, including its main campus in Lake Villa, Illinois. Additional centers offering treatment and counseling can be found across the Chicagoland area.
For more than 100 years, the women of the Shelter Club have provided financial support to the Allendale Association by contributing more than $13 million. In addition to being the association's largest private donor, the Shelter Club works with the management of the school to implement a variety of volunteer initiatives that enhance the quality of life for all students.
"What I love about the Shelter Club is that we don't just raise funds for the organization, we get to provide a mother's touch for the children. These children, ages 6 to 18, have been removed from their homes for various reasons, and we are able to bring a little joy into their lives. We host their Christmas party, provide their only gifts, throw their prom, provide birthday treats, and holiday fun," says McKinney.
For more information, visit allendaleshelterclub.org.
Photo Credit: Widia Viti Photography