Was It the True Star of All About Eve? 
 Actress Eve Harrington, holding the then fictional Sarah Siddons Award, and newspaper columnist Addison DeWitt, aka Anne Baxter and George Sanders, in a scene from All About Eve.
By Megan McKinney
Would the Joseph Mankiewicz mid-century film All About Eve continue to be considered "iconic" today without Chicago's Sarah Siddons Award?
The short answer is yes. But also no. When the film was released in 1950, it was universally lauded by critics, received 14 Academy Award nominations and won six, including Best Picture.
Furthermore, it received four female acting nominations: Bette Davis and Anne Baxter were proposed for Best Actress, with Celeste Holm and Thelma Ritter nominated as Best Supporting Actress. None of the four performances won; however, George Sanders captured the Best Supporting Actor honor and Mankiewicz came away with two Oscars, Best Director and Best Writer (for an original screenplay).
In addition, there is the power of the Eve Harrington persona. People continue—68 years later—to use the name as shorthand in describing a cloyingly sweet—yet ruthlessly ambitious—little climber. It's perfect.
Eve, every night in raincoat, rain hat—and usually rain—at the stage door, waiting to catch a glimpse of her idol, Margo Channing.
In addition, audiences heard gossip of the intense magnetism between Bette Davis—starring in the film as Margo Channing—and Gary Merrill, who played her film lover Bill Simpson. The torrid offscreen romance culminated in marriage—for a while.
Hollywood buzz when the union dissolved was that Gary thought he was wedding Margo, while Bette believed Gary was the Bill Simpson character.
Margo and Bill  would soon return to real life as Bette and Gary.
However, this article is not concerned with the film; rather, it is about the Sarah Siddons Award. Created by Joseph Mankiewicz, the statuette was the true star of All About Eve.
Although Mankiewicz outdid his colleagues in winning two of All About Eve's six Oscars, if there had been a "Best Award" category, he would have won that, too.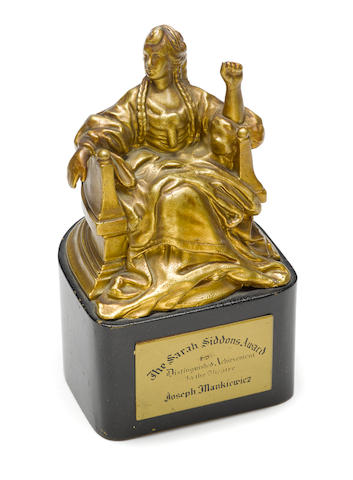 You see. We weren't making this up!
The film begins and ends with the Sarah Siddons statuette. In the first scene, we see Anne Baxter as Eve Harrington at the moment she receives the hallowed honor.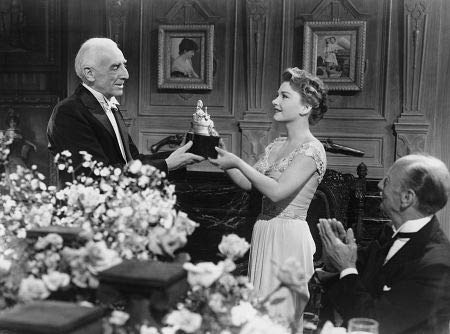 And in the fadeout Phoebe, an Eve Harrington clone played by Barbara Bates, fantasizes of her future as a Siddons winner.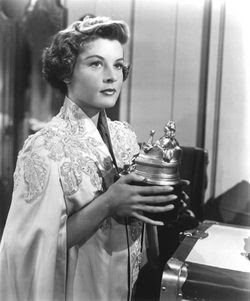 Barbara Bates as the conniving Phoebe. Recognize the cape? Take another look at the photo at the top of this article.
But who or what was Sarah Siddons? It seems she was an English actress, born in Wales, who was 18th century Britain's best-known tragedienne. A 1785 painting of the actress by Thomas Gainsborough hangs in London's National Gallery today.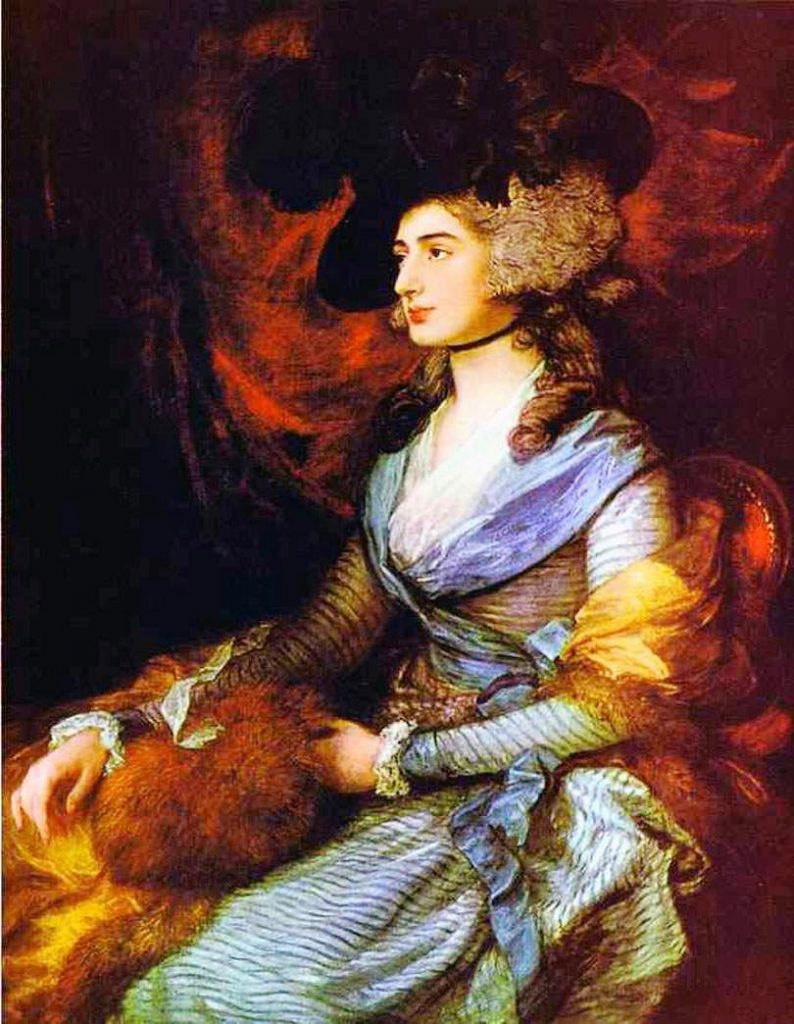 This great 18th century English tragedienne might have been forgotten without Chicago's Sarah Siddons Society—and the brush of Thomas Gainsborough.
Almost immediately after seeing the film, Chicago theater and film buffs began talking seriously of what George Sanders's Addison DeWitt determined was the "highest honour our theater knows: the Sarah Siddons Award for Distinguished Achievement."
Why not, they asked, create an actual version of the Mankiewicz fictional Sarah Siddons Society and present an adaptation of the award each year to a performer starring in a Chicago production? Life imitates art.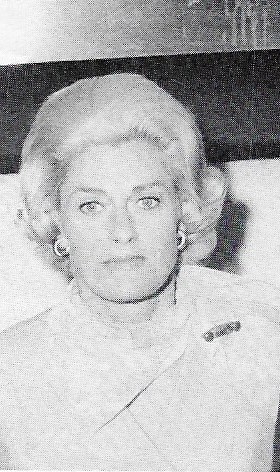 Although she was founder of Chicago's Sarah Siddons Society and one of the city's authentic beauties, it was not easy to find a photograph of Donna Atwater. The above is courtesy of Frank Sullivan's AVENUE M magazine from whose pages it was scanned.
Also, among the founders of the Sarah Siddons Society was Mrs. Loyal Davis—the irrepressible Edie—wife of a distinguished Northwestern Memorial Hospital physician and mother of Mrs. Ronald Reagan, former Hollywood actress Nancy Davis.
The Society was formed in 1952 and Helen Hayes, one of the 20th century's most eminent American actresses, was winner of the first Award in 1953. The honor, presented annually to an actress or actor for an outstanding performance in a Chicago theatrical production, continues to be the focus of a popular annual benefit. Funds raised from the memorable evening promote excellence in the city's theater.
Helen Hayes.
There could not have been a more perfect theatrical icon than Helen Hayes to establish the stature of the Award for those to whom it would be given. Subsequent winners have included Myrna Loy, Carol Channing, Celeste Holm (at last), Lauren Bacall, Bette Davis (yes!), Colleen Dewhurst, Angela Lansbury and Julie Harris.
Betty Buckley.
This year's winner of the Sarah Siddons Society Actor of the Year Award will be Betty Buckley, who is currently starring in Hello Dolly! at the Oriental Theatre.
On Monday evening, November 12, Ms. Buckley will receive the Award in a ceremony at the University Club of Chicago. Cocktails start at 6:30, followed by dinner and the viewing of a great Broadway star receiving the esteemed Award—what a lovely way to support theater in Chicago!
Photo Credit:
20th Century Fox Film Corp.
Author Photo:
Robert F. Carl