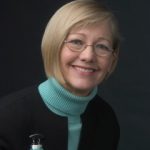 By Elizabeth Dunlop Richter
Ah, Fruitcake! "Ambrosia of the gods!" … "A special Christmas treat!" Is this your reaction? Or is it more like, "Oh dear, are there any sugar cookies." or "I'll pass, thank you." No one is ambivalent about fruitcake, that fruit and nut laden, dark, heavy, alcoholic, and sugary confection that appears around Christmas, maybe a gift from your employer, or a neighbor down the street. Getting one is easy. Baking one yourself turns out to have become another matter.
In our family, it's a cousin on the west coast, the sister in Florida, a friend in New York, and the in-laws in South Carolina who get fruitcakes. They profess to love them! But our children have gently suggested that they really don't need one for a Merry Christmas. I know this because I bake the fruitcakes. Yes, I actually make a batch of about a dozen small fruitcakes every year at the end of November.
Over 35 years ago, when a friend and I established an annual Christmas baking day, I decided to try Julia Child's favorite fruitcake recipe. As the stains in my cookbook show, I have made a lot of fruitcakes. I like this recipe, having tried a few others, but this one, in my humble opinion, is very good. I send it to the family members wise enough to appreciate one, and I exchange it for other holiday goodies with my Christmas baking day friends. (I must confess, what was once a rather frantic 10-hour day of baking has evolved into a civilized lunch with the now five of us, bringing pre-baked treats.)
If you are given a brandied fruitcake handmade by the nuns of New Skete, a small monastery in upstate New York, said to be one of the finest fruitcakes in the country, you know you have generous friends. These run over $50 with shipping. Fruitcakes are not inexpensive to make.
Nuts, dried fruit, cognac, and rum add up. Not to mention eggs and butter, plus of course flour, sugar and baking powder. Cost alone made fruitcake popular as a wedding and special occasion cake in the 18th and 19th centuries, seen as a "grand indulgence," no doubt designed to prove one's ability to afford one. Britain's Prince William and Kate Middleton dutifully followed the tradition, with a very grand indulgence said to cost $80,000.
The history of fruitcake reportedly goes back to ancient kitchens where, as Jesse Rhodes tells us in the Smithsonian Magazine, "the ancient Romans made a mishmash of barley, pomegranate seeds, nuts and raisins as a sort of energy bar." Fruitcake came into its own in the Middle Ages when international trade routes from the near and far east made dried fruits and spices more available. Many variations of cake studded with fruit and nuts evolved throughout the world. The Italians have paneforte ("strong bread"), the Germans prefer the lighter stollen, and in the Caribbean, a variation features Guinness stout, dark West Indian rum, and fruit-flavored brandy.
Rhodes surmises that the fruitcake's fall from grace happened when mail-order cakes became available in the 20th century, producing "the regrettably classic image of a dry, leaden cake encrusted with garish candied fruits and pecans." The Collins Street Bakery in Corsicana, Texas on its website blames Johnny Carson's famous fruitcake joke, "The worst gift is a fruitcake. There is only one fruitcake in the entire world, and people keep sending it to each other." There was reportedly a dip in fruitcake sales for years afterward.
Although sales reportedly finally picked up, for the past few years, I've seen a disturbing new trend for a fruitcake home baker, a dire shortage of fruitcake ingredients in stores. Where grocery stores formerly put together a seasonal holiday section with special items like cookie decorating supplies, mincemeat and candied citron, pineapple and cherries both green and red, I discovered four years ago that jars of mincemeat, called for in my Julia Child recipe, were almost impossible to find. Woe to anyone who wanted to make a mince pie!
By calling around town, I finally located some at one Dominick's grocery store. I was so pleased to find it that I bought double the number of jars I needed to be ready for the next year's Baking Day. This year, I tried everyone from Jewel to Whole Foods with no luck. Dominicks is no more…perhaps stocking fruitcake ingredients did them in. Checking at my local Jewel, a staff member told me she had received nothing like that at all this year. An English friend (one of the Baking Day group who makes a delicious mincemeat tart) alerted me to a cache of mincemeat at Cost Plus World Market, that specializes in products from around the world from Chinese Christmas ornaments to Italian pottery. Once again I bought double the amount I needed to have a stash for next year.
But even though I had successfully substituted dried fruit for candied fruit in the body of the cake, one more necessary ingredient was impossible to find. I needed candied cherries for the colorful adornment Julia recommended to dress up the cakes. Again, I made the rounds of local groceries and was unable to find any at all. I finally looked online and found one source, Nuts.com, that sells one-pound bags of candied cherries. They were on my doorstep in two days.
It's obvious that this shortage is due to no one's wanting to make fruitcake at home anymore. This is a shame. There's great satisfaction in nearly breaking a large wooden spoon to mix the heavy fruit and nuts with mincemeat, spices and rum to macerate overnight. The next day one adds the eggs, sugar, vanilla, flour and baking powder. Small tins and round Pyrex storage bowls are greased, floured and lined with baking parchment. Finally, the batter is spooned into within ¼ inch of the top of the pans. No, it doesn't rise much at all. Two hours later, the cakes emerge from the oven smelling divine and ready for a dousing with more rum, brandy, or bourbon, my choice this year.
The fun part is the decorating. My friend takes the British route of covering her cake with marzipan and fondant as a base for further decoration. I follow Julia's suggestion of topping the cakes with apricot jam glaze, creating a sticky base for patterns of nuts and candied fruits that are then glazed themselves.
So, before you pass up the offered fruitcake, you might think about making your own. If you're
inspired, here's the recipe.
Mrs. Child's Famous Sticky Fruitcake, From Julia Child's Kitchen
The fruit and nut mixture: to be macerated 12 hours –
4Ib. mixed glacéed fruit (mix of dried pitted dates, apricots, prunes, raisins, or




currants)

1 Ib. chopped nut meats (such as walnuts, pecans, almonds, cashews, etc.)

1Ib. prepared store-bought mincemeat

2/3 cups dark Jamaican rum

1/3 cup cognac or bourbon

1 Tb instant coffee (espresso coffee suggested)

 1/4 cup dark molasses or sugar

 1 tsp cardamom

1/2 tsp each cinnamon, cloves, allspice, mace

1 ½ tsp salt
The dry Ingredients
unbleached flour 3 ½ cups

baking powder 1 Tb
The remaining ingredients
1/2 lb. butter (2 sticks)

2 cups white sugar

1/3 cup light-brown sugar

2 Tb vanilla

6 eggs
Optional decoration after baking
1 to 1 ½ cups apricot glaze

A dozen or so glacéed cherries

A dozen or so pecans, walnuts, almonds
Directions
Macerating the fruit and nuts. Turn the candied fruits into a very large mixing bowl, pour on boiling water to cover, stir about for 20 to 30 seconds, then drain thoroughly: this is to wash off any preservatives. Return fruit to bowl, add the mincemeat, nuts, liquors, instant coffee molasses, spices and salt; stir about. Cover airtight and let macerate for 12 hours (or longer).
Completing the cake mixture. Stir half the flour into the fruits and nuts, sprinkle over the baking powder and the rest of the flour and stir to blend. Using an electric mixer, beat the butter and sugars together in a separate bowl until light and fluffy, then beat in the vanilla, and the eggs, one at a time, beating 30 seconds after the addition of each egg. Blend the egg-sugar mixture into the fruits.
Baking. Preheat the oven to 275 degrees. Butter your cake pan(s), line bottom with wax paper or baking parchment, butter that, roll flour around in the pan to coat interior, and knock out excess flour.
Turn the batter into the pan (s), filling to within 1/4 inch of rim (and mold any extra cake mixture in a muffin tin). Bake in middle level of oven for 2 to 2 3/4 hours or longer, depending on size and shape of pan. Cake will rise about 1/4 inch, top will crack in several places and it is done when it shows the faintest line of shrinkage around edge of pan in several places; a skewer, plunged down into cake through a crack, should come out clean. Remove cake from oven and place pan on a rack to cool for 20 to 25 minutes; cake should shrink a little more from sides, showing it is ready to unmold. Turn cake upside down on rack and give a little shake to unmold it. Peel paper off bottom and turn cake carefully right side up. Decorate when cool as desired.