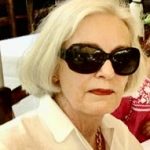 By Cheryl Anderson
Waiting—"the pervasive and unfathomable aspect of human consciousness", Raymond Tallis, Philosophy Now magazine, "On Waiting", his thoughts about "queuing and milling about".  I appreciate that philosophers think about such things.
We wait for trains, flights we hope will not be canceled, for traffic lights to change, we keep others waiting, we wait for the water to boil, for news, hoping it's good, we wait to pick up children from school, and now ever-present in our lives, waiting in those tedious security-lines at the airport. We wait for travel mandates that can change at a moment's notice and RT-PCR tests in order to return home or travel to another country.  "It fills so much of our lives…..waiting reflects our helplessness, our inability to control the pace as well as the course of events", Tallis.
"Waiting transforms time into delay and we bear delay with less equanimity if we think it avoidable…There is no profession that does not have its waiting rooms", Tallis. Who among us, at times, doesn't wish we had brought a book to read, just in case, since one never knows when we will be required to wait. 
And now, we all wait for the pandemic to be over.  Will, it forevermore be added to the list of the times we have to wait as we try to pick up our lives, sort of where they left off in January 2020.  But, this particular waiting has been different and tragic for so many families—well beyond mere frustration.
At last this year, 2021, I returned to Menton!  Locator Forms had to be filed to travel through Heathrow, a 72-hour RT-PCR test was required, and then again to return to the U.S.  Well before I left in August, I had logged onto the French Government site to obtain a Passe Sanitaire.  It never came.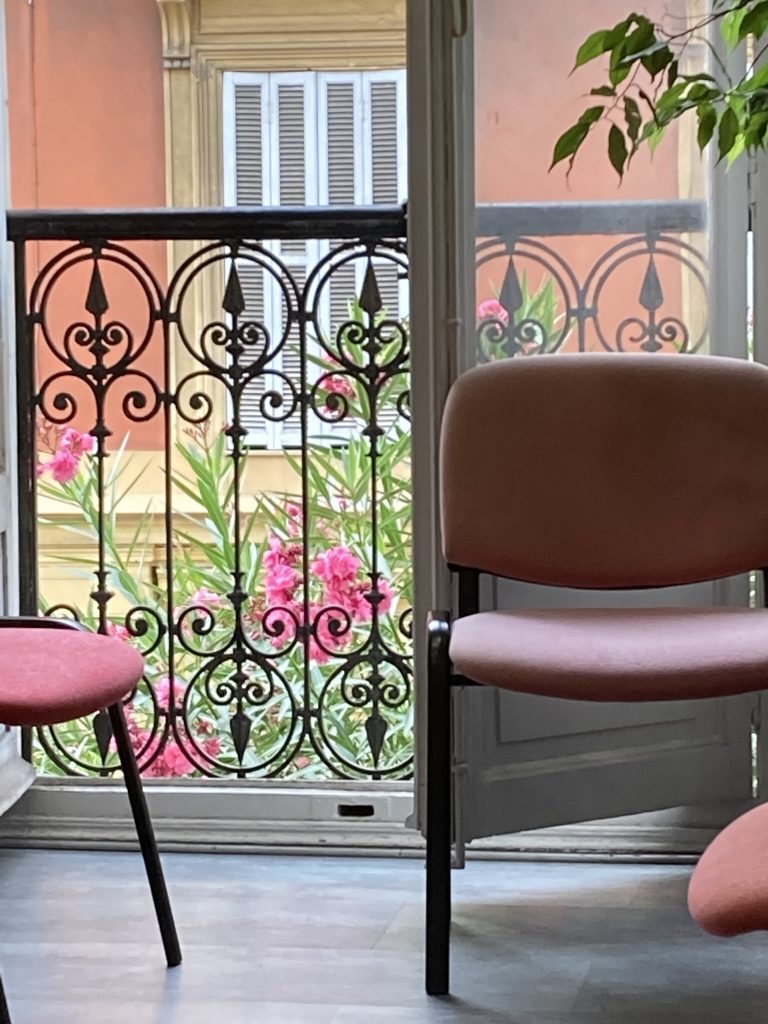 My view was in the doctor's waiting rooms as I waited to get my Passe Sanitaire.
When in Menton, I received a text from the French site directing me to re-apply on their new site. I did and got a registered number, but my passe never came through yet my husband's did.  Fortunately, with the help from our friend in Menton, I was able to get a French Passe Sanitaire.  I had gone to 4 pharmacies and a laboratoire with no luck to get the required passe.  Widely publicized, was that one could go to a  pharmacy to have the CDC vaccination information and passport entered into the French system.  That proved not to be true, in Menton anyway.  It was absolutely necessary for me to have a passe in order to board a flight to Rennes to visit my granddaughter, Sophie, who's attending school there for a year, and to take the train to Dinard and St. Malo from Rennes.  Also during my stay, restaurants required them, even for outdoor dining.  All of the requirements of this trip were complicated, changing, and frustrating, but of course, well worth the effort—for once again I was in Menton.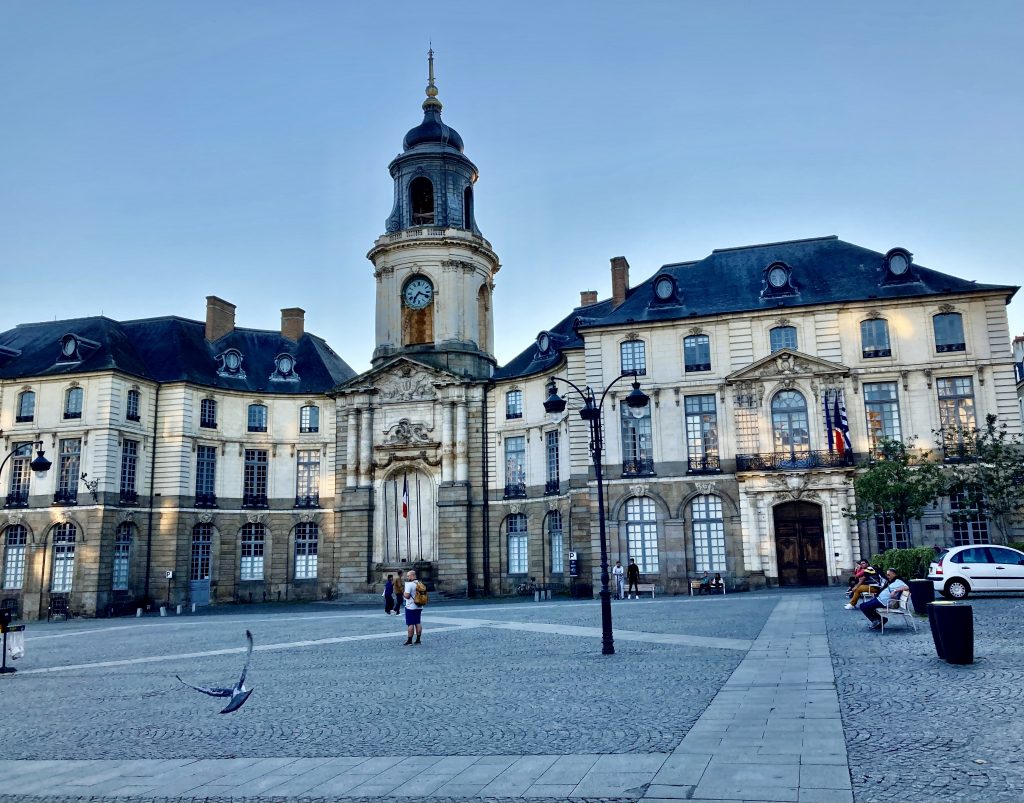 Rennes
Old town Rennes.
Crêpes salées in Rennes.
Dinard by the sea.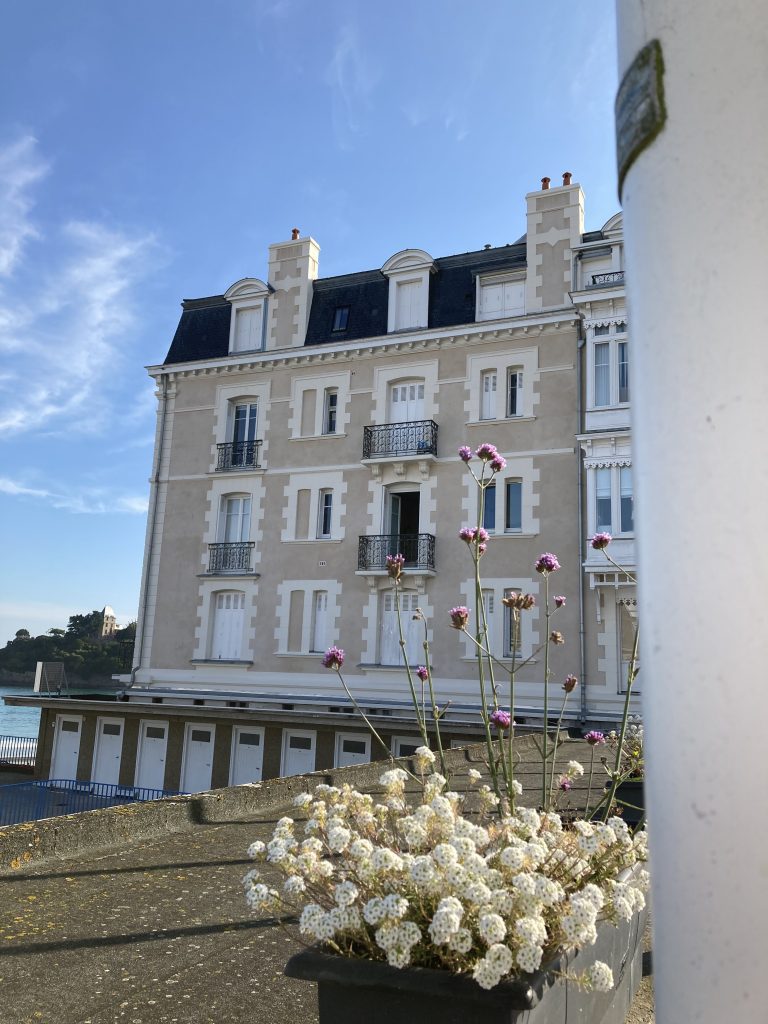 Dinard–such a beautiful town!
| | |
| --- | --- |
| Outside the walled city of St. Malo. | A street inside the walls of St. Malo–notice the gargoyles. |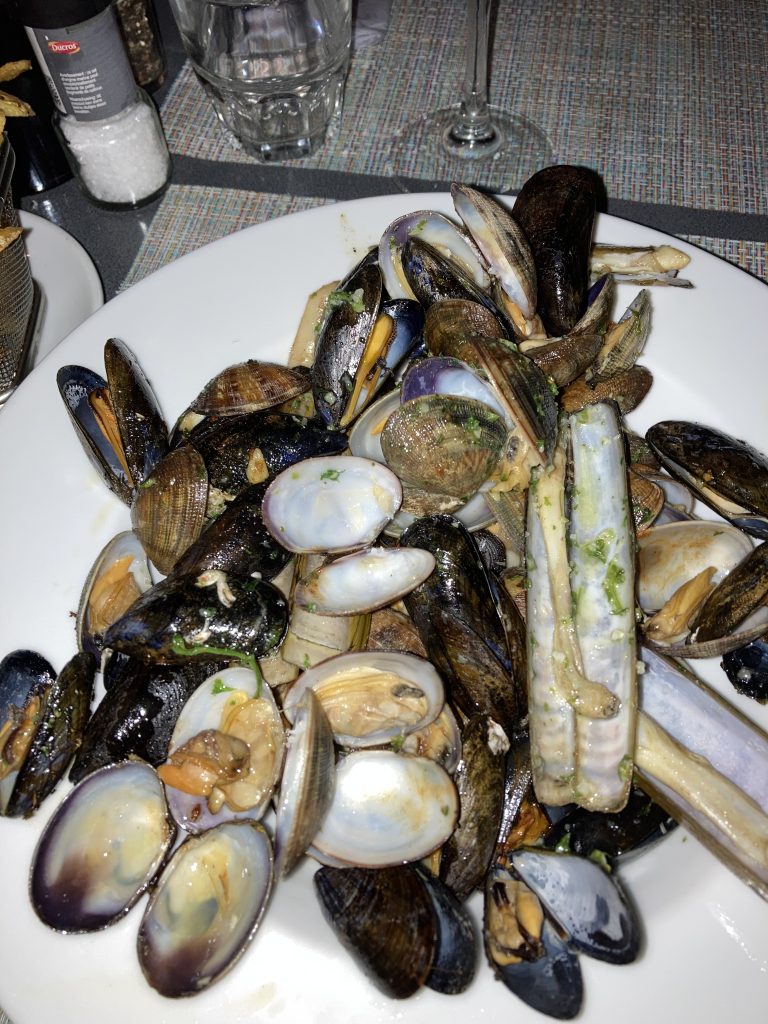 It was so delicious.
Mauro Colagreco, three-star Michelin chef of the extraordinary Mirazur, has recently opened two new restaurants in The Maybourne Riviera hotel, formerly the Vista Hotel, located in Roquebrune-Cap-Martin—the hotel is known for how it hangs over the cliffs with panoramic views of the sea, but to date, the hotel part is not open. The Maybourne Riviera hotel welcomed Mauro's, Riviera Restaurant, and Ceto.  I was able to go to the Riviera Restaurant for lunch, but the Ceto opened three days after I left—there's always next year.  As described on the Ceto website, (is) "focusing on sustainable fishing in tune with nature. Experience the rich diversity of the Riviera's verdant landscape and the Mediterranean Sea, the menu evolving and following the rhythm of the water throughout the seasons."    It is "inspired by Greek mythology and the water, constellations of the sky."  Mauro is always looking forward, but never forgets the traditions of the past.
The view from restaurants along the seafront–Cap-Martin in the distance.
Panoramic views from the Riviera Restaurant of the Côte d'Azur
| | |
| --- | --- |
| Palm trees against the blue skies of the Côte d'Azur | Palm trees lining the street tall and majestic |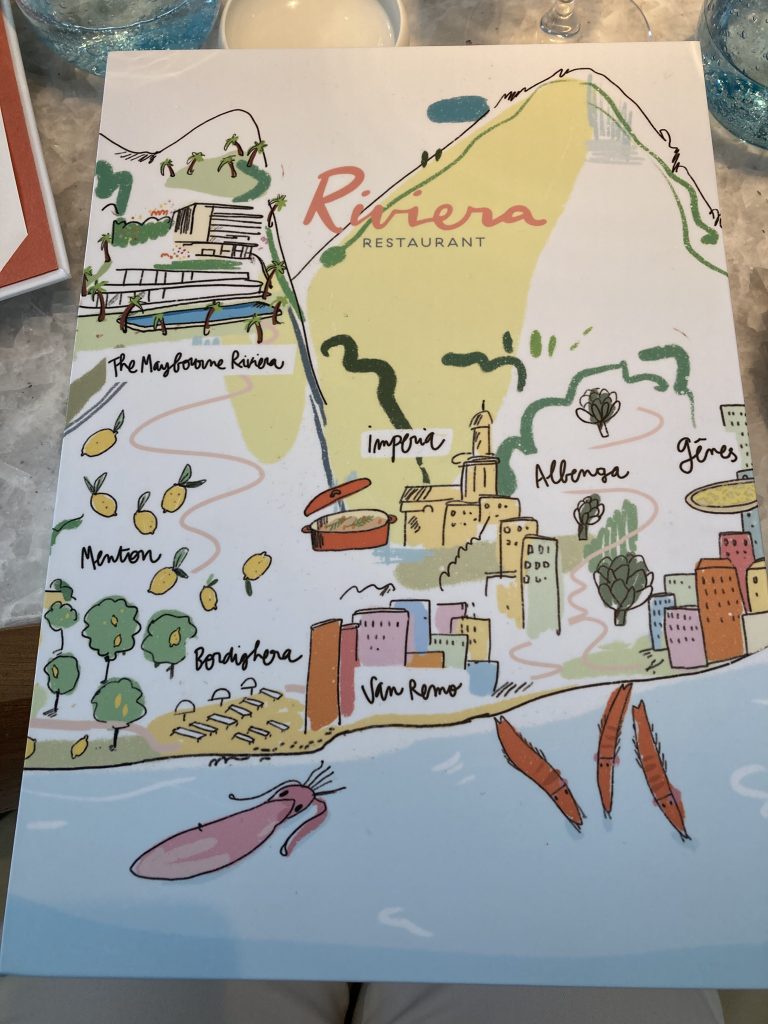 Open in the Maybourne Riviera… A Mauro Colagreco restaurant
| | |
| --- | --- |
| Beautiful views wherever one sits. | Casual elegance inside the Riviera Restaurant. |
Unbelievably delicious.
A first for me this return was having lunch at Mauro's new pizza restaurant, on the Sablette in Menton, Pecora Negra—truffle pizza was the pizza special of the day so that was what I chose.  Oh my! And, they have more than pizza to tempt you.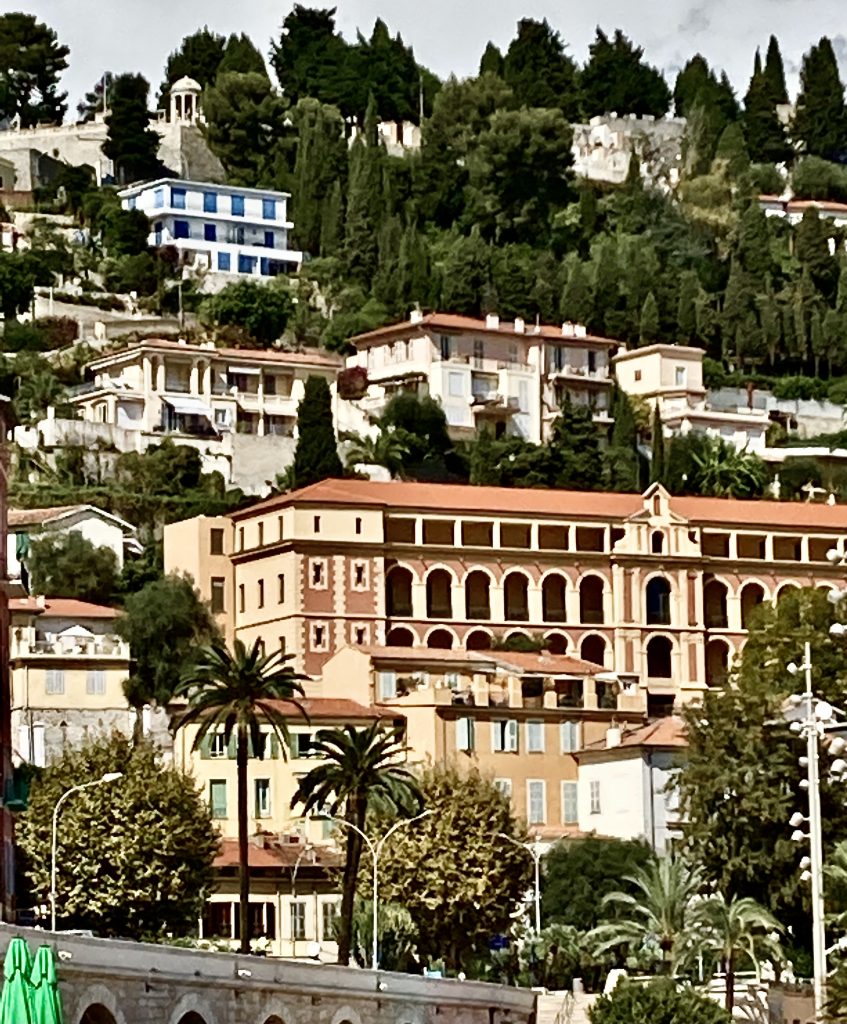 View from the Sablette–it glows.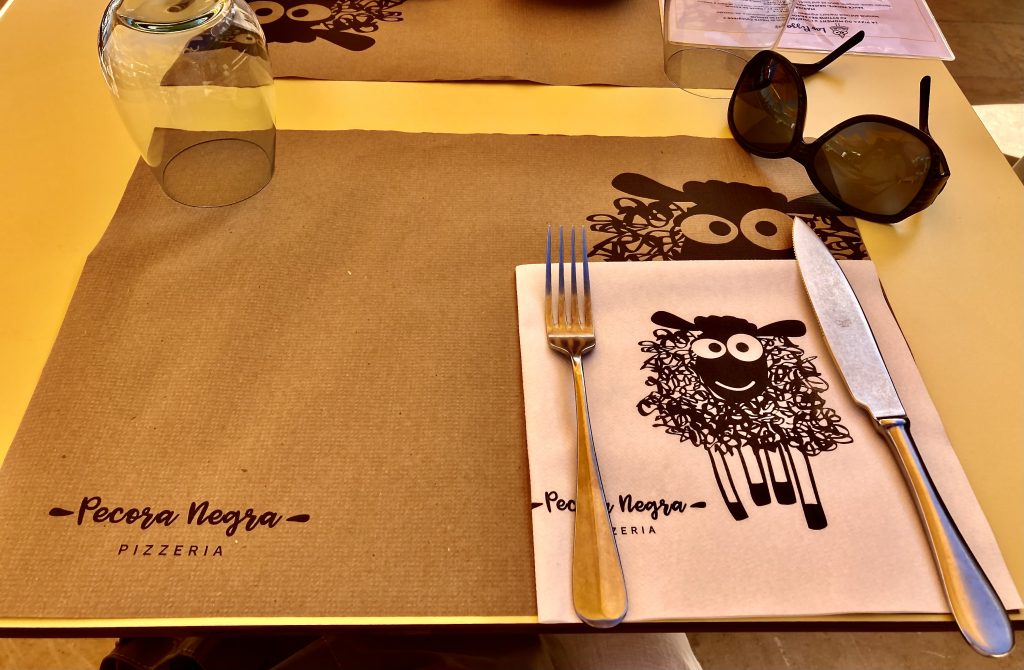 Don't you love the black sheep logo?
| | |
| --- | --- |
| Truffle pizza meets the Marguerita. | Served on…. |
Pecora Negra on the Sablette.  Mauro Colagreco's pizza and a whole lot more!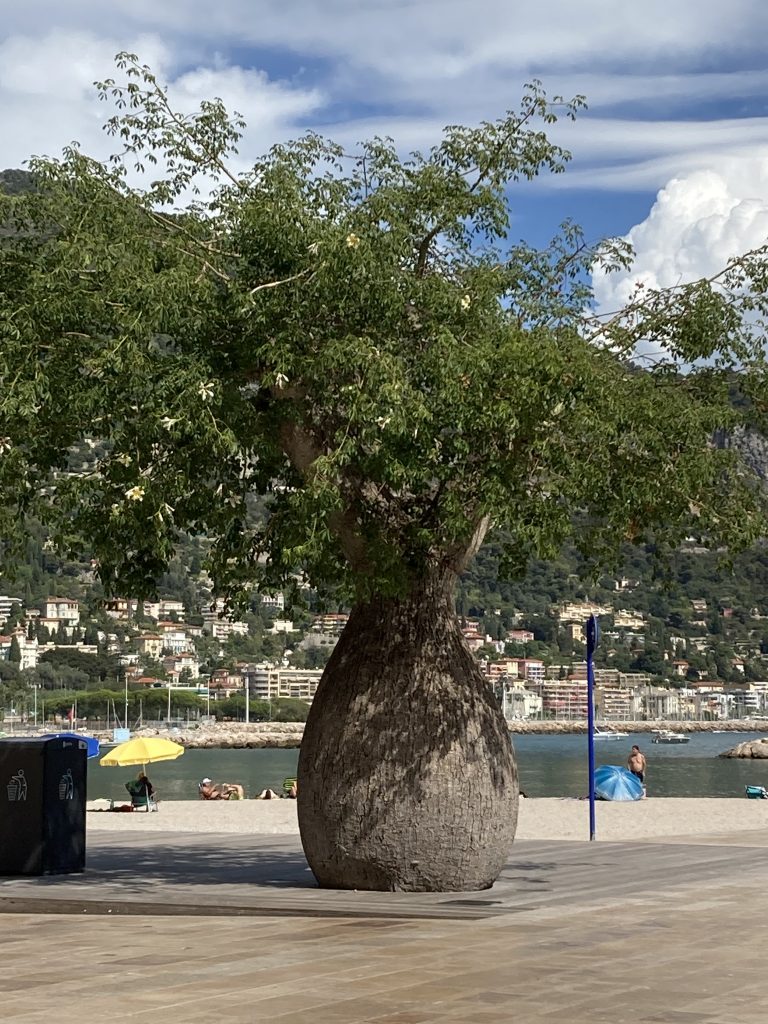 Detail on the Sablette right by the edge of the sea.
Le Petit Port restaurant has been in Menton for decades—I first ate there over twenty years ago.  At that time, there were few tables outside and those were more or less on the sidewalk.  Well now things have changed and there's a beautiful expansive terrace where once there was a road.  As we walked in for dinner, right behind us, was the fisherman delivering fresh Turbo.  I looked at my friend and said, "that's what I'm having."  She agreed so Turbo for two it was.
| | |
| --- | --- |
| Turbo so fresh and prepared to perfection. | And for Monsieur…. |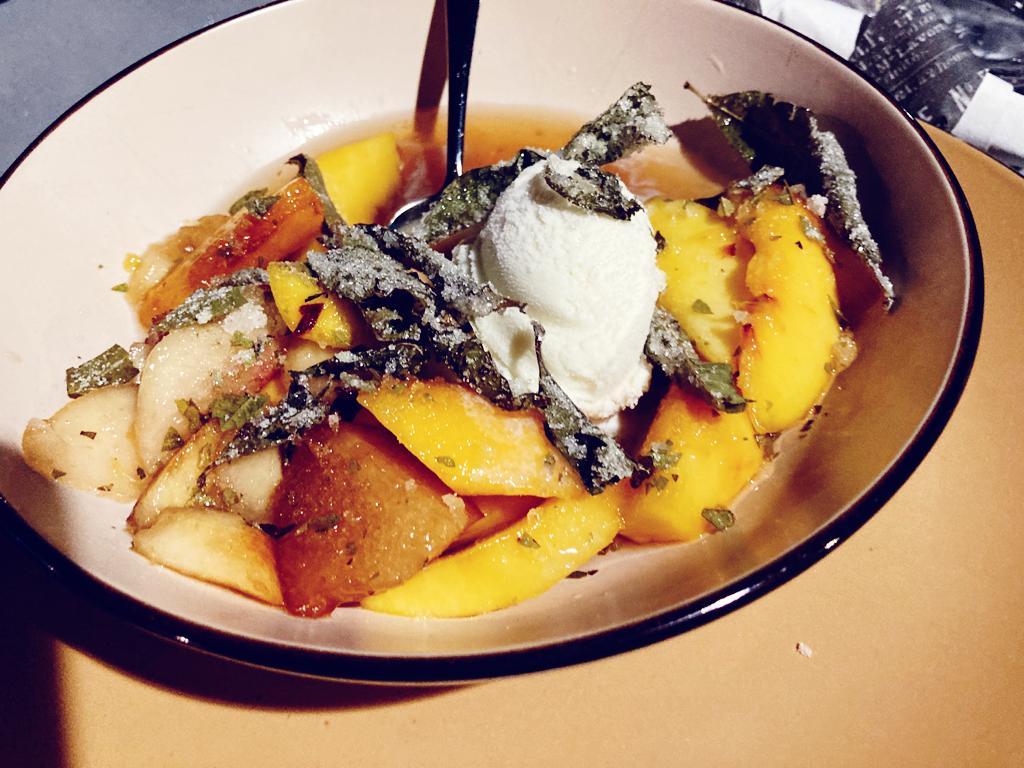 Dessert divin!
A quiet little parc in front of the Maire. Perfect place to escape the heat and the crowds.
Mauro's new, Riviera Playa, will open next year— formerly Vista Beach and then La Cigale Vista Beach, was closed for much of my trip due to the change, but of course the venue is the same, that being glorious. Although under different names over the years, it is still one of the best "on the water" places to eat, swim or relax under the shade of an umbrella sipping on a delicious beverage of choice.  Hands down a must for everyone. It will absolutely  be at the top of my list for next year—all the while knowing it will be even more perfect under Mauro Colagreco's guidance.  I have posted pictures from my table at Vista Beach/Le Cigale many times in my Postcards from France.
In the past La Cigale
| | |
| --- | --- |
| Blue sky, Blue Morning Glory on the Riviera. | Just one more picture before I pass you by. |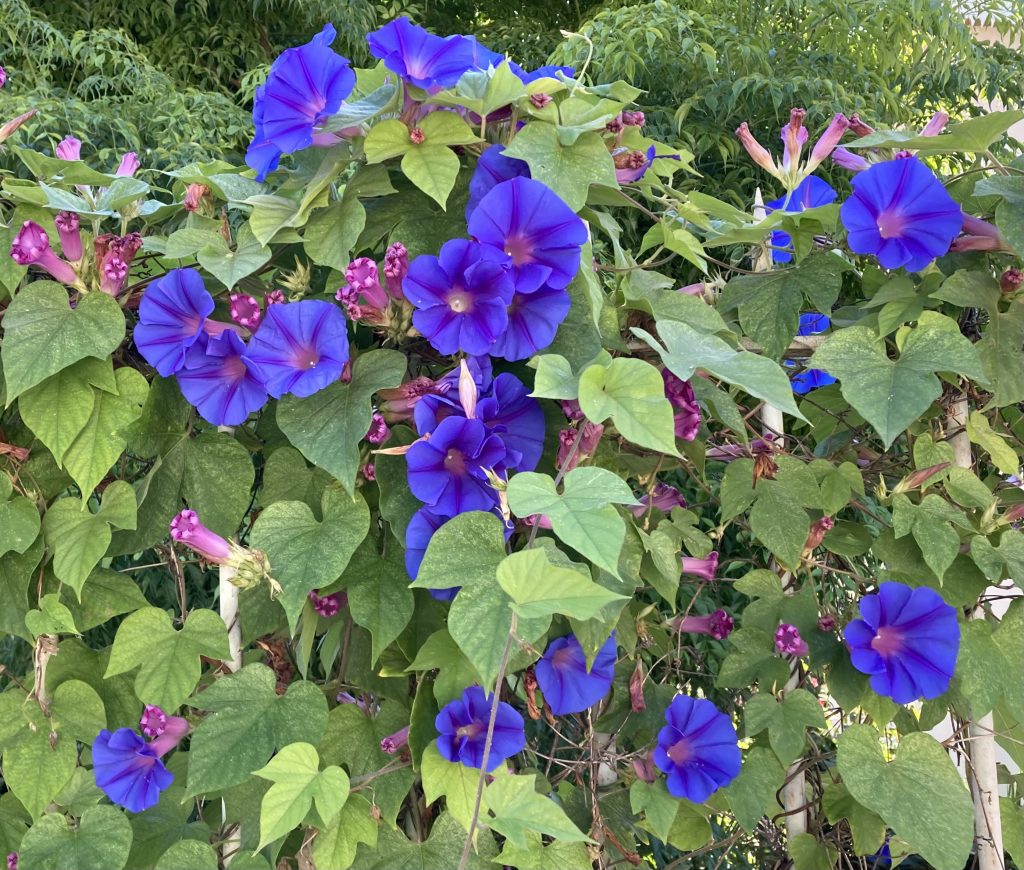 Impossible not to take their picture.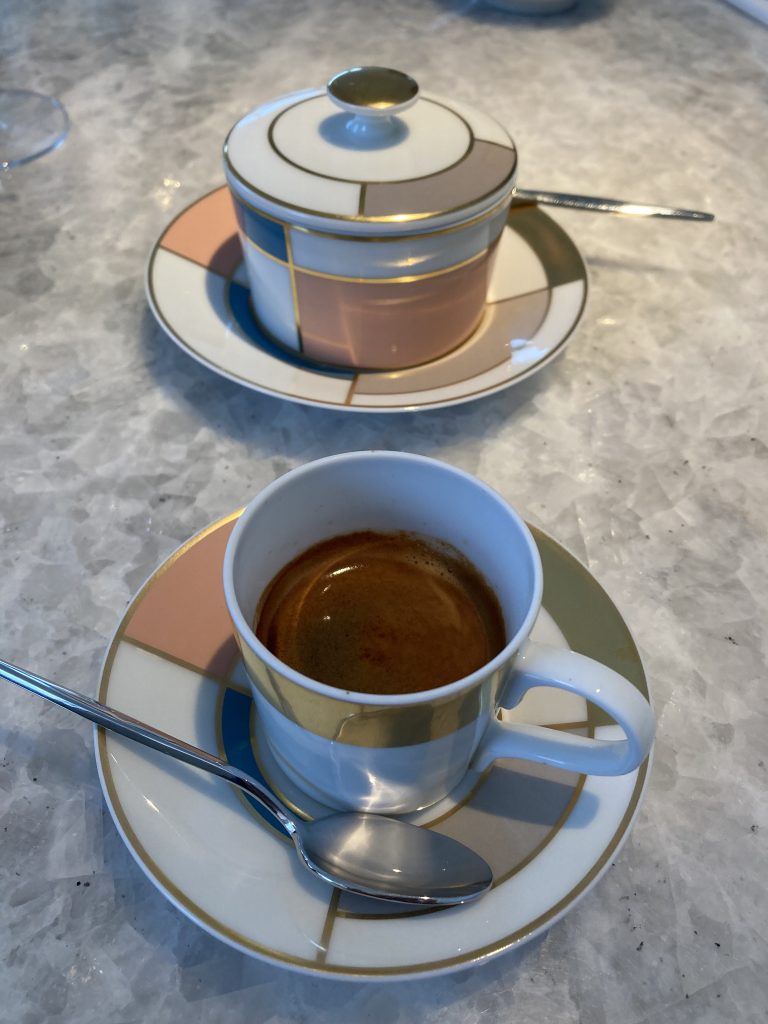 Café in Limoges.  Mauro Colagreco's elegant touches compliment the decor.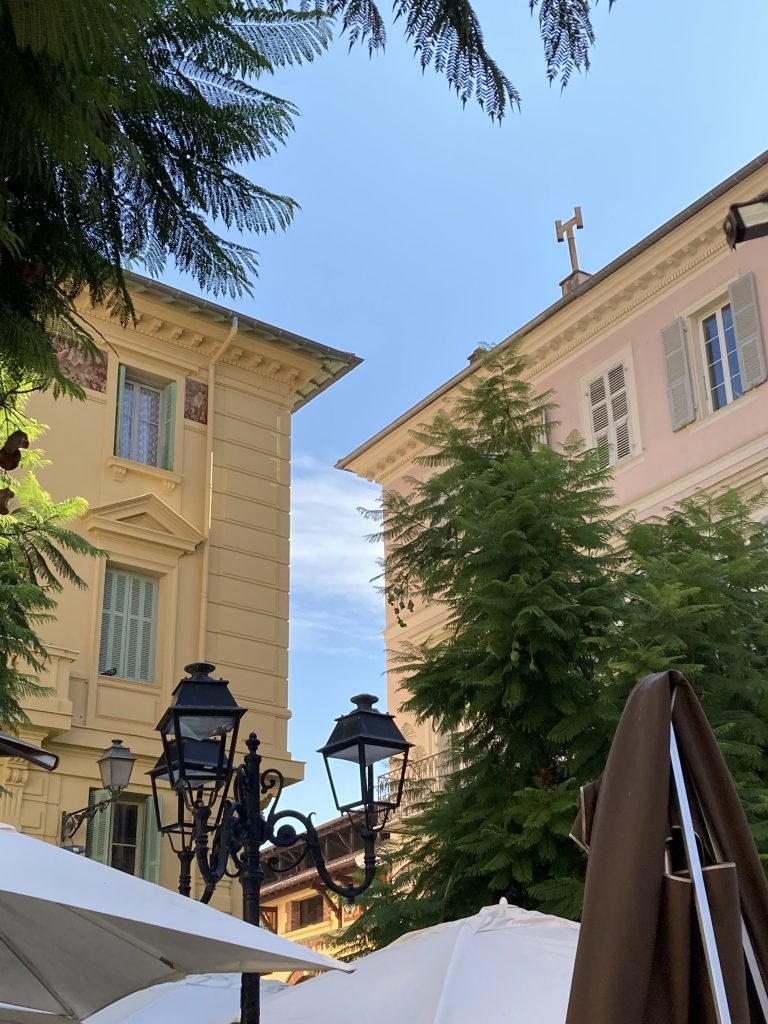 Looking up while seated at a cafe.
Inside Chapelle St. Roch.
Beautiful architectural detail in Menton.
An occasional turn of the key keeps the ancient buildings steady.
My suggestion for really great pizza is Pizza Simone in Menton—they deliver.  After a day of shopping, sightseeing, or hours on the beach sometimes you just want to stay in, relax and have a cold beverage in the summer or something hot in the cooler months… and a pizza.  Pizza Simone is now a favorite of mine, although new to me this year—I had heard about it for years.  Obviously, a popular place during the day as all of the tables outside was always occupied.
| | |
| --- | --- |
| Pizza Simone pizza with a twist–unexpectedly delicious. | Tomatoes, fresh mozzarella, and salad–always |
This return in 2021 was to enjoy what I had grown accustomed to and missed greatly—now, for over twenty-five years.  Place aux Herbes and the statue of the Mentonnaise sporting her capeline, Sophia's for gelato, sitting in the Mediterranean garden across from there, lunches at one of the restaurants along the road on the seaside, the Jardin Bioves, strolling through the Parc du Cap.
| | |
| --- | --- |
| Mentonnaise statue in Place aux Herbes. | Mentonnaise fountain in Place aux Herbes. |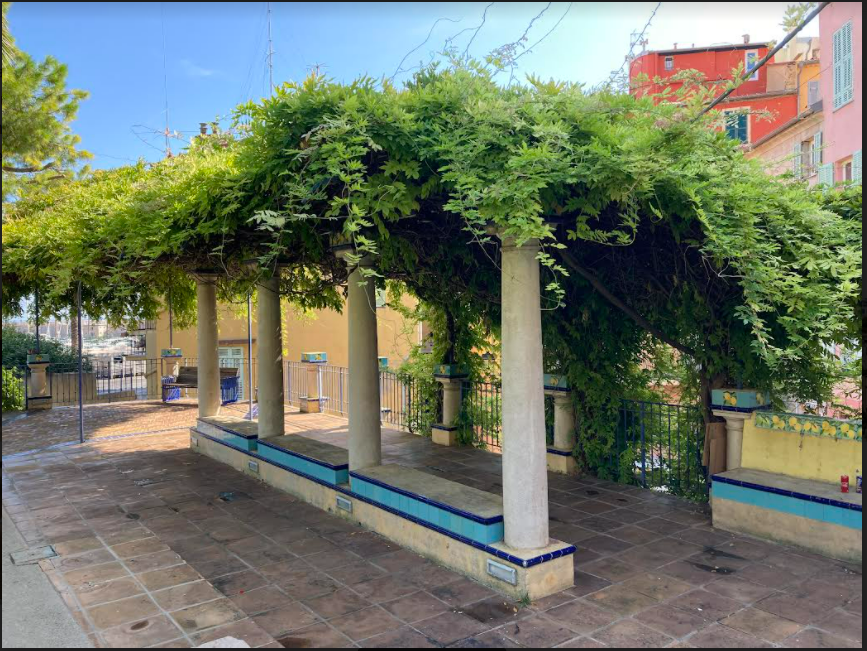 A quiet place to sit in a very Mediterranean garden.
| | |
| --- | --- |
| Parc du Cap came alive in this little scene | Interesting detail |
| | |
| --- | --- |
| In the Parc an olive tree well protected. | Always something new in the Parc du Cap. A giraffe! |
In honor of Elaine Grey noted for Cabanon de Le Corbusier along the seaside path in Cap Martin.
When all you want are frites and a café
Jardin Bioves.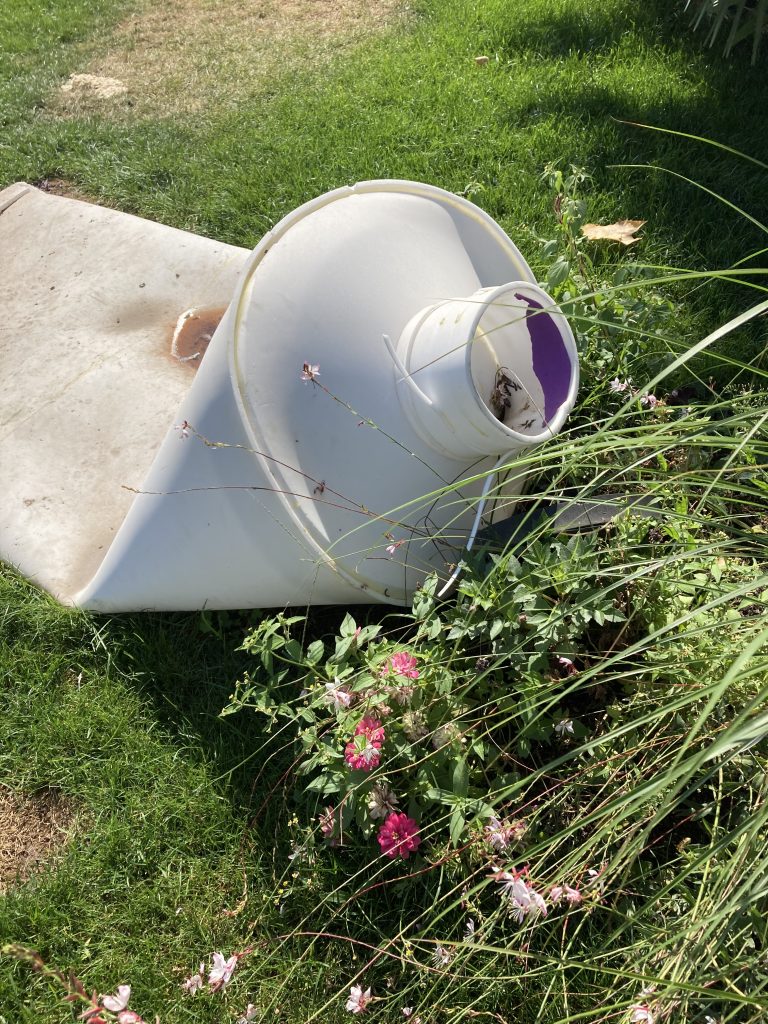 The theme in the Jardin Bioves was very painterly.
| | |
| --- | --- |
| Paint splashed on le cochon. | Le poisson was not spared. |
| | |
| --- | --- |
| Pathways to a pond with a bridge– little garden in the Jardin Bioves. | That led to an open hallway with blue windows. |
The highlight of this visit was my first trip to Brittany and visiting my granddaughter. I was not able to go to Mont St. Michel, but my husband (her grandfather) and our friend, Kelly, whom we've all known forever, were able to and they sent pictures along the way during the day.  I included a couple in this post from their visit.  I was told the climb up to the top is not for the faint of heart.
| | |
| --- | --- |
|  Mont. St. Michel |  Daunting stairs–Mont St. Michel. |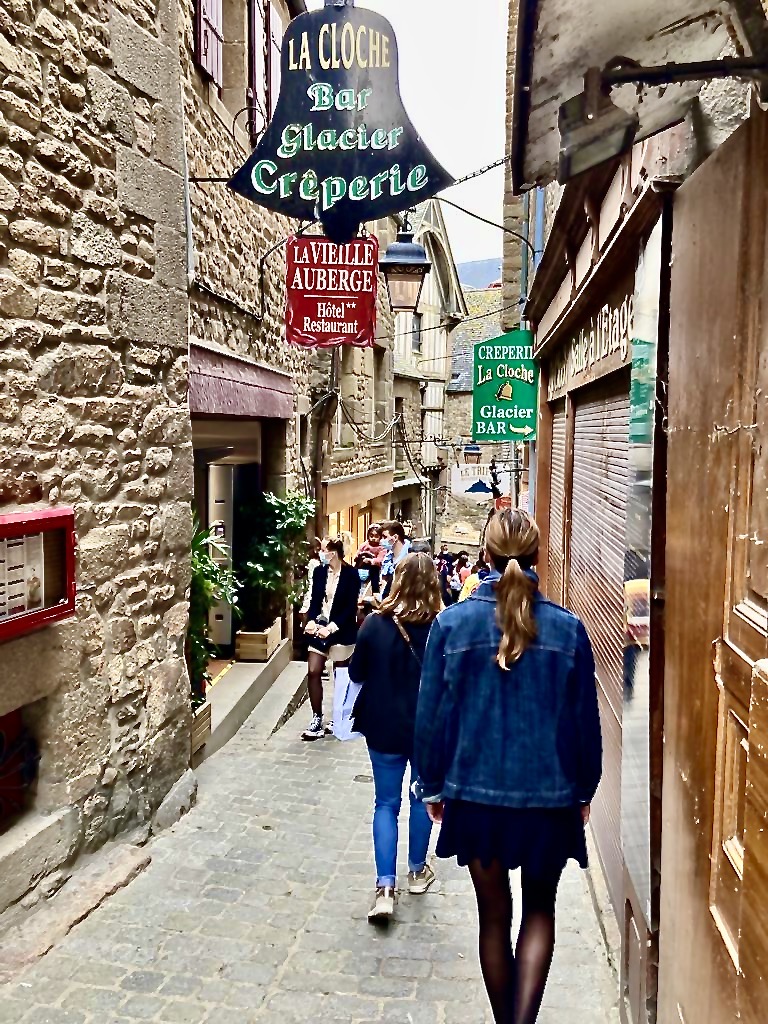 | | |
| --- | --- |
| Parc du Cap–such detail | Green sculpture if you will. |
I had never given much thought to waiting, we experience it so often—endlessly at times.  Best that I practice being more patient during those times when I've no control of the situation but to wait.  As I wait, maybe I'll think of something pretty or recall a particularly fond memory or consider it "me time". Well, maybe that's going just a bit too far–we'll see.  Hope rings eternal that by next summer things will be less complicated when once again I return to Menton.  I'll have to wait.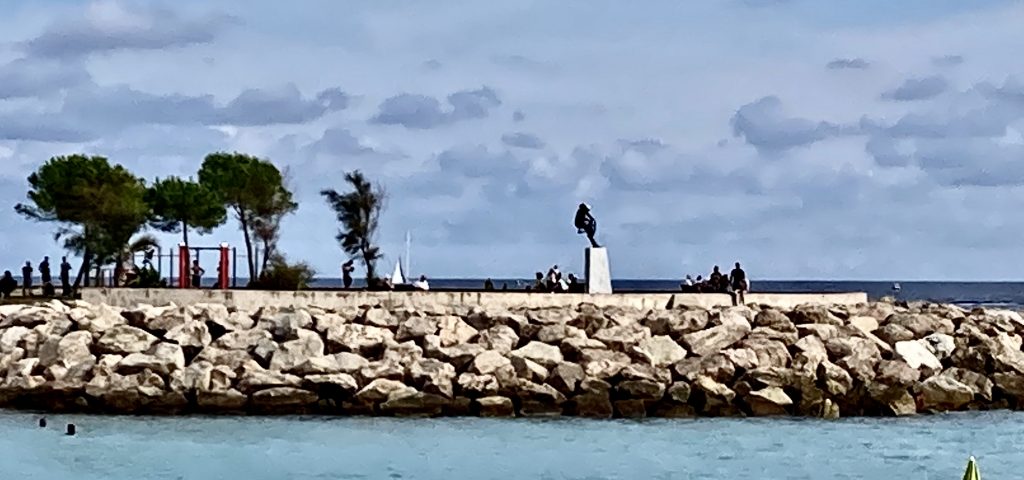 A rocky park in Menton–surrounded by the Sea.
December can be a month with not as much fun as we would like so bringing shots of green into the home while we wait for the return of those sunny days is uplifting.  Those lush, verdant indoor plants or a lively colored poinsettia do brighten our mood while nature is waiting for when it is exactly the right time to share its beauty—seemingly unbothered by the wait.  We all know there is quite a bit of nature's wonder going on underground and only when the time is right will we be able to see its wonder above ground—the wait will then be over.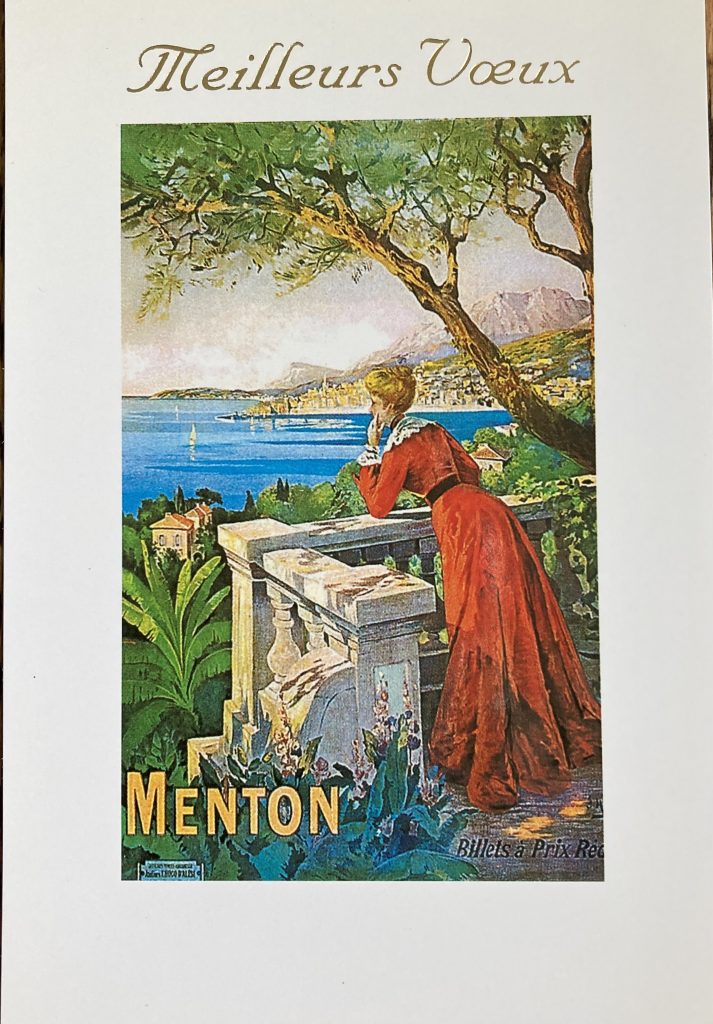 It was a wonderful five weeks. Until next year–Meilleurs Vœux!
Joyeux Noël et Bonne Année