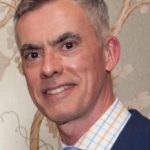 By Philip Vidal
It might be hard to imagine today, but even until the late 1960s there were many men only bars, restaurants and clubs in Chicago. The Berghoff on Adams, which opened in 1898, had a men's bar until 1969.  Wieboldt's Department Store and Carson Pirie Scott & Co., both at State and Madison had men's grills.  Marshall Field & Co.'s Men's Grill sat 750 under a Tiffany-glass dome in its Men's Store Annex building at 25 East Washington. The Berghoff is still with us, but Wieboldt's stores closed in the late 1980s, Carson's stores closed on August 31, and the grill at Marshall Field closed in the 1950s.
I am a guest at a men's grill once or twice a year at a private club.  Whenever I go, I am reminded of my grandfather, who worked as a chef at the Men's Grill at Carson's downtown in the 1930s and 40s.
My grandfather, Paul Vidal, emigrated from Germany to Chicago in 1926 where he met and married my grandmother, who was also a recent arrival from Germany.  They bought a graystone (it's still there) on the 2100 block of North Cleveland.   At that time, the neighborhood was predominantly German. He passed away before I was born, but a photograph of him stood on top of our enormous (to hold all those vacuum tubes) Zenith black & white TV.  As a child, I remember watching CBS anchorman Walter Cronkite on that TV, and wondering if perhaps he and my grandfather had been separated at birth.
Having German roots, I visited "Brewers, Bakers and Bratwurst: A Journey Through the German Culinary Institutions of Chicago," a small permanent exhibition that recently opened at the DANK Haus German American Cultural Center, 4740 N. Lincoln.   I also stumbled upon another exhibition at DANK Haus, the enormous "Glory of Germania" mosaic that will be on view through September 10.  The mosaic was created for the 1893 World's Columbian Exposition in Chicago.  After the fair, it was moved to the Germania Club on Clark Street, where my grandparents often attended events.  Just before the club closed in 1986, the mosaic was dismantled and put in storage.  The tile mosaic has only recently been loosely re-assembled at DANK Haus.
September is also a great month to explore the German culinary tradition in Chicago. The Würst Music & Beer Festival is September 8-10, Randolph and Ogden. German American Oktoberfest is September 7-9, Lincoln Square, Western and Lincoln. If you still haven't had your fill of beer, brats and local music, Oktoberfest Chicago at St. Alphonsus Church, Wellington and Lincoln, in the heart of the old German neighborhood, is September 28-30.
My grandfather passed down his recipes to my father.  Unfortunately, I didn't learn them, but I certainly inherited my father's and grandfather's love of good food.  For that reason, I am always hopeful when a new restaurant opens in my neighborhood.  I have really enjoyed the food at the new Italian restaurant Locanda at 201 East Walton, which was opened by restaurateur and chef Antoine Cedicci, formerly of Pane Caldo, which was at 70 East Walton.  Saturday lunch at Pane Caldo, where I'd often see legendary Chicago restaurateur Jovan Trboyevic, was always a treat.  A bit farther west at Walton and State, in the new No. 9 Walton building, are Walton Street Kitchen + Bar and Walton Street Lounge, which should open soon.  There's a new chef, Michael Zachman, at Allium in the Four Seasons Chicago.  I am told that he is revamping the menu, and his signature dishes should be available by early September.
I think my grandfather would have loved the Chicago Gourmet/Rock the Fork, a culinary festival, presented by bon appétit magazine September 26-30 outdoors in Millennium Park.  Another way to take advantage of the usually superb September weather is to take a walk. The River North Design District Fall Gallery Walk is Friday evening, September 7, with a family day, Saturday, September 8.  The Ravenswood ArtWalk – Tour of Arts & Industry is September 15-16, Ravenswood Avenue from Irving Park Road to Leland.  The Edgewater Home Tour, featuring homes in West Andersonville, is September 16.
Walk (or run, lunch or shop) for a good cause… the SEA (Support, Education, and Advocacy) Blue Prostate Cancer Chicago Walk & Run is September 9 in Lincoln Park. The Walk to End Alzheimer's® – North Shore September 15 in Glenview is the first of six such fundraising walks in the Chicagoland area in September and October.  The Aids Run & Walk Chicago is September 23 at Soldier Field.  Pirouette to The Drake Hotel for the  Joffrey Ballet Woman's Board "Anna Karenina" Luncheon on September 26.   Ashley Wheater, artistic director of the Joffrey Ballet of Chicago, will talk about the upcoming world premiere of "Anna Karenina," which runs February 13-24 at the Auditorium Theatre of Roosevelt University.  Peruse and shop for a good cause.  The American CraftExpo is September 21-23 at the Chicago Botanic Garden, Glencoe.  The Benefit Preview Party is September 20.  Proceeds from ticket sales and items tagged "Craft for a Cure" will support psychiatric services at NorthShore University HealthSystem.
Or perhaps an outdoor concert?  Billy Joel performs at Wrigley Field for the fifth consecutive year on September 7.   Tony Bennett performs for the 39th time at Ravinia on September 8; your ticket entitles you to his new CD.  Music of the Baroque performs a free concert, Baroque in the Park, at the Pritzker Pavilion in Millennium Park on September 12. September closes with the Hyde Park Jazz Festival, at various indoor and outdoor locations, September 29-30.
Also in Hyde Park, "Celebrating South Side Stories" is the free opening celebration at the DuSable Museum of African American History for "South Side Stories," on September 15.  Part of Art Design Chicago, "South Side Stories" is a festival exploring the South Side's rich artistic legacy at the DuSable Museum, Smart Museum, Hyde Park Art Center and other venues.  "The Art and Influence of Dr. Margaret T. Burroughs" runs September 13-March 4 at the DuSable Museum.  "The Time is Now!  Art Worlds of Chicago's South Side, 1960-1980" runs September 13-December 30 at the Smart Museum.
The Smart's exhibition will include work by artist Suellen Rocca.  A Chicago Imagist herself, she curated  "The Figure and the Chicago Imagist," an exhibition at the Elmhurst Art Museum, September 8-January 13.  Rocca was also one of the six Chicago artists who graduated from the School of the Art Institute of Chicago and formed the self-named group, The Hairy Who. The group showed their work at the Hyde Park Art Center.   The first major exhibition about the Hairy Who, "Hairy Who? 1966-1969," is at the Art Institute of Chicago from September 26-January 6.  An exhibition, "Suellen Rocca Drawings," at Matthew Marks Gallery in New York runs September 14-October 27.
The works of another Chicago Imagist, Ed Paschke, will be on view at the Mary and Leigh Block Museum of Art in Evanston in "Break a Rule: Ed Paschke's Art and Teaching," September 18-December 9.   While I'm on Northwestern's Evanston campus, I also want to see the new Ryan Fieldhouse and Walter Athletics Center. The center is certainly one of the most spectacular university sports training facilities in the country.
After admiring the portraits at the John Singer Sargent exhibition (through September 30) at the Art Institute of Chicago, I am anxious to see the three concurrent exhibits at the Driehaus Museum that open on September 8:  "Beauty's Legacy: Gilded Age Portraits in America," "Gilded Chicago: Portraits of an Era," and "Treasures from the White City: The Chicago World's Fair of 1893," through January 6.
Chicago's artistic legacy continues. The Chicago Artists Coalition Open House featuring "The ANNUAL: An Exhibition of New Chicago Art – Mixtapes for the Next Millennium" is September 21.   2018 is the City of Chicago's Year of Creative Youth, and the YAS! Fest – Youth Arts Showcase, billed as the largest celebration of young artists in Chicago's history, is September 22 in Millennium Park.
EXPO CHICAGO, the International Exposition of Contemporary and Modern Art, runs September 27-30 at Navy Pier.  The Vernissage hosted by the Museum of Contemporary Art is September 27. In conjunction with EXPO CHICAGO is  EXPO ART WEEK, which features programs throughout the city, September 24-30.
September is when many of our Chicago's theater groups host their season openers.  Forgiveness is the theme of two plays this month.  Steppenwolf opens its Upstairs Theater with Bruce Norris' "Downstate," which was co-commissioned and is a co-production with the National Theatre of Great Britain, where it will move in spring 2019, September 20-November 11.  Forgiveness and family are themes in Barbara Lebow's "A Shayna Maidel" at TimeLine Theatre through November 4.
I recently wrote a story for this publication about a trip I took to Vienna.  While in Vienna, I attended what was billed as an all-Mozart concert, but ended with the obligatory Johann Strauss waltz.  If I get the fernweh/wanderlust for Vienna, perhaps I'll head to the Allstate Arena to hear Andre Rieu and his Johann Strauss Orchestra perform on September 16.
As is well known, I come from a family of food lovers, but some of my family members are also tennis fanatics, who are very excited about the Laver Cup, an all-star team tennis tournament that is coming to the United Center, September 21-23. John McEnroe is the captain of Team World, and Bjorn Borg is the captain of Team Europe.
I will be out of town at the end of September, so I will miss the debut of "Art on theMART," the world's biggest digital art projection that will be on theMART (formerly The Merchandise Mart) on September 29.  This rotating program of digital art will continue Wednesdays-Sundays through December, and return next year March through December.
Dates, times, and availability are subject to change.