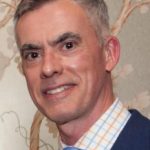 By Philip Vidal
Chicago has always been a crossroads:  A transportation hub, with its confluence of Lake Michigan and the Chicago River, the Illinois and Michigan Canal, the railroads, and of course O'Hare International Airport.
Visit the "Pioneer," the first locomotive to operate in Chicago at the Chicago Historical Museum during Chicago Railroad History month. Photo by Chicago Railroad History Month.  
It was 175 years ago in October 1848 when the "Pioneer" became the first locomotive to operate in Chicago.  The "Pioneer" still exists, and is on display on the second floor of the Chicago Historical Museum.   Fittingly, October is Chicago Railroad History month.
Starring Tony Award® winner James Monroe Iglehart, Aurin Squire's "A Wonderful World: A New Musical about the Life and Loves of Louis Armstrong" arrives to Chicago before appearing on Broadway, October 11-29. Photo by Broadway in Chicago.
The Illinois Central Railroad was a key player in the Great Migration, when during the last century African-Americans moved from the South to Chicago.   Following the same progression as famed jazz musician Louis Armstrong, who moved from his hometown of New Orleans to Chicago,  Aurin Squire's 'A Wonderful World: A New Musical about the Life and Loves of Louis Armstrong" opens in New Orleans, where it runs October 1-8, then moves to Chicago's Cadillac Palace Theatre October 11-29.  The musical then heads to Broadway.
Chicago celebrates the arts in October! The Music of the Baroque's annual gala and concert honors two longtime MOB friends: acclaimed sculptor Richard Hunt and arts advocate Joan Harris. Photo by Music of the Baroque. 
Chicago also has a long and rich history of literature and art.  The Chicago Public Library is celebrating its 150th anniversary.  Author Scott Turow receives the Chicago Literary Hall of Fame Fuller Award for Lifetime Achievement at a ceremony at the Harold Washington Library on October 5.  The Chicago Public Library Foundation Awards ceremony and dinner at the UIC Dorin Forum on October 24 honors author Colson Whitehead with the Carl Sandburg Literary Award, author Rebecca Makkai with the 21st Century Award, civic leader Bob Wislow with the Civic Award, and sculptor Richard Hunt with the Art Award. Hunt, along with arts philanthropist Joan Harris, will be honored at the Music of the Baroque's annual gala concert and dinner, A Musical Feast, at the Fairmont Chicago on October 21.
Join the 125th Anniversary Celebration for the Fine Arts Building on October 13, featuring a free concert from Dr. Yulia Lipmanovich. Photo by Eric Allix Rogers courtesy of the Fine Arts Building.
Since 1898, the Fine Arts Building at 410 South Michigan Avenue has been the home to architects (think Frank Lloyd Wright), artists (Lorado Taft), booksellers, craftspeople, dancers, and musicians.  Mayor Brandon Johnson declared October 13 as Fine Arts Building Day in Chicago.  RSVP to join the free 125th Anniversary Celebration on October 13.  This might also be your last chance to visit a building with elevator operators. The building plans to convert to automatic elevators in the next two years.
The University of Chicago's annual Humanities Day on October 21 comprises discussions, lectures, tours, exhibits, and performances.  The one-day event is free, and both in-person and virtual.  Take a look at what's on offer and register at humanitiesday.uchicago.edu.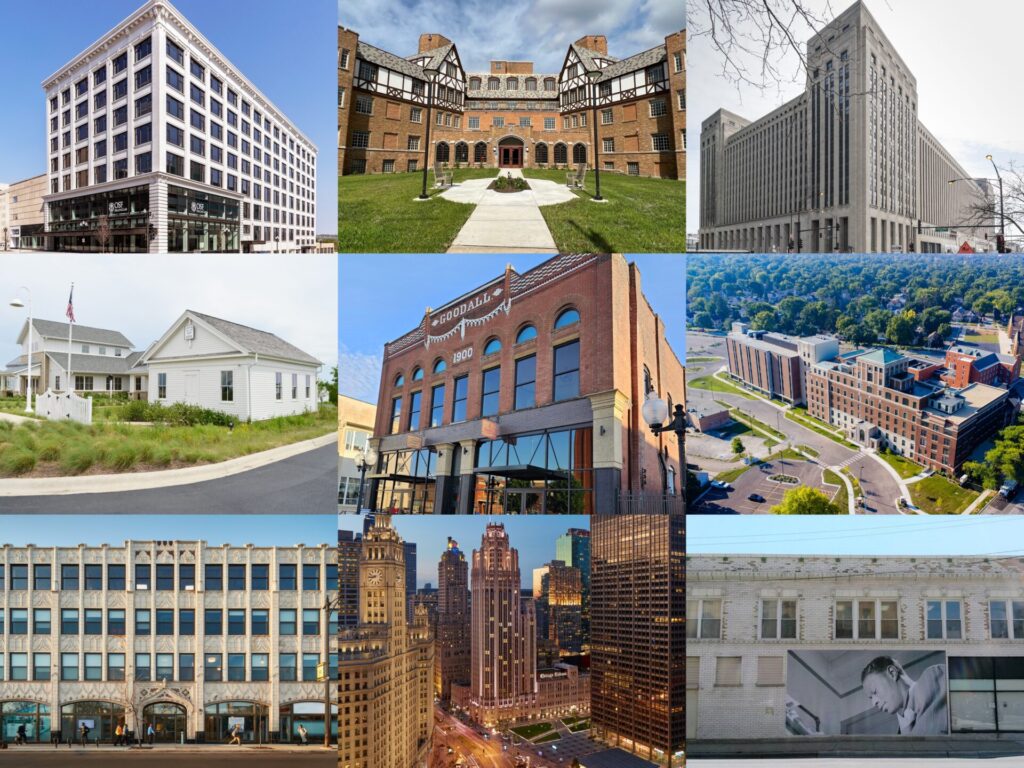 Pictured are this year's Landmarks Illinois Richard H. Driehaus Foundation Preservation Award winners. Celebrate the nine award-winning preservation efforts and the people who made them possible on October 27 at Athenaeum Center for Thought and Culture. Photo by Landmarks Illinois.
Chicago is known world-wide for its architecture, which will also be featured this month during the Landmarks Illinois Richard H. Driehaus Foundation Preservation Award ceremony, which is open to the public, October 27, at the Athenaeum Center for Thought & Culture.  In partnership with the Graham Foundation and "Places Journal," the Society of Architectural Historian's inaugural SAH Places Prize Lecture is architectural historian Ginger Nolan's "Black Capitalism and the City: African American Insurance and the Actuarial Imagination" at the Graham Foundation on October 20.  The lecture is free and open to the public.  The Society of Architectural Historians' SAH Celebrates annual awards and fundraiser is November 3 at the Newberry Library.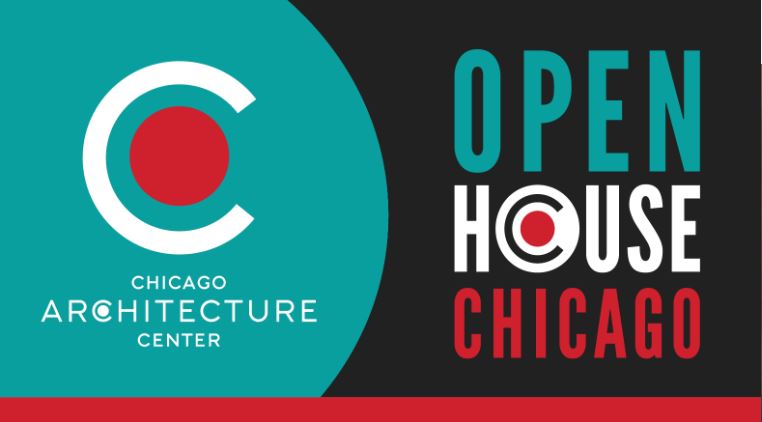 Chicago Architecture Center's Open House Chicago offers access to more than 170 architecturally and historically significant sites in the city for 2 days only, October 14-15. Photo by Chicago Architecture Center.
The 50th Annual Pullman Historic House Tour is October 7-8.  George Pullman's eponymous planned industrial community became the Pullman National Historical Park last year.  To learn more about Pullman, watch "Chicago Stories: Pullman and the Railroad Rebellion" on WTTW on October 6. WTTW's fascinating weekly documentary series "Chicago Stories" continues with "Chicago Stories: The Boss & The Bulldozer" on October 13, which focuses on Chicago mayor Richard J. Daley, aka "the Boss."  The Chicago Architecture Center's Open House Chicago, a free festival that gives access to more than 170 architecturally and historically significant sites in more than 20 neighborhoods, is October 14-15.   The Elmhurst History Museum's "Lost Chicagoland Department Stores" exhibition runs October 6-January 28, 2024.  I have many fond memories of Marshall Field & Company's State Street store.   I also recall that Wieboldt's, Goldblatt's and Sears had flagship stores on State Street as well.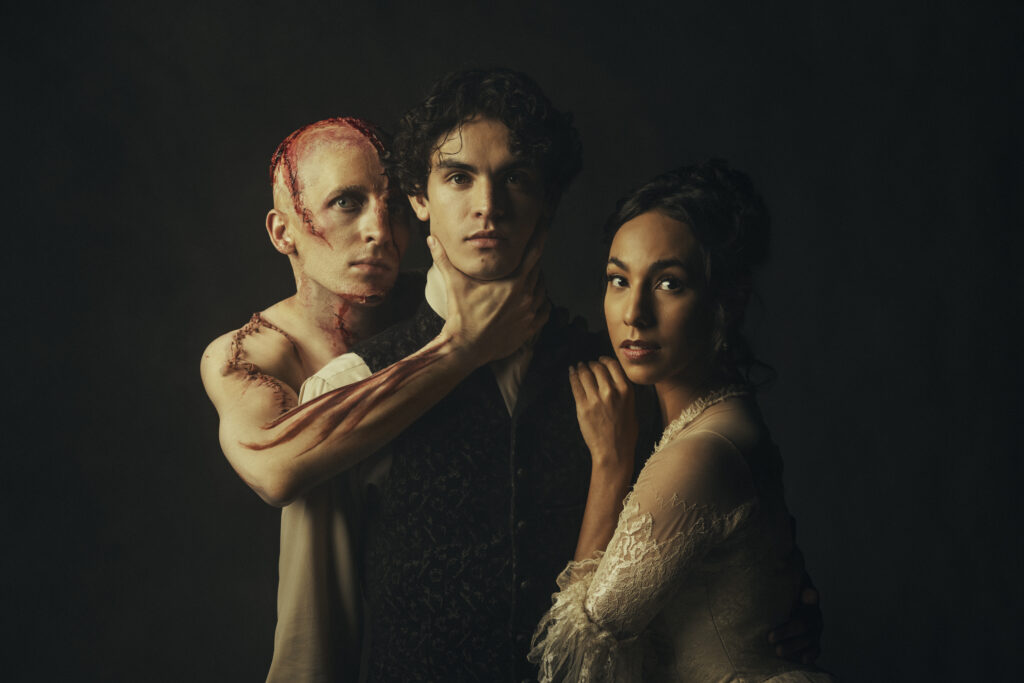 The Joffrey Ballet's 68th season opens with Liam Scarlett's critically acclaimed interpretation of Mary Shelley's "Frankenstein". Photo by Todd Rosenberg courtesy of the Joffrey Ballet.
Chicago has a long history of improv and comedy.  The tradition continues with the inaugural 312 Comedy Festival at multiple venues, October 27-November 5.  Mercury Theater Chicago presents the musical comedy "Young Frankenstein" October 13-December 31.   The Joffrey Ballet opens its 68th season with a much more serious interpretation with the Chicago premiere of Liam Scarlett's "Frankenstein" at the Lyric Opera House, October 12-22.
Frankenstein and Dracula are perennial favorite Halloween costumes, but one doesn't need to go to Transylvania to experience scary stuff at Halloween.  The Hull-House Settlement is reported to be one of the most haunted places in the U.S.  The Jane Addams Hull-House Museum hosts "The Haunting of Hull-House" ghost tours on October 13, 20 and 27.    Watch "Chicago Stories – Jane Addams: Together We Rise" on WTTW, October 20, to learn more about the Nobel Peace Prize-winning social reformer whose settlement house helped thousands of immigrants.  The Glessner House hosts Shadows on the Street: Haunted Tours of Historic Prairie Avenue on October 27+28, and their 35th annual Edgar Allan Poe Readings by actors from LifeLine Theatre on October 28….. definitely not for the kiddies.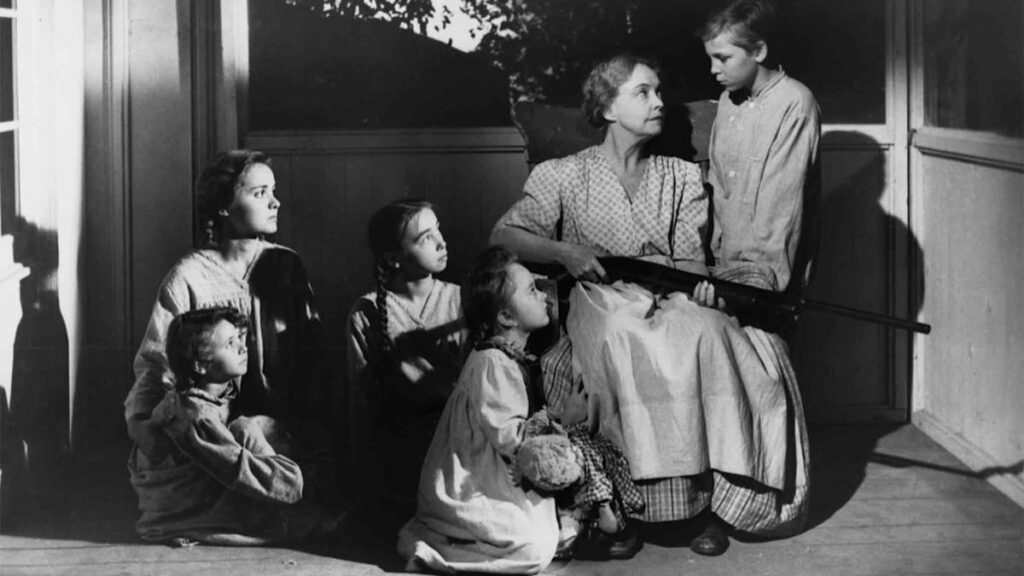 Enjoy thrillers and spooky films like "Night of the Hunter" being shown at Gene Siskel Film Center on October 1 and 5. Photo courtesy of Gene Siskel Film Center.
Based on Davis Grubb's novel, I watched "Night of the Hunter" (1955) last month in black & white and was reminded that you don't need a lot of lurid blood and gore for a movie to be frightening.  The Gene Siskel Film Center screens "Night of the Hunter" on October 1 and 5.   City Lit Theater Company presents the world premiere of Shawna Tucker's stage adaptation of Grubb's "Night of the Hunter" October 20-December 3.
Chicago's theater scene is quite rightly renowned.  Chicago actors who started in storefront theaters often move on to other things.  The 59th Chicago International Film Festival runs October 11-22 at the AMC New City 21, Gene Siskel Film Center, Chicago History Museum and Music Box Theatre.  The festival screens Chicago actor Michael Shannon's directorial debut with "Eric LaRue," which is an adaptation of Brett Neveu's play that premiered at Chicago's A Red Orchid Theater.  Playwright, actor and screenwriter Tracy Letts, who started his career at Steppenwolf Theatre Company, is one of the stars. The festival will also screen David Fincher's "The Killer" starring Michael Fassbender and Tilda Swinton, which was partially shot in Chicago. The fest opens at the Music Box Theatre with a free block party featuring food vendors, live music and retail stalls on Southport, followed by the U.S. premiere of Chicago-native Minhal Baig's "We Grown Now," a coming-of-age story about two boys growing up in the Cabrini-Green public housing project in 1992.  Another former Steppenwolf actor, John Malkovich, stars in Aleksey Igudesman's "The Music Critic" at the Chicago Theatre on October 26.
Chicago was the candy capital of the world.  I have a sweet tooth, so I'll be watching yet another episode in WTTW's Chicago Stories series "Chicago Stories: Candy Capital" on October 27 while munching on a Snickers bar and Tootsie Rolls.
Dates, times, locations and availability are subject to change.