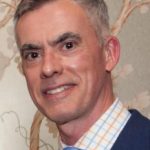 By Philip Vidal
The cool, clear, crisp weather of October is perfect for charity walks and runs, even though they are virtual or scaled back.   This brings back memories: In the 1970s, when charity walks and runs were still a novelty, my high school — St. Ignatius College Prep — sponsored a benefit walk in the fall on the North Side along the lakefront.  Most of my fellow students were from the South Side.  I was one of the few North Siders, so a few of my Southside classmates asked me which CTA buses were available so they wouldn't have to actually walk the entire route.  Slackers!
Join one of two Alzheimer's Association Walk to End Alzheimer's in Elk Grove Village and Chicago. Photo by Alzheimer's Association.
The Alzheimer's Association Walk to End Alzheimer's® – Lake County  and Southwest Suburban (Orland Park) are October 3. The walks in  Elk Grove Village and Chicago are on October 4 and 10, respectively.   They won't be the massive walks in years past, but you're invited to walk in small groups.
This year's Bear Necessities Pediatric Cancer Foundation's "A Walk for the Bear" goes virtual, October 23-25.  You can still walk or run, dress up for Halloween, and include the family dog, as in year's past.  But this year you'll also need to adhere to COVID-19 guidelines.  Fido might not be familiar with COVID-19 guidelines and may have preferred past PAWS Chicago 5K Walk/Run for Their Lives at Montrose Harbor.  On October 31 their 20th annual walk/run will also go virtual.
Music of the Baroque celebrates its 50th anniversary with an At-Home Gala, October 23. Photo by Music of the Baroque.
Another worthwhile organization with a milestone anniversary is the Music of the Baroque. Help them celebrate their 50th anniversary by joining their At-home Gala on October 23.  While attending a live Music of the Baroque concert this fall isn't possible, you can listen to one of the Music of the Baroque Encore concerts, which continue on Wednesday evenings through October 14 on WMFT-FM 98.7.
Helping to raise funds for scholarships and financial aid, the Music Institute of Chicago will host "Families in Concert," October 9-11. Photo by Music Institute of Chicago.
The Music Institute of Chicago, in its 90th year, hosts a weekend of virtual concerts, "Families in Concert"  to raise funds for scholarships and financial aid for its students, on October 9-11.    The finale is a concert given by Robert Chen, Concertmaster of the Chicago Symphony Orchestra (CSO), and his family.
The Chicago Symphony Orchestra kicks-off its 130th season with a new way to enjoy the CSO,  CSOtv, its new video portal.  The CSO Sessions digital series of chamber music concerts starting October 1 is just one of the programs you'll be able to stream on CSOtv throughout the fall.
Join the Women's Board of the Chicago Symphony Orchestra Association in their online fundraiser, "Sounds of Celebration: An Evening at Home with the CSO." October 24. Photo by Chicago Symphony Orchestra.
One of the highlights of the fall is the Women's Board of the Chicago Symphony Orchestra Association's annual Symphony Ball, a concert, and a gala ball.  It was originally planned for October 3 but now will morph into an online fundraiser "Sounds of Celebration: An Evening at Home with the CSO" on October 24.  Patrons and sponsors can enjoy the pre- and post-broadcast virtual VIP lounge.  The public is invited to the broadcast featuring Maestro Riccardo Muti, the CSO orchestra and chorus, with appearances by Yo-Yo Ma and other special guests.
Deeply Rooted Dance Theater launches its 25th season with "Deeply 25: Beyond Dance… The Celebration Begins," an in-person and virtual fundraiser on October 17.
Chicago is noted for not only its vibrant music and dance scene but its art scene as well.  October has traditionally been Chicago Artist Month.  Celebrate Chicago's women artists, artists of color, and artists with disabilities on October 19 with the 2020 3Arts Awards.  This year it's virtual and free.
One of the artist-run spaces participating in "Artists Run Chicago 2.0". Photo courtesy of Devening Projects.
Fifty artist-run spaces from all over the Chicago area are featured in "Artists Run Chicago 2.0," an exhibition through November 1 at the Hyde Park Arts Center.
View "You Be My Ally," an augmented-reality work by text-based artist Jenny Holzer around the University of Chicago's campus, and also via app, October 5-November 22.
For truly homegrown Chicago art, create a show in your own home with materials created by the performance collective canary torsi. The Museum of Contemporary Art Chicago mails the material to you in advance of the virtual performances of "Last Audience: a performance manual," which are October 24 and December 13.
The contemporary artwork of two Chicago-based artists is juxtaposed with the very ornate interior and architecture of the 1883 Nickerson Mansion in "A Tale of Today: Nate Young and Mika Horibuchi," an exhibition at the Driehaus Museum that opened September 26.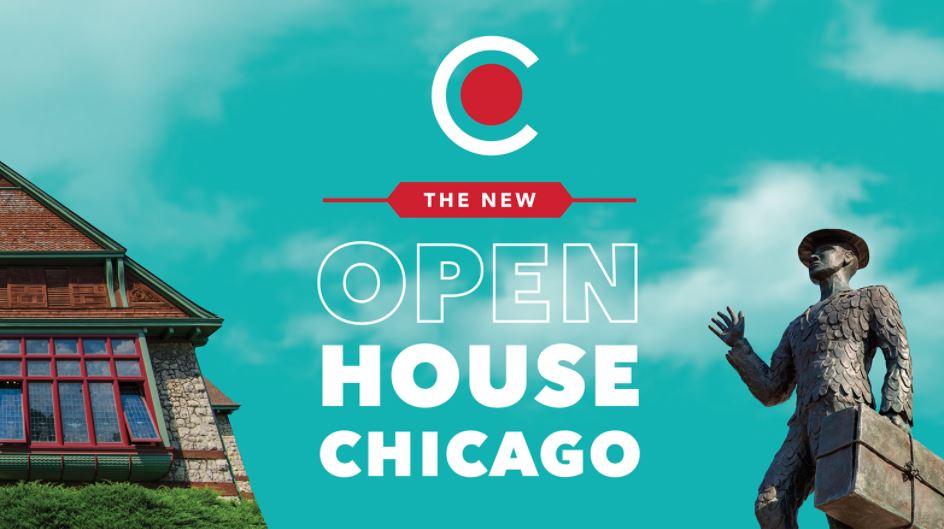 Discover Chicago through exterior and online tours with Open House Chicago from October 16-25. Photo by Chicago Architecture Center.
Admire the works of Chicago's world-renowned architects in twenty neighborhoods and two suburbs at the Chicago Architecture Center's 10th annual  Open House Chicago.  This year's festival has some changes: there won't be any interior tours, only exterior, and online tours; instead of just one weekend, the festival will run 10 days, from October 16-25; the emphasis will be on Chicago's South and West Sides.
Chicago has a rich literary scene.  The inaugural Chicago Reader's Book Club kicks off this month. Once a month over the next year the works of twelve female-identifying Chicago authors will be presented.  Some of the books to be discussed are Eve Ewing's "1919," Natalie Moore's "The South Side," and Rebecca Makkai's "The Great Believers."
Aaron Sorkin's "The Trial of the Chicago 7" premieres on October 16. Photo courtesy of Netflix.
A chapter in Chicago's history is featured in Aaron Sorkin's new movie "The Trial of the Chicago 7," starring Sacha Baron Cohen and Eddie Redmayne, opened September 25 in local theaters and premieres October 16 on Netflix.   It's about the trial of protestors at the 1968 Democratic National Convention in Chicago.  I remember seeing the protests live on TV from Grant Park as a tike.
Last month, Queen Elizabeth II opened up her country estate, Sandringham, to the public for a weekend of drive-in movies.  Though perhaps not as posh, the drive-in movie trend continues in Chicago.  The Asian Pop-Up Cinema festival, through October 31, at The Drive-in at Lincoln Yards includes a free screening of the Chinese drama "The Climbers" on October 1.
The 56th Chicago International Film Festival, October 14-25, will offer both in-person and online options.  The festival opens with "Belushi," a world-premiere documentary about John Belushi, the Chicago-born alum of The Second City and star of "Saturday Night Live" and "The Blues Brothers."   You can stream it or watch it in-person at the ChiTown Movies outdoor drive-in theater in Pilsen.
Enjoy horror films throughout the month of October at the ChiTown Movies outdoor drive-in theater, which hosts the Music Box of Horrors Film Festival. Photo by Music Box theater.
The ChiTown Movies outdoor drive-in theater is also the venue for this year's Music Box of Horrors film festival, which in the past has been a 24-hour horror film marathon at the Music Box theater.  It will now run on October 1-31.   Some of the movies are so bad they're good.
The Music Box of Horrors film fest is a great way to get in the mood for Halloween, as is carving your own jack o' lantern.  Get your pumpkin at one of the many farmers' markets in the city and suburbs that are wrapping up this month.   My favorite is the SOAR Farmers Market near my home, in front of the Museum of Contemporary Art. Or skip the farmers market and pick your own pumpkin and apples at a local pumpkin patch or orchard.  It's a great way to spend time outdoors.  Illinois is the nation's top pumpkin producer, so it should be easy to find a local pumpkin patch.
For a look at some incredible jack o' lanterns, head to the Chicago Botanic Garden's Night of 1,000 Jack-o'-Lanterns.  This year it runs October 14-18 and 21-25.
Chicago is famous for its pizza, which most people equate with deep-dish pizza.  Growing up in Chicago, we had square-cut, thin-crust pizza.  As I learned from a talk from last year by Steve Dolinsky, aka WLS/ABC 7 News' "Hungry Hound" food reporter and author of "Pizza City, USA," that style of pizza is a uniquely Chicago experience that originated in bars, where the small squares of pizza where a give-a-way and a salty enticement to drink more.  Learn more about Chicago pizza on one of Dolinsky's Pizza City USA tours on weekends through October.  October 9 is Pizza and Beer Day.
Oktoberfest lives on at the second floor of the DANK Haus German American Cultural Center in Lincoln Square. Photo by DANK Haus German American Cultural Center.
Which leads to that eternal, existential question — what is pizza without beer?  My Chicago-born 24-year old nephew, David Wieczorek, moved to Munich in August to play on the WWK Herrsching volleyball team.  He loves it there, but he's disappointed that Munich's most famous event, Oktoberfest, has been canceled.  Every day was Oktoberfest at Chicago Brauhaus for over 50 years.  It closed in 2017, but on September 17 it relocated and reopened on the second floor of the DANK Haus German American Cultural Center in Lincoln Square just in time to celebrate German-American Day on October 6!  I hope to see you there.
Dates, times, locations and availability are subject to change.  Please stay healthy and safe and keep up with the latest information about the COVID-19 pandemic.