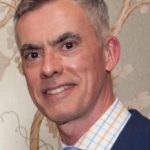 By Philip Vidal
Last month I began a continuing education course, 'Contemporary Art in Chicago," offered by the School of the Art Institute of Chicago.  This course really opened my eyes to the diversity of art in Chicago, and to the extraordinary number of galleries and artists located throughout the city.  I have also learned that there are many ways to support the arts in Chicago.  You can support the arts by a purchase of a work from a local artist, or go to a play, concert, museum, or movie.  Just a visit to a gallery is significant.  Here are a few suggestions:
The Jean Goldman Book Prize will be awarded on November 7  at the  7th annual School of the Art Institute of Chicago (SAIC) Literary Lions reception .
The now-legendary Jean Goldman certainly promoted and supported the arts.  It was an honor to have known her. The 7th annual School of the Art Institute of Chicago (SAIC) Literary Lions reception featuring the Jean Goldman Book Prize is November 7 in the SAIC's Ballroom, 112 S Michigan.  To reserve call 312-499-4214 or contact saicevents@saic.edu.  The prize is given to a SAIC faculty member who has recently written an art publication deemed outstanding by a jury of prominent art professionals.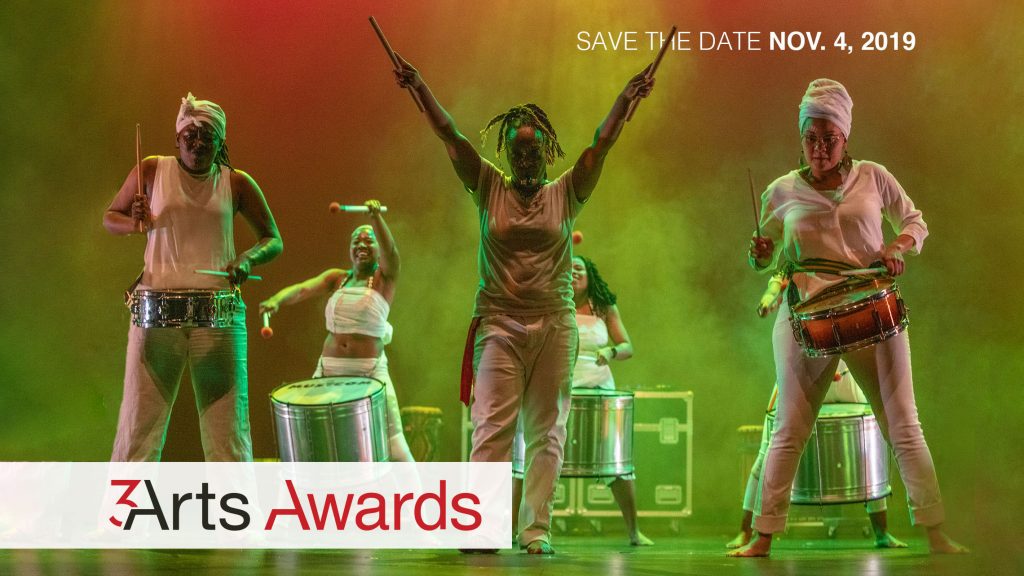 The 3Arts Awards takes place at the Museum of Contemporary Art (MCA), November 4. Photo by 3Arts.
At this year's  Three Arts Awards Celebration unrestricted cash grants will be given to twenty Chicago women artists, artists of color, and artists with disabilities, November 4 at the Museum of Contemporary Art (MCA).
You can acknowledge artisans past and present, and support a worthwhile cause, by purchasing something at the Antiques + Modernism Show at the Winnetka Community House, November 8-10.  The preview party is November 7.  I will always remember two young mothers at a past show eyeing a mid-century modern glass cocktail table with sharp corners.  One of the mothers exclaimed to the other, "That table is a mother's nightmare."
The Museum of Contemporary Art hosts "The Art Auction," cocktails, dinner and an auction to benefit the MCA, on November 16.  Works in the auction will be on view in the MCA galleries on November 12-16.
The Hyde Park Art Center's 80th birthday gala is November 22.  The Hyde Park Art Center is an important arts incubator—they were, for example, the first gallery to have an exhibition of the "Hairy Who?"!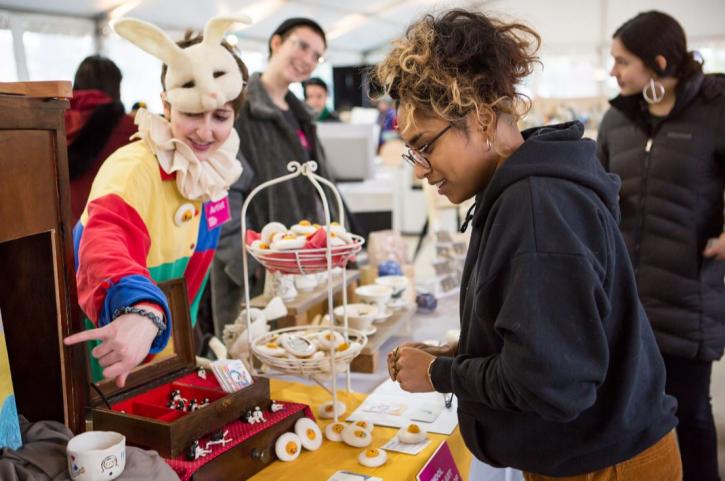 SAIC's 31st annual Holiday Art Sale takes place at Millennium Park's Chase Promenade, November 22-24. Photo by SAIC.
Support more than one hundred SAIC undergraduate and graduate students by purchasing a piece (or two) from them at the SAIC's 31st annual Holiday Art Sale, November 22-24 in Millennium Park's Chase Promenade.
The SAIC's Holiday Art Sale is an established tradition.  Another holiday tradition that I have heard of for years is the "Sound of Music Sing-a-Long" at the Music Box Theatre.  I was there last year.  This fun family event is November 29, 30 and December 1, 7, 8.   The star of "The Sound of Music" – Julie Andrews — comes to The Chicago Theatre on December 10 in "An Evening of Conversation with Julie Andrews."  Julie Andrews also starred in the movie "Mary Poppins."  Drury Lane Theatre in Oakbrook Terrace presents the musical "Mary Poppins" November 15 through January 19, 2020.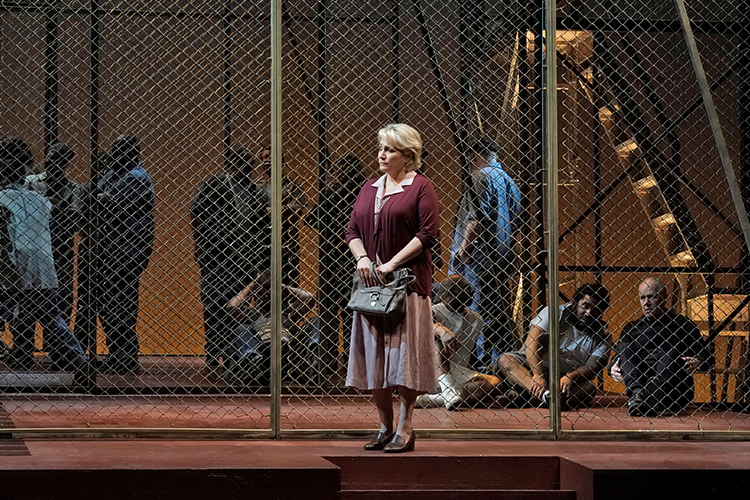 Lyric Opera of Chicago's "Dead Man Walking" runs through November 22. Photo by Lyric Opera of Chicago.
Another Oscar® winning movie that is also a best-selling book is now an opera. The Lyric premiere and new-to-Chicago production of Jack Heggie and Terrence McNally's "Dead Man Walking" continues at the Lyric Opera of Chicago through November 22.  It's based on the true story of New Orleans nun Sister Helen Prejean and her relationship with a death row inmate.
Inspired by Hans Christian Andersen's story, I've heard great things about the Jeff Award® winning production  "The Steadfast Tin Soldier," written and directed by Mary Zimmerman. It's back at Lookingglass Theater November 7 through January 13.  Cirque du Soleil and the Madison Square Garden Company present the debut of their family-friendly "'Twas the Night Before Christmas…" at The Chicago Theatre, November 29-December 8, before it moves to New York City.
Composer and lyricist Stephen Sondheim's 90th birthday isn't officially until March 22, 2020, but the Auditorium Theatre is getting a jump start by celebrating his 90th birthday on November 16 with "Chicago Celebrates Sondheim!," which features singers and performers from all over Chicago.  The Auditorium's annual Fall gala honoring arts advocates Patti Eylar and Charlie Gardner is also that evening.  A ticket to the gala includes a ticket to the performance and a reception and dinner at the Palmer House. The Sarah Siddons Society supports the arts by awarding scholarships to theater students who are enrolled in local theater programs. The Sarah Siddons Society's annual gala is also November 16.   A program honoring the recipients, a reception and silent auction precedes "Chicago Celebrates Sondheim!".
"The Very Hungry Caterpillar Show" at the Chicago Children's Theatre has been extended through December 1. Photo by Chicago Children's Theatre.
Speaking of theater, the Chicago premiere of "The Very Hungry Caterpillar Show" at the Chicago Children's Theatre was scheduled to close October 27, but it's been so popular that it's been extended to December 1.  It's based upon Eric Carle's book, which is celebrating its 50th anniversary.
Not quite fifty years ago, in the 1970s, I used to skate to "Rink & Roll" songs like Billy Swann's "I Can Help" at the Rainbo Roller Rink on Clark, just north of Lawrence, at the height of the indoor roller-skating craze.  As a reminiscence, I'd like to go to Lucky Plush's "Rink Life" at Steppenwolf's 1700 Theatre, November 7-16, and see their take on those halcyon days of my youth.
Gramaphone Records, the legendary record shop that I used to frequent not far from where I grew up in Lakeview, is celebrating its 50th anniversary.  Gramaphone Records will be feted during the Red Bull Music Festival Chicago,  at various locations, November 17-30.
With the Queen of England's 100th birthday just a few years away, I'm reminded that friends have suggested that I watch the acclaimed Netflix series "The Crown," but I haven't to date. Maybe I'll binge-watch the first and second seasons in preparation for the third season of "The Crown," which starts November 17.  Olivia Colman, who won the Best Actress Oscar® for her portrayal of Queen Anne in "The Favorite," now portrays Queen Elizabeth, and Helena Bonham Carter, who played the Queen Mother in "The King's Speech," now plays glamorous Princess Margaret.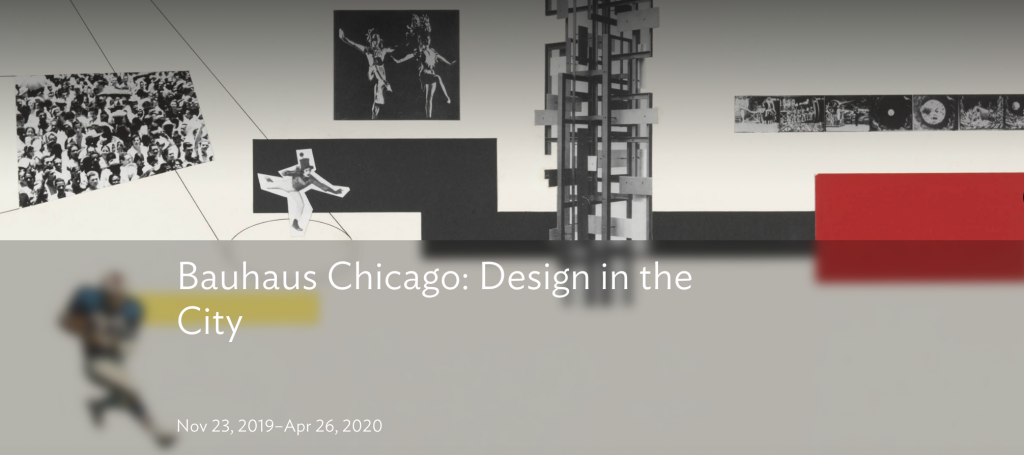 The Art Institute of Chicago's "Bauhaus Chicago: Design in the City" exhibition runs from November 23 – April 26, 2020. Photo by Art Institute of Chicago.
I plan on watching all four episodes of the "Art & Design in Chicago" on WTTW11 this month, and also checking out the "Bauhaus Chicago: Design in the City" exhibition at the Art Institute of Chicago, November 23-April 26, 2020, especially as I live in a building designed by one of the Bauhaus' leaders, Mies van der Rohe.
Although I confess that I've never binge-watched anything, I do have an addiction… I have a caffeine monkey on my back so I'm sure to follow the scent of roasting coffee beans to the world's biggest Starbucks, which is set to open in the former site of the Crate & Barrel store on Michigan Avenue on November 15.  I'm also partial to wine, so I'd like to check out the new Cooper's Hawk Winery & Restaurant that's slated to open November 11 in the former Esquire Theatre on Oak Street.  It's the chain's first location in Chicago.
Beaujolais Nouveau hits the stores November 21:  it's nice that there are some things that are truly seasonal when it otherwise seems like you can get most anything year-round.
The McCormick Bridgehouse & Chicago River Museum is certainly seasonal. It's only open in the fall during the bridge lifts along the Chicago River.  This year the museum opened on October 2 and closes November 3.  The last fall bridge lift along the Chicago River is Saturday, November 16.   When the boats are removed from Lake Michigan's harbors, can winter be far behind?
Dates, times, location and availability are subject to change.