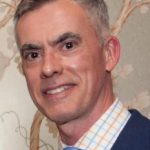 By Philip Vidal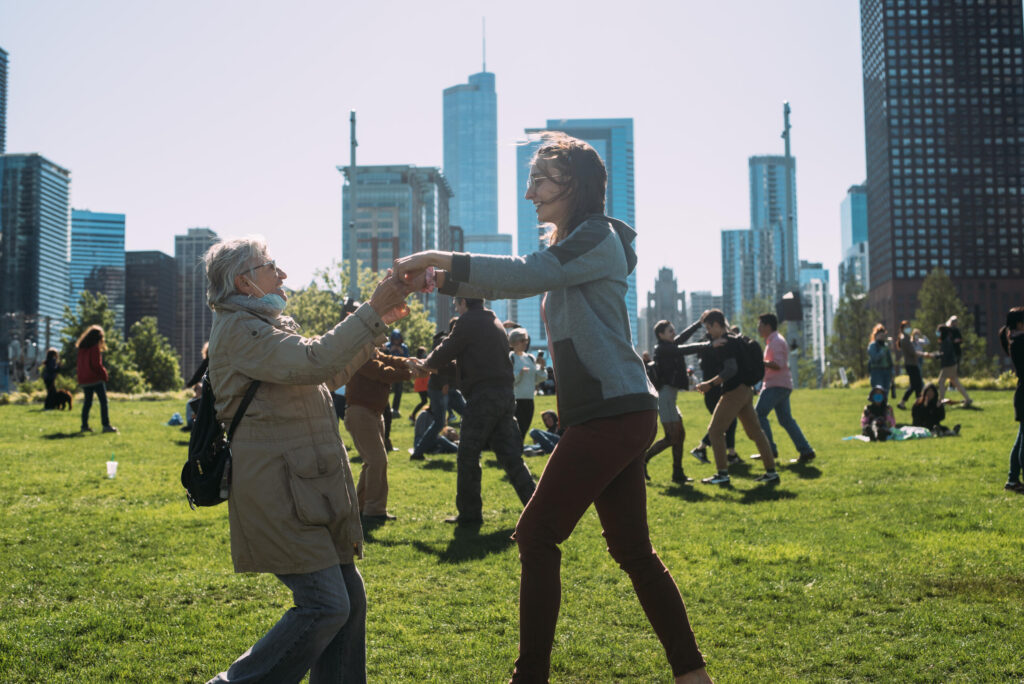 Get ready to dance! June is Chicago Dance Month and its taking place all over the city and suburbs. Photo by Choose Chicago.
A big hit in 1964 was Martha and the Vandellas' rendition of "Dancing in the Street." I remember it still. This year there will indeed be dancing in Chicago's streets, opera houses, theaters, parks, and on Navy Pier.  2022 is the Year of Chicago Dance, and June is Chicago Dance Month.  See Chicago Dance celebrates the 10th annual Chicago Dance Month with a packed calendar of programming across the city and suburbs.  The 25th season of Chicago SummerDance  in parks around the city starts with SummerDance at Taste of Chicago Pullman on June 18, and finishes with the SummerDance Celebration at Millennium Park on September 17.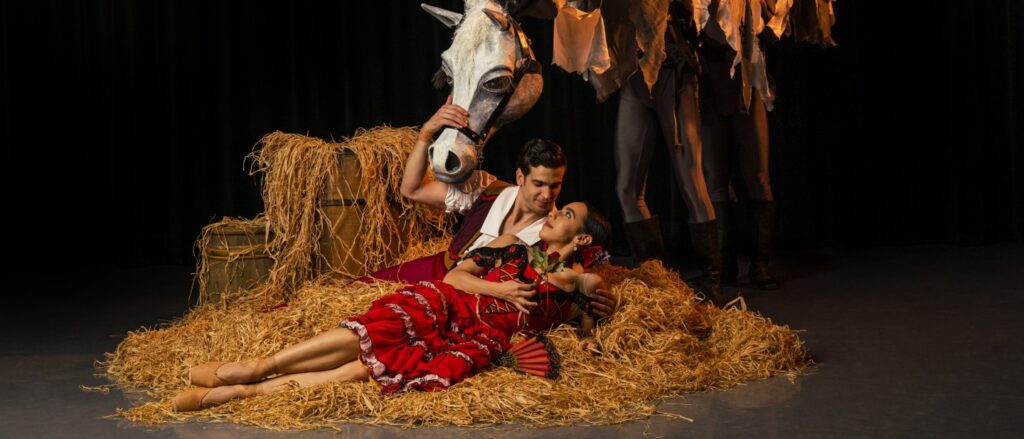 The Joffrey Ballet's production of Possokhov's "Don Quixote" is held at the Lyric Opera House, June 2-12. Photo by Joffrey Ballet.
The Lyric Opera House is the venue for the Joffrey Ballet's family-friendly production of Yuri Possokhov's "Don Quixote," June 2-12.   The historic and magnificent Auditorium Theatre hosts Giordano Dance Chicago's season finale on June 11.  This jazz ensemble's performance is also the last installation in the Auditorium Theatre's "Made in Chicago" 2021-22 dance series.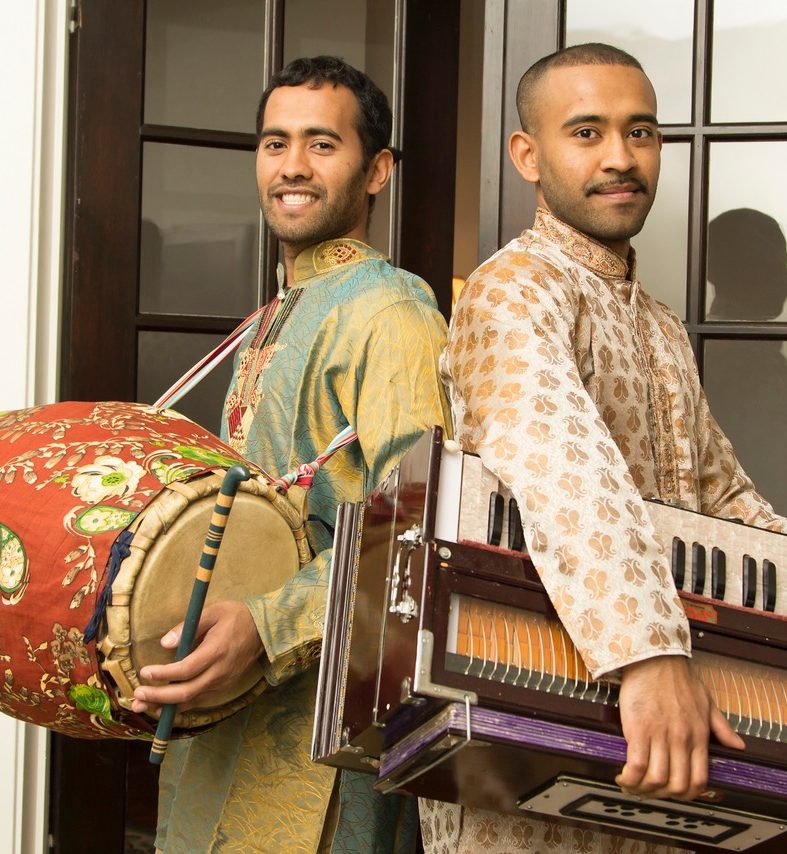 Aquil Brothers and many more perform at the Mandala Makers Festival, June 16-26, at Indian Boundary Park. Photo by Mandala Makers Festival.
I expect there will truly be dancing in the street when the Mandala Makers Festival's multi-disciplinary artists perform at indoor and outdoor locations along Devon Avenue, June 16-26.  The festival culminates with the Artists Showcase, June 24-26, indoors and outdoors at Indian Boundary Park. Downtown, the Harris Theater for Music and Dance, hosts "DanceAfrica Chicago: ROOTS," a performance presented by Chicago-based Muntu Dance Theatre in its 50th anniversary season. The performance features Muntu Dance Theatre, Red Clay Dance, Deeply Rooted Dance Theater and others on June 25.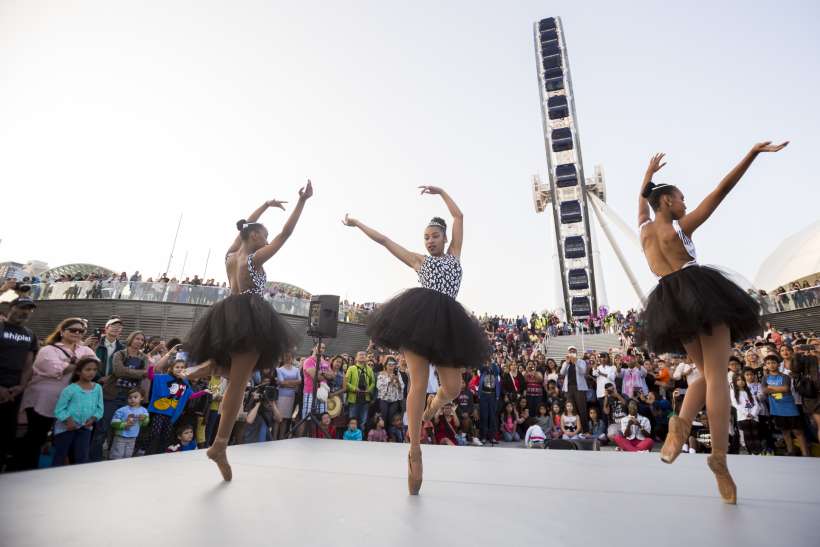 Navy Pier's "Wave Wall Moves" presents free live performances all summer long! Photo by The Magnificent Mile.
Navy Pier is a magnet for dance with Pier Dance, free dance lessons on Thursdays in June.  If you'd rather leave it to the pros, Wave Wall Moves at Navy Pier presents free live performances by a wide-array of Chicago dance companies, ensembles and choreographers on Saturdays from June 4 to September 3.  Collaboraction's 25th anniversary production "Moonset Sunrise" at Beat Kitchen's new Bar Sol at Navy Pier, June 8-18, includes a live band, African dance, a performance by Aztec Dance Chicago, poets and other performers.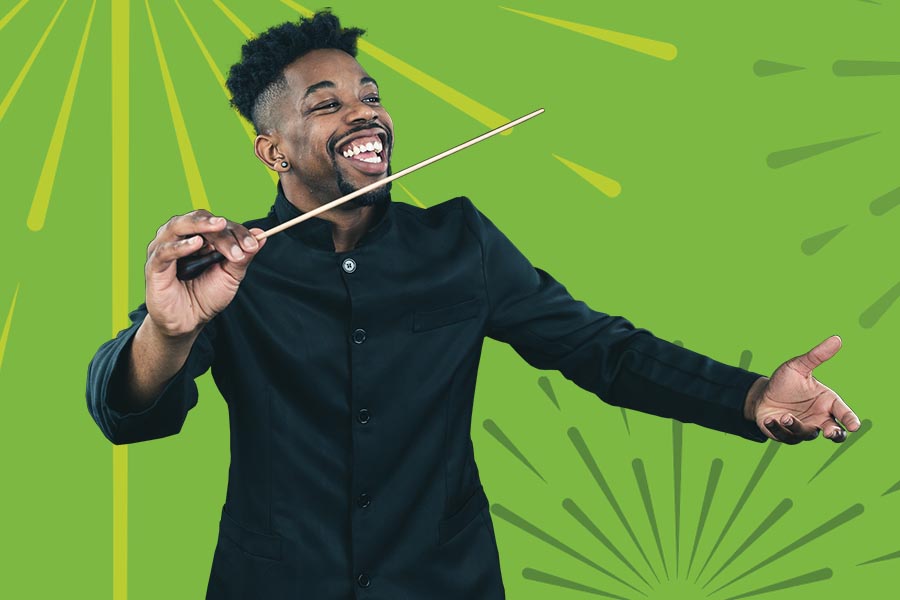 Enjoy "Let Freedom Ring! with the Chicago Sinfonietta" conducted by Jonathan Rush at Ravinia on June 18. Photo by Ravinia.
June 19 marks Juneteenth National Freedom Day commemorating the abolition of slavery in the South on June 19, 1865.    Related events, both on June 18, include "Let Freedom Ring! with the Chicago Sinfonietta" concert at Ravinia, and the Chicago Philharmonic's "Marvel Studios' Black Panther: In Concert" featuring Ludwig Göransson's Oscar® and Grammy® -winning score at the Chicago Theatre. Fleetwood-Jourdain Theatre presents Samm-Art William's "HOME" at the Noyes Cultural Art Center in Evanston, June 4-19.  This 1979 Tony Award®-nominated coming of age comedy is considered to be a seminal work about the Black experience in America.
June includes Father's Day, also on June 19.  I have a recollection that my late father often took us out on Lake Michigan and to Navy Pier when cargo ships still docked there.  I'm sure he would have enjoyed watching the United State Sail Grand Prix Chicago (SailGPTM), Navy Pier, June 18-19.  Sail GP comes to Chicago for the first time, and Lake Michigan becomes a racecourse for nine national teams of F50 catamarans.
Baraboo's Big Top Parade returns June 25! Photo by Circus World Baraboo.
My father also loved the circus.  He took us to see the Ringling Bros. and Barnum & Bailey Circus at the International Amphitheater, and the Shriner's Circus at the Medinah Temple (at the time this piece was submitted, Chicago's City Council had approved the building to become a temporary casino).  We visited the Ringling home and museum in Sarasota, Florida, where my grandparents spent the winter.  We made a pilgrimage to Circus World in Baraboo, Wisconsin.   For the first time since 2019, the Big Top Parade & Circus Celebration is back on June 25.
My good friend Gavin Kern took a group of us to a circus in a tent on Chicago Avenue just along the Chicago River many years ago.  The City Council has approved a plan to build Chicago's first permanent casino on the site.
Circus Vasquez performs at the North Riverside Park Mall through June 6 and Old Orchard from June 10-20.  Troup Bingo from Kyiv, Ukraine, is just one of the many acts performing at Circus Vasquez.  Troupe Vertigo is featured during "Cirque Goes to Hollywood" at the Grant Park Music Festival on July 6.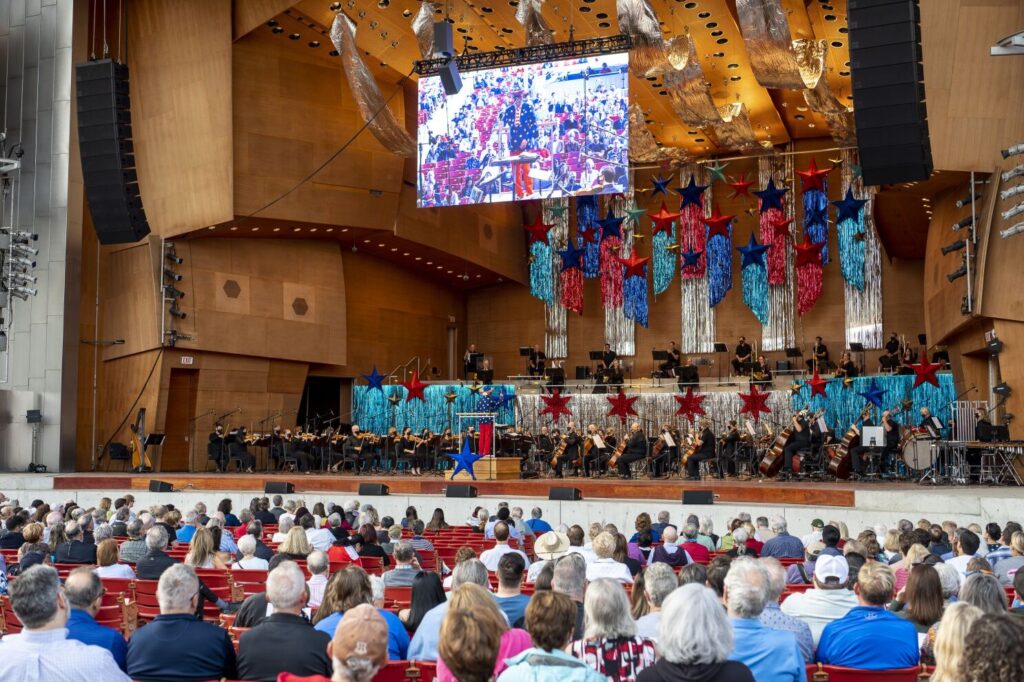 Grant Park Music Festival runs June 15 – August 20 with a mix of performances all summer long. Photo by Tyler LaRiviere and Chicago Sun-Times.
The tagline for the Grant Park Music Festival (GPMF) is "We're Classic Chicago."  Well, we're Classic Chicago too… Classic Chicago magazine…. The GPMF runs June 15-August 20 with an eclectic mix of classical, pop and the aforementioned acrobatics of Troupe Vertigo.   "No Regrets: A Celebration of all Things Spektral" is the Spektral Quartet's final Chicago performance followed by a bash at Salvage One on June 12.
Join a spectacular night at the Symphony Center on June 9 featuring Kelli O'Hara. Photo by Chicago Symphony Center.
The Chicago Symphony Orchestra (CSO) hosts "Concert for Chicago" at the Pritzker Pavilion in Millennium Park on June 27, and "Kelli O'Hara Sings Broadway" at Symphony Center on June 9, which is also the CSO's 31st annual Corporate Night Fundraiser.  O'Hara is not only a Tony Award®-winning singer, but also is a guest star on HBO's series "The Gilded Age."  Given the popularity of "The Gilded Age," the Glessner House's annual "A Walk Through Time" house tour of the interiors of six Gilded Age Prairie Avenue mansions on June 12 will be even more popular.  I already have my ticket.
Blues legend Buddy Guy is the headliner at the 24th annual Blues on the Fox festival at Thomas J. Weisner RiverEdge Park, Aurora on June 17-18.  Oscar®, Emmy®, and Grammy® -winning Chicago native Common with special guest Black Violin performs at Ravinia on June 18.  Another Chicago native, Ramsey Lewis, is fêted at "Legends of Jazz: Honoring Ramsey Lewis" concert on June 19 at Ravinia.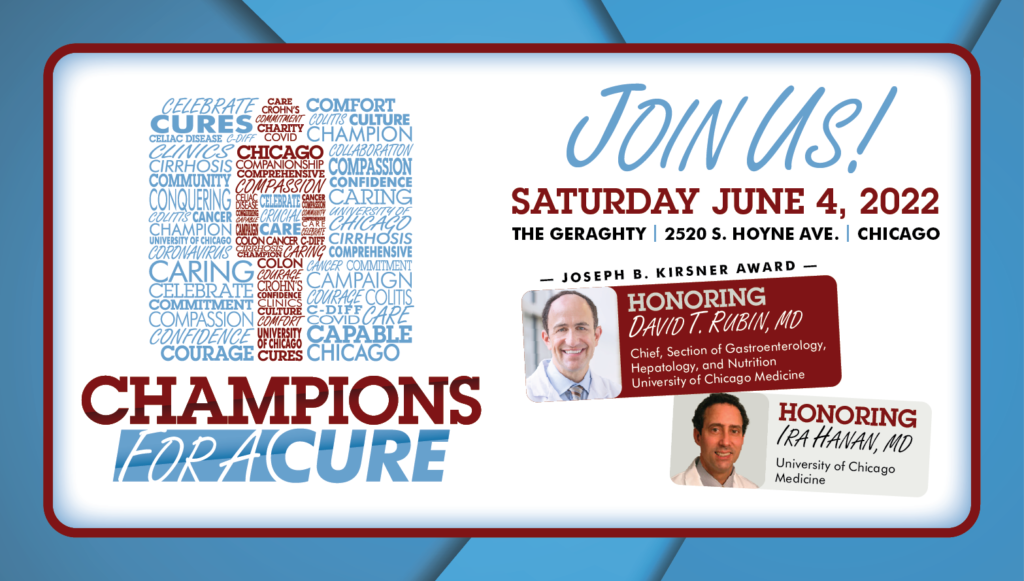 The GI Research Foundation honors David T. Rubin, MD and Ira Hannan, MD at their gala "Champions for a Cure," June 4. Photo by GI Research Foundation.
And there are many galas this month honoring local talent and benefactors. On June 2, the Music Institute of Chicago's honors Hillary Hahn, Nancy and Scott Santi, and Dr. Tanya L. Carey at a gala benefit at the Four Seasons Hotel Chicago.  The GI (Gastro-Intestinal) Research Foundation honors University of Chicago Medicine's David T. Rubin, MD and Ira Hannan, MD at its "Champions for a Cure" gala at The Geraghty on June 4.   This year's honorees at the Chicago History Museum's 28th annual Making History Awards on June 8 at the Four Seasons Hotel Chicago are Sandra Cisneros, John Ettelson, Robert Falls and Roche Schulfer, Dr. Mahalia Hines, and Larry Richman. America's culinary talent is honored during the  James Beard Awards weekend in Chicago June 11-13, culminating with the James Beard Restaurant and Chef Awards at the Lyric Opera of Chicago.
On June 25, take part in the annual Dragon Boat Race for Literacy at Ping Tom Memorial Park. Photo courtesy of Chicago Chinatown Chamber of Commerce.
I have been a subscriber to Court Theatre for decades so I'm delighted that it has been honored with the annual Regional Theatre Tony Award.  The 75th annual Tony Awards® ceremony is June 12.   It doesn't actually honor anyone, but the annual Dragon Boat Race for Literacy  that helps raise funds to support neighborhood literacy programs on June 25 at Ping Tom Memorial Park is a fun and worthwhile event.
Other literary-themed events are the launch party (free, registration required) at the Logan Center on June 13 for the new "Wherever I'm At: An Anthology of Chicago Poetry."  The first event in Steppenwolf Theatre's LookOut Summer series is "maeve & quinn present: Movement & Location" on June 4.  The duo of twin sisters combines poetry and music.  The inaugural JustKids Book Festival, sponsored by 51st Ward Books at the Chicago Teacher's Union Center is June 18.  I want to visit the Poetry Foundation to see the "Monica Ong: Planetaria" exhibition of visual poems before it closes June 30.
Celebrating the 75th year of 57th. Take part in the 57th Street Art Fair celebration, June 4 -5. Photo by 57th Street Art Fair.
Beside music and book festivals, June marks the beginning of art fairs and festivals.  Going for 75 and 72 years respectively, the 57th Street Art Fair (June 4-5) and the Old Town Art Fair (June 11-12) are the grandparents of Chicago's art fairs.  The 47th annual Wells Street Art Fair is also June 11-12.  At ten, the Pivots Art Festival, showcasing Chicago artists involved in contemporary dance, opera, theater and film, at the Edge Theater complex on June 10-18 is the new kid.  Alex Grelle's film, "grelleye." a series of film parodies, kicks off the festival and LGBTQ Pride month.
I have a soft spot for a good parody.  I loved Margaret Rutherford's portrayal of Agatha Christie's sleuth Miss Marple in the four "Murder…." movies.  Hell in a Handbasket Productions presents David Cerda's "A Fine Feathered Murder: A Miss Marbled Mystery" June 16-July 31 at The Chopin Theatre.  "Queer Eye: The Musical Parody" at Second City starts June 2.  Based on the 1953 Universal Pictures sci-fi movie of the same name, Chicago Shakespeare Theater on Navy Pier presents a new musical comedy "It Came from Outer Space" June 22-July 24.
I've lived a block or so from Lake Michigan all my life, so the western suburbs are still largely unknow territory for me, despite having worked in Downers Grove, Hillside, Oak Brook and Warrenville.  While writing this monthly column over the past six+ years, I've come to realize that I need to explore the western suburbs.   I attended a match at the Oak Brook Polo Club  decades ago.  It's time to attend another match and help the club, founded in 1922, celebrate its centennial. The season starts on June 26 with the Centennial Challenge.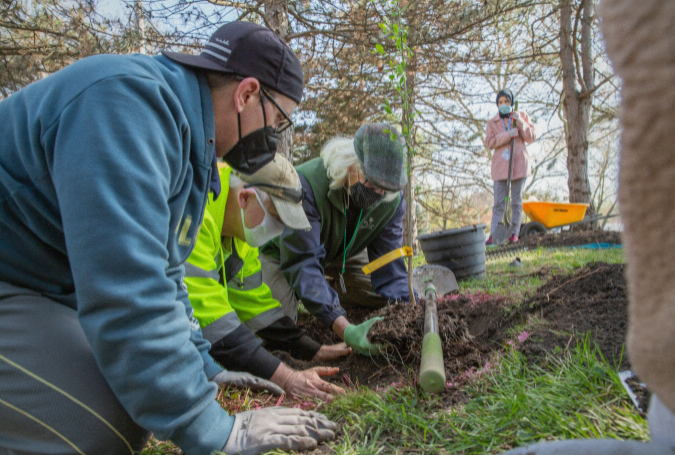 Help make it happen! The Morton Arboretum's initiative is to plant 3,000 trees through the spring of 2023. Photo by Morton Arboretum.
Another institution in the western suburbs is also celebrating its centennial: The Morton Arboretum is 100 years old and to commemorate the first anniversary of the tornado that hit Woodridge, Naperville, Darien, and parts of unincorporated Downers Grove on June 20, 2021, the arboretum provided 300 trees to landowners who lost trees in the tornado as part of Centennial Tree Planting Initiative.   The goal of the initiative is to plant 3,000 trees throughout the seven-county Chicago area through the spring of 2023.
The 33rd annual Ribfest, sponsored by the Exchange Club of Naperville, is June 17-20 at the DuPage Event Center and Fairgrounds in Wheaton.  Cantigny Park, in Wheaton, the former estate of Joseph Medill and his grandson Col. Robert R. McCormick, publishers of the Chicago Tribune (which celebrates its 175th anniversary on June 10) is the venue for "Alebrijes: Creatures of a Dream World," an outdoor art exhibit, June 1-October 30, featuring mythical Mexican creatures.   The Cleve Carney Museum of Art in Glen Ellyn hosts "Hooking Up:  Meet the Collection" from June 4-August 7.  The exhibition pairs pieces from the museum's permanent collection with works by contemporary Chicago artists like Theaster Gates and Amanda Williams.
One of Martha and the Vandellas other hits is "Heatwave." Fingers crossed we don't have too many of those this summer.
Dates, times, locations and availability are subject to change.  Please stay healthy and safe and keep up with the latest COVID-19 information, protocols, mandates and guidelines.