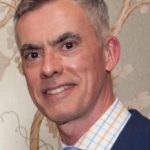 BY PHILIP VIDAL
Anniversaries are always noteworthy.  The Apollo 11 moon landing and the Woodstock music festival occurred fifty years ago this summer.  The 50th anniversary of the Stonewall Rebellion in New York precedes those epic events by roughly a month.  Stonewall represents a milestone in the history of LGBTQ rights in the United States.
"About Face: Stonewall, Revolt and New Queer Art," an exhibition at Wrightwood 659 through July 20, is just one of many events around Chicago commemorating Stonewall.   Another is "Hit the Wall," Ike Holter's smash hit, which I missed when it was at Steppenwolf Theatre a few years ago.  Steppenwolf is hosting a reunion reading of "Hit the Wall" on June 28 and 29.
"Ms. Blakk for President" plays at the Steppenwolf Theatre through July 14. Photo by Michael Brosilow.
"Ms. Blakk for President," inspired by the true story of Chicago drag queen Joan Jett Blakk's 1992 run for President of the United States, is at Steppenwolf Theatre through July 14.    Ms. Blakk had earlier run for mayor of Chicago.   Steppenwolf is hosting several related events on June 7, 14 and 15.
Robert Rodi performs "Mad About the Boy: a Celebration of Noël Coward" at the Pride Arts Center, June 16. Photo by Pride Arts Center.
In celebration of Pride Month and the 50th anniversary of the knighthood of English actor, composer and playwright Noël Coward, Chicago novelist and vocalist Robert Rodi performs "Mad About the Boy: a Celebration of Noël Coward" at the Pride Arts Center on June 16.
The 50th annual Chicago Pride Parade is June 30.  This year's theme is "Stonewall 50: Millions of Moments of Pride."  The first lesbian mayor in Chicago's history, the newly-elected Lori Lightfoot is honorary grand marshal of the parade.  Chicago Pride Fest is June 22-23 at Halsted and Waveland.  Pride in the Park in Grant Park and Navy Pier Pride are both on June 29.
DignityUSA hosts their conference celebrating their 50th anniversary, July 5-7. Photo by DignityUSA.
DignityUSA, an organization focused on the rights of LGBTQ Catholics, is celebrating its 50th anniversary and will hold a conference in Chicago on July 5-7.
Actress, singer, dancer Judy Garland left us 50 years ago this month, but her songs live on.  You can celebrate this iconic star by attending "Get Happy: Angela Ingersoll sings Garland" at the Mercury Theater's Venus Cabaret.
Other 50th anniversaries include the founding of Governor's State University in University Park, which will host a Summer Solstice Sunset Celebration at their Nathan Manilow Sculpture Park on June 22.  I have yet to see this celebrated park and have vowed to go there in June.
NeoCon returns to theMART, June 6-10. Photo by NeoCon.
Shirley Mordine founded Dance Troupe in Chicago fifty years ago. It later morphed into Mordine & Company Dance Theater. Hubbard Street Dance Chicago closes its 41st season with their "Summer Series" June 6, 8 and 9 Harris Theatre.  If you are interested in Chicago's long and rich history of dance, check out "The Legacy of Chicago Dance" exhibition at the Newberry Library, through July 6.  NeoCon, the huge commercial design trade show, started at the Merchandise Mart, now theMART, fifty years ago. It's back June 6-10.
The Chicago Bears are celebrating a centennial – their double fiftieth anniversary.  The Bears100 Celebration Weekend is June 7-9 at the Donald E. Stephens Convention Center in Rosemont.
The Gene Siskel Film Center's "Marvel, Movies & More" honors Jon Favreau in conversation with Robert Downey Jr at the Four Seasons Chicago, June 15. Photo by Gene Siskel Film Center.
Although they're not celebrating milestone anniversaries, several organizations are hosting fun galas and benefits this month. The Gene Siskel Film Center of the School of the Art Institute of Chicago's annual gala is June 15 at the Four Seasons Chicago Hotel.  The "Marvel, Movies & More" gala honors Jon Favreau in conversation with Robert Downey Jr.
Chicago Artists Coalition's "Work in Progress" benefit is June 6 at the coalition's new home on Fulton. This year's honorees are artist Hebru Brantley and design and architecture firm Gensler.  That same evening author Alex Kotlowitz will be honored at the Harold Washington Literary Award Dinner.
The Printers Row List Fest takes place on South Dearborn Street, June 8-9. Photo by Chicago Tribune.
A few days later, Alex Kotlowitz will speak at the 35th annual Printers Row Lit Fest, June 8 and 9 on South Dearborn Street. This festival, the largest free literary event in the Midwest, features lots of programs and 100 or so booksellers and is a great place to pick-up a good summer read.   Kotlowitz will talk about his most recent book, "Love and Death: Summer in Chicago."  Other speakers are writer Eve L. Ewing ("Ghosts in the Schoolyard: Racism and School Closings on Chicago's South Side"), senior advisor to President Obama Valerie Jarrett, and chef Rick Bayless.
If last month's Art Institute of Chicago (AIC) packed member lecture and preview that I attended are any indication, "Manet and Modern Beauty," curated by Gloria Groom, the AIC's chair and the David and Mary Winton Green Curator of European Painting and Sculpture, is sure to be one of this year's blockbuster exhibitions, through September 8.  Another blockbuster will be "Virgil Abloh: Figures in Speech" curated by Michael Darling, James W. Alsdorf chief curator of the Museum of Contemporary Art Chicago (MCA), which opens June 10 at the MCA, through September 22.  A native of Rockford, Illinois, Abloh is currently the Men's Artistic Director of Louis Vuitton.   This is the first museum exhibition devoted to Abloh, who works across architecture, fashion, furniture, graphic design, and music.
An indication that summer is finally here is the first Tuesdays on the Terrace at the MCA's Anne and John Kern Terrace Garden on June 4, where there will be free live performances featuring Chicago's world-famous jazz vocalists and musicians.  John Kern passed away in January.  I always enjoyed talking with John; it was a privilege to know him.
The Grant Park Music Festival begins June 12 at the Jay Pritzker Pavilion. Photo by Christopher Neseman.
Opening night of the 85th annual Grant Park Music Festival is June 12 at the Jay Pritzker Pavilion, Millennium Park.  It's also Millennium Park's 15th anniversary and principal conductor Carlos Kalmar's 20th anniversary.
I'm anxious to see the exhibition "Worlds of Wonder: Remembering Chicagoland's Amusement Parks" at the Elmhurst History Museum, through August 18.  I have a vague recollection from my youth of Riverview's Aladdin's Castle and getting soaked on the Shoot the Chutes water ride.  I wonder if the exhibition will feature Kiddieland near Devon and Lincoln.  I have many memories of my parents taking me and my sisters there in the 1960s before we'd visit my grandparents, who lived in nearby Lincolnwood.  There was also a Kiddieland in Melrose Park, but I don't think I was ever there.
The Art of Institute of Chicago's"Everyone's Art Gallery: Posters of the London Underground" runs through September 5. Photo courtesy of the Art of Institute of Chicago.
I'm also looking forward to seeing "Everyone's Art Gallery: Posters of the London Underground" at the Art Institute of Chicago. Many of the posters were meant to entice the public in the same way those famous vintage South Shore Line posters were meant to lure everyone to the local pleasures of south Chicago and northern Indiana.   The exhibition, curated by Teri J. Edelstein, runs through September 5.
Chicago will soon have a new way to get around town.  Chicago's pilot electric scooter program comes to the West, Northwest and Southwest sides on June 15.  For the truly brave, there's the 16th annual Naked Bike Ride on June 8.
Dates, times, location, and availability are subject to change.