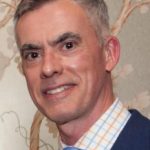 By Philip Vidal
When I think of summer in Chicago, I think of activities, movement and the outdoors.  After being sedentary and inside during the long winter, people are on the move and enjoying the outdoors.
The 114th Chicago Yacht Club's Race to Mackinac will be held on July 22. Photo by Chicago Yacht Club Race to Mackinac.
Recently there have been a number of competitive events in the news.  In June, there was the Rolex U.S. Sail Grand Prix, aka SailGP, and the CONCACAF Gold Cup match between the U.S. and Jamaica at Soldier Field.  July opened with a NASCAR race through Grant Park.  This month brings the 114th Chicago Yacht Club's Race to Mackinac on July 22.  The DuPage Triple Crown Intelligentsia Cup championship bicycle race winds its ways through Glen Ellyn, Winfield and Lombard, July 22-25.
Billed as "The World's Greatest Aviation Celebration®," the Experimental Aircraft Association (EAA) AirVenture Oshkosh 2023 is July 24-30 at Wittman Regional Airport.
Head to Milwaukee to celebrate the 120th anniversary of Harley-Davidson, July 13-16. Photo by Harley-Davidson. 
Two events celebrate our automotive heritage.  The Harley-Davidson HomecomingTM Festival at the Harley-Davidson Museum in Milwaukee is July 13-16. It commemorates the 120th anniversary of the company and 15th anniversary of the museum.   Foo Fighters and Green Day are just two of the live music performances that are part of the four-day festival.    I love classic cars so I'm headed to the inaugural Retro Rides Experience featuring vintage cars from the Klairmont Kollections Auto Museum at Navy Pier's Festival Hall, July 28-30.  There is even an exhibition that has allusions to movement: "Wheels" at the Newberry Library runs through September 23.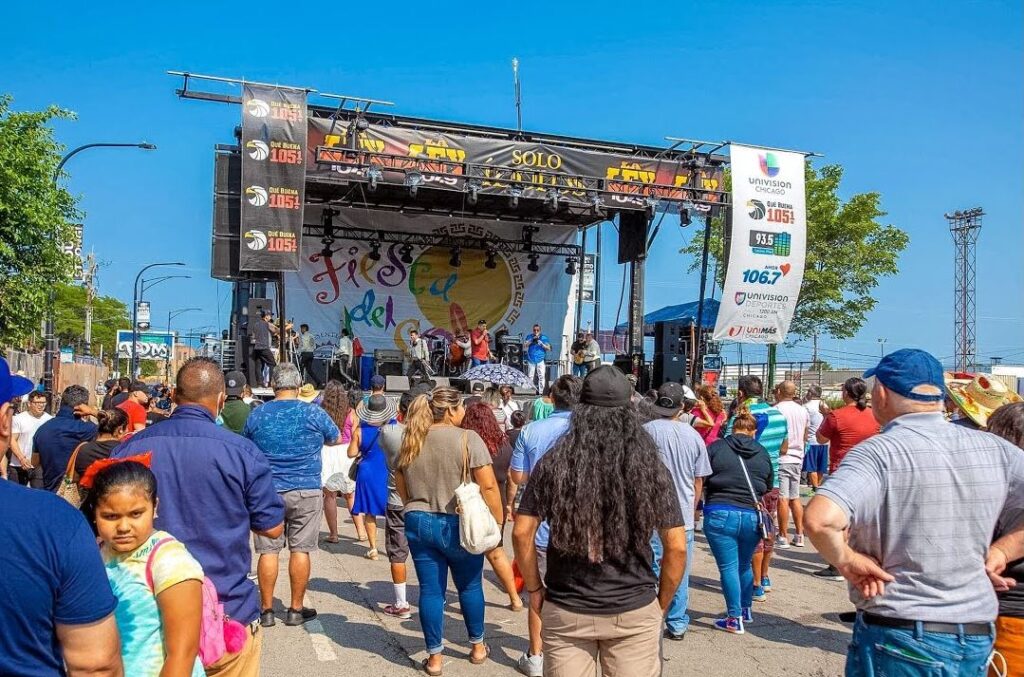 Be part of the largest Latino festival of its kind in the US at Fiesta del Sol, July 27-30. Photo by Fiesta del Sol.
Summer is also the peak time for outdoor festivals in Chicago.  The largest Latino festival of its kind in the U.S., the 51st annual Fiesta del Sol, returns to Pilsen, July 27-30.  Taste of Lincoln Avenue has something for just about everyone, July 21-23.
Discover Chicago's delicious tacos and tamales at the Tacos y Tamales Fest in Pilsen, July 21-23. Photo by Chicago Taco Fest.
If you're looking for food or beverage-specific festivals, head to the Roscoe Village Burger Fest, July 7-9.  Search for the city's best taco at the Taco Crawl in Rogers Park on July 20, or the Tacos y Tamales Fest in Pilsen, July 21-23.   Barbecue and country music are the focus of the 10th season of the Windy City Smokeout in the United Center Parking Lot C on July 13-16.  Billed as "a Real Nice Craft Brew & Music Street Fest," the Square Roots Festival in Lincoln Square runs July 7-9.   The Chicago Craft Beer Festival in Jonquil Park, July 14-16, is a great way to sample the wares of our area's many breweries and microbreweries.
The brewers and distillers of Chicago's Malt Row present the 6th annual Ravenswood on Tap festival on July 22-23.  This year's Pierogi Fest® in Whiting, Indiana, includes food vendors, live music, a polka parade, a pierogi toss and an eating competition, July 28-30.
The Chicago Food Truck Festival is July 29-30 in the South Loop and offers a wide array of food.  When I was growing up in Chicago, the only food trucks I recall were Good Humor® ice cream trucks.  I might have to turn in my Chicago card, because I've never had a classic Chicago dessert, a rainbow cone from the eponymous The Original Rainbow Cone.  July is National Ice Cream Month, so that's my excuse to remedy my lapse.
July is National Ice Cream Month but why not enjoy some gelato? Sideshow Gelato in Lincoln Square will have a sweet treat and entertainment for you! Photo by Sideshow Gelato.
The Original Rainbow Cone opened over ninety-years ago in Chicago's Beverly neighborhood. If they had an ice cream truck when I was growing up, I don't think that it ever ventured up to my North Side neighborhood.  They recently opened an outpost in the home of another Chicago classic, deep dish pizza, at Gino's East, 162 East Superior, which is just a few blocks from my apartment.  Naming the city's best ice cream parlors is an ongoing debate, but I definitely want to go to Sideshow Gelato that opened in Lincoln Square last month, which in addition to ice cream made in-house, also has a stage and a dime museum of oddities.
The Women's Board of Lincoln Park Zoo presents this year's Zoo Ball "Reaching New Heights" on July 14. Photo by Women's Board of Lincoln Park Zoo.
The city's best dishes are widely debated, but the Chicago Magazine Chicago's Best Restaurant festival makes it easier by letting you sample the best dishes from the magazine's "50 Best Things to Eat" issue all in one night.  The event, on July 19 at Galleria Marchetti, benefits Greater Chicago Food Depository.  Other charity events this month include the Women's Board of Lincoln Park Zoo's Zoo Ball "Reaching New Heights" on July 14.  Angie Euston and Nina Winston Kohn are cochairs.   Tony and Grammy Award winner Heather Headley performs along with the Chicago Symphony Orchestra led by Marin Alsop at the Ravinia Women's Board Gala on July 16 to benefit Ravinia's music education program.  The 2023 Newberry Library Book Fair used-book sale fundraiser is July 28-30.  Get first pick at the book fair preview day for donors, July 27.
The Newberry Library hosts Chicago Storytelling in Bughouse Square: Chicago Forward, a free, outdoor, public event in Washington Square Park in front of the library on July 15.   The event, emceed by Rick Kogan, includes the Pattis Family Foundation Chicago Book Award presentation to Toya Wolfe, author of "Last Summer on State Street."
This summer's series of Shakespeare in the Parks pop-up performances begins with "The Hero Within" at Navy Pier and six other parks in the city. Photo by Chicago Shakespeare Theater. 
As I mentioned in previous articles for Classic Chicago Magazine, this year is the 400th anniversary of the publication of Williams Shakespeare's "First Folio."  Summer takes the bard's works outdoors around the city.  Midsommer Flight performs Shakespeare's "Cymbeline" in six parks across Chicago, July 7-August 13.  Oak Park Festival Theatre at Austin Gardens performs Shakespeare's "A Midsummer Night's Dream" July 13-August 19.  In its twelfth year,  Shakespeare in the Parks is back with "The Hero Within," a musical revue with favorite Shakesperean speeches and scenes, at Navy Pier and six parks, July 25-August 5.  Shakespeare's Motley Crew is back with "Midsummer Mayhem 11" at Independence, Gross and Winnemac Parks, July 29-August 27.
Part of the Chicago Park District's Night Out in the Parks, Porchlight Music Theatre's free concert series, Broadway in Your Backyard is in twelve citywide parks through August 8.
The annual Chicago SummerDance festival is back in Grant Park and other parks across the city, July 15-September 10.  Chicago's parks become outdoor dance floors, where you can learn how to tango, waltz, do the cha-cha or many other dance styles, or simply watch the pros do it.
Bethany Thomas performs as Sister Rosetta Tharpe in George Brant's "Marie & Rosetta" at Northlight Theatre. Photo credit: Michael Brosilow.
They're indoors, but two plays of note are George Brant's "Marie & Rosetta" at Northlight Theatre at the North Shore Center, featuring Bethany Thomas and Alexis J. Roston, July 6-August 6 about the "godmother of rock n' roll" Sister Rosetta Tharpe and her protégée, Marie Knight; and "No Man's Land" at Steppenwolf Theatre, July 13-August 20.  No, it's not about that formerly unincorporated part of Wilmette, it's a Harold Pinter play featuring Steppenwolf ensemble members Austin Pendleton and Jeff Perry.  It closes Steppenwolf's 47th season.
As one season ends another opens… Registration for Know Your Chicago's 74th season starts July 24. The symposium at the Union League Club is September 13 with tours to follow, where you can learn more about our great city including The 78, Chicago's newest neighborhood, the past and future of Chicago's monuments, and more.
One of the first pieces of art that I purchased was an Ellsworth Kelly abstract print from the Merrill Chase Gallery in Water Tower Place in the late 1970s.   I didn't know that Kelly did figurative works.  As one of several exhibitions around the world celebrating his centennial, the Art Institute of Chicago presents ninety-five of his figurative works, most of which have never been shown to the public before, "Ellsworth Kelly: Portrait Drawings" July 1-October 23.
Many Chicago neighborhoods, like Bucktown and Ravenswood, will host their own Garden Walk in July. Photo by Edgewater Glen Association.
If automobile, sailboat and cycling races seem too frenetic, then stop and smell the roses at one of several garden walks during the peak of the summer.  The 50th annual Edgewater Glen Garden Walk is July 9.  In its 52nd year, the Sheffield Garden Walk is July 15.  The Bucktown Garden Walk, July 15-16, includes not only visits to gardens, but also live music and a Kid's Fest.  The North Dearborn Association presents the 63rd annual Dearborn Garden Walk on July 16.  The 67th annual Ravenswood Manor Garden Walk sponsored by the Ravenswood Manor Improvement Association is July 23.
Dates, times, locations and availability are subject to change.