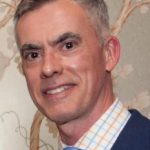 By Philip Vidal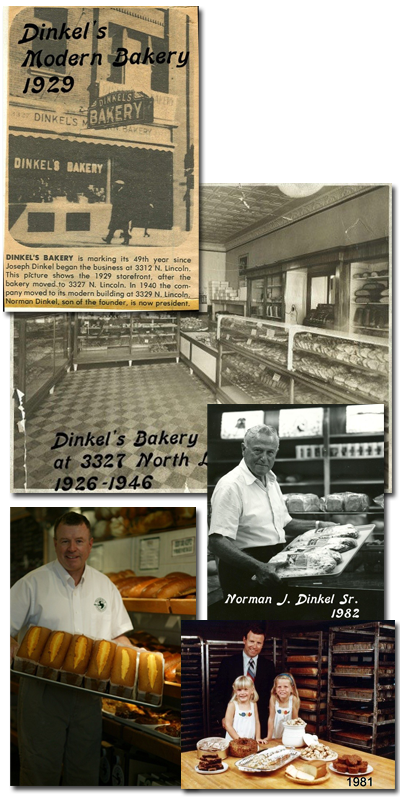 Celebrating 100 years! Dinkel's Bakery offering delicious baked goods and their World Famous Stollen. Photo by Dinkel's Bakery.
I made my annual pilgrimage last month to the Dinkel's Bakery outpost at the Christkindlmarket in Daley Plaza to buy a Stollen, the German fruit bread popular at Christmas time.  I noticed that the label on the Stollen proudly declared that Dinkel's Bakery was established in 1922.  That got me thinking.  Proust had his madeleines to remind him of the past; my Stollen not only reminded me of the past, but also brought to mind upcoming anniversaries. Besides Dinkel's Bakery, a landmark on North Lincoln Avenue, the Morton Arboretum celebrates its centennial this year with new attractions like the Grand Garden.  The Fortnightly of Chicago, a women's club, founded in 1873, originally met in its member's homes, then purchased its own home, the McKim, Mead & White designed Lathrop House on Bellevue, in 1922.

The Midwest premiere of "The Chevalier" is hosted by Music of the Baroque at North Shore Center for the Performing Arts, Skokie, February 19 and 20. Photo by Music of the Baroque.
The Chicago Botanic Garden's roots (pun intended) go back to the Chicago Horticultural Society founded in 1890.  The garden opened to the public 50 years ago.  Music of the Baroque's first concert was January 23, 1972, at Hyde Park's Church of St. Paul and the Redeemer.  Upcoming performances in February include "McGill Plays Mozart" and "The Chevalier." The Gene Siskel Film Center was incorporated 1972. Its yearlong "50/50" celebration series on Monday nights from January 3-December 19 features a significant film from each year the center has been in operation.
TimeLine Theatre's 25th season at Theater Wit opens with the world premiere of Tyla Abercrumbie's "Relentless," January 19-February 26. Photo by TimeLine Theatre.
Chicago's vibrant theater scene celebrates some milestones, too.  The 35th annual Young Playwrights Festival streams January 6-February 6.  This year's three winners are: Layla Freeman's "The Little Things"; Sarah Lerner's "Have Faith"; and Dalya Lessem Elnecave's "Fifteen Minutes."  Developed through Timeline Theatre Company's Playwrights Collective program, TimeLine opens its 25th season at Theater Wit with the world premiere of Tyla Abercrumbie's "Relentless" January 19-February 26.
A major revival on the same stage where it premiered in 2003, "Gem of the Ocean" returns January 22-February 27. Photo by Goodman Theatre.
The Chicago premiere of Jen Silverman's "The Moors," January 6-February 27, opens A Red Orchid Theatre's 29th season.  The world premiere of August Wilson's "Gem of the Ocean" was at the Goodman Theatre in 2003.  It's back at the Goodman from January 22-February 27.
Chicago's masterful multi-media artists Manual Cinema presents "Leonardo! A Wonderful Show about a Terrible Monster" at Chicago Children's Theatre, January 29-February 27.  The 4th edition of the Chicago International Puppet Theater Festival runs citywide January 20-30 with shows, workshops, exhibitions and free neighborhood performances.
Billed as "a comedy for the ages, all ages, "The Play That Goes Wrong" continues through February 13 at the Broadway Playhouse at Water Tower Place.   For more laughs, check out DC's Reflecting Fools, the successor to the political parody group the Capitol Steps.  DC's Reflecting Fools performs at the North Shore Center for the Arts January 28-30.  Tomorrow Never Knows, the citywide indie music and comedy festival, is January 19-23.

"Blues in the Night" runs January 15-February 27, set in the late 1930s in a South Side Chicago hotel. Photo by Porchlight Music Theatre.
Set in the late 1930s in a South Side Chicago hotel, and featuring the songs of Harold Arlen, Johnny Mercer, and Bessie Smith, Porchlight Music Theatre's "Blues in the Night" at the Ruth Page Center for the Arts runs January 15-February 27.  Written and directed by Daryl D. Brooks, the musical revue "Women of Soul" at the Mercury Theater Chicago, January 27-March 12, showcases talented female vocalists so popular that we recognize them immediately by their first names:  Aretha, Dionne, and Whitney.
Even the Art Institute has an exhibition focusing on theater, albeit Japanese Kabuki theater.  Janice Katz, the Roger L. Weston Associate Curator of Japanese Art at the Art Institute, has put together "The Golden Age of Kabuki Prints" from the Art Institute's extensive collection of 18th and early 19th century prints of famous Kabuki actors.  The exhibition has two rotations: January 15-April 10, and April 16-June 26.
Gaurav Mazumdar headlines the Indian Classical Music Concert at the South Asia Institute, January 15. Photo by South Asia Institute.
Besides theater, January is filled with music.  Grammy™-nominated sitar virtuoso Gaurav Mazumdar headlines an Indian Classical Music Concert at the South Asia Institute, in-person and via livestream on January 15.  The concert is a tribute to his teacher and guru, the legendary sitarist Ravi Shankar.
For 17 years, "Too Hot to Handel: The Jazz-Gospel Messiah" at the Auditorium Theatre coincides with the Dr. Martin Luther King, Jr. holiday weekend.  It's back January 15 and 16. The Chicago Sinfonietta performs their "Annual MLK Tribute Concert: 'Joie de Vivre'" at Wentz Hall in Naperville on January 16, and at Symphony Center on January 17.  The Music Institute of Chicago (MIC) hosts its free Dr. Martin Luther King, Jr. Celebration Concert (both in-person and livestream) on January 16 at the Nichols Concert Hall, Evanston.   If learning a musical instrument is on the list of your New Year's resolutions, then perhaps the Music Institute of Chicago can help.  They invite people of all ages and musical abilities to try out musical instruments at their "petting zoo," and talk to MIC staff at one of their four open houses:  Winnetka-January 9; Chicago-January 15; Evanston-January 16; and Lake Forest-January 16.  The open house in Evanston on January 16 immediately precedes the Dr. Martin Luther King, Jr. Celebration Concert.
The Block Museum of Art at Northwestern University presents "A Site of Struggle: American Art Against Anti-Black Violence," January 26-July 10. Photo by  The Block Museum of Art.
"A Site of Struggle: American Art Against Anti-Black Violence" at the Block Museum of Art Northwestern University runs January 26-July 10.  The lynching of Black Chicago teen Emmett Till in 1955 in Mississippi informs the new six-part series "Women of the Movement," which airs on ABC and streams on Hulu starting January 6, and tells the story of Emmett's mother, Mamie-Till Mobley, and her lifelong quest for civil rights and social justice.
I'm also looking forward to watching Season 2 of "All Creatures Great and Small," which premieres on Masterpiece on PBS January 9.
The Chicago Polar Bears are creatures of a kind – brave souls who take a dip in the frigid waters of Lake Michigan in winter to raise money for families in need. The Chicago Polar Bear Club's 21st annual Polar Plunge is January 29.  If instead you are looking forward to warmer weather, tickets for the wildly popular Wright PlusTM Architectural Housewalk in Oak Park on May 21 go on sale January 1.
Dates, times, locations and availability are subject to change.  Please stay healthy and safe and keep up with the latest COVID-19 information, protocols, mandates and guidelines.