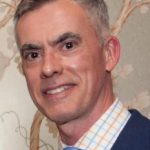 By Philip Vidal
Mark Twain said that when he was a boy of 14, his father was so ignorant he could hardly stand to have the old man around.  But when he got to 21, he was astonished at how much the old man had learned in seven years.
Now that I am older, I appreciate my parents' wisdom and their sense of curiosity to explore all that Chicago has to offer – a curiosity they instilled in me and my sisters.  My father in particular comes to mind this time of the year.  Even though Chicago's weather is typically at its worst in February, he took us to Chicago's Chinatown to see the Chinese New Year parade, drove us to the old McCormick Place to see the latest models at the Chicago Auto Show, took us to Northwestern University to see a Mexican dance troupe, and took us sledding and tobogganing on Cricket Hill in Lincoln Park.
Decades later these events and activities are still part of February in Chicago, but unlike those Februarys of my childhood, February 2022 is different, with masking and social distancing the order of the day, and a part of any group activity.
Enjoy the Lunar New Year Celebration with a parade in Uptown, February 5. Photo by Explore Uptown.
Chinese New Year is February 1.  Chicago rings in the year of the tiger with Chinese New Year festivities from January 30 to February 13.   The Argyle Lunar New Year Celebration, including a parade in Uptown, is February 5.  The Chinatown Lunar New Year Parade is February 13.
February 5 at the the Auditorium Theatre, a performance by Chicago's Trinity Irish Dance Company. Photo by Trinity Irish Dance Company.
The dragon dance is a tradition of the Chinese New Year.  Other ethnic dance traditions are also celebrated this month.  Chicago's Trinity Irish Dance Company performs at the Auditorium Theatre on February 5.  Trinity is appropriately the third of the four "Made in Chicago" dance series performances this season.  The Auditorium hosts the Ballet Folklórico de México de Amalia Hernández on February 12 and 13.  The troupe is celebrating their 70th anniversary, so perhaps my father took us to see the troupe at Northwestern in the late '60s/early '70s.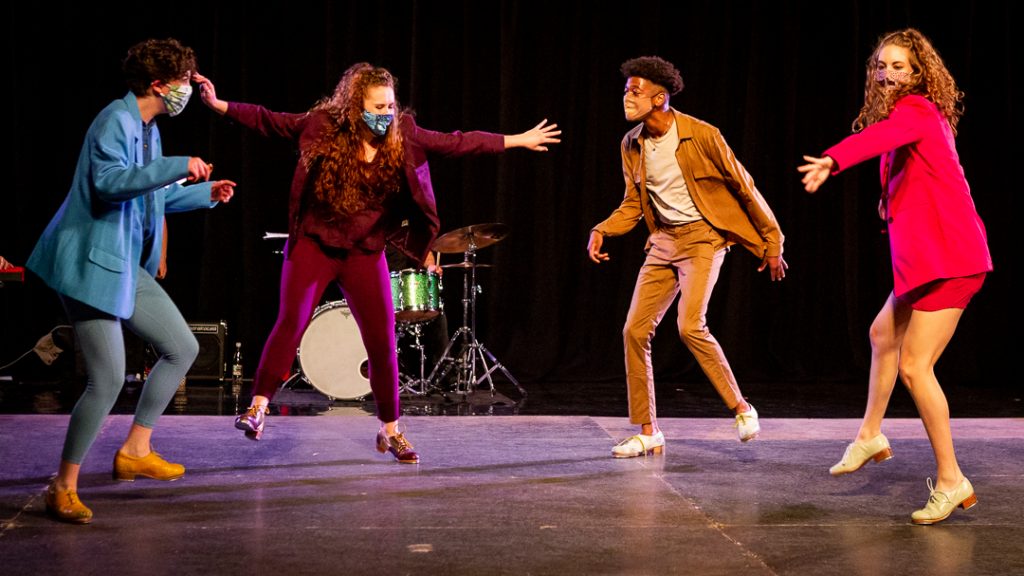 Chicago Tap Theatre presents "For the Love of Tap," both in-person on February 19 and virtually on March 14. Photo by Chicago Tap Theatre.
Just in time for Valentine's Day, and billed as a love letter to the power of tap, Chicago Tap Theatre presents "For the Love of Tap," in-person at the Athenaeum Theatre on February 19, and virtually on March 4.  Watch it on-demand through March 13. Akram Kahn's "Creature," performed by the English National Ballet, will be at the Harris Theater February 24-26.
The Auditorium, Joffrey, and Harris Theater are just a few of the approximately fifty participants in Chicago Theatre Week  sponsored by the League of Chicago Theatre and Choose Chicago, which returns for its tenth year, February 17-27, with value-priced tickets.  Help support Chicago's theatre, music, and dance scene, which has been hard-hit these past two years.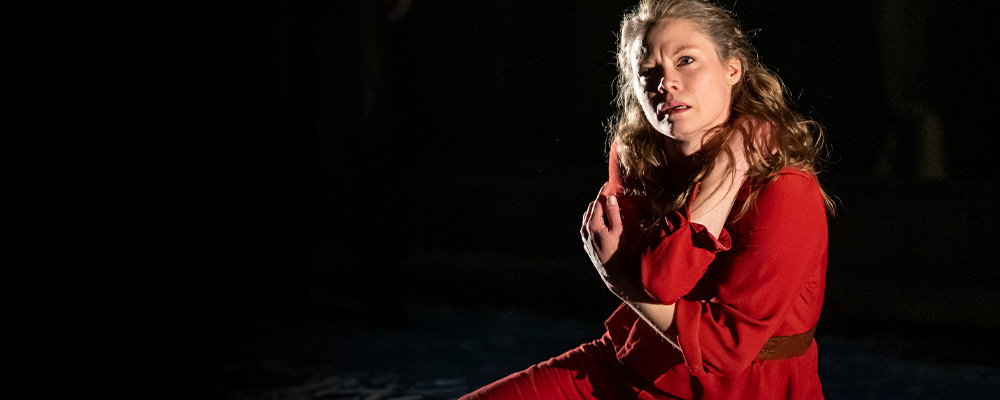 Back in-person! Court Theatre's production of Henrik Ibsen's "The Lady from the Sea" returns, February 25-March 27. Photo by Court Theatre.
I had tickets to see Court Theatre's production of Henrik Ibsen's "The Lady from the Sea," which was to have opened in March 2020.  It was cancelled then, but it's back.   Watch it in-person or stream "The Lady from the Sea," February 25-March 27.
Jen Silverman's "The Moors" opened A Red Orchid Theatre's twenty-ninth season.  The hard-to-categorize play is a mix of the gothic novels of the Brontë sisters like "Jane Eyre" and "Wuthering Heights" with a touch of "Rebecca" and "The Hound of the Baskervilles" (one of the characters is a mastiff), and maybe a pinch of Monty Python thrown in. It's getting terrific reviews and continues through February 27.
Set in a hotel on Chicago's South Side in the late 1930's, Porchlight Music Theatre's "Blues in the Night" runs February 9 – March 13. Photo by Porchlight Music Theatre.
In my January column, I was excited that Porchlight Music Theatre's "Blues in the Night" was going to open on January 15 at the Ruth Page Center for the Arts.  It will now run February 9-March 13.  Featuring the music of Harold Arlen, Duke Ellington, Johnny Mercer, and Bessie Smith, the show is set in a hotel on Chicago's South Side in the late 1930s.
February is Black History Month.  Starting January 30, WTTW airs four 'rounds' (episodes) of "Muhammad Ali," the documentary by Ken Burns, Sarah Burns and David McMahon about the professional boxer who had strong ties to Chicago.
The Chicago Children's Choir has celebrated Black History month for over thirty years with their glorious voices.  This year their Chicago Children's Choir Black History Month Concert is virtual on February 26.
The Dover Quartet performs the final concert of the 25th season of the Winter Chamber Music Festival at Northwestern University, February 15. Photo by Northwestern Bienen School of Music.
Lyric Opera celebrates "Verdi Voices" on February 6 conducted by Enrique Mazzola.  The Dover Quartet performs the final concert of the 25th season of the Winter Chamber Music Festival on February 15 at the Pick-Staiger Concert Hall at Northwestern University.  The musical trio, Time for Three, combines various music styles.  They'll perform in-person at Nichols Concert Hall on February 19.  The performance is also available to livestream.   The Chicago Ensemble's 45th season opens with a trio of trios at Fourth Presbyterian Church on February 15 and International House on February 20.  Renowned violinist Rachel Barton Pine joins the Illinois Philharmonic Orchestra in a concert featuring the works of Still, Bologne, and Dvorak at Trinity Christian College, Palos Heights on February 19.  Cher had several farewell tours.  Perhaps Elton John is taking a page out of her songbook. Elton John's "Farewell Yellow Brick Road Tour" at United Center is February 4 and 5, but he'll be back at Soldier Field on August 5 for his "Farewell Yellow Brick Road – The Final Tour."
Riccardo Muti conducts Philip Glass' Eleventh Symphony February 17-19 at Symphony Center. Photo by Chicago Symphony Orchestra.
Riccardo Muti conducts Philip Glass' Eleventh Symphony February 17-19 at Symphony Center. In collaboration with the Chicago Symphony Orchestra, the Gene Siskel Film Center is screening four films this month as part of their "Scored by Glass" series. One of them has strong Chicago connections.   "Candyman" (1992) centers on a Chicago graduate student working on her thesis about an urban legend in the Cabrini-Green housing project. The horror film shows February 11 and 12.  Glass studied at the University of Chicago.
The three-part Kanye West documentary "jeen-yuhs: A Kanye Trilogy" debuted at the Sundance Film Festival last month.  Act 1 (Vision) will be shown in theaters for one-day engagement on February 10. The docuseries premieres on Netflix on February 16.  The rapper Kanye West, now known as Ye, grew up in Chicago.
Chicago can't seem to shake the bad rep it received during Prohibition.   Academy Award-winning actor Mark Rylance stars as a London tailor who moves to Chicago and has a run in with organized crime in "The Outfit" opening in theaters February 25.  The thriller looks like it set in the 1920s or 1930s.
Chicago's reputation also includes a tradition of great restaurants.  I have a well-deserved reputation for my love of French food.  I was a big fan of La Sardine, the classic French restaurant in the West Loop founded by the late Jean-Claude and Susanne Poilevey. They also founded Le Bouchon.  I'm told that on Julia Child's first visit to Le Bouchon, she dined alone, and ordered one of everything off of the menu.  I'm looking forward to the opening of Obélix, at 700 N Sedgewick, the modern French restaurant founded by their sons, Oliver and Nicolas Poilevey.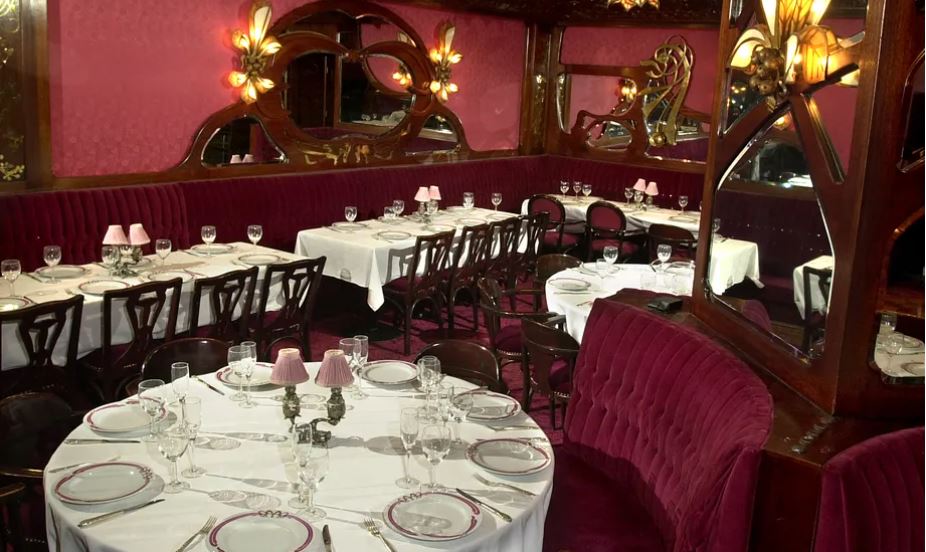 A picture of the Maxim's dining room in 2001. Photo courtesy of Chicago Sun-Times.
There's a bit of Belle Époque Paris on Chicago's Gold Coast that might be coming back to life.  In 1963, Nancy Florsheim Goldberg opened a replica of the Maxim's restaurant in Paris in the lower-level of a high-rise that her husband, architect Bertrand Goldberg, designed at 1300 North Astor.  The restaurant closed in 1982 and the Goldberg family later donated the space to the city. The space languished. Megan McKinney wrote an excellent three-part series for Classic Chicago Magazine in December about the Florsheim dynasty.  The saga continues.  The Chicago Sun-Times reports that a new owner has purchased the old Maxim's from the city with plans to turn it into a private club.
I'm a Francophile in general, so I'm looking forward to "Neil Harris on Paris 1925:  French Illustrated Books Go to the Deco Fair," on February 16. The virtual presentation is cosponsored by the Caxton Club (founded in Chicago in 1895) and Chicago Art Deco Society (founded 1982).  Neil Harris is the Preston and Sterling Morton Professor of History and Art History Emeritus at the University of Chicago and author of many books, including "Chicago Apartments: A Century and Beyond of Lakefront Luxury" and "The Chicagoan: A Lost Magazine of the Jazz Age."  The Zoom presentation is free and open to all.  Advance online registration is required.
Watch the creations of ice artists as they compete at the 7th annual Winterfest in Lake Geneva. Photo by Visit Lake Geneva.
Unfortunately, the Chicago area has a bad rep for harsh winter weather, but if you can't fight the cold of February, then embrace it. Enjoy the fantastic creations of ice artists at Ice Castles at the Geneva National Resort and Club in Lake Geneva, Wisconsin, through February 19. The 27th annual Winterfest Lake Geneva  including the U.S. National Snow Sculpting Championship is February 2-5. Watch live ice carving demonstrations at Ice Fest Downtown Downers Grove, February 4-6.
The Chicago Park District's Skate in the Parks program continues at most ice rinks through February 21.    Weather permitting, with Chicago's impressive skyline as a backdrop, skating at the McCormick Tribune Ice Rink in Millennium Park continues through March 6 and at the Maggie Daley Ice Skating Ribbon through March 13.  Free, online tickets are required at these venues.
Ice skating, curling and ice bumper cars are just a few of the offerings at Winterland at Gallagher Way next to Wrigley Field through February 20.
Explore Northerly Island during Polar Adventure Day on February 26. Photo by Chicago Park District.
Exploring Northerly Island on snowshoes and watching husky dog teams are just a few of the activities during the season's final Polar Adventure Day on Northerly Island on February 26.
An antidote to Chicago's frigid February weather is a visit to the Regenstein Center at the Chicago Botanic Garden to attend "Untamed: The Orchid Show 2022" February 12-March 27.  Watch the Beijing Olympic Winter Games, February 4-20, from the from the comfort of your home.  The Chicago Fire planned it right.  The first game of their 2022 regular season is away in Miami.
If you're in Palm Springs, listen to Chicago starchitect Jeanne Gang give the keynote presentation on February 19 during Modernism Week, February 17-27.  She's the first women to be the keynote speaker.  The St. Regis Chicago hotel is slated to open this spring in Chicago's third-tallest building, the 101-story Vista Tower she designed.
If you're in Washington, D.C., check out Mies van der Rohe's Martin Luther King Jr. Library (1972).  It was Mies van der Rohe's last project. The recent renovation of the library was one of the three winners of the 2021 Richard H. Driehaus Foundation National Preservation Awards.  The McCormick House by Mies van der Rohe celebrates its 70th anniversary with a light installation, "Jan Tichy: Reflectance," February 5-May 29.  The house was moved and incorporated into the Elmhurst Art Museum.  It's 25th anniversary exhibition is "Houses of Tomorrow: Solar Homes from Keck to Today," also running February 5-May 29.
The Chicago Auto Show returns! Be a part of the nation's largest and longest-running auto show, February 12-21. Photo by Chicago Auto Show.
The 115th edition of the Chicago Auto Show  at McCormick Place is February 12-21.  It's the nation's largest and longest-running auto show, and the first major exposition since pandemic began.  During the dawn of the automobile, electric cars were popular then waned. They're back.  Several car manufacturers plan to go all electric in the coming years.  To quote Yogi Berra, "It's déjà vu all over again."
Groundhog Day is February 2.   The Midwest premiere of "Groundhog Day: The Musical," based on the classic comedy starring Wilmette native Bill Murray, continues through March 13 at the Paramount Theatre.  Let's all hope that groundhog Punxsutawney Phil doesn't see sees his shadow, so that we will have an early spring.
Dates, times, locations and availability are subject to change.  Please stay healthy and safe and keep up with the latest COVID-19 information, protocols, mandates and guidelines.