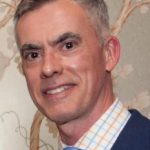 By Philip Vidal
I enjoy the traditions of the year-end holidays and celebrations.  Many were put on hold last year, but most are now back.  In my November column, I mentioned that the 26th annual Christkindlmarket in Daley Plaza is again in-person, through December 24, as is the Christkindlmarket at Gallagher Way next to Wrigley Field, through December 31.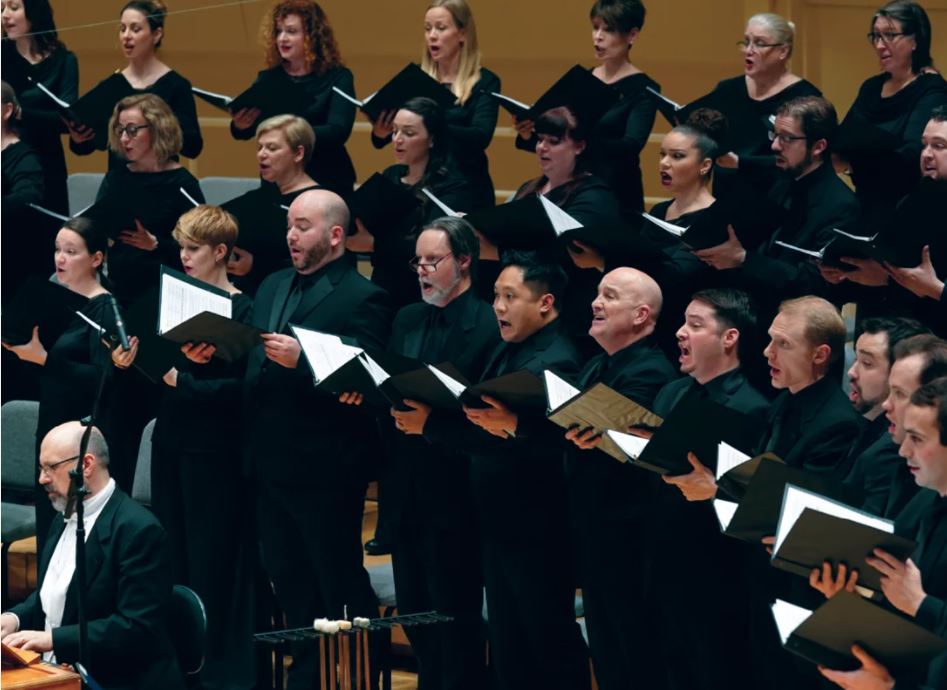 The Chicago Symphony Chorus joins the Chicago Symphony Orchestra at the Symphony Center for Handel's "Messiah," December 16 – 19. Photo by Chicago Symphony Orchestra.
A tradition I particularly enjoy is holiday caroling and classic choral works like Handel's "Messiah."  Founded 150 years ago, just after the Great Chicago Fire, Chicago's oldest musical organization, the Apollo Chorus of Chicago, performs Handel's "Messiah" on December 11-12 at the Harris Theater.  The Chicago Symphony Chorus returns to the stage of Symphony Center and joins the Chicago Symphony Orchestra in Handel's "Messiah" December 16-19.
No one to my memory has said that I have a good singing voice, and I usually step aside for the pros and very good amateurs.   This time of the year, more than any other, there is much to hear and to celebrate.  Chicago a capella performs "Holidays a capella" on December 3 (St. Josephat Church, Chicago), 4 (Highland Park), 5 (Naperville), 10 (Fourth Presbyterian Church, Chicago), 11 (Evanston), and 12 (Oak Park).  Holiday music for a capella choir, as well as Baroque works for brass, are on the program at the Music of the Baroque "Holiday Brass and Choral Concerts" on December 16 (River Forest), 17 (Old Town), 18 (Winnetka), and 19 (Evanston).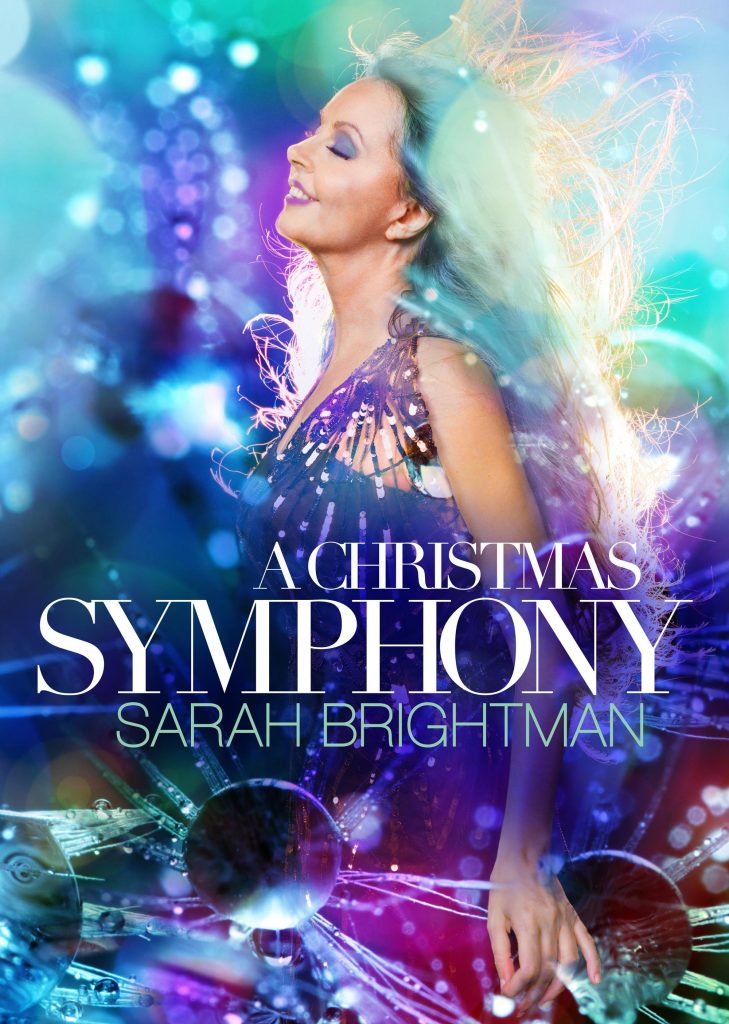 The Auditorium Theatre presents "Sarah Brightman: A Christmas Symphony" on December 10. Photo by PBS.
I have a good friend who is flying up from Central America just to hear world-famous soprano Sarah Brightman perform "Sarah Brightman: A Christmas Symphony" at the Auditorium Theatre on December 10.  Black Ensemble Theater in Uptown presents "A Black Ensemble Holiday Spectacular" on December 11, 12, 18 and 19.
If you do indeed have a good voice, then head to the Old Town School of Folk Music for the 23rd annual "Songs of Good Cheer," a holiday singalong party hosted by former Chicago Tribune columnists Mary Schmich and Eric Zorn on December 10-12.
Traditionally the audience joins the Great Lake Dredge and Philharmonic Society (the Dredge) in singing just one song during their holiday performances – often in Latin(!). The Dredge performs at several private clubs and other venues during the holiday season.  It just wouldn't be the holidays without hearing this all-male choral group in festive attire belting out Christmas carols and engaging the audience while doing so.
Visit Greektown for their annual tree-lighting ceremony on December 12. Photo by Greektown Chicago.
It is wonderful to live in Chicago, where we can experience diverse traditions.  Go to Greektown to see the Greektown annual tree-lighting ceremony, which includes traditional Greek carols (kalanta), on December 12.  There is also the Greek Christmas tradition of karavákia, little boats that are decorated with paint and lights.  Greektown Chicago has invited 30+ Chicago artists, such as James Mesplé, to decorate the little boats.  The Holiday Karavákia Display along Halsted runs from December 1-January 15.  The Andersonville neighborhood harkens back to its Swedish roots with a traditional candlelight procession, the St. Lucia Festival of Lights, on December 13.  Learn more about the cultural celebrations of Christmas, Hanukkah, Diwali, and St. Lucia's Day at the 77th annual "Christmas Around the World" and "Holidays of Light" displays at the Museum of Science & Industry through January 3.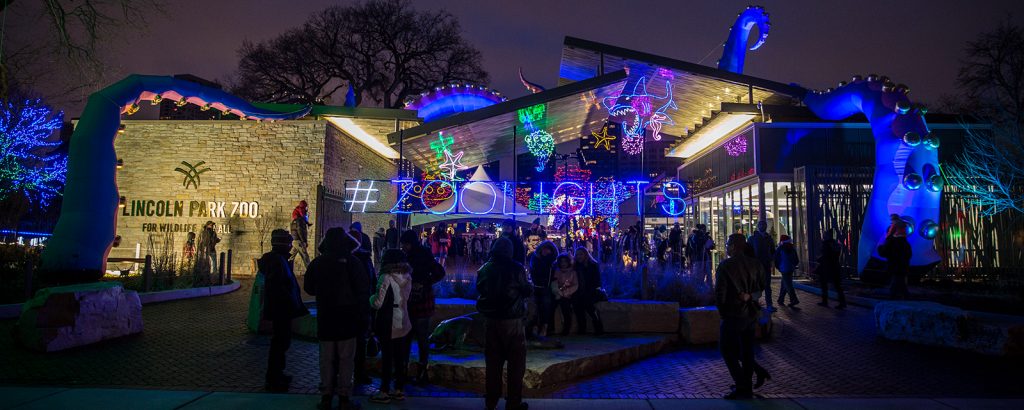 Lincoln Park Zoo's "Zoolights" is a wildly popular holiday tradition. Photo by Lincoln Park Zoo.
A common feature of the holidays is light — light during the long, dark days of winter.  In the city, Lincoln Park Zoo's "ZooLights" (on select nights through January 2) has been a wildly popular holiday tradition:  go and admire the beautiful light displays, with the lights of Chicago's skyline as a backdrop.
More lights to see around town! Visit the Morton Aboretum or the Chicago Botanic Garden this month. Photo by Chicago Botanic Garden.
Each of the several light festivals in the suburbs feature millions of lights.  Billed as Chicagoland's longest-running light festival, the Brookfield Zoo's 40th annual "Holiday Magic" show continues through December 31 (reservations required).  Get your tickets early for "Illumination: Tree Lights at the Morton Aboretum" and  "Lightscape" at the Chicago Botanic Garden.  Both run through January 2.
I admire those who pass along their traditions to their children, and there are certainly a lot of kid and family-friendly events this season.   I recently toured the historic Glessner House on Prairie Avenue and learned that it will be decorated for the holidays and hosts a Children's Gingerbread House Decorating Party on December 4.  As a child, two of my favorite things were LEGOs and trains. The LEGO Train show is December 4-5 at Cantigny Park in Wheaton, and the park's Celebrate the Season Holiday Festival is December 4.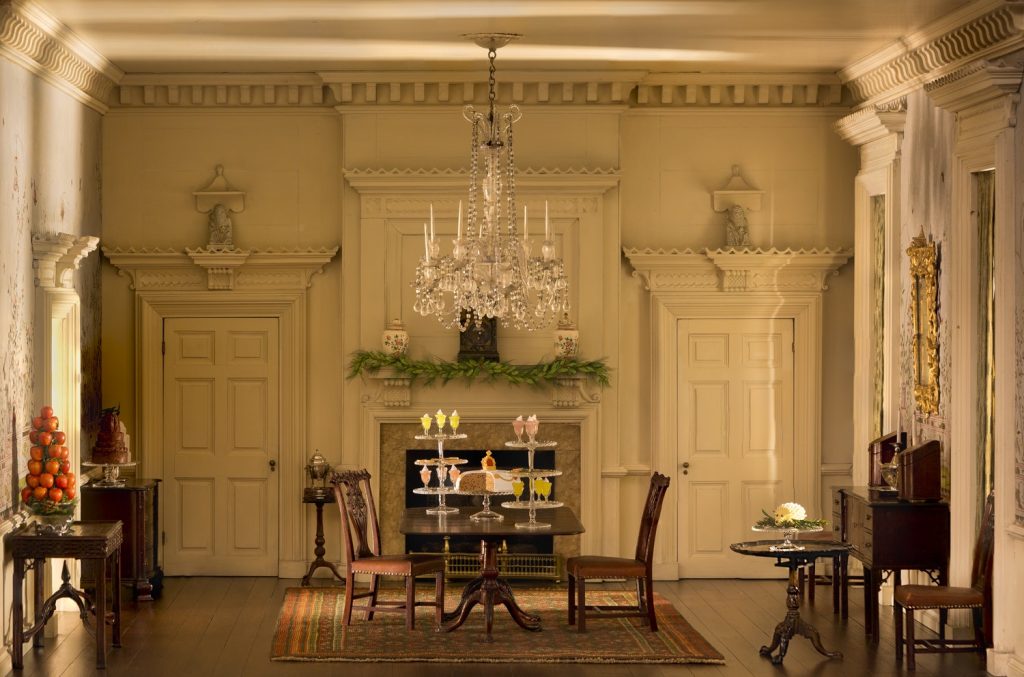 The Art Institute of Chicago's Thorne Miniature Rooms are decked out with seasonal decorations through January 7. Photo by The Art Institute of Chicago.
A visit to the Art Institute of Chicago's Thorne Miniature Rooms  is a holiday tradition for many, when they're beautifully decorated for the holidays (through January 7, 2022).   Sally Sexton Kalmbach literally wrote the book on the Thorne Rooms.  This fourth-generation Chicagoan and historian wrote "Mrs. Thorne's World of Miniatures." Join her on December 2 or 5 for a Holiday Thorne Rooms Tour.  Her tour ends with a short visit to the Art Institute's 18th century Neapolitan Crèche.  Book a public or private tour with Sally at 773.868.9096 or sskalmbach@yahoo.com.
The Goodman Theatre's 44th annual production of Charles Dicken's "A Christmas Carol" was an audio play last year, but it's back live and in-person at the Goodman through December 31. "The Nutcracker" is another holiday mainstay.   There are too many around town to list, but Chicago's oldest production of "The Nutcracker" is Ruth Page's production.  The 50th anniversary presentation is December 11 and 12 at Northeastern Illinois University in Chicago, and December 18 at the College of Lake County in Grayslake.   Ruth Page is one of the women profiled in the "Chicago Avant-Garde: Five Women Ahead of their Time" exhibition at the Newberry Library, which closes December 30.
A holiday classic. Now through December 26, Joffrey Ballet performs "The Nutcracker." Photo by Joffrey Ballet.
Christopher Wheeldon's "The Nutcracker" performed by the Joffrey Ballet is set in Chicago during the World's Columbian Exposition of 1893.  It's at the Joffrey's new home, the Lyric Opera House, through December 26.   There are also several riffs on "The Nutcracker."   Set in 1920's America, A&A Ballet presents Alexei Kremnev's "The Art Deco Nutcracker" at the Athenaeum Theater on December 4. The Music Institute of Chicago's (which is celebrating its 90th anniversary) family-friendly concert and dance performance "Duke it Out! Nutcracker" is back this year in Evanston on December 11.
Chicago's premiere of Mark Adamo's "Becoming Santa Claus" stars Martin Bakari as Prince Claus. Photo by Chicago Opera Theater.
Strawdog Theatre Company's "Hershel and the Hanukkah Goblins" is back at the Rivendell Theatre through December 12.   There are several new holiday shows this season.  Cirque du Soleil's first Christmas show, "Twas the Night Before…," runs through December 5 at the Chicago Theatre. I already have a ticket and am looking forward to the Chicago premiere of Mark Adamo's "Becoming Santa Claus" presented by Chicago Opera Theater at the Studebaker Theater. The family-friendly opera runs December 11, 17 and 19.  The world premiere of the holiday "dansical" "Mary," presented by Black Girls Dance® at the Reva and David Logan Center in Hyde Park on December 19, is a take on the Nativity. The Chicago premiere of Matthew Lombardo's "Who's Holiday!" runs through December 26 at Theater Wit.  In Lombardo's new adult comedy, Cindy-Lou Who is all grown up and reminisces about that fateful Christmas Eve when she was just two years old and the Grinch came to Whoville.
Shopping is also a tradition for many this time of year.  Hundreds of artists and craftspeople from all of the U.S. will sell their wares at the One of a Kind Holiday Show+Sale Chicago at TheMart December 2-5.  A portion of ticket sales benefits the Ann & Robert H. Lurie Children's Hospital of Chicago.  If you'd like to shop locally, several neighborhoods and suburbs are offering opportunities to do so.  The 42nd annual Winnetka-Northfield-Glencoe Red Invitation Holiday Sale is December 5.  The Renegade Craft Fair, featuring the work of Chicago artisans, is December 18-19 at Revel Fulton Market.  Andersonville was named the coolest neighborhood in the U.S. by Time Out magazine and has some terrific shops. Transit Tees (also in Wicker Park) is great for Chicago-centric gifts.
The cast of "8-TRACK: The Sound of the 70s" performs at the Theo Ubique Cabaret Theatre until January 23. Photo by Theo Ubique Cabaret Theatre.
If you decide to take a break from the holiday shopping and hoopla, then check out these diversions. Theo Ubique Cabaret Theatre presents "8-Track: The Sound of the 70s" through January 23.  I think I received my 8-track player as a Christmas gift back in the 70s.  Spike Manton and Harry Teinowitz' "When Harry Met Rehab," with Melissa Gilbert and Dan Butler, runs through January 30 at the Greenhouse Theater Center.  The first play of Writers Theatre's 30th anniversary season is "Dishwasher Dreams," written and performed by Alaudin Ullah.  It runs December 9-January 22, 2022.
I saw and enjoyed the exhibition "Art and Race Matters: The Career of Robert Colescott" at Cincinnati's Contemporary Arts Center when there in 2019.   It was scheduled to move to in Chicago in 2020, but COVID delayed its arrival.  "Art and Race Matters: The Career of Robert Colescott" runs December 4-May 29, 2022 at the Chicago Cultural Center.
Finally, for those who value the tradition of a white Christmas, remember that a winter parking ban on Chicago's major streets begins when there is at least two inches of snow, and a winter overnight parking ban from 3:00 am to 7:00 am runs December 1-April 1, regardless of snow.
Happy Holidays!
Dates, times, locations and availability are subject to change.  Please stay healthy and safe and keep up with the latest COVID-19 information, protocols, mandates and guidelines.