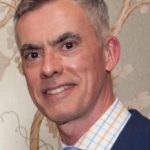 By Philip Vidal
There were just two nearby grocery stores in the 1960s when I was growing up on Melrose Street in Chicago's Lakeview neighborhood: Jewel on Broadway between Melrose and Broadway, and Evergreen Finer Foods at the northeast corner of Broadway and Belmont.  But a trip to Treasure Island just a few blocks north on Broadway was always a special treat.  I remember watching cartoons in the small movie theater shaped like a whale.  Riding in the shopping cart through the first aisle was like going through a canyon, with tall shelves on both sides with exotic ingredients that could only be found elsewhere at a souk or bazaar.
Treasure Island, as well as Sears, is now gone.  The nearest Sears store while growing up was on Lawrence, and I always associate that store with the smell of roasted nuts and popcorn.  The counter selling freshly roasted nuts and popcorn was the first thing I saw upon entering the store.
For me, the holidays are a time of sensory overload.  The sights, sounds, smells, and tastes of this season seem so much more intense than any other time of the year.  The clean smell of the air after a winter's snow; the fresh scent of pine is one of my favorites; gingerbread cookies baking in the oven; a fragrant glass of warm Glühwein and potato pancakes at the Christkindlmarket in Daley Plaza and Naperville (through December 24); and incense at Mass.  Unlike anything that happened in my childhood is "Incense, Sweaters and Ice," Martine Syms' provocative installation and film, which premiered at MoMa New York, showing at the Graham Foundation in the Gold Coast through January 12.
My trainer, Patrick Sheehan, recently said that I need to reduce — if not cut out completely — my intake of sugar.  Not likely at this time of the year!  My sister was at Dinkel's Bakery (founded 1922) on Lincoln in early November and stollen, the German sweet bread, was already for sale, so she bought one for me.  It wouldn't be Christmas if I didn't have a slice of stollen during the holidays. I put the stollen in the freezer and will have it closer to Christmas.  Now that I have my stollen, I also have my sights on a panettone, the Italian sweet bread, as a stollen chaser.
The sound of bells is a sign of the season.  Salvation Army bell-ringers entice us to drop a gold coin (as already happened in Kankakee) in their red kettles.  Holiday music is a strong tradition.  The Lakeside Singers are celebrating their 20th season.  Catch one of their holiday concerts "Oh, what fun…"  in Arlington Heights on December 4, Fourth Presbyterian on December 7, or in Naperville on December 8. Vocal group Chicago a cappella rings in its 25th anniversary with "Silver Bells," its annual holiday concert in Oak Park (December 7), Evanston (December 8 & 16), St. Clement Church (December 9), Fourth Presbyterian (December 14), and Naperville (December 15).  The Newberry Consort will present "A Mexican Christmas: Angels in the Convent! Dancing in the Streets!" at St. Clement Church (my father's church and grammar school) on December 14, Bond Chapel at the University of Chicago on December 15, and First United Church in Evanston on December 16.  The early music group will transport listeners to 17th-century Mexico City where they will hear sacred songs from the convent, as well as folk music from the other side of the convent walls.  There will be many performances of Handel's "The Messiah" this season.  I will attend one of the Chicago Symphony Orchestra's performances of "The Messiah," December 20-23.  If I had a better voice, or those around me were more tolerant, I would attend the 43rd annual "A Do-It-Yourself Messiah" at the Harris Theater for Music and Dance on December 17 and 18.
The Great Lakes Dredge and Philharmonic Society (aka The Dredge) will perform at several private clubs and other venues during the holiday season.   It always a holiday treat to hear this all-male choral group in festive attire sing Christmas carols.
Listen to Laurence des Cars, director of the Musée d'Orsay and Musée de l'Orangerie, speak at the annual dinner at private club hosted by the Old Masters Society of the Art Institute on December 5.
One of my most memorable sounds of the season, of sorts, was one that I heard was a few years ago.  On a bitterly cold, dark, still evening just before Christmas, I was waiting alone for the 151 bus across from the Lincoln Park Zoo when I heard a pack of wolves howling.  It was eerie.
Lights are certainly one of the sights this holiday season.  My grandparents lived in Lincolnwood. As wee ones, my sisters and I would be awestruck by the outdoor light displays and decorations on adjacent homes and those in nearby Sauganash.   But if you really want to see light displays, then head to the Lincoln Park Zoo's "ZooLights" (through January 6), Morton Arboretum's "Illumination" (through January 1), or Brookfield Zoo's "Holiday Magic" (through December 31).   Perhaps like the neighbors in Lincolnwood and Sauganash, each of these venues is trying to outdo the other.   ZooLights seems to be the winner, with 2.5 million lights.  If you'd rather not drive or brave the elements, meander indoors through the Museum of Science and Industry's  "Christmas Around the World and Holidays of Light" (through January 6), or hop on an enclosed trolley in front of 875 North Michigan Avenue, formerly The John Hancock Center, for a Holiday Lights Tour, (through December 23).  The sense of sight isn't the only one you can use at these light displays.  You'll also need your sense of taste for the Lincoln Park Zoo's "BrewLights" on December 6.
When we were growing up, my father would set-up his Lionel model train around the Christmas tree.  Elaborate model train displays, plus miniature versions of Chicago landmarks, are just part of the Chicago Botanic Gardens' "Wonderland Express" (through January 6), which makes a great family outing.
If you are looking for an alternative to the prevalent holiday cheer, you might want to see David Sedaris' "The Santaland Diaries," based on the author's experience as an elf at Macy's, which runs through December 30 at the Goodman Theatre.  The ad for the play specifically says "FOR MATURE ELVES ONLY."  Celebrate the 85th anniversary of the repeal of Prohibition at "The Last Speakeasy on the Eve of Repeal" at the Chicago History Museum on December 6.  The theater troupe The Neo-Futurists, which is celebrating their 30th anniversary, offers three holiday antidotes this month:  "The Infinite Wrench: Best of 2018,"   through December 9, featuring the best plays of the year from their ongoing  "The Infinite Wrench;" "60 Songs in 60 Minutes" (Dec 13-15); and "Burning Bluebird," inspired by Chicago's 1903 Iroquois Theatre fire (December 26-31).
I'm not forgetting the sense of touch.  I love dogs and I always look forward to Christmas at my sister's house for a chance to pet and rub the belly of her dog Shadow.  Shadow certainly appreciates a good belly-rub.  Her delight is contagious and everyone feels better.
Happy Holidays and a happy and healthy New Year to all!
Please note that dates, times and availability are subject to change.