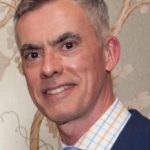 By Philip Vidal
I remember my father taking me and my sisters in the 1960s to Navy Pier to watch freighters from foreign lands unload their goods.  Navy Pier was decrepit then, so I never would have imagined that Navy Pier would become one of the top tourist destinations in the state, and that Chicago would become a destination for cruise ships.  The "M/V Victory I" disembarks in Chicago on August 2 after a 9-night voyage from Toronto through the Great Lakes, then returns to Toronto.
Navy Pier hosts Noche Caribeña at Polk Bros. Park, August 10. Photo by Navy Pier.
I was booked on a cruise to Cuba in December 2019.  In June those plans were dashed, so the best I can do is to get out the maracas that my grandparents bought as souvenirs on a trip to Havana in the 1950s.  I can also walk a few blocks from my apartment to have a Cubano sandwich and a café con leche at the Cafecito location on Chestnut.  Festival Cubano, the Midwest's largest Latino festival, is right here in Chicago's Riis Park on August 9-11.  Latin music abounds this month. The Mambo Kings: Hot Latin Nights, part of the Grant Park Music Festival, is August 7 and features Afro-Cuban jazz, American jazz, and Gershwin's "Cuban Overture."  Noche Caribeña is at Navy Pier's Polk Bros. Park on August 10.  That same evening, Emmy award winning salsa and tropical artist Gilberto Santa Rosa, "El Caballero de la Salsa," makes his Auditorium Theatre debut.
Roxy Music's front man Bryan Ferry performs at the Chicago Theatre, August 1. Photo by The Madison Square Garden  Company.
There's lots of music of all sorts this month.  Of course, the 28th annual Lollapalooza festival in Grant Park, August 1-4, is the biggest musical festival in August, but I'm a bit too long in the tooth for it.    More up my alley are blasts from my past.   Roxy Music's 1982 "Avalon" album is one of my faves, so I'm tempted to head to the Chicago Theatre on August 1 to hear Roxy Music's front man Bryan Ferry perform songs from that album.   Ringo Starr & His All Starr Band and The Beach Boys are at Ravinia August 3-4.   The Paramount Theatre in Aurora presents An Evening with Bernadette Peters on August 17.   Chicago native Herbie Hancock and Kamasi Washington play the Huntington Bank Pavilion, Northerly Island on August 10.   Winnetka-native Christine Ebersole joins Michael Feinstein in "An Evening with Michael Feinstein and Christine Ebersole" at Ravinia on August 29.  Last month marked the 40th anniversary of Steve Dahl's Disco Demolition Day at Comiskey Park.  Disco queen Gloria Gaynor's big hit "I Will Survive" has endured.   She has indeed survived and performs at City Winery Chicago on August 9.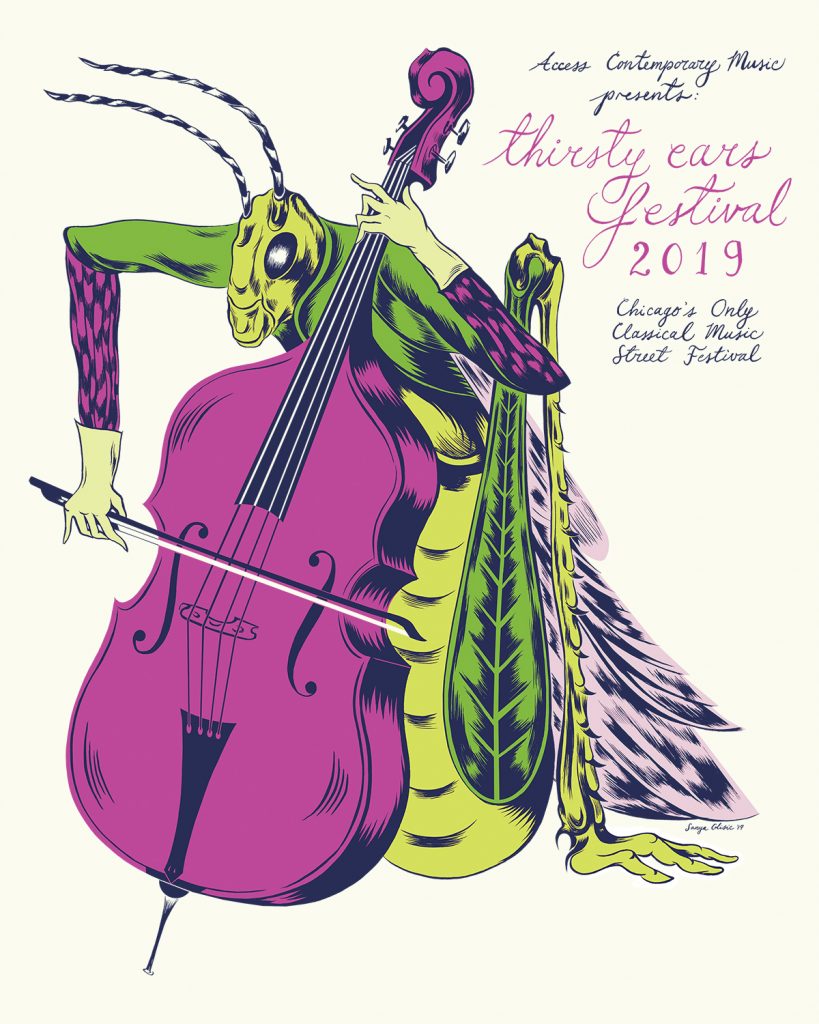 Access Contemporary Music host the 4th annual Thirsty Ears Festival, on Wilson between Hermitage and Ravenswood, August 10-11. Photo by Access Contemporary Music.
Besides Lollapalooza and Ravinia, you can listen to live music outdoors at the 4th annual Thirsty Ears Festival, Chicago's only classical music street festival, on Wilson between Hermitage and Ravenswood, August 10-11.   That same weekend is the 38th annual Northalsted Market Days®, the Midwest's largest outdoor street festival with five stages.  The Millennium Park Summer Music Series offering a wide variety of music continues through August 15.  Grant Park Music Festival wraps up its 85th season on August 17.  It seems as if you can find live music on any night in Chicago.   The Rush Hour Concerts series at St. James Cathedral continues on Tuesdays culminating in the season finale on August 13 with a performance by the St. James Cathedral Choir.    Hear live jazz on Wednesday evenings at Jazzin' at the Shedd at the Shedd Aquarium through August 28.   On Thursdays through August 29, hear local Chicago musicians at the Lincoln Square Summer Concert Series at Giddings Plaza.
First Folio Theatre's Shakespeare's "Henry V" plays at the Mayslake Peabody Estate in Oak Brook through August 18. Photo by First Folio Theatre.
Outdoor theater continues too, especially featuring Shakespeare.   Chicago Shakespeare in the Parks brings an abridged production of "A Comedy of Errors," to parks throughout Chicago, and for the first time will stage a production at Aurora's RiverEdge Park on August 3.  The last performance of the season is at Ping Tom Memorial Park in Chinatown on August 18.  The Oak Park Festival Theatre at Austin Gardens performs Shakespeare's "Much Ado about Nothing" outdoors through August 31.   First Folio Theatre outdoor production of Shakespeare's "Henry V" is at the Mayslake Peabody Estate in Oak Brook through August 18. The Illinois Shakespeare Festival continues through August 10 in Bloomington and Normal with a production of Shakespeare's "Caesar" adapted and directed by Quetta Carpenter at the Illinois State University Center for the Performing Arts Theatre in Normal, Illinois.
Dance moves outdoors too in summer.  Chicago Brewing District's "Dancing in the Streets" is August 3-4 on Hubbard Street between Paulina and Wood featuring beer, of course, and live music.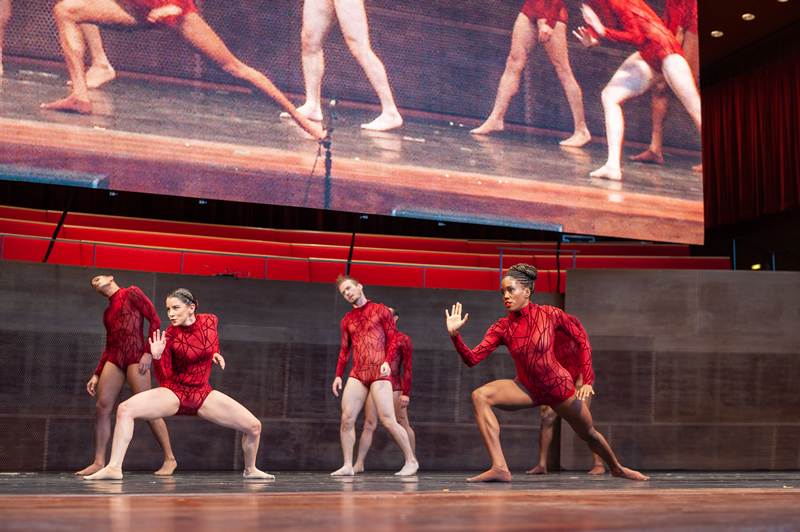 Chicago SummerDance concludes with "Chicago SummerDance Celebration" in Millennium Park, August 24. Photo by City of Chicago.
Besides dancing in the streets, there'll be dancing in the parks. The 23rd season of Chicago SummerDance continues Wednesdays-Sundays through August 24 in the Spirit of Music Garden in Grant Park and at other Chicago Park District locations.   The season closes on August 24 with "Chicago SummerDance Celebration," a full-day of dance-related events throughout Millennium Park.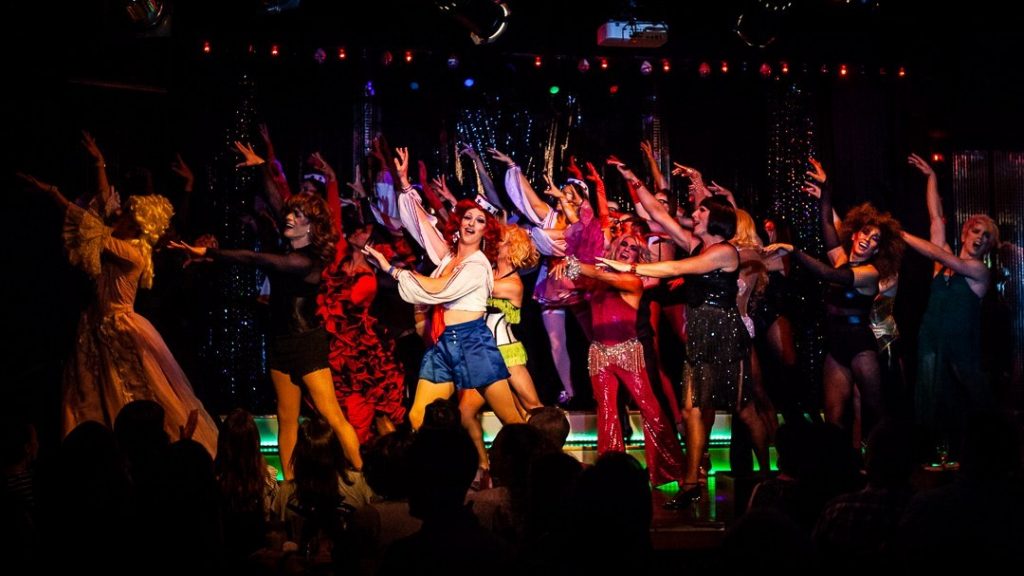 Chicago Dancers United presents "Dance Divas 2019" at Baton Show Lounge's new venus in Uptown, August 4-5. Photo by Philamonjaro.
A few fun indoor dance events are the "Dance Divas 2019" show presented by Chicago Dancers United at the Baton Show Lounge's new venue in Uptown, August 4-5.  Chicago Dancers United's Dance for Life Chicago benefit dance concert is at the Auditorium Theatre of Roosevelt University on August 17 with the gala reception at the Chicago Hilton's Grand Ballroom.  The concert is a great way to see several of Chicago's top dance companies perform.  Giordano Dance Chicago, Hubbard Street Dance Chicago and The Joffrey Ballet are just a few of the local dance companies slated to be there.   Also that weekend is the 32nd annual Chicagoland Country and Swing Dance Festival, August 16-18  at the Crowne Plaza Hotel in Rosemont.
August ends with the 17th annual Chicago Dance Crash at the Ruth Page Theater, 1016 N. Dearborn, August 23-31, which features the world premiere of "Lil Pine Nut."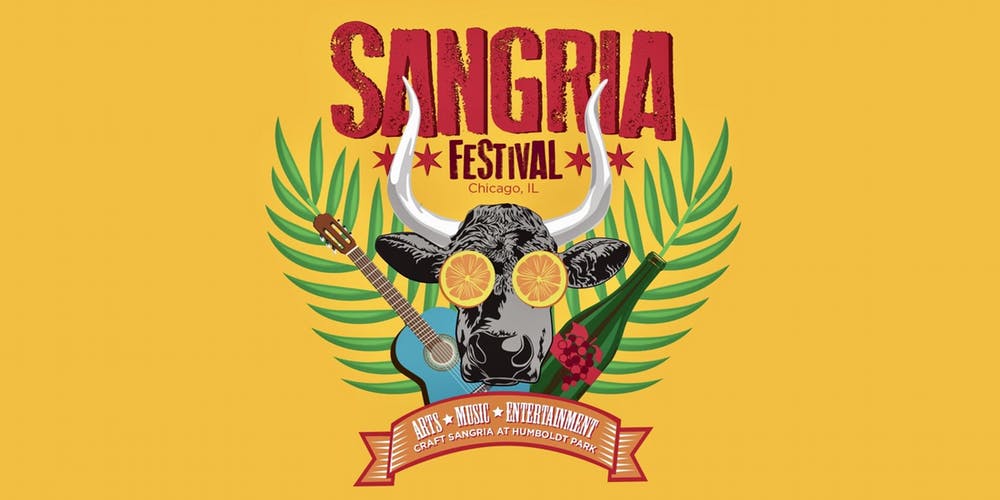 Humboldt Park's Sangria Festival takes place August 17-18. Photo by Sangria Festival Chicago.
Thinking of all of this dance makes me thirsty and hungry.  Even though the alligator that was inhabiting the Humboldt Park Lagoon was captured last month, I'd like to head to Humboldt Park to attend Sangria Festival, August 17-18.  Cool wine on a hot day sounds refreshing.
I also want to head to the West Loop/Fulton Market neighborhood to check out some of the new food halls that have opened.  Politan Row Food Hall opened in May in McDonald's new headquarters at 111 N. Aberdeen, and Fulton Galley opened last month at 1115 West Fulton Market.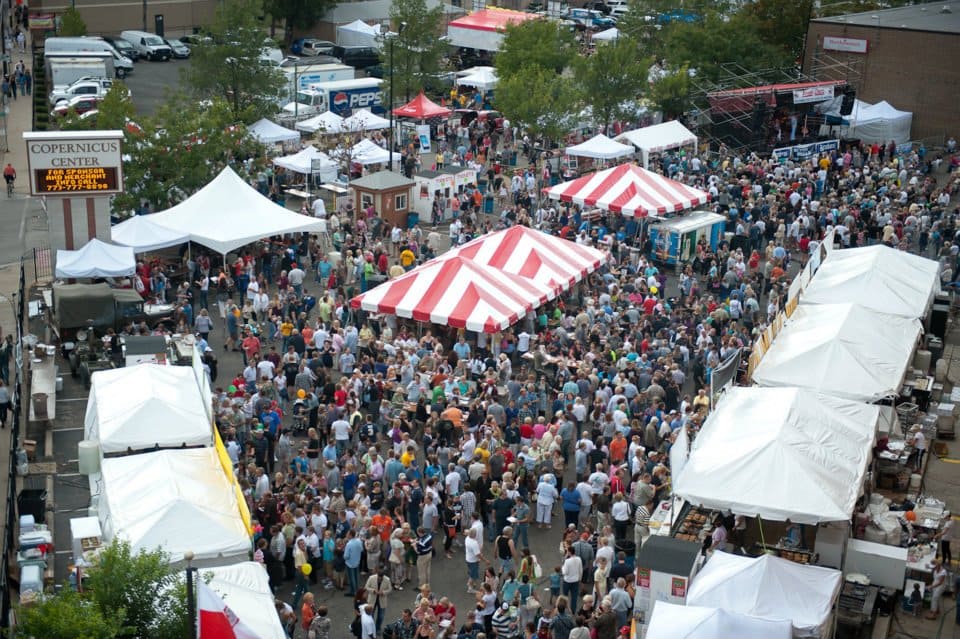 Taste of Polonia takes place at the Copernicus Center, August 30-September 2. Photo by Copernicus Center.
When my cruise to Cuba was cancelled, I scrambled to find another voyage and signed-up for a very short stint in the western Mediterranean.  I was thinking about places in Europe with non-stop flights to O'Hare that I'd like to visit post-cruise.  Krakow was one of the top contenders, but then I remembered that Taste of Polonia, the largest Polish festival in the U.S., is over the Labor Day weekend, August 30-September 2 at the Copernicus Center in Jefferson Park.  So just as I can get a taste of Cuba right here in Chicago, so too can I enjoy a taste of Krakow without leaving home.  Chicago is a great place for a staycation.
Speaking of O'Hare, if you've ever wondered who Bessie Coleman Drive at O'Hare is named after, head to the Gene Siskel Film Center to see "Bessie Coleman, First Black Aviatrix" August 24 & 27.   This film about the pioneering aviatrix who lived in Chicago before moving to France where she learned to fly is part of the 25th annual Black Harvest Film Festival, August 3-29 at the Gene Siskel Film Center.
Dates, times, location, and availability are subject to change.