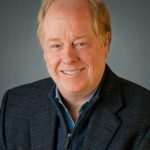 By Bob Glaze
Downtown Victoria.
Victoria is the Capital of British Columbia and is located at the southern tip of Vancouver Island. It has a population of around 86,000 people and is 60 miles from Vancouver and also 60 miles from Seattle, WA.
Fairmont Empress Hotel.
The city  is one of the oldest in the Pacific Northwest, with early British settlements beginning in 1843. It has a number of historic buildings including the Parliament Building completed in 1897 and the Empress Hotel opened in 1908. Its Chinatown is the second oldest in North America.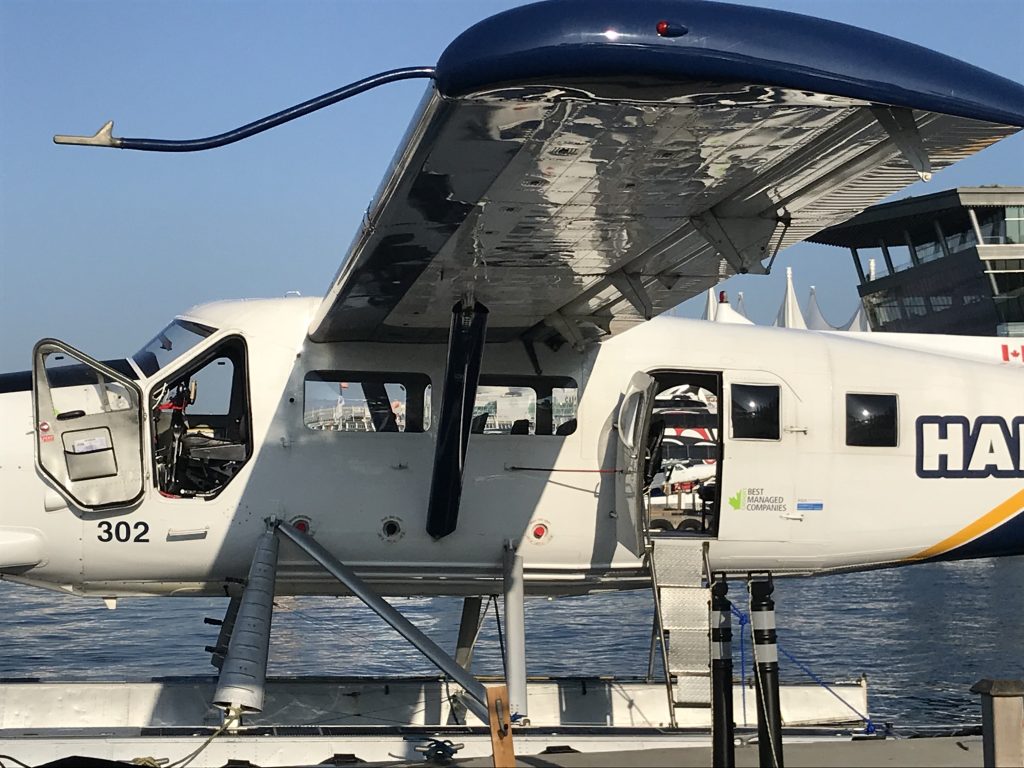 Harbour Air Seaplanes.
Vancouver Harbour Flight Centre.
Many opt to visit and stay for a few days. However, I chose to spend a day, flying from downtown Vancouver to Victoria by the Harbour Air Seaplanes. The ferry service by BC Ferries  can take up to four hours, while the flight is approximately 30 minutes. By doing this, I had ample time to explore the city, to have lunch, visit Chinatown, the museum and Parliament building. The highlight was enjoying  a perfect afternoon tea. I arrived mid-morning and flew back in time for dinner in Vancouver.
Victoria, BC.
Though I didn't have time to go on my day trip, many of those with more time, love to explore The Butchart Gardens. Located 30 minutes north of Victoria, you can enjoy a Rose Garden, an Italian Garden, Sunken Garden, a Japanese Garden and a Mediterranean Garden. There is a dining room, the Blue Poppy Restaurant and a coffee shop to enjoy while you explore. Afternoon tea is served in the warmer months, where there are also boat tours, evening light shows, fireworks and concerts. It is a National Historic Site of Canada on 55 acres.
What to do in Victoria, BC
Victoria is a very beautiful city with wonderful architecture. Many of the historic buildings from the 1800s have been repurposed into trendy boutiques, galleries, cafes and restaurants. There are historic squares, a large Chinatown and even a Victoria Ale Trail for beer lovers.  After a fun day exploring the city, my top recommendations include:
Agrius, 732 Yates St.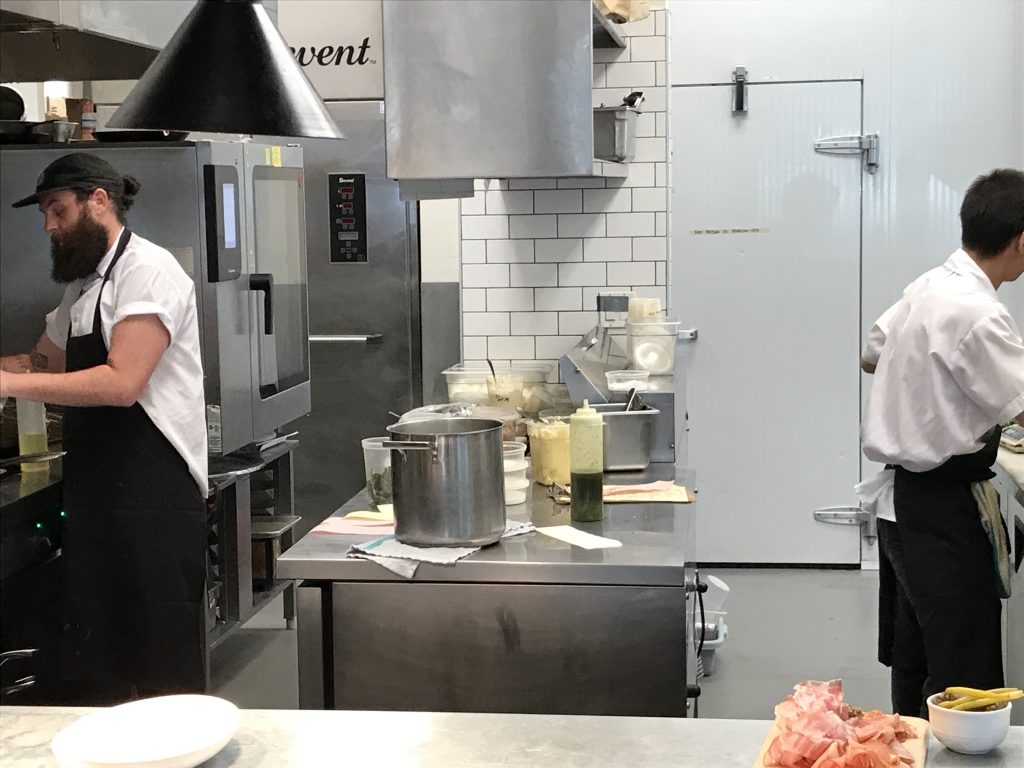 The kitchen at Agrius.
Agrius: This is a  fun, casual restaurant. It is a  brunch and dinner spot featuring organic ingredients and breads from a wood-fired oven. I enjoyed a great salad as I had to save room for my afternoon tea goodies at the Fairmont!!! 732 Yates St.
Fol Epi Patisserie, 732 Yates.
Agrius also has a lovely bakery in front, Fol Epi Patisserie, featuring wonderful bread and pastries. 732 Yates.
Alcheringa Gallery, 621 Fort St.
Alcheringa Gallery: This is a gallery at 621 Fort St known for its contemporary indigenous fine art from the Northwest Coast of Canada as well as the aboriginal artists from the Pacific Islands, Papua New Guinea, and Australia.
Dutch Bakery & Coffee Shop,  718 Fort St.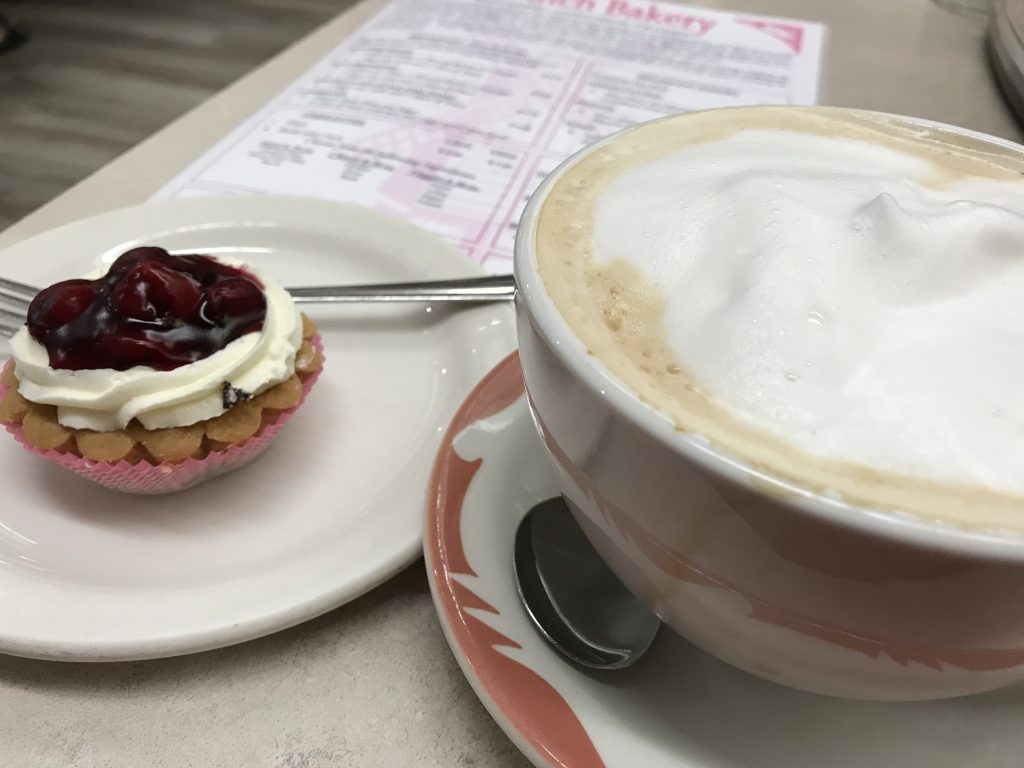 Latte and cherry tart.
Dutch Bakery & Coffee Shop: This casual cafe and bakery, was celebrating its 62nd birthday on the day I was there. This is a fun spot in a diner setting for dutch pastries, cakes cookies and chocolates. They are open for breakfast, lunch and afternoon tea. I highly recommend it and loved the atmosphere. A latte and a yummy cherry tart were perfect after my morning flight to Victoria to tide me over until lunch.  718 Fort St.
Victoria Market Square.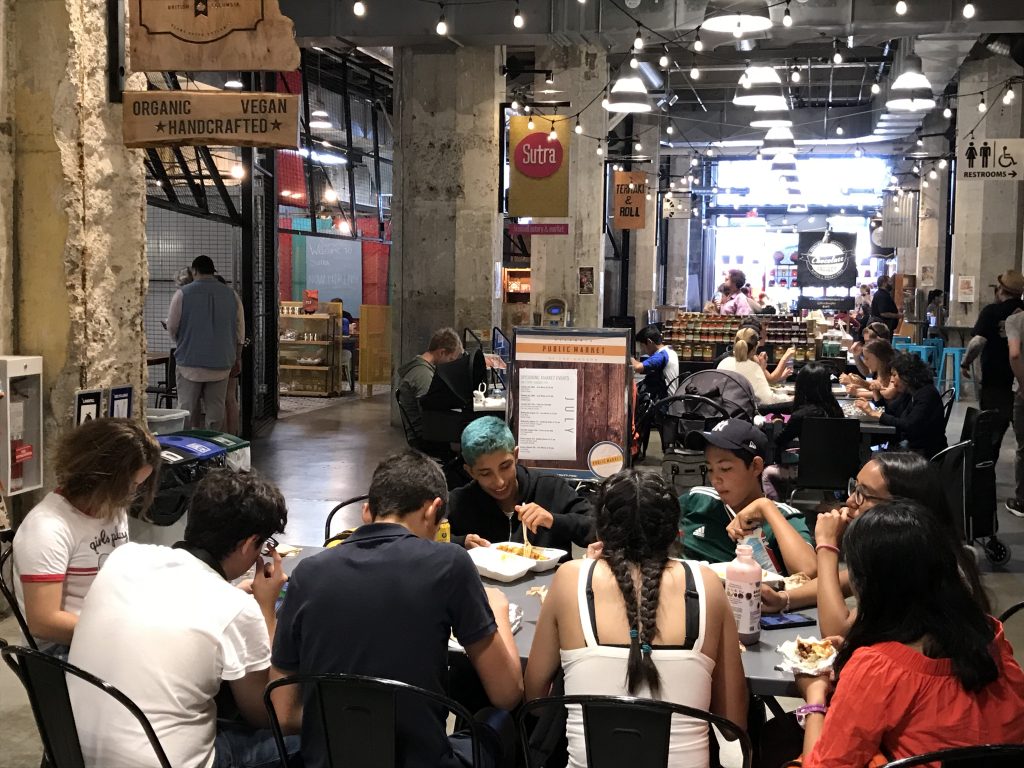 Victoria Public Market at the Hudson, 1701 Douglas Street.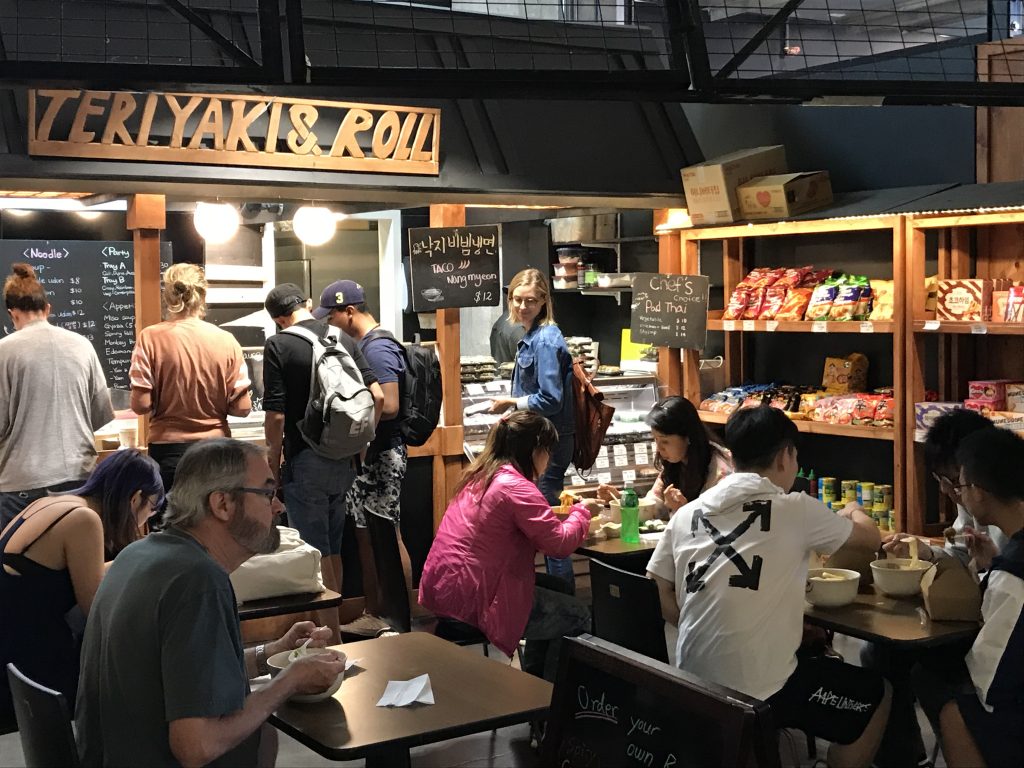 Victoria Public Market at the Hudson.
Victoria Public Market at the Hudson: Located in the historic Hudson building in downtown Victoria at 1701 Douglas Street, this market opened in 2013, preserving this well-known department store building. It is more of a food hall than market as it has a number of restaurant concepts from tacos, sandwiches, coffee and baked goods to pies, waffles, sushi and noodle bowls.
Victoria's Chinatown.
Restaurants in Chinatown.
Chinatown.
Chinatown:  Victoria's Chinatown is Canada's oldest Chinatown and is a National Historic Site. The 19th-century gold rushes and the Canadian Pacific Railway construction drew thousands of Chinese immigrants to Victoria. They settled above Johnson Street. Today, this historic area is a vibrant community of narrow streets, alleyways, shops and restaurants. Make sure to see the Gate of Harmonious Interest on Fisgard St.
Fan Tan Alley, a tiny street in Chinatown.
Fan Tan Alley: This is a tiny street in Chinatown. There are a number of stores and galleries along with a tea shop, Italian bakery and ice cream store. It located between Government St. and Wharf Street and Fisgard St. and Pandora Ave.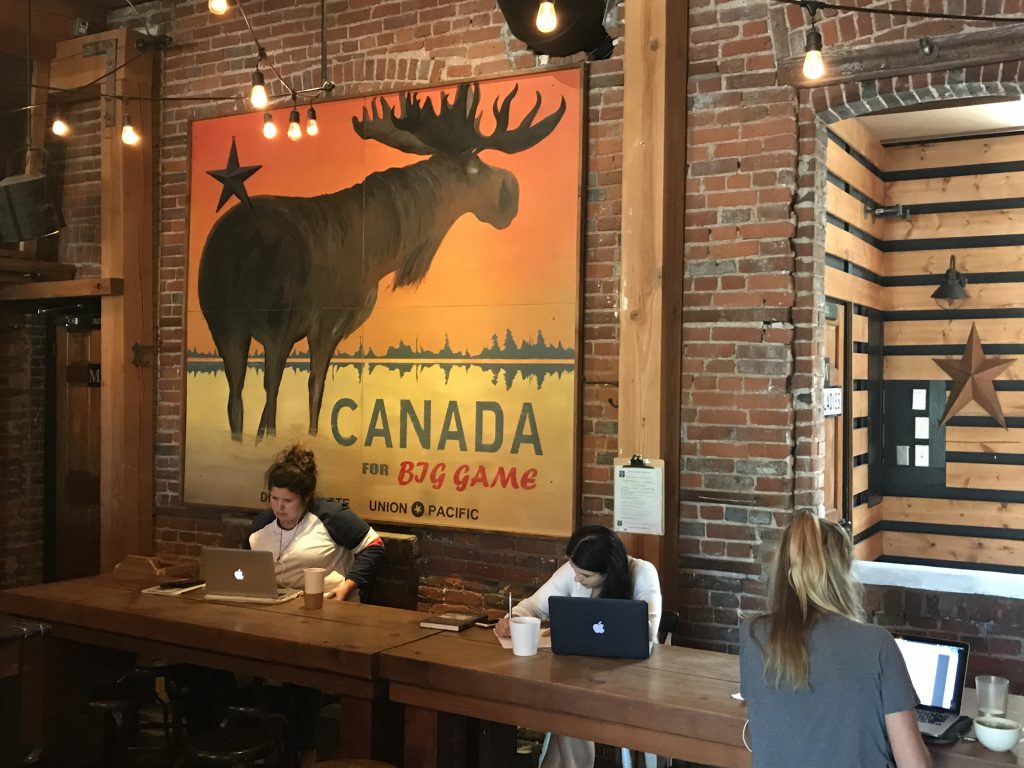 Union Pacific Coffee Co., 537 Herald St.
Union Pacific Coffee Co.: When you are in Chinatown, stop in for coffee at this cafe. They have food items as well plus a nice outdoor patio. 537 Herald St.
Tea at the Fairmont Empress Hotel.
House-made signature scones and pastries at the Fairmont Empress.
Tea at the Fairmont Empress: My favorite part of my trip was enjoying a traditional afternoon tea at the grand Fairmont Empress Hotel. Set in their formal salon, the tea includes their house-made signature scones, pastries, clotted creams and strawberry preserves with fresh lavender from the rooftop herb garden. There are 21 loose leafs teas available to choose from. This is a must when you are in town. The hotel is really lovely as it recently underwent a two-year $40 million renovation.
Royal BC Museum located near the Inner Harbour at 675 Belleville St.
Totem Hall.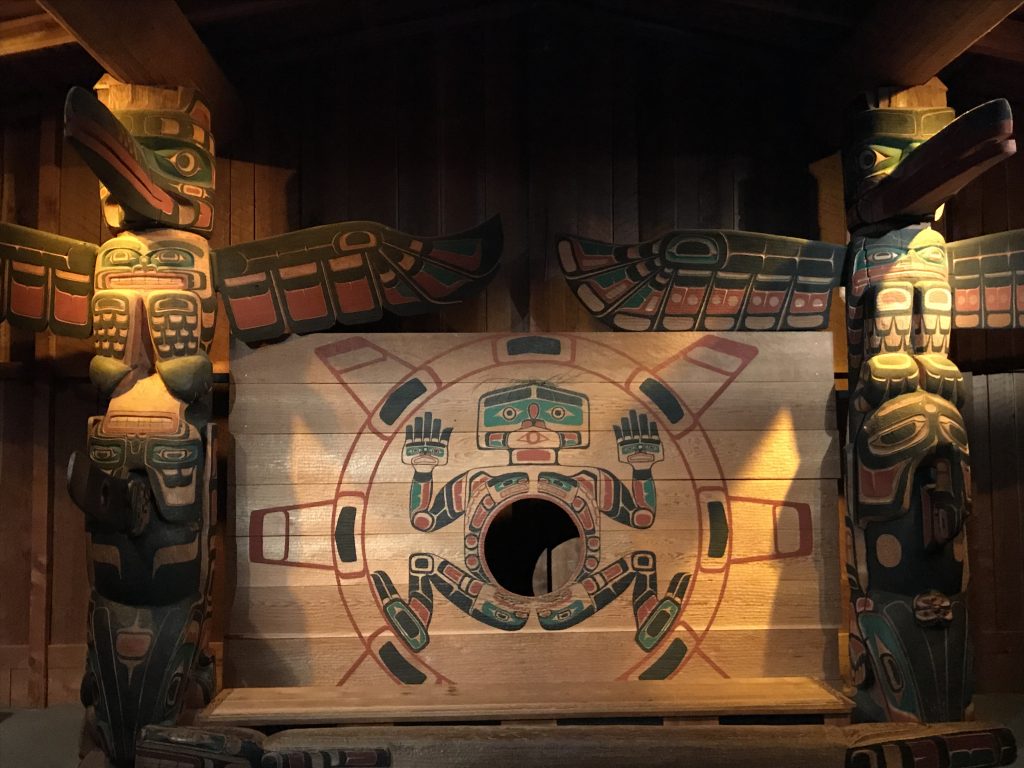 Inside Totem Hall.
Royal BC Museum: Founded in 1886, the Royal British Columbia Museum consists of The Province of British Columbia's natural and human history museum as well as the British Columbia Provincial Archives.  Well-worth the visit, it is a large museum located near the Inner Harbour at 675 Belleville St., where you can learn about the natural history of the area as well the First Nations of BC. My favorite part was the Totem Hall with it stunning carvings, masks and totem poles by the people of the First Nations.
Parliament Building.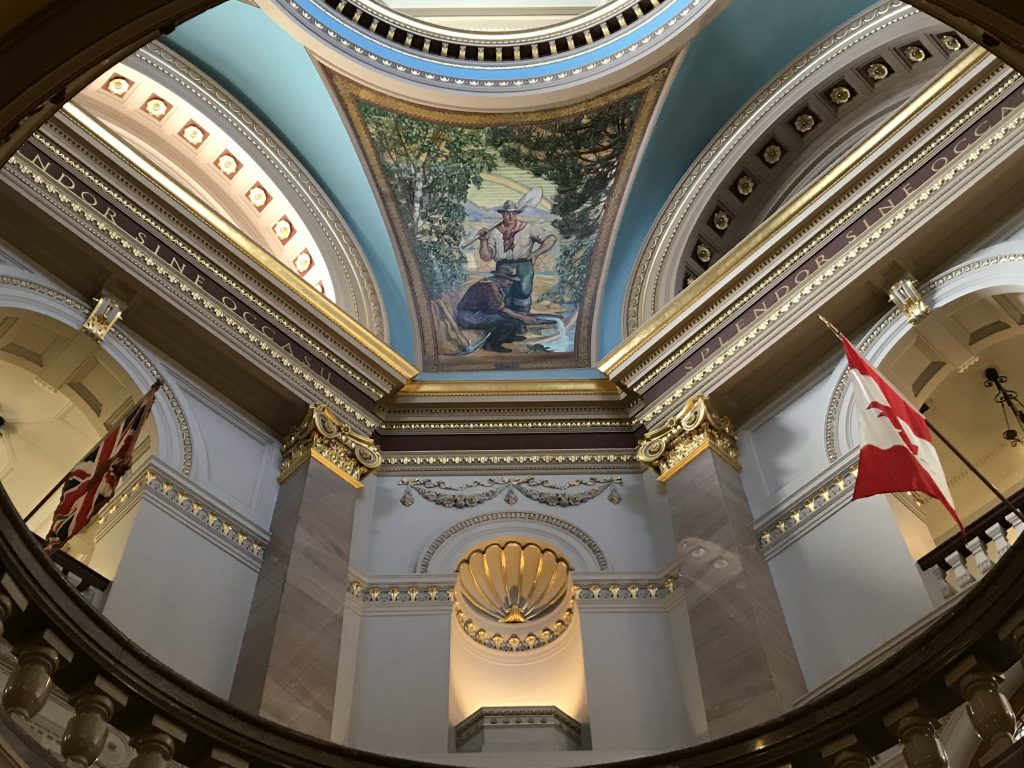 Inside the Parliament Building.
Parliament Buildings: Near the Royal BC Museum are the British Columbia Parliament Buildings which were completed on the site in 1897. Designed in the Renaissance and Romanesque style, they were totally restored at a cost of $80 million in 1972. I recommend taking one of the free tours where you can see the Lower Rotunda with beautiful Italian mosaics, the Hall of Honor, the beautiful stained glass windows, the upstairs Memorial Rotunda and the Legislative Chamber.
Canoe, 550 Swift St.
Canoe: At 550 Swift St., this is a local brewpub on the water with great views of the Upper Harbour. They brew their own beer including ales, lagers, IPAs. I really enjoy tasting their light, fresh whitbier or Belgian-style wheat beer.  They also feature a menu of salads, burgers, mains, flatbreads and shared plates
Fishhook Restaurant at Mermaid Wharf, 406 Swift St.
Nearby the Fishhook Restaurant at Mermaid Wharf for great views from their patio along the water at 406 Swift St.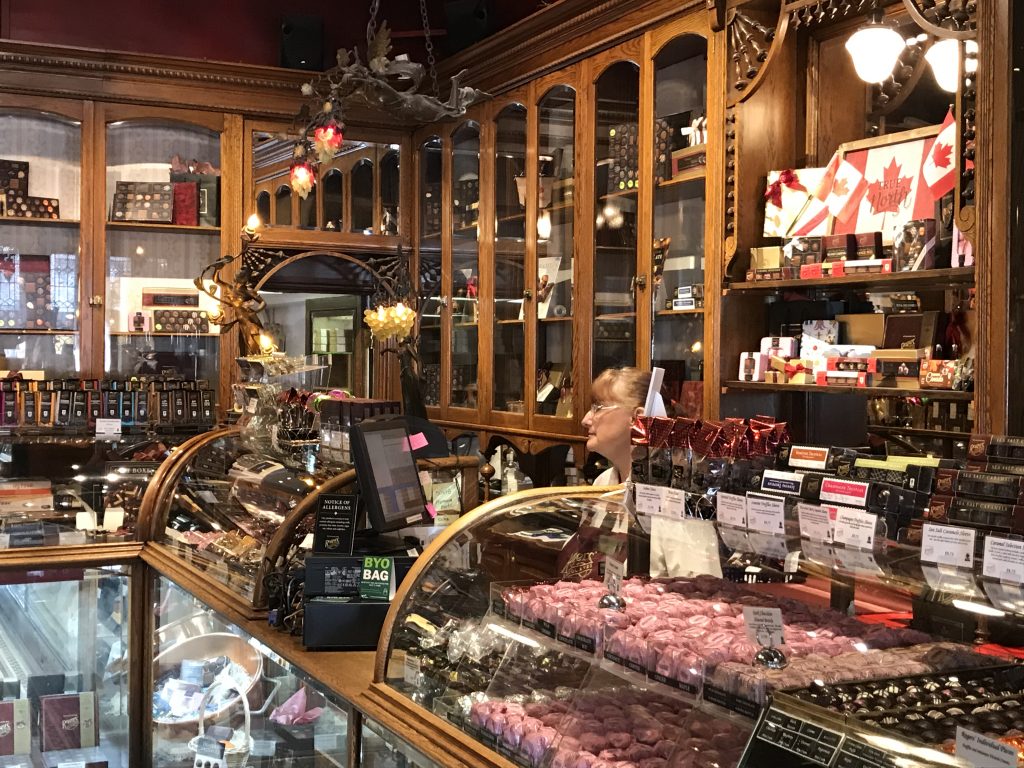 Rogers Chocolates, 913 Government St.
Rogers Chocolates: The popular Rogers Chocolates has been at this 913 Government St. location since 1891.  It has a wonderful old-world atmosphere and great chocolates! There are other locations in Victoria, Vancouver and Whistler.
Bastion Square.
Bastion Square: The historic heart of Victoria's walkable downtown is Bastion Square, where the city was born as a Hudson's Bay Company trading post in 1843. Now lined with pubs restaurants and cafe and home to a popular Sunday farmers market, the square's oldest buildings date to the 1860s.
Other landmarks that you might enjoy include Craigdarroch Castle, the Inner Harbor, the lovely gardens the Abkhazi Garden and 63 acre Beacon Hill Park.
I hope you enjoy my recommendations. Let me know how you like it after your visit!
For more travel destinations and recommendations, visit globalphile.com.