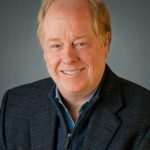 By Bob Glaze 
Aspen/Snowmass and the Roaring Fork Valley is one of my favorite summer destinations. I actually prefer visiting there during this time of year over the ski season, as you can easily get to areas that are often closed or harder to get to during the winter. I always go for two weeks and love exploring Aspen/Snowmass along with Carbondale and Basalt down valley. My top recommendations below are some of my favorite new spots along with those that I love, especially in the summer.
Aspen
Aspen is a place of great beauty where one can come and regroup and refocus. It is the perfect place for those wanting to experience the arts, music, great food and nature. As envisioned by Walter Paepcke of Chicago, who created the Aspen Institute and the Aspen Music Festival, the town is a "center for dialogue, a place for lifting us out of our usual selves". It was to be a place where people could develop in body, mind and spirit. This became known as the "Aspen Idea".
Not to be missed are:
Aspen Music Festival.
Aspen Music Tent.
The Aspen Music Festival and School is one of my favorite events of the summer.  It is a classical music festival held annually. This year the season ends on August 18th, so you still have time to go. It is noted both for its concert programming and the musical training it offers to mostly young-adult music students. It also features jazz and opera performances. You can attend daily rehearsals and concerts along with observing some master classes at the 2,050-seat Benedict Music Tent, the historic Wheeler Opera House, the Harris Concert Hall or at their campus just outside of town.
The Aspen Institute .
Aspen Institute: Another highlight are the programs of the Aspen Institute. So check out their calendar for events when you will be in in town. Also don't miss the grounds particularly on the 100thanniversary this year of the founding of the Bauhaus in Germany. In the 1950's, Walter Paepcke commissioned Bauhaus architect and artist, Herbert Bayer, to create the campus for the Institute and the right environment for the leaders to live and learn. From 1953 to 1973, Bayer designed the buildings and the landscaped architecture known as Earthworks. On the grounds you will see these landscape sculptures, other sculptures, including Bayer's graffito mural on the Koch Building and his Kaleidoscreen completed in 1957, a Buckminster Fuller Geodesic Dome and Andy Goldworthy's Stone River, a red sandstone serpentine wall that winds into and through the Doerr-Hosier building. A number of Bayer's tapestries can also be seen throughout the Institute. There are a number of programs on the Bauhaus this summer For a great meal and views, make sure to visit their PLATO's restaurant in the Aspen Meadows Resort.
Platos Restaurant – The Aspen Institute.
Theater Aspen: Since 1986, Theater Aspen has been presenting wonderful theater in Aspen; now in a new tent in Rio Grande Park, just west of downtown. Each summer the company performs dramas and musicals as well as special performances for children. The season runs through August 17ththis year. I always try catching a performance every summer!
Aspen Santa Fe Ballet: Make sure to see a performance of this nationally recognized dance company that has become a leader in the dance world in terms of repertoire, acquiring and commissioning work from top choreographers. It is also one of the largest dance presenters in the country, welcoming the best in dance in both Aspen and Santa Fe.
Chef Marco Gonzalez – Benedict XVII.
Recently opened downtown is Benedict XVII. Chef Marco Gonalez, has created a creative menu mainly of several eggs benedicts, sandwiches, salads and bowls along with cocktails, wine and coffee drinks.  He is delightful and I hope he is there when you go! I went for lunch and loved the smoked salmon croissandwich which features smoked salmon, an herb-cheese spread, avocado and arugula on a croissant. It comes with side salad. It is open daily from 8am to 8pm.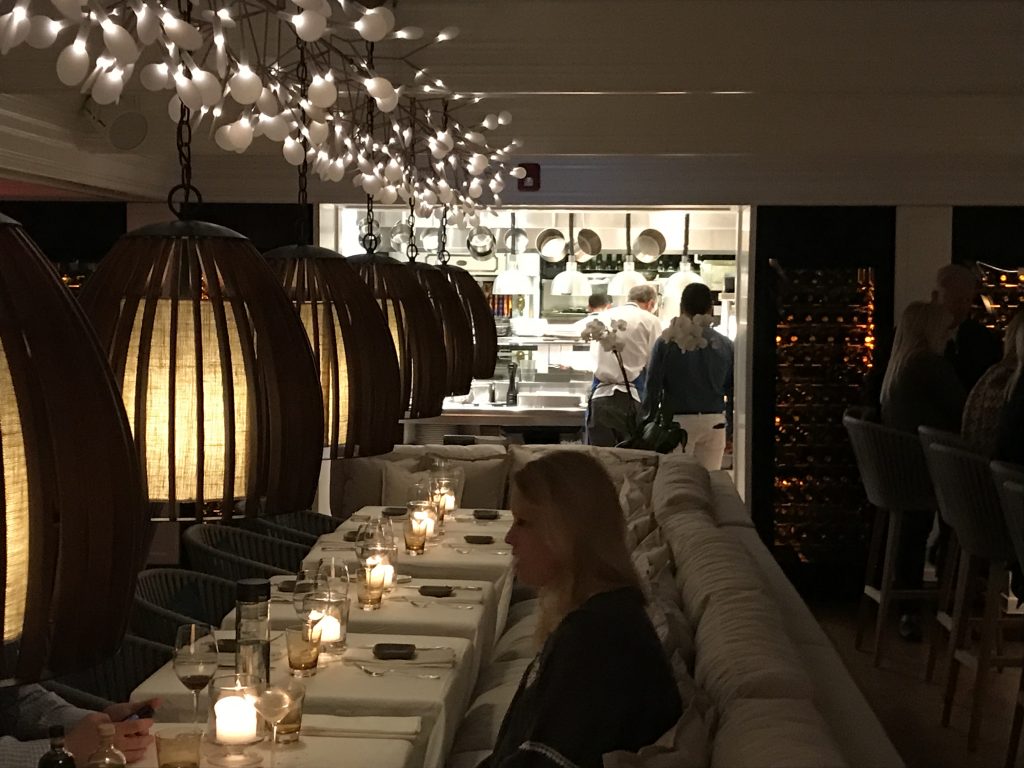 Betula.
Located in the former BB's space at 525 E. Cooper #201, Betula Aspen opened in late December, 2018. It is a warm and inviting space that features French Pan-American cuisine. I was very impressed with my first meal there. The burrata and roasted acorn squash appetizer was really great and the pan-seared jumbo scallops with cauliflower and capers was a great choice for my entree. My friend loved the tuna tacos. I will definitely go back again!
Marble Bar Aspen.
Marble Bar Aspen:  Marble Distilling Co. in Carbondale has opened a warm, contemporary cocktail lounge in downtown Aspen at the Hyatt Residence Club Grand Aspen. They feature their own spirits including a bourbon, rye whiskey, a whiskey similar to a Scotch and vodka. It is a perfect spot for a drink before your dinner downtown.
Bad Harriet – The Jerome.
The Jerome Hotel recently opened a sleek and modern speakeasy, Bad Harriet. It was named in honor of the wife of the original hotel owner Jerome B. Wheeler.  It is a great spot to grab a cocktail before your dinner in town. It is located in the building next door that was the former Aspen Times. I highly recommend it. They do offer some food items and also pass some complementary passed small bites.
Pine Creek Cookhouse in Ashcroft.
Pine Creek Cookhouse: Located on Castle Creek Road in Ashcroft, this is one of my favorite places for lunch with amazing views. In the summer you can drive to the restaurant and is a great place after hiking the Cathedral or American Lake trails.
Woody Creek Tavern:  At 2858 Upper River Road in Woody Creek, this is a rustic tavern with great Mexican and American food. It is a real local's hangout! They have a great patio which is why I prefer it in the summer.
Make sure to walk through the Aspen Saturday Market in downtown Aspen every Saturday during the summer through October 5th.
Snowmass Village
The beauty of Aspen Snowmass.
Snowmass Village is ten miles from downtown Aspen. Here you will find a number of restaurant options along with a recently expanded Base Village. Highlights here include:
Anderson Ranch Arts Center.
Anderson Ranch Arts Center: Located in Snowmass Village, this is one of nations' premier art education institutions in the country. It has amazing workshops in ceramics, sculpture, word working and furniture making, painting and print making, digital photography and other mediums; there are workshops throughout the year but primarily in the summer months. It offers residency programs for qualified artists and offers many community outreach programs and lectures. The facilities and location are the best in helping to bring out the best in an artist. They also have a series of small Auctionettes on Fridays throughout the summer, where you can also pick up some great art pieces by students and faculty. Check the website and local papers for artists talks which occur two to three times a week during the summer or for art exhibits and openings. I have been going every summer for over 18 years and will be taking two classes this August.
Slow Groovin' BBQ.
One of my favorite new spots is Slow Groovin' BBQ at 67 Elbert Lane. I have been to their great location in Marble, CO, but they opened this as their winter destination. This is a new hot spot with a casual decor and bar. They feature barbecue ribs, pulled pork, brisket and chicken plus smoked items like sausage, salmon and turkey. You can get a number of soups, salads, sandwiches, platters and combination platters. I loved the brisket with corn bread, slaw and baked beans. To top it off, the smokey Old Fashioned was the perfect cocktail!
Summer in Aspen Snowmass.
The Snowmass Village Rodeo occurs weekly on Wednesdays every summer. It is a fun event to attend when you are in town.
Basalt
Down Valley, Basalt is a small town formed in the late 1880's. It began as a railroad center and had the requisite boarding house, general store and seven saloons. Today it is a thriving town and is fun to explore. It is just 18 miles from Aspen. Make sure to visit:
Tempranillo.
Tempranillo: At 165 Midland Ave in downtown Basalt, the restaurant features excellent Spanish tapas. I love the outdoor porch dining.
Heather's Savory Pies and Tapas Bar.
Across the street is Heather's Savory Pies and Tapas Bar. It is known for its savory pot pies and dessert pies The coconut cream is very good. Open for brunch, lunch and dinner, it is at 166 Midland Ave. It has great outdoor seating as well. I enjoyed a very good Sunday brunch on a recent visit.
The Art Base.
Right in the heart of Basalt is The Art Base, formerly known as The Wyly Art Center. Here you can see a temporary exhibition, take a class or workshop or attend one of their events. Their Annex at 174 Midland Ave. is where you can see exhibitions as well.
Basalt Sunday Market.
For a good selection of local produce, specialty foods and crafts, the Basalt Sunday Market in the heart of downtown is a great spot and good family activity. Don't miss Avalanche Cheese Company for great goat cheeses and meats. They also own Meat & Cheese Restaurant & Farm Shop in Aspen which is a great spot to eat in town.
Willits Town Center
Willits Town Center is located between Basalt and Carbondale and just west of El Jebel. In the past few years it has seen a huge growth in restaurants, breweries and distilleries, shops and a boutique hotel. It is becoming a place where you can stay down valley, walk to restaurants and then be able to easily get to both downtown Basalt and Carbondale where there are many more options to try. You can have a great experience without having to stay in Aspen or in Snowmass Village. My recommendations include:
Market Street Kitchen: One of my best new finds in Aspen is Mawa's Kitchen in the ABC or Airport Business Center. Their second location at 499 Market St. is the Market Street Kitchen located in the same building and off the lobby of the Element Hotel. This is a restaurant open for breakfast, lunch, dinner and Sunday brunch, that features healthy, vegetarian and gluten free dishes. I had a delightful conversation with Mawa, the owner. Make sure to ask for her when you are there.
Woody Creek Distillers.
Woody Creek Distillers: At 60 Sunset Drive in Basalt, right off of Willits Lane. Make sure to visit their stunning, contemporary tasting room. They are known for their vodka from locally grown potatoes. Once one of the largest potato growing regions in the US at the turn on the 20th century, it has recently re-emerged with the growing of the crop by Woody Creek. As a non-vodka drinker, I really liked the taste. However, the highlight for me was their very smooth and excellent Young Colorado Whiskey made with four grains and their 100% Rye Whiskey.
Capitol Creek Brewery.
Capitol Creek Brewery: Recently opened is the Capital Creek Brewery at 371 Market St. This is a fun, contemporary brew pub that features their own beers including ales and IPAs, other locally sourced beers, wine, cocktails and seasonally sourced dishes for lunch, dinner and Sunday brunch.
Cardondale
About 40 minutes from Aspen is the town of Carbondale. Here you will find a fun main street with old architecture, great restaurants, music and art galleries. Make sure to visit:
Carbondale Rodeo.
The Cardondale Rodeo: During the summer there is a Rodeo on Thursdays nights a few miles east. Here you will find a more authentic experience than the one in Snowmass Village. Every Wednesday in the summer, from 10 a.m. to 3 p.m., is the Carbondale Farmers' Market which is always fun. It has fresh fruits and produce as well as prepared foods and artisan products.
The Way Home in Carbondale.
Opened in August, 2018 is The Way Home at 689 Main St. Located in the old Six89 restaurant space in an historic house, this is a contemporary farm to table restaurant in downtown Carbondale. The design is sleek and contemporary with excellent service and food. I particularly liked the corn bisque and the grilled peach, tomato and burrata salad with olive oil, mint and pistachios. It was one of the best burrata salads that I have had anywhere. They recently added a number of hotel rooms above the restaurant. They also have both indoor and outdoor patio seating.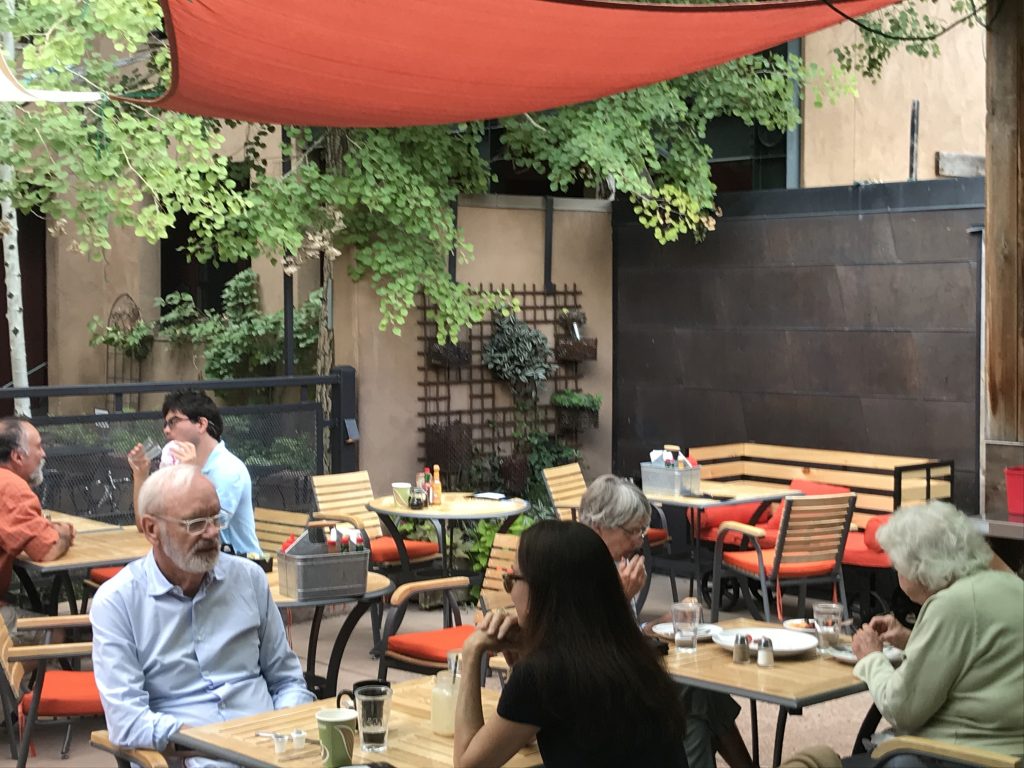 Roosters.
Across from Phat Thai in the former Town restaurant space, is Roosters. I thought it was the perfect spot for brunch. It has a large menu of crepes, omelettes, pancakes and sandwiches. They have a nice patio area in addition to indoor seating. I enjoyed a wonderful egg white omelette with spinach, tomato and feta. I think the brunch menu has more interesting options than the dinner menu.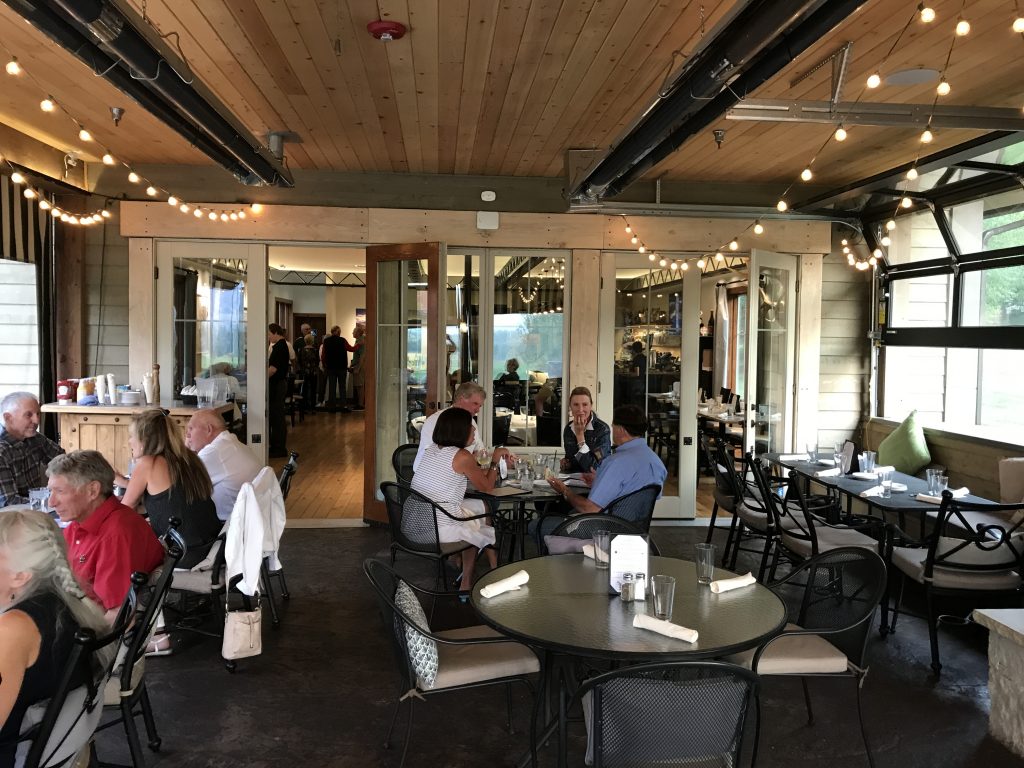 Ironbridge Grill.
Just out of town is a great new find, the Ironbridge Grill, located at the Ironbridge Golf Club. Both are open to the public. The restaurant is open for lunch and dinner and has both indoor and outdoor dining. The terrace has wonderful views of the mountains and golf course. I enjoyed my dinner with local friends who go often. The manager and server were really excellent and so was the food. I loved my seared duck breast special, the pear and arugula salad and perfect Italian rosé. The walleye entree was also excellent. 430 Ironbridge Drive. From Carbondale, go west on Rts. 106/109, just south of Hwy 82 on Rt. 133 near City Market.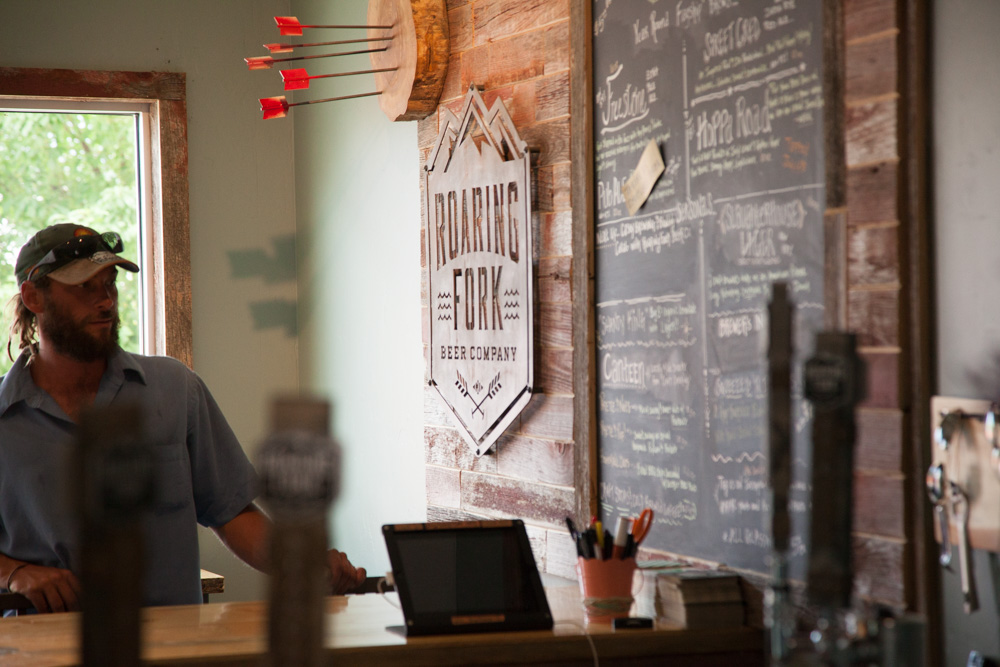 Roaring Fork Beer Company.
Roaring Fork Beer Company:Launched in 2013, this is a small brewery in Carbondale that distributes primarily in the Roaring Fork Valley. You can stop in at the tasting room right off of Rt 133 near Highway 82 at 1941 Dolores Way to taste their lagers and ales They recently opened a great new tasting room at 380 Main St. in downtown Carbondale, called Batch, which features their brews. They have also partnered with neighboring Phat Thai and Town Restaurant for food options.
Marble Distilling Co.
Recently opened is the Marble Distilling Co. Luxury Inn & Lounge. Here you can taste their spirits in the sleek tasting room, sample some of their locally sourced cuisine or stay in one of their five, beautifully designed rooms in their Inn. 150 Main St.
Powers Art Center.
Powers Art Center: This museum on Rt 82 just west of mile marker 13, is open Monday to Thursday from 10am to 3pm. This is a stunning, private museum, designed by Japanese architect Hiroshi Nanamori, that was built as a memorial to the life of John G. Powers and showcases the limited edition works on paper by famed artist Jasper Johns. It has a spectacular setting and I really like the pieces by Johns. There is a small library with a collection of Pop Art books that were collected by John Powers. There are also ceramic works by Takashi Nakazato throughout the museum.
Enjoy your time there. I am excited to get back in a month and will report back in my next article of what I find!
For more travel destinations and information, visit globalphile.com