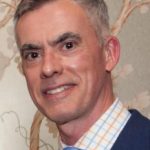 By Philip Vidal
If you are traveling to London this summer or fall, I would like to share restaurant recommendations.  Some are restaurants I always visit when I am in London; others are restaurants I enjoyed on a trip in late April.
A view of the white cliffs of Dover from the Seabourn "Ovation."
On this most recent trip to London, I took a two-week crossing from Miami to Dover on Seabourn's Ovation.  The ship arrived in Dover very early on Sunday morning.  The white cliffs of Dover did not disappoint, and thankfully I had no jet lag upon arrival!  I arrived in London on the morning of the London Marathon.  I was prepared for a slow slog to central London, but there wasn't much traffic and I encountered a London that was preparing for the coronation of Charles III on May 6.   Banners and the Union Jack were draped across the streets.  Photos of Charles adorned shop windows.
The nice thing about visiting a place you've been to before is that there's no rush to see and do everything.   Nevertheless, I had a few things I'd always wanted to do and hadn't yet crossed them off my bucket list.
In front of the Farm Street Church and next to a coronation decoration.
A closer view of the coronation decoration and Farm Street Church in Mayfair.
One of them was to attend Mass at the Farm Street Church (aka The Jesuit Church of the Immaculate Conception) in Mayfair, just across the street from my hotel, The Connaught.  My room wasn't ready, so I headed to the 11:00 AM Mass in Latin.  I grew up with the Latin Mass, but that was a long time ago so some of my responses were a bit muddled.  The choir and organist were, to use a common British term, brilliant.
The traditional Sunday roast served at The Connaught Grill. Photo by The Connaught Grill.
Another experience on my bucket list was to have a have a traditional Sunday roast after church with all the trimmings.  I booked a table at The Connaught Grill for Sunday afternoon.   I had a vague memory of the grill as a small, very traditional, dark wood-paneled Victorian room.   The room has been transformed.  The dark Victorian wood has been replaced by custom Mira Nakashima wooden furniture and furnishings.
The Wolseley, 160 Piccadilly. Photo by The Wolseley.
After such a substantial and delicious lunch, with splendid Burgundy wines, both red and white from their extraordinary wine list, I planned a lighter supper at the all-day restaurant The Wolseley (160 Piccadilly), in a former automobile showroom, where you can have whatever you fancy whenever you'd like.   An added bonus was seeing two Americans: model Jerry Hall and author Fran Leibowitz together at the adjacent table.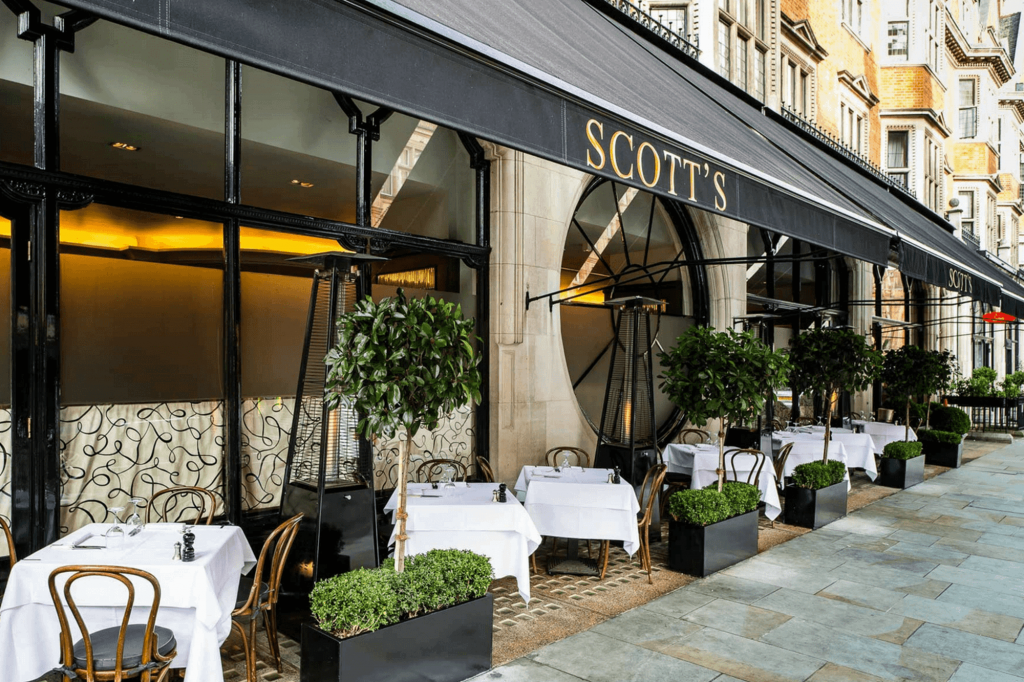 Scott's, 20 Mount Street, specializing in fish and seafood.
Coronation decorations on Mount Street. 
When I'm in London, I always have lunch at Scott's (20 Mount Street), just down the street from the Connaught.  Scott's specializes in fish and seafood. When I left, I spoke with the doorman and we reminisced about how sleepy Mount Street used to be.  It's now lined with designer clothing shops and restaurants.  The butcher shop across from the Connaught is now a fancy Italian patisserie.
On my last trip to London in 2018 it seemed that the trendy restaurants were mostly in neighborhoods in East London, like Shoreditch.  I asked friends from New York and who also have a flat in London, if I'd have to head to East London to have a good meal.   They said that there were many terrific restaurants in Mayfair, one of the capital's poshest neighborhoods, so my plan, with one exception, was to go to restaurants within walking distance of the Connaught.
St. John, 2 locations: 26 St. John Street and 98 Marleybone Lane. Photo by St. John.
On the trip to London in 2018, I dined at St. John (26 St. John Street), a restaurant in Smithfield that serves traditional British food.  It was a revelation.  I read that St. John opened another restaurant at 98 Marleybone Lane, a short walk from the Connaught.   The Marleybone location is smaller, but also specializes in traditional British food.  As with that trip to St. John in 2018, I was again unfamiliar with some of the items on the chalkboard menu. For example, the key ingredient in one dish was Middle White, which I learned was a breed of pig.  The waitstaff was marvelous in helping me order.   I have a sweet tooth, so I had a very English pudding, what we call a dessert, of Eccles cake and Lancashire cheese.
Mount Street Restaurant, 41-43 Mount Street. Photo by Mount Street Restaurant.
I arrived early for lunch with friends at the Mount Street Restaurant (41-43 Mount Street), just down the street from the Connaught, so I could look at the restaurant's incredible art collection (a mosaic floor installation by Rashid Johnson and works by Lucien Freund and Matisse on the walls).  The restaurant on the second floor and Audley Public House, and a pub on the ground floor, are the latest project of Artfarm, owned by gallerists Manuela and Iwan Wirth of Hauser & Wirth.
The Arts Club of London, 40 Dover Street. Photo by The Arts Club.
Another spot I'd recommend for lunch… or dinner or drinks… is The Arts Club of London (40 Dover Street), a private club but with broad reciprocal privileges.  The dining rooms and bars are all beautiful.  There's also outdoor dining – a rarity in London.
The late Robert H. (aka Tubby) Bacon, a true gourmand and maître emeritus (1998-2011) of the Commanderie de Bordeaux/Chicago Chapter, and his wife Julie, privately published critiques of London and Paris restaurants for friends.  "A Short List of Tubby and Julie's London and Paris Recommendations – October 1993" included some three-dozen restaurants, bistros and wine bars, and this list was invaluable when planning a trip to those cities.
Pied à Terre's interior, 34 Charlotte Street, Fitzrovia. Photo courtesy of David Moore.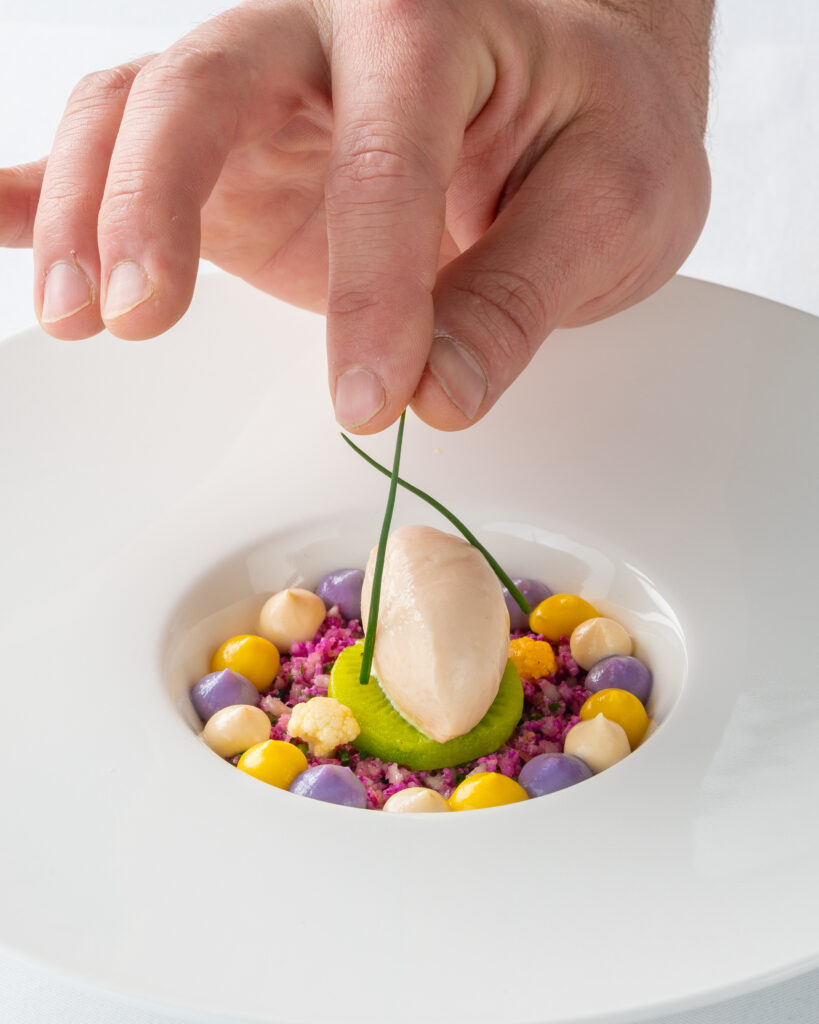 Variegated Cauliflower, Smoked Trout Mousse, Hayward Kiwi. Photo courtesy of David Moore.
Founded in 1991, David Moore's restaurant Pied à Terre (34 Charlotte Street, Fitzrovia) was on Tubby's 1993 list of restaurants so I tried it based on his recommendation, and have made a pilgrimage to this Michelin one-star restaurant every time I am in London.  Since that first visit, I have gotten to know David Moore and his wife, Val, and they have visited Chicago.  On this most recent visit to London, over dinner at their restaurant, David and Val told me about all the challenges of owning a restaurant during COVID and gave me a copy of "Thirty Years Created by Pied à Terre."   As it did around the world, COVID took its toll on London restaurants.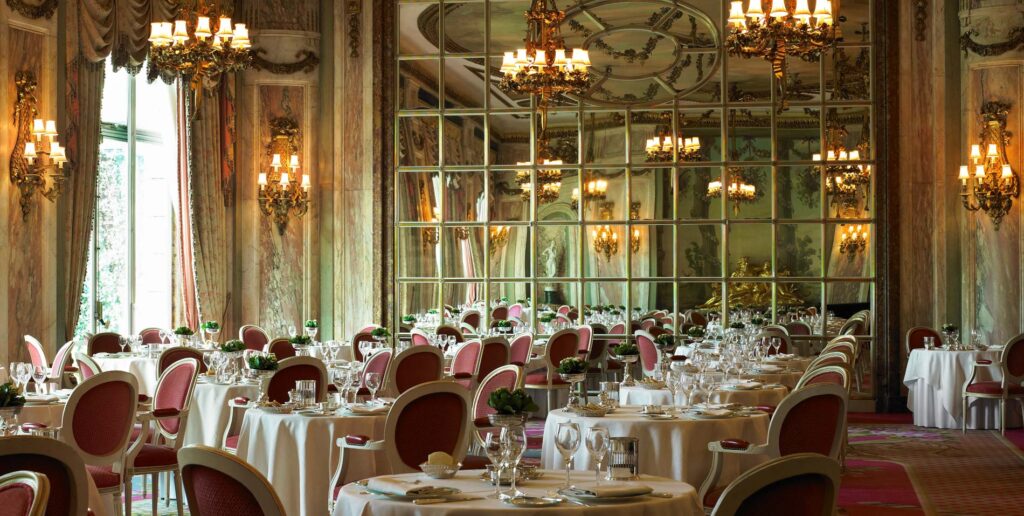 The Ritz Restaurant located inside The Ritz London. Photo by The Ritz London.
A meal at The Greenhouse was also on my bucket list.  Sadly, The Greenhouse permanently closed before I made it there, but David Moore told me that its former chef, Alex Dilling, moved to his eponymous French restaurant Alex Dilling at Hotel Café Royal (68 Regent Street) and received two Michelin stars. David also recommended The Ritz Restaurant.  For my final dinner in London, I walked to another restaurant on my bucket list, the Michelin two-star French restaurant Le Gavroche (43 Upper Brook Street) and had a splendid, classic updated French meal with great wines and great service.
Jamavar, 8 Mount Street. Photo by Jamavar.
I've mentioned French restaurants, but London has some of the best Indian restaurants in the world.  On a previous trip to London, I had a sumptuous meal arranged by Chicago friends in a lavish private dining room at Veeraswamy (99 Regent Street), which is billed as the UK's oldest Indian restaurant, one of several Michelin-starred Indian restaurants in London.  On this trip, I wanted to try Jamavar (8 Mount Street), which was down the street from the Connaught, but there just wasn't time.   Again, the nice thing about London is knowing that I'll return soon when I'll try Jamavar, or one of the other terrific Indian restaurants in London like Gymkhana (42 Albemarle Street).   And still there are many places to visit and things to do on my London bucket list, including The River Café, Sketch, BRAT, and the Chelsea Flower Show.  I had a ticket to the May 2020 show, but that didn't happen due to COVID.
Prior to this recent trip, I received recommendations from friends.  One was Mercato Mayfair, a food hall and community space in a deconsecrated church on North Audley Street.   I popped in to take a look and intend to go back!
Just as I used Tubby and Julie Bacon's guide, I reached out to knowledgeable friends for their recommendations.  They know who they are, and I appreciate their recommendations and sharing their brilliant insights with me.
Safe travels, and bon appétit!
"When a man tires of London, he tires of life," Samuel Johnson, 1777.