By Lucia Adams
Sir Nicholas Ponsonby Haslam, pukka interior designer, prolific author, indefatigable socialite, "incurable snoop" and  ne plus ultra chronicler of Anglo American celebrity (the very word!!!) culture in the 60s, 70s and beyond has seen in 50 years a sea change in what used to be called society. His sparkling account of who was who, Redeeming Features, ranges from the Almanach de Gotha and Debrett's to Hello! and People, from Consuelo Vanderbilt to Tuesday Weld.
Cecil Beaton at Te-Wa horse ranch, Arizona.
However ecumenical he is nonetheless melancholy for vanished prewar European society, lamenting "the ethnic cleansing of the colorful aristocrats, with their fading WASP grandeur", replaced by the soi disants of the Chelsea Set and Warhol Factory. In this 2009 croquembouche of a memoir, one deliriously good bite piled on another he rarely adheres to his desire "to see all creatures as deities" as in Thomas Traherne's 17th century poem.
A fine example of the truism that Background is Fate, the first 100 pages is a classic aristocrat's historical recollection with ancestral anecdotes, pride in an ancient name, (Haslam one of the oldest in England)  an eccentric, remote father, dizzy mother, Eton, Eton, Eton and houses, houses, houses — stately homes naturally. Born in 1939 at Great Hundridge Manor, Bucks, built in 1696, with a 1199 chapel, third son of a diplomat and a goddaughter of Queen Victoria, he is somewhat related to Diana Spencer.
Party for Andy at Regine.
After Eton he eschewed Oxbridge for a life of parties and society scribbling until 1972 when he started his interior design business. Throughout all the decades a waterfall of boldface names merrily cascades, mainly first hand gossip but also second and third hand grapevine chatter, the dramatis personae overwhelmingly dead. One of his first Big Names is a whopper. He had a brief romance with the son, he with a hint of the simian, of Tugboat Annie Rosse pushing from peer to peer, Tony Armstrong Jones — before Margaret. Some years later, he was Roddy Llewellyn's flatmate when the young playboy was anxious to meet the princess, her marriage on the skids. Haslam had a hand in their introduction as they fell in love at first sight; during this fraught time "The telephone at the studio crackled with breathy, infatuated yet imperious messages for Roddy, or late-night commands along the lines of 'Get your friend out of my wife's bed for me'." Imperial Margaret never forgave him for knowing too much and snubbed him forever.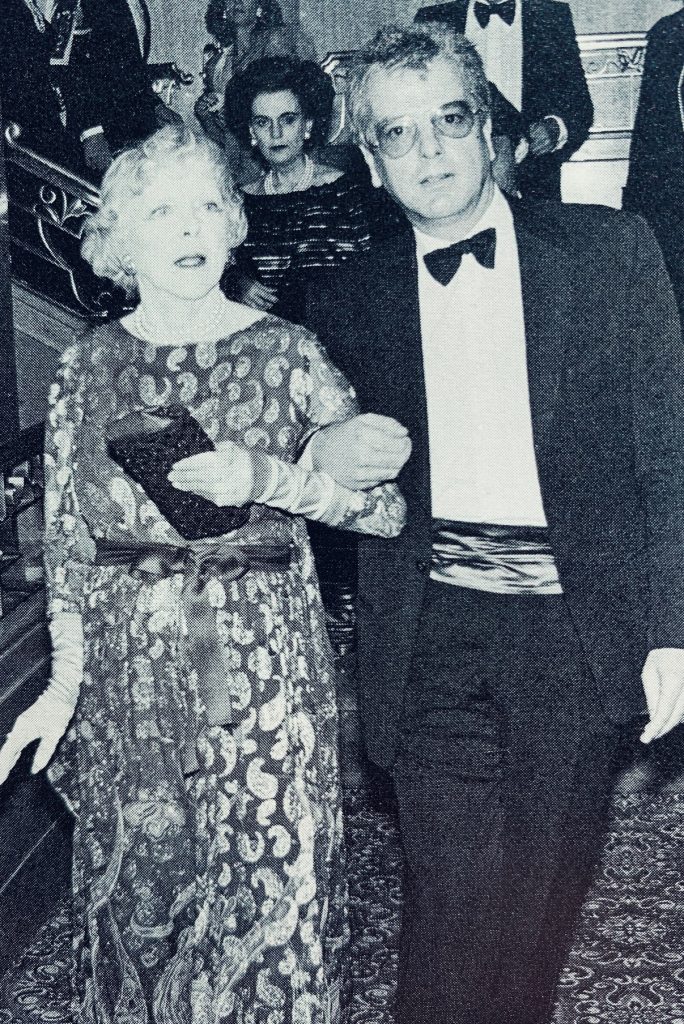 With Diana Cooper.
In Redeeming Features everyone introduces everyone to everyone else in Haute Bohemia, titled and non-titled. Haslam's first great love Simon Fleet introduced him to an 18th century dandy Cecil Beaton, (later at war with a nasty Cukor on the set of My Fair Lady,) Chips Cannon, de Givenchy and his lifelong friend aging icon Diana Cooper; he knew Noel Coward, the Lunts (declining to visit the wilds of Wisconsin), Eddy Sackville West at Long Crichel, the first supermodel Jean Shrimpton with David Bailey, who introduced him to Vidal Sassoon who cut his hair. In London he knew Stephen Ward and saw his neighbor Profumo in a local hardware store, in St Tropez Gunther Sachs, in France Aly Khan, Douglas Cooper and his partner John Richardson at their Chateau de Castille in Uzes, Jean Seberg and Francoise Sagan, in Venice Daisy Fellowes and ostentatious Peggy Guggenheim in her Ernst caftans and Calder earrings. In Beverly Hills he decorated Natalie Wood's apartment and met David Selznick and his wife Jennifer Jones wearing nothing but a fur coat drunk as a skunk in the fur storage room. This is a very partial list by the way, as in Jack Lemmon seduced him and Kirk Douglas with "into threesomes."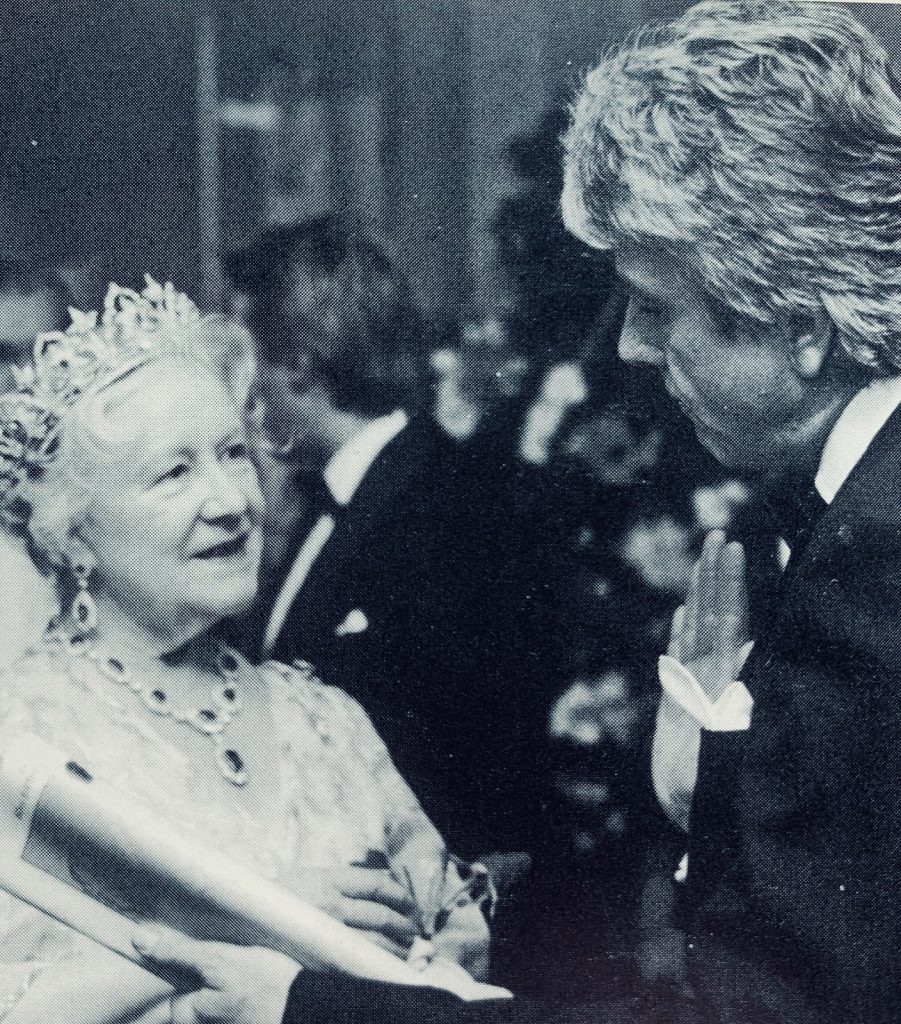 Queen Mother's friend.
In New York working for Vogue in Diana Vreeland's colorful barococo environment (before antiseptic Anna Wintour) he delivered proofs of photos for a shoot by Bert Stern to Marilyn Monroe at to her apartment on 57th. "A greasy face with smudgy lips framed by lank blondeish hair. She was wearing a shapeless grey tracksuit with make-up stains around the collar. She looked half awake, almost haunted." Soon after her suspicious suicide he went with lubricious Salvador and Gaia Dali, to a seance on Amsterdam Avenue to contact her, unsuccessfully.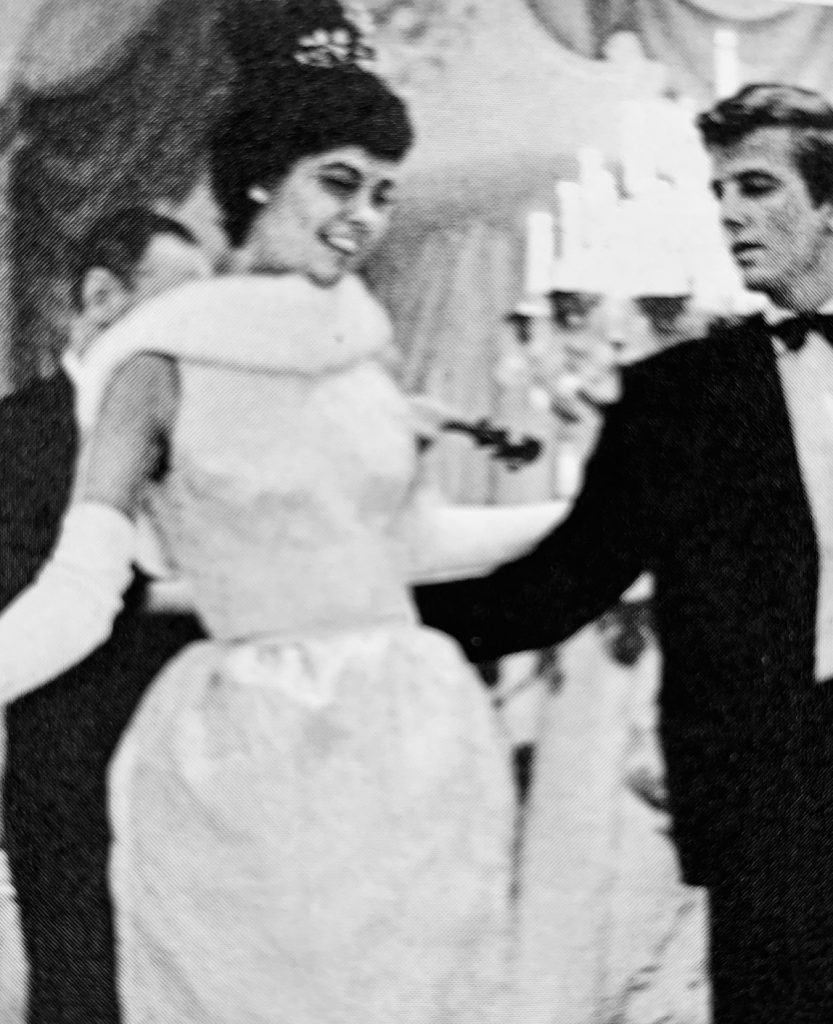 Debutante Ball at St. Regis, 1962.
He had lunch with a very level-headed Wallis Simpson at The Colony with her drop dead chic and sassy wit, a big Beatles fan, and again at Elsie Woodward's at the Waldorf when they both had arrived early so hid out in a broom closet until other guests appeared. The Dook was a "cross little parcel" who lapsed into guttural German his arm twitching to salute der Fuhrer as he sang Horst Wessel type songs. Haslam's curtain maker Eddie Page said the dook and his brothers frequented 'a queer nightclub' Seven Dials in Covent Garden wearing full drag, one duke wearing make-up and the other Queen Mary's clothes.
Nicky Haslam book.
Haslam wrote for Warhol's Interview and other magazines and literary reviews when dinners succeed dinners with a sad Cole Porter, Tallulah Bankhead (with Dorothy Parker both predictably drunk) Gore Vidal suggesting Garbo was a halfwit in love with Fabian, and a great fan of Hollywood Squares, Philip Johnson and his elegant gay minions. He danced to Chubby Checker and the Twist at the Peppermint Lounge and Sybil Burton's Arthur and at Le Club Jackie stopped by his table. Somewhere in between this time and his wistful return to England he had an Arabian horse ranch in Arizona.
The best party of his life was Queen Elizabeth's for Charles and DIana right after the wedding with its princelings, archimandrakes, potentates, and all "the remnants of a foreclosed kingdom". After Lester Lanin's They Say That Falling In Love Lilibet announced "Supper!!" There he discreetly stops. Ranks closed.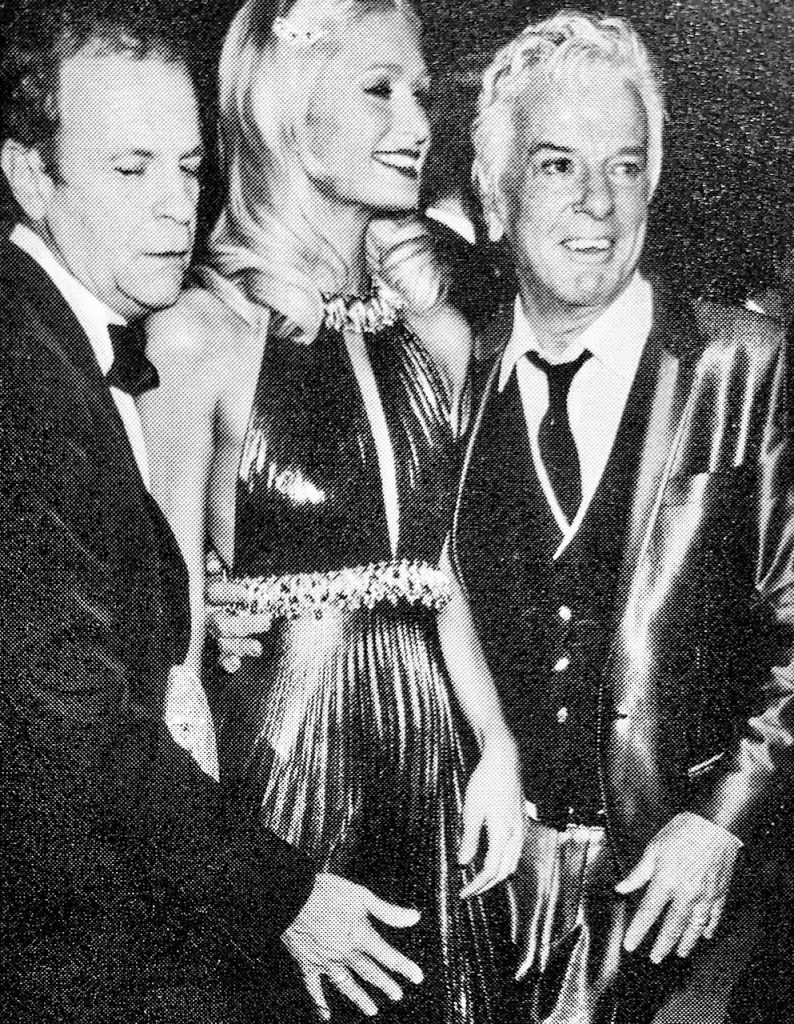 Bessborough Ball. Paris and friend.
He threw countless famous parties on both sides of the Pond, more posh than Capote's much-publicized effort, one of the last in 2008 at Bessborough House his family once owned – to celebrate raising £100,000 to restore an antique temple on the grounds, the party reportedly costing £200,000.  In its Regency heyday, "Among the many revellers were Georgiana Devonshire, Charles James Fox, Caroline Lamb, and Prinny, the acme of 18th-century Whig society." and came "many descendants of that society, but mixed with a worldwide cross-section of friends from my past, Lucian Freud, Paris Hilton, Lee Radziwill, (In Intrepid Pen published this year he writes she was still irritated by Jackie's "irrational social climbing.") Jacob Rothschild, several Greek princes, Clarissa Pilkington, Tracey Emin, Emanuele di Savoia, Keanu Reeves".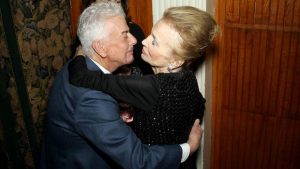 With Lee Radziwill.
He is most fun when his targets are still extant, like the 'termagant'  Barbra Streisand who when he brought photo proofs from Vogue to her house in LA she was lying on her bed eating vanilla fudge ice cream right out of the fridge next to the bed. (We won't even mention the rude barbarian Elliot Gould.) Recently Haslam announced to the world press that Meghan Markle's wedding dress didn't fit, that it looked like concrete and that virginal white was inappropriate for a divorcee. Her "frightfully common family" caused the Royals great angst. Blessedly this man says what we think!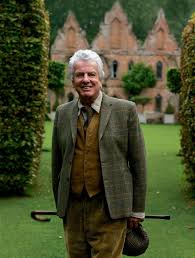 Walking grounds of his country house.
Then there is his aggressively non-PC contempt for the common, veering perilously close to the socially unrepeatable. His long annual list of Common Crimes includes signet rings, knighthoods, wine collecting, celebrity chefs, the Henley Regatta, the Proms and undeniable betises such as parties which he rarely goes to anymore because "All the young men laugh so much, and the girls scream at each other." Sans blague.
With Carolina Herrera.
This book was a nostalgic sleigh ride for me, Johnny Ray, Schrafft's chicken salad, Polaroids, the author's observations always spot on. In 1964 I met Joseph Alsop the "ghastly pretended Englishman" at a party in Princeton; he extended his hand while loudly clicking his heels and bowing his head, more mitteleuropean, a versatile impersonator. At Luchow's where Haslam said Harold Nicolson was more interested in the waiter's legs than the schnitzel I had drinks one Christmas Eve with a loony Dali, an exhibitionist in gold lame and what looked like a false moustache loudly trying to impress diners from Passaic, New Jersey.