By Elizabeth Dunlop Richter
As you plan your next trip to London, are you worried about fog delaying your arrival? What to pack for a "fancy-dress" party? Can you organize a song contest en route? How's your bridge game? These are just a few of the challenges my mother, then Katherine Mills, faced during her first Atlantic crossing in 1930, as a brand new college graduate.
Katherine Mills
I have just found my mother's diary from the European trip she took with her younger brother and a small group from Columbus, Ohio. She had just graduated in June from Wellesley College, Class of 1930. What adventures awaited her? One can only imagine her excitement as she departed on June 17.
"Weather – hot…We left with the usual rush, clearly the rush prevented copious tears. The family…were at the station. Haven't had time to think that college is all behind."
With these words, she began her account of a long-planned two-month trip to Europe. An art history major in college, she was anxious to see the key European cultural monuments, churches, paintings, and sculptures she had studied. She kept her notes in a small green leather- bound book titled "A Record of Travels," packed with useful information for the international traveler. Mother could look up the deepest parts of the oceans with explanations of ways to measure them, including The Lead and the Sounding Machine. She could find descriptions of Buoys, Fogs and Fog Signals, Engine Room Signals, and the ways to tell time on board with ships' bells. Of particular value in this tiny encyclopedia was the value of foreign coins. A French franc was worth $.039, a pound sterling $4.867. The final entry is a Shuffleboard diagram with directions for play. Left blank were two pages labelled "captain's autograph, coming and going."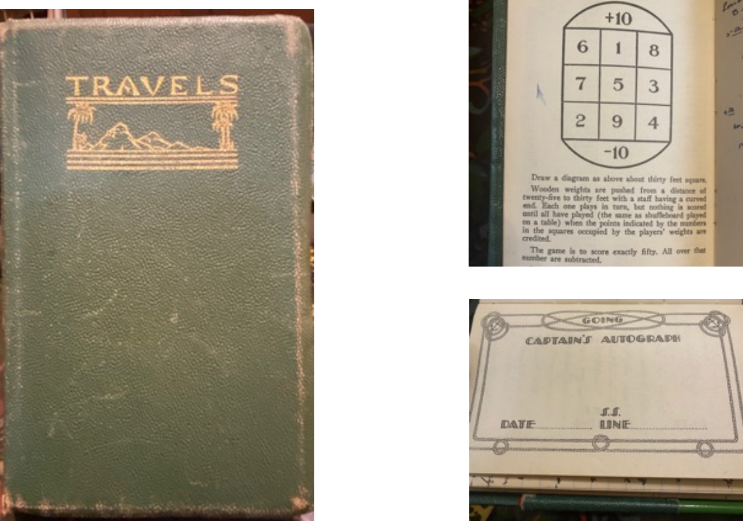 But despite the missing captain's autographs, Mother dutifully kept track of her travels. She left by train directly from Wellesley for Montreal where she would meet her party and board the RMS Empress of Scotland. The ocean liner had been built in 1905 in Poland for the Hamburg American Line and originally called the SS Kaiserin Auguste Victoria. Seized by the US Navy, she carried American troops home from World War I. Owned briefly by the British Cunard line, she was sold to the Canadian Pacific Steamship Company and renamed RMS Empress of Scotland in 1921.
Mother and her younger brother Charles, a junior at Dartmouth (nicknamed Sonny), joined a group organized by a Miss Mae Patterson from Columbus, Ohio and The Travel Guild, Chicago. The trip was titled a comprehensive "Special Motor Tour: England, France, Germany, Switzerland, Belgium, Holland, Austria, and Italy." Its printed itinerary states:
"Until the present time, the pleasure of touring Europe by motor has been reserved on for people who could pay a comparatively high price for the privilege. For 1930, The Travel Guild has broken all precedent by planning tours by motor at a price no higher than is charged for tours by rail using equivalent accommodations… Everything will be done to make the tour as delightful and instructive as it can be made." [inclusive fee $785]
The itinerary of eight countries was tight for the two-month tour. Mother was concerned from the beginning of the crossing when rain was followed by four days of ever-increasing fog, threatening to delay their arrival and cut into the tour. On June 21st she wrote, "We're going very slowly. The fog is terrible, the worst some of crew have seen. It means we'll be late in Southampton and that will lessen our stay in England."
SS Kaiserin Auguste Victoire (renamed RMS Empress of Scotland 1921)
Had this crossing been a cruise on, say, the Royal Caribbean today, the fog would not have bothered passengers, confident in radar and entertained with promised attractions like "robot mixologists at Bionic Bar® to the FlowRider® surf simulators, and the tallest slide at sea, Ultimate AbyssSM, plus hit Broadway musicals like Grease.
The RMS Empress of Scotland gave passengers more freedom to create their own entertainment. The Patterson party did not waste time contemplating the fog. The diary details other passengers, whom Mother describes as "entertaining and interesting: a young man from Toronto going to France to sketch with the goal of becoming an architect, a young California girl buying much champagne." Mother spent her time playing deck tennis, playing bridge, writing letters and dancing. "Clearly the lack of men makes things a bit interesting when dancing…all day we kept always busy, eating forever it seemed." Dancing with or without men would be a common pastime at hotels throughout the trip.
One evening the entertainment was "a fancy-dress ball." This turned out not to require formal dress, but costumes. 'Our party [dressed} as the Old Woman in the Shoe and children. Sonny dressed in Pat's clothes and was quite the evening's hit." The diary again notes, "There are many more girls than men; we're beginning to find congenial people: I've attempted speaking French to a family at table." Mother comments in passing that she planned a treasure hunt that morning. Another day the band leader asked her to organize a song contest. She must have had an organized aura about her (even then!).
In keeping with careful financial planning, Mother's party was travelling tourist class. She was pleased to be invited to visit first class: "Sonny and Pat met two first class passengers who asked for us all to come to their concert. We dressed in our glad rags and went up…were invited to stay for drinks, etc." The next evening came what Mother called the "Big Break. "two boys from first including Jimmy Parker, whom I'd been dying to meet, spoke to Sonny and asked us all up to dance in first…difficulties – about 6 of Miss Parks' party came too, worked out not well." She didn't explain.
Good news the next day; "Spent the rest of the afternoon in first with 'the Jimmies' at bridge and Ping pong. They really seem so glad to be with us. J. McClure is quite taken with Ruth; we met Jimmy Parker's mother. We think we may be related through the Mills. They came down to the dance here, then we all went up to first. J. Parker is sweet." Next day "Jimmy took us to his mother's cabin to play bridge, heaps of fun. Mrs. P is a great talker. We all feel like thieves in the night. J. is a dear. Seems so anxious to be with us."
I wish Mother had shared more about what seemed to be about to blossom into a shipboard romance. She would make only two more references to the Parkers, whom she saw briefly at their London hotel and later near the Buckingham Palace changing of the guard. Nothing else; no new romances were mentioned on the trip.
Fortunately, the fog did not delay their arrival in Southampton on June 26. The itinerary described London as "the world's largest city, capital of the world's greatest Empire." As she would for the entire trip, Mother dutifully recorded weather experienced, sights seen, landscapes appreciated, and museums explored. She was thrilled to see many of the paintings and sculptures she had studied. In England, she discovered her studies were most helpful. "Palace of Wolsey [Windsor, UK] Interesting to see…My history 312 paper helped much. Just realized how much I really don't know." Throughout her trip, Mother lamented how short her time was in each city. "At Oxford, only time to drive through. Heartbreaking to have to go so quickly."
From England, the tour went on to Ostend, Belgium where she and friends "went bathing at the beach. Rented swimming striped suits. Water was delightfully invigorating. Going down the Promenade [later] in our long evening clothes. Many stopped and stared! Heard symphony then went dancing." Shopping in Brussels the next day, she encountered another tour group. "Other Field people here. Thank heavens we[re] not going with them. Ingroup friction, inevitable. Ours so calm and cool and splendid about it all."
Others not on good behavior, she observed, were Americans. Following the scenic Rhine River to Germany, the group stopped at an inn in Heidelberg "Where students meet to drink. Real atmosphere, and we all or most of us drank beer. Americans were spotted always. Their actions not always the best." One can only imagine!
As the bus route continued through Switzerland, Mother marveled not only at the stunning snow-covered mountains driving through the Bruning Pass, but also at the pass itself. "Marvelous to think of the engineering necessary to build such a road."
The tour crossed Switzerland and re-entered Germany. Just over the border in Friedrichshafen, Mother reported "much excitement! Saw Graff Zeppelin in its hangar today!… Dr. Hugo Eckener is in the hotel. We saw him…To see the Zeppelin was thrilling. Such an achievement for man!" Her brother had planned to take a short ride on the Zeppelin, but cloudy weather cancelled the trip. "Sonny had all the thrill of anticipation, anyway." [NOTE: the Graf Zeppelin was the German airship that offered the first commercial transatlantic fight service, conceived and operated by Dr. Hugo Eckener. It was followed by the Hindenburg, known for its deadly explosion in 1937 in New Jersey.]
LZ 127 Graf Zeppelin
Following Munich and Oberammergau, the tour continued through Austria with a stop in Innsbruck. Mother bought "a lovely wool shawl for Mother…a very nice young man waited on me and told us where to go to hear Tyrolean music…Louis yodeled and sang for us." Her political antenna was sensitive to the post World War I rearrangement of Europe at their next stop in Bolzano. "This is quite an interesting town. It used to be a resort town but since the Italians' [had] retaken this part of Austria, it's not as popular. There's a great deal of feeling about the South Tyrol going to Italy." [following its annexation in 1919 and Mussolini's "Italianization" of the German speaking province.]
Mother was delighted with the drive through the Dolomites in northern Italy. "The Dolomites are magnificent, weird, fantastic shapes, lovely colors, snow in crevices, breathtaking. Saw beautiful views, great extent of snow-capped mountains, deep blue sky, white clouds." Stopping at a mountain resort for lunch, she reported that "we got 'rooked' into having champagne, thinking [we were ordering] a cheap sweet wine." After much protesting, they "paid for only half." Impressive negotiation! I'm sure, however, they enjoyed the champagne!
International politics once again were on her mind. As they continued in Italy, she recorded frequently seeing soldiers. In Cortina she wrote, "Saw many soldiers today. Looks like preparation for war. M. talked with us. Said Italy's population so great, they need more room. The war would be with Yugoslavia or France." Later, on a long, dusty drive from Rome through olive groves and vineyards to Pisa, she wrote in passing, "again saw soldiers." Heading into Genoa, she again noted, "Large naval base at Spezia. Certainly, war in the atmosphere." It would be just under ten years later that Italy would invade France in the first Battle of the Alps, the first major Italian engagement of World War II.
Spezia Naval Base 1930
But art and culture, not a future war, were Mother's primary focus. Lists of individual art works appear in the front of her diary, many with checkmarks, presumably indicating she saw them on the trip. It's a long list from the Elgin marbles at the British Museum to Veronese's Enthroned Madonna in Venice to The Night Watch by Rembrandt in Amsterdam to the famed David at the Academy in Florence. Italy was of special interest. She also listed paintings and sculptures in the body of the diary. She was obviously impressed with much of what she saw. In Venice she wrote, "Saw Fra Angelico's work in San Marco. The Annunciation is the most charming, full of spiritual meaning and beauty. To see the main things as they were done, for the monks in their cells. Gives a better understanding of the artist's desire and aim in his work." About to enter Florence, she wrote "Tomorrow we have to see as much as possible in just one day. I would adore to be spending the year here."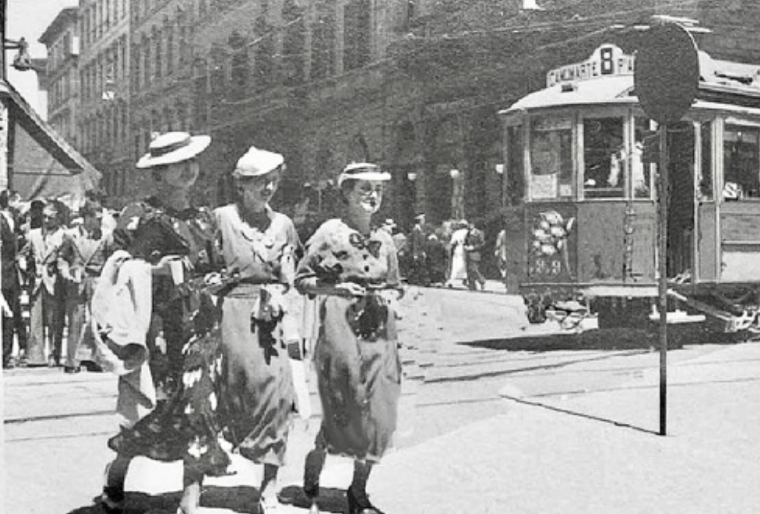 Florence, 1930          Photo: Lauretta Dimmick
One story she didn't share came from her brother Sonny, my late Uncle Dr. Charles Mills. My cousin reports that he told the family that at first, as the only man on the bus, he let the ladies use the restroom first. Later, realizing how much quicker he was, he always went first. A typical Uncle Charlie story!
Later in Rome the group toured the ruins of the Roman Forum including the Temple of Vesta and House of the Vestal Virgins. My uncle would later return not to see the architecture but to camp in that very spot as a U.S. Army physician during the World War II American landing in Italy in 1944. It was there he would get a letter from Mother announcing my birth.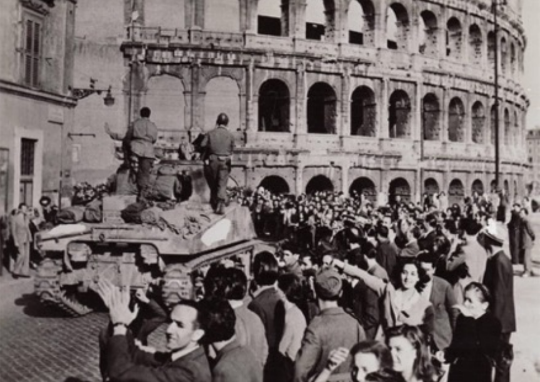 Liberation of Rome, June 1944
Stopping in Monte Carlo, Grasse, and Fontainebleau, the tour ended in three packed days in Paris. "The Arc de Triomphe with Etoile formation of streets, gardens Trocadero, avenue of trees, etc. make the city the loveliest I've ever visited," she enthused. Her trip to Versailles made it "not hard to understand the French revolution." Thanks to family friends, she and Sonny had a memorable last night in Paris. They were taken to the historic Ambassadeur's for dinner. "[it's] the summer place of Ciro's. Gorgeous looking people! Such clothes – wonderful dinner – Champagne, crepe suzettes, etc. Big thrill for us!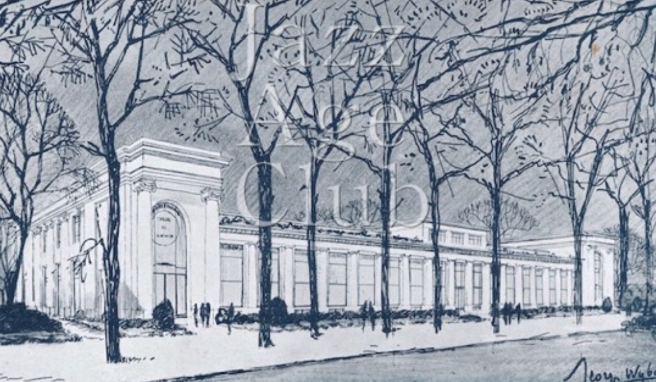 Ambassadeur's in Paris 1930
Mother's return crossing was far less interesting and warranted only three pages in her diary. She notes that she and Pat had moved to first class, where the rough seas made their friend Ruth seasick. "There's very little excitement or signs of things interesting yet…We're all a bit restless – have been going so hard all summer to be quiet…we're spoiled by the good time we had crossing over." One highlight was a visit to the engine room. "Marvelous to see – gives one a different idea and conception of all that goes into running a ship of this kind." But "the ship's concert was a bit of a bore." Mother also mentioned seeing "the last part of the cinema given upstairs." That was her final entry. Fulfilling her wish for more time, at least in England, she would return the following summer, as the leader of a month-long tour of the UK with a group of teenage girls.
Katherine Mills (far right) with tour group on TSS Rotterdam 1931
I would have loved more personal detail in the diary and wish I'd asked her more about the trip while she was alive. In her later years, she would travel to such far flung locations as Mexico, Egypt, France, and China, always keeping her lists and delighting in exploring new corners of the world. And she never lost her love of playing bridge!