The Nation's First Tuition-Free Art School for All Ages Heralded
By Jill Lowe
Celebrated at the 82nd Hyde Park Art Center Gala last week was the initiative to significantly impact Chicago artists with the bold shift to contribute-what-you-can education model to be launched in Spring 2022, funded through the Art Center's Art Makes $16M capital campaign, which was launched in 2018. Funds raised at the 2021Gala will serve in part to fulfill this aim.
Increasing access to art for all.
Although Hyde Park Art Center annually serves nearly 2,000 students of all ages and skill levels across the visual arts, restructuring the contribute-what-you-can model will provide students from all backgrounds the means to participate.
Equally critical is a deeper investment in professional artists. Increased funding will allow for faculty/teaching artist development for its current 50 faculty members.
More investing in the ongoing Pathways Programs will deliver broader access to visual arts for some 700 K–8 students in neighboring communities, along with supporting more than 150 teen and young adult artists through arts for high school and post-high school (18-25- year-old) youth. Gala 2021 was co-chaired by Ghian, Traci + Jade Foreman, Jill Ingrassia + Luigi Zingales, and Sonya Malunda + E. Charles Lampley, presented by Lead Sponsor Julie and John Guida of The Guida Family Foundation.
With a 'creative cocktail' dress code for the Gala, libations and scrumptious cocktail food were served in the heated outdoor tent, allowing for optional mask-wearing. The high buzz and excitement were evidenced immediately upon entry. With curtailed numbers to allow social distance, it made for an energetic evening filled with optimism for focussing on art in Chicago.
l-r Gala co-chairs Ghian and Traci Foreman, Jade Foreman, Jill Ingrassia, and Luigi Zingales, Sonya Malunda, and E.
Charles Lampley, Hyde ParkArt Center Executive Director Kate Lorenz.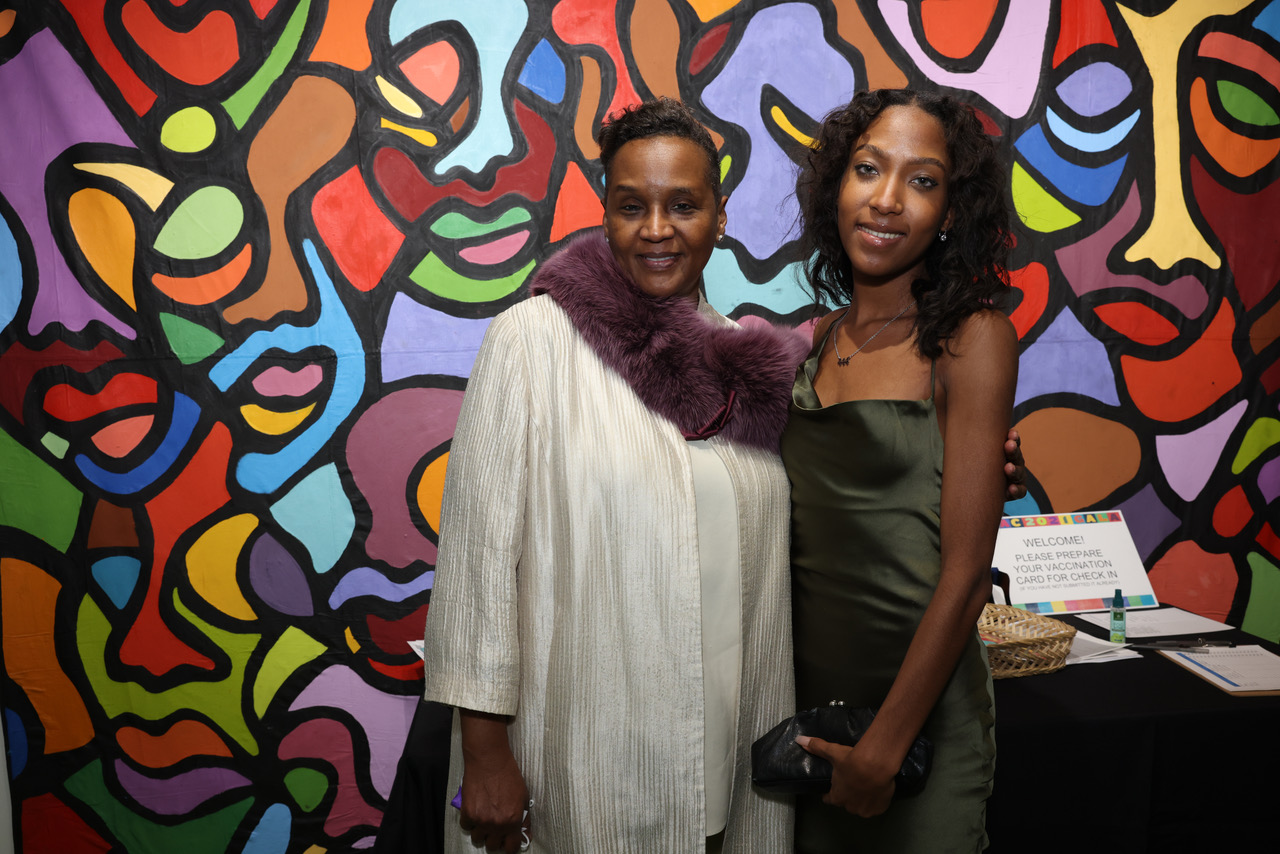 Gala co-chairs Sonya Malunda and Jade Foreman
Artist Faheem Majeed and LaShana Jackson
The ART MAKES campaign, co-chaired by Cynthia Heusing, Walter & ShirleyMassey, and Richard Wright, has raised $13.8 million to date, thanks in large part to three generous lead gifts: over $2 million provided from Builders Initiative, $1 million from the Chicago-based Guida Family Foundation, and $500,000 from the Chicago-based David C. and Sarajean Ruttenberg Arts Foundation.
The Art Center's Board of Directors, chaired by Justine Jentes, has been critical to the campaign's success, committing more than 25% of the total funds raised to date.
School of the Art Institute of Chicago Executive Director of Exhibitions Mary Jane Jacob, Hyde Park Art Center Board Member Cynthia Heusing, and David Kistenbroker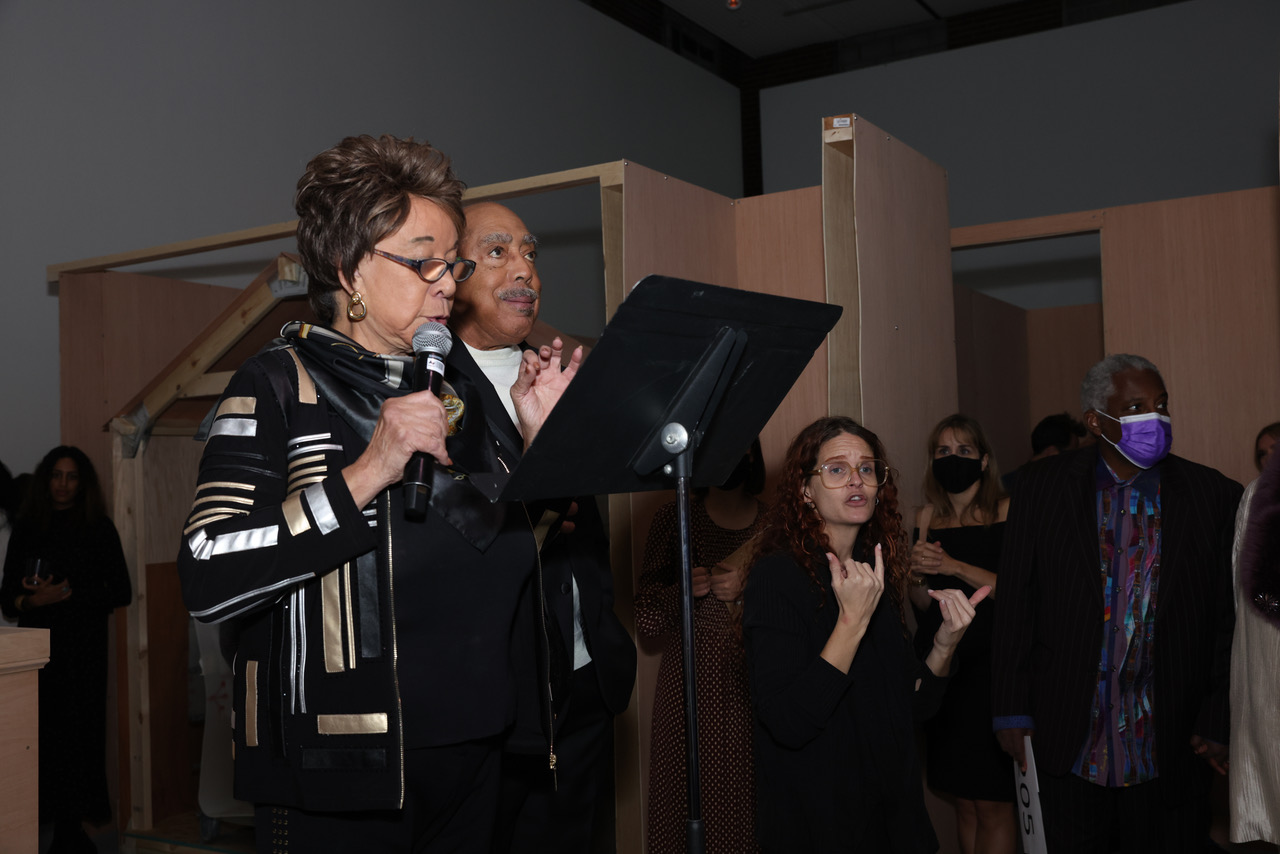 Shirley and Walter Massey giving remarks during the Gala program
Sundeep Mullangi (Board Member), Trissa Babrowski, Valerie Carberry, Richard Wright (Board Member).
With a reputation as one of the city's most 'hands-on' art parties, the Gala featured the popular Interactive Artist Interventions having been one of the highlights of past Art Center Galas. This year again featured Chicago artist interventions, as well as resident Artist Open Studios and of course a DJ set throughout the evening.
Artist "Zero Waste Weaving" Intervention
Hyde Park Art Center Executive Director Kate Lorenz, speaking at the Gala
The enthusiastic remarks by Hyde Park Art Center Executive Director Kate Lorenz, highlighted the new thrust of the Art Center, increasing the tuition access for the already 2000 students across all ages. As Kate said, "This is truly a pivotal moment in our history."
Students participating at the Hyde Park Art Center
Going Global.
Currently, the Art Center's Jackman Goldwasser Residency provides local artists access to long-term, rent-free studio space, and international artists the opportunity to live and work in Chicago. Building on this, the residency program will expand its international presence. Plans are to build on exchanges where Chicago artists travel abroad and connect to the global stage, while international artists and curators visit Chicago to connect with our local artists.
When I met Deone Jackman in 1999 I immediately adored her: the ultra-stylish, moral, irreverent, witty, resourceful woman became my very dear friend. Before meeting Deone and with me having fairly newly arrived in Chicago, I felt I had to pack a lunch to go to Hyde Park. I got wise fast, and her love, dedication, and strong support of the Hyde Park Art Center, that renowned non-profit hub for contemporary art, was infectious. Bringing many new supporters to the Center, including me, it was with her lovely scientist husband Eugene Goldwasser, that Jackman Goldwasser Residency at the Center was founded. She would have been so proud of this major thrust going forward.
At 5020 South Cornell Avenue on Chicago's vibrant South Side, the Hyde Park Art Center has since its inception in 1939, grown from a small collective of quirky artists to establishing a strong legacy of innovative development. It has emerged as a unique Chicago arts institution with social impact, functioning as an amplifier for today and tomorrow's creative voices. The Center provides the space to cultivate and create new work and connections. Long known for an ability to shine a light onto an artist early in a career, before becoming a household name in the art world, the Art Center associates itself with innovating people with such skills to notice talent.
For example who can forget the ceiling of Deone Jackman's rotunda sitting room, the location of many Hyde Park Art Center events, with the kites of her friend Jacob Hashimoto in full splendid view?
To see another work of this prolific artist, visit the lobby of the Willis Tower in Chicago, to see Jacob Hashimoto's 2019 major art installation: "In the heart of this Infinite Particle of Galactic Dust" The 7000 individual kite-like disks made of translucent paper and resin create the effect of a faceted cloud-like mass.
Photo permission by Jacob Hashimoto and courtesy of

Deone Jackman was an avid and early collector of the works of Hyde Park Art Center Board member Theaster Gates. Theaster's work has became sought after for placement in very many high profile art institutions such as Art Gallery of Ontario, Canada, and the Norton Museum of Art in West Palm Beach, Florida.
You can commission art at the ever popular, every 4 year Not just a Pretty Face event (due again in 2023). This is the Hyde Park Art Center's ground for patron commissioned works benefitting both artists and the center, as well of course the
delighted patrons.
The 2021 Gala served to celebrate the new initiatives. Speaking about the Gala last week, Aaron Rodgers: Hyde Park Art Center Director of Development said: "This year's celebration of Chicago art was rooted in optimism. The seemingly endless pandemic has created countless obstacles to sharing our humanity with each other, but visual art and artists have found a way to be resilient. In fact, art has been an essential medicine to surviving and understanding these challenging times while providing the beauty and joy we've all craved. For that, this year's gala was dedicated to the resilience of human expression while raising critical funds for arts education for all ages, support of Chicago artists, and a space for all Chicagoans to see, learn about, and make art."
Notes
Photo of Jill: Joe Mazza Bravelux inc.
Photos not at Art Center. Copyright © 2021 Jill Lowe. All rights reserved
Photos of Gala & Students: Adrian S. Burrow Sr
For more information on the Hyde Park Art Center https://www.hydeparkart.org/
For more information on supporting Chicago artists & arts education. www.hydeparkart.org/art-makes.
https://jacobhashimoto.com